It's not just wedding dresses that are getting more creative by the year, bridesmaid dresses have gotten in on the action as well with designers producing some seriously pretty trend-led gúnas. Every year, there's some styles that make an appearance again and again (separates and mix and match are still massively popular!) but some fab new trends also emerge that are sure to be a hit with your ladies! This year, skirts are getting a makeover, pretty layers pop up again and again, necklines are going seriously decadent and Nostalgia Rose is THE colour to watch out for! Take a peek at the styles that will prove super popular in 2018 below and be sure to pop back to the blog next week, as we'll be showing you where to shop these gorgeous trends!
1. Stunning Separates
Photo by Antelope Studios via Singapore Brides
We've been loving this trend for awhile and we're glad to report it's going nowhere! If you're looking to create a unique look, this is the way to go about it. Try Coast for lots of lovely skirt and top combos.
2. Mix and Match
Photo via Sorella Vita
The Mix and Match trend, again has been around for awhile and is here to stay! If you're looking for some unique bridal party styling and can't decide on one particular dress, this is defo the way to go. Your girls get to wear a piece they love and feel comfy in, plus you create a seriously pretty look.
Sorella Vita is stocked in Pearls & Lace Bridal Boutique in Donegal
3. Sequins Galore
Photo via Sorella Vita
Glitzy numbers are still proving super popular with brides and maids alike and that ain't going to change for 2018! If you love a little glitz and glamour, you can look forward to seeing many a dress with sequins, beading and embellishments this year. Go all out in full on sequins or embrace a hint of sparkle with a shimmery overlay, embellished neckline or diamante waist detail.
Sorella Vita is stocked in Pearls & Lace Bridal Boutique in Donegal
4. Rich Tones
Photo via Jenny Yoo
Pastels always make an appearance in weddings but if you're looking to kit your girls out in some striking shades such as ruby red, burgundy or emerald green, this is the year to do it with lots of fab options in bridesmaid collections!
Jenny Yoo is stocked in Covet in Dublin
5. Romantic Tiers
Photo via Sorella Vita
Pretty tiers are popping up in several bridal collections such as Sorella Vita, Dessy and Jenny Yoo. They bring some added drama and romance to the dress, creating a cute layered look without the hassle of mixing and matching.
Sorella Vita is stocked in Pearls & Lace Bridal Boutique in Donegal
6. Nostalgia Rose
Photo via Sorella Vita
Nostalgia Rose has been tipped to be the new blush and we have to agree! This pretty rich pink shade with a hint of purple can be seen all over the catwalks and is defo one to consider if you're looking for an edgier take on pastel pink.
Sorella Vita is stocked in Pearls & Lace Bridal Boutique in Donegal
7. Pretty Necklines
Photo by Stephanie Williams for 100 Layer Cake via David's Bridal
Embellishments are more popular than ever but one part of the dress that's going all out is the neckline! We love seeing some dazzling additions to bridesmaid dresses and this season, there's more than ever with some decadent neck details. If you're not keen on embellishment, you can still make a stylish statement with a chic halter neck or stylish one shoulder.
8. Lovely in Lace
Photo via Hayley Paige Occasions
Bridesmaid dresses are getting a bridal edge with some luscious lace. From all over lace beauties to cute cap and full length sleeves and striking lace bodices, if you fancy going classic with your girls' gowns, there'll be plenty of offerings to choose from in 2018 collections.
Hayley Paige stockists include Anne Gregory Design in Wicklow and Padanee Bridal Couture in Leitrim
9. Statement Skirts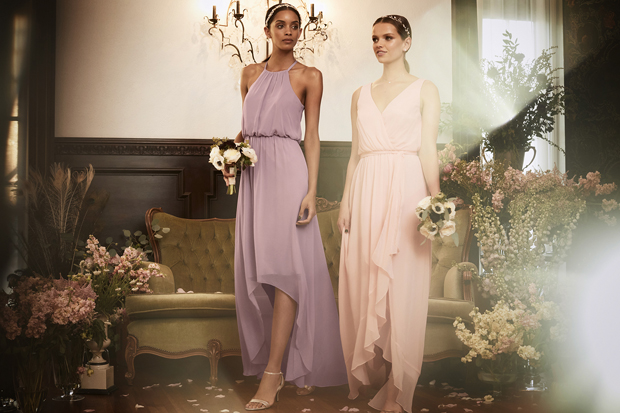 Photo via David's Bridal
It's all about the skirt at the mo – give the bottom part of your gúna some flare with everything from high to low hems, some ruffles or sultry slits.
10. Fun Florals
Whimsical, playful and feminine, we love a floral print and are happy to report there'll be plenty of them doing the rounds this wedding season. They can look particularly pretty during the summer months and Jenny Yoo also have some gorgeous darker dresses dotted with blooms that would look incredible come autumn/winter!
Jenny Yoo is stocked in Covet in Dublin and Dessy is stocked in Love Ellie Bridal in Cavan, Amarra Bridal in Kildare, Diamond Bridal in Cork, Pearls & Lace Bridal Boutique in Donegal and La Bella Sposa in Dublin
Please contact bridal stores directly to enquire about specific collections.
The following two tabs change content below.

Pamela Mahon
Pamela enjoys writing about all things decor (she loves buying it too) and has a not so secret addiction to stationery. Her favourite section on the site is the galleries section (too many pretty images to choose from), and she can often be found lurking in the fashion and beauty forums as well.

Latest posts by Pamela Mahon (see all)