Join us as we explore the best ways to mix and match your bridesmaid dresses and to pull it off in style!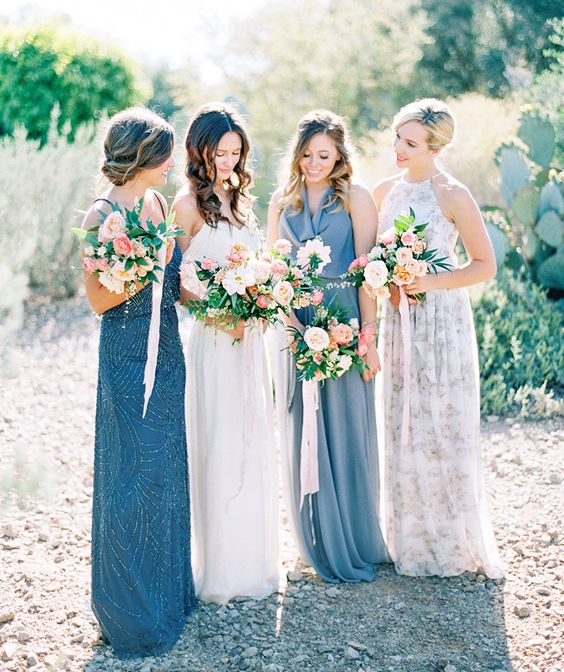 1. Add a Floral Print
Floral prints can be super tricky to pull off for a couple of bridesmaids to wear together, but are a great way to add some whimsy when mixed with more formal gowns. Floral dresses can be easily picked up on the high street or head online to PPS Couture who make the mixing and matching completely effortless with their edit of ultra romantic silk chiffon printed maxi dresses.
Photo by Melissa Jill Photography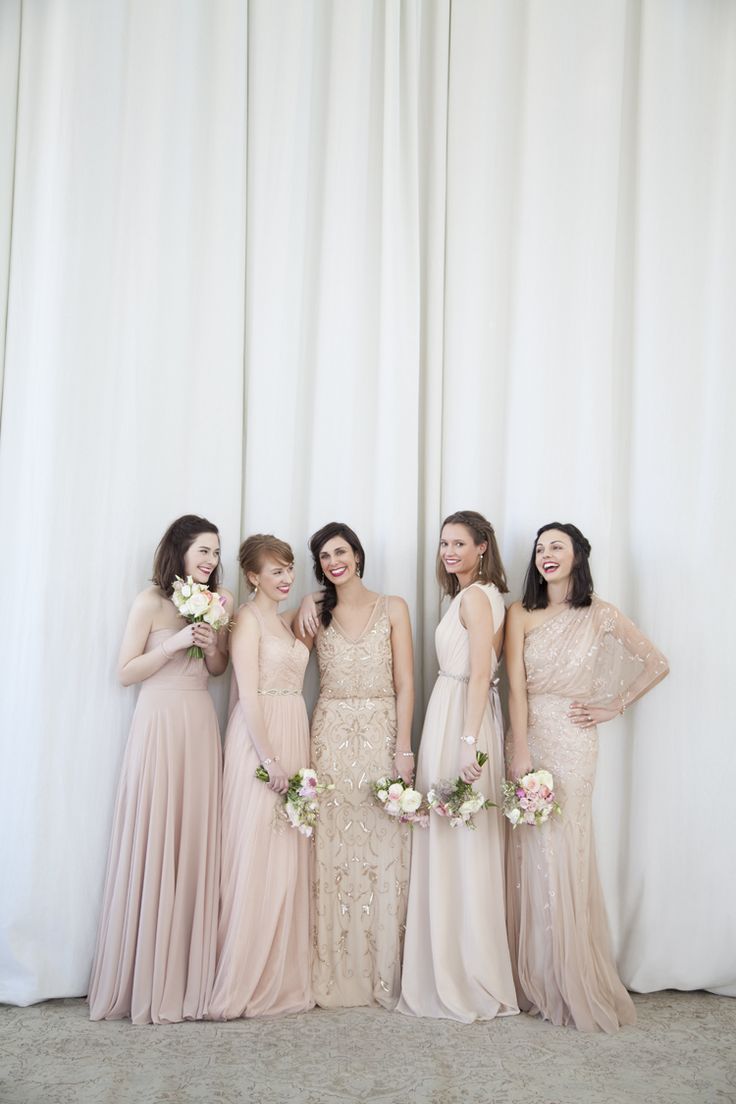 2. …or Keep it Neutral
Keeping things neutral is the easiest way to exercise some control over mismatched mayhem, and also bring some formality to the overall look. Try mixing light pinks with off-white or cream, and mix and match fabrics instead. Floaty tulle skirts, lace sleeves, beading and sequins will all elevate the overall look and provide real depth and texture.
Photo: Dresses by BHLDN
3. Add Some Embellishment
Whether all your dresses are beaded, one or two feature sequin details or it's just your MOH wearing a glitzy number, adding a bit of embellishment to your bridal party is a must! We love the mix of embellishments in these two photos, which show how very different styles can mesh together well. Try beautiful silver or gold beaded gowns (the most popular of which being Adrianna Papell's favoured Art Deco blouson gown) or create a deeper palette by adding in a dark grey or elegant navy – we're currently fawning over this Gatsby-esque navy number from ASOS while we type!
Left photo: Dresses by Lela Rose, Jenny Yoo, Adrianna Papell, photo by Lauren Peele via Style Me Pretty | Right photo by Erich McVey Photography via Style Me Pretty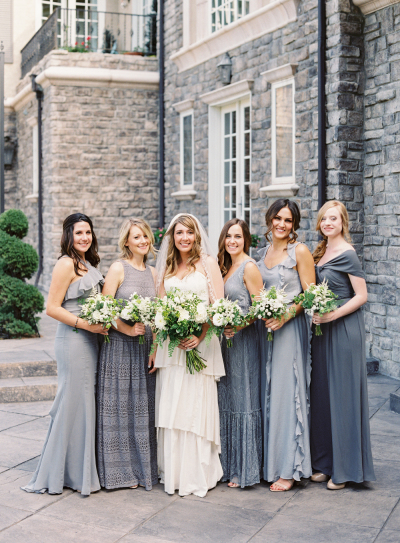 4. Go for Grey
Grey is a super easy colour to mix and match and always looks elegant and timeless no matter what the tone. If yours is a spring or summer soiree, mix in some knee and tea length styles (light tulle will work great too) and warm it up with some cream accessories and a lemon bouquet. For autumn/winter weddings, add neutral tone accessories and heavy beading.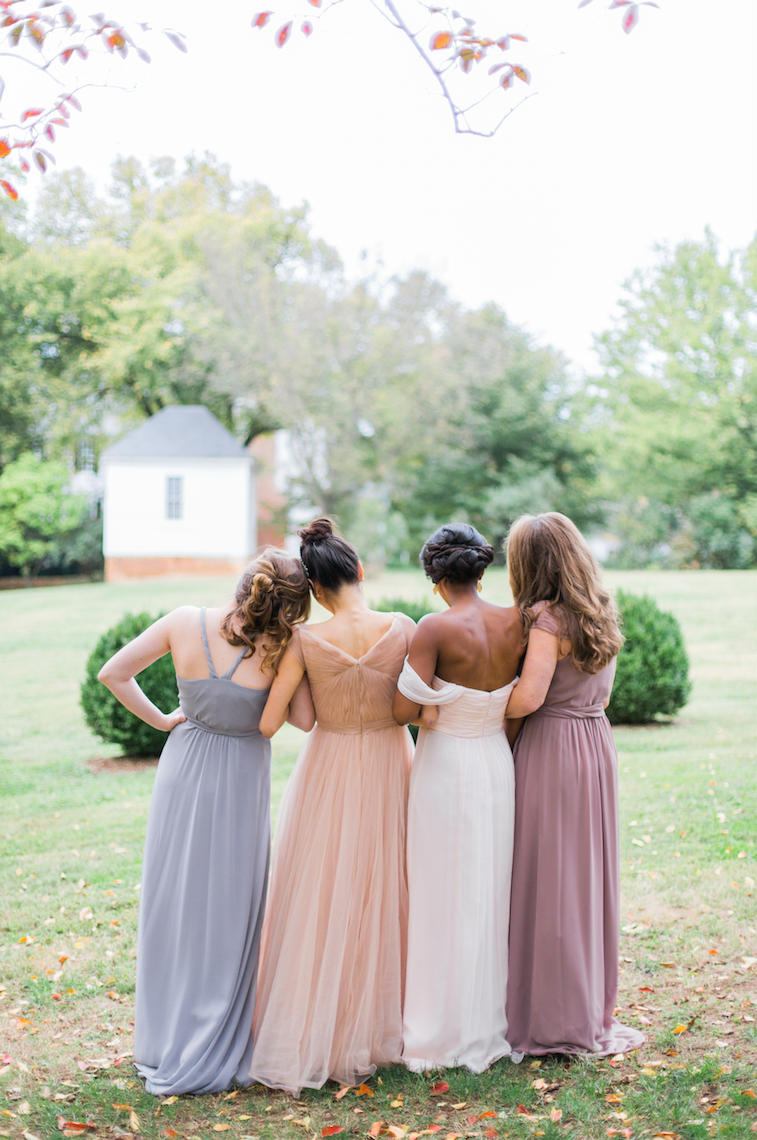 5. Plum for Pastels
Pastels have been a huge hit for spring/summer weddings recently and can easily be the basis of a mix and match bridesmaid palette. It may seem like a difficult task to create a uniform look from different colours and styles, but the pastel palette is so distinguishable that your party is sure to stand out. To create this look, we suggest opting for multi wrap gowns which come in a variety of colours and can be styled to suit each bridesmaid's shape and taste.
6. Keep it Short
You'd be forgiven for thinking that a bunch of short lace dresses in different colours and styles do not a merry bridal party make, but as you can see from this photo by Dan O'Day Photography that's simply not the case! Truth is you don't have to go for the formal 'bridesmaid dress' to include your girls in your day – but you do have to accessorise, and a bouquet and floral crown will surely do the trick!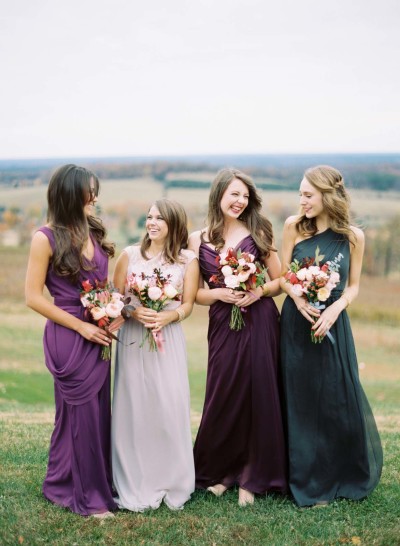 7. Don Jewel Tones for Autumn
Although we do love a neutral palette, you can by all means opt for darker, solid shades instead. Purples, blues and greens make for a strong theme for mix and match bridesmaids in winter, and can be quite easy to pull off. This theme is another great one for multi-wrap dresses, which can offer luxurious tones in a variety of styles.
Photo: by Elisa Bricker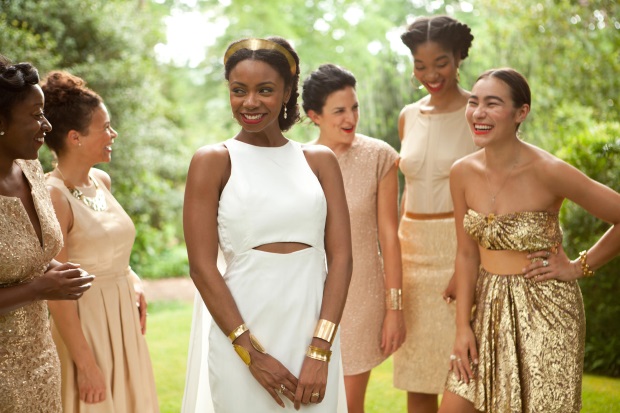 8. Get Glam with Gold
You can mix and match bridesmaids and indeed outfits with ease when you inject some glamorous gold into your look. We love the idea of some bridesmaids in cream, one standing out in full sequins and others in pretty beaded gowns – if this sounds up your street, check out this edit from Debenhams which has pretty much done the mismatched work for you!
9. Stand Out Maid of Honour
One trend popular in the US it to keep your bridal party uniform, but have the Maid of Honour stand out by wearing something different. One great way to do this is by adding a special overlay to a bridesmaid dress like this gorgeous silver crochet layer above.
Photo by Cassidy Carson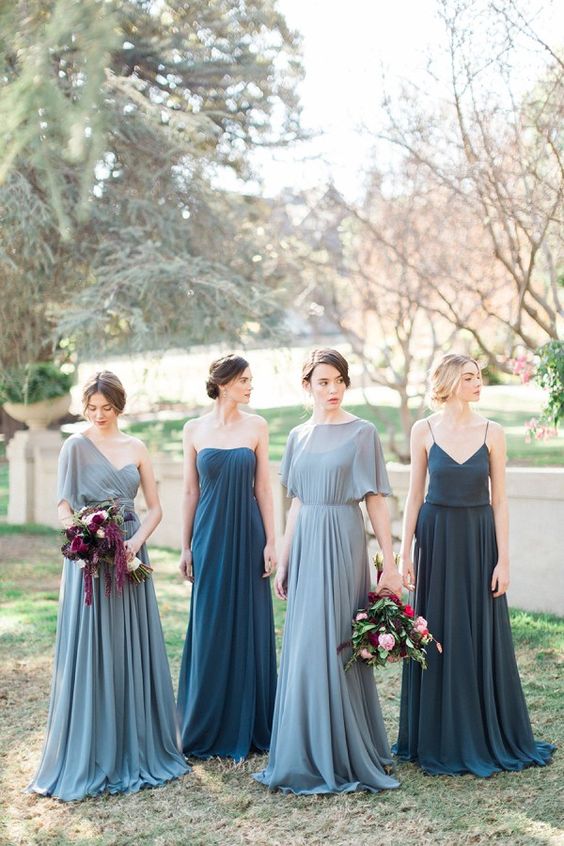 10. Aim for Ethereal
One of the best ways to keep your mismatched bridesmaids on track is to aim for a romantic, ethereal look. This means keeping things light and airy and, if need's be, with little detail. Opting for dresses from the same collection is obviously the easiest way to go, but keeping to a style of A-line skirts will help your girls to keep within a theme.
Dresses by Jenny Yoo 2016 Collection
The following two tabs change content below.
Former editor, current contributor, (she just can't let go!) Karen enjoys writing fashion but is known to dabble in decor from time to time. Her favourite section on the site is the Real Wedding section, followed closely by the Health & Fitness forums.