Nothing says party quite like a bunch of balloons and as your wedding is provably the biggest party you'll ever throw, why not get the celebrations going with some cheery balloons?! Like mason jars, balloons have endless uses – tie them to signs to make them stand out, use them as table numbers, have your flower girl or page boy make an adorable entrance with one in hand, add a touch of whimsy to your wedding photos with some awesome oversized balloons as props for the bridal party or just have a couple of pretty bunches dotted around the venue (filled with confetti perhaps or opt for cute Mr & Mrs or Just Married versions) to have some serious fun on the decor front. Check out more gorgeous ways you can include balloons in your Big Day below…
Where to Buy Balloons
You can pick up balloons everywhere from Sostrene Grene to Woodies. Or if you're looking for some specialty wedding balloons, Henworld.ie have some fun balloons perfect for the hen party and some cute balloons if you're looking to surprise the bride on the wedding morning. They also stock cute heart shaped Mr & Mrs balloons! Pearls & Lace Bridal Boutique also have some great options for weddings, stocking fun confetti filled balloons and giant oversized versions, both round and hearts.
1. Kickstart the Wedding Morning Fun with Some Balloons
Photo from Niamh & Paddy's real wedding
2. Make Your Signposts Stand Out with Some Balloons
Photo by Amanda Lloyd via Style Me Pretty
3. Let Your Little Lady Have Some Fun with Her Big Entrance
Photo by Suzie Lawrence Photography via French Wedding Style
4. And Have Some Fun with Your Ceremony Exit Too!
Photo by Alison Davis Photography via Groom Sold Separately
5. Make Sure Your Table Plan Stands Out
Photo by Edyta Szyszlo via 100 Layer Cake
6. Have Some Fun with Your Table Numbers
Photo by Kaysha Weiner via Ruffled 
7. Add a Pop of Colour and Up the Party Atmosphere
Photo by Marianne Taylor Photography
8. Have the Craic with Your Hubby or Wife…
Photo from Thomas & Aimee's real wedding by Kevin Morris Photography
9. … And the Bridal Party!
Photo by Michelle Prunty
10. Show the Love (In Balloon Form!)
Photo via Party Postman
11. Go Romantic with Your Initials
Photo by Connie Lyu Photography via Grey Likes Weddings
12. Remember a Lost Loved One with a Beautiful Balloon Release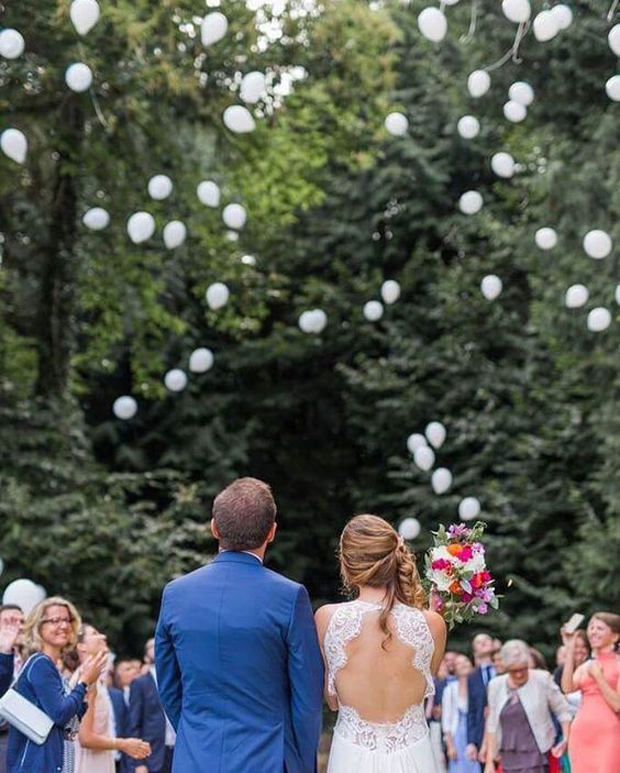 Photo via Instagram
Main photo from Oriell & Niall's real wedding by Emma Russell Photography
The following two tabs change content below.

Pamela Mahon
Pamela enjoys writing about all things decor (she loves buying it too) and has a not so secret addiction to stationery. Her favourite section on the site is the galleries section (too many pretty images to choose from), and she can often be found lurking in the fashion and beauty forums as well.

Latest posts by Pamela Mahon (see all)