There's nothing worse than an empty dance floor. And a few key ingredients will ensure that this is not the case! From a great band or DJ to some fun little touches like flip flop baskets, props and glow sticks – ensure your dance floor is great craic and always fun on your wedding day with these 13 great ideas…
1. A Great Band/DJ is a MUST
Photo from Stephanie & Declan's real wedding by Konrad Kubic Photography
13 Reasons to Hire a Professional Wedding DJ
9 Reasons To Book a Professional Wedding Band for Your Big Day
2. Have Some Dance Floor Rules to Encourage Antics
Photo by Ellie Gillard via Plan Your Perfect Wedding
3. Leave Out a Flip Flop Basket so the Ladies Can Trade in the Heels
Photo from Alex & Neil's real wedding by Lyndaloo in Spain
4. And Some Props to Keep Things Lively
Photo from Victoria & Desmond's real wedding by Tara Donoghue Photography
5. A Dance Song Request Station will Keep Guests Happy
Photo by Sarah Wilde Photography via Ruffled
6. Or Song Request Cards at Each Place Setting
Photo by Katherine Ashdown via You & Your Wedding
7. Let Guests Go on a Mad One at a Silent Disco
Photo by Bang Animation
Psst! Irish Company SilentDisco.ie offer this great service!
8. Make Sure it's the Place to Be with a Sparkly Dance Floor 
Dance Floor (and Letters) available from Chic Events | Photo from Ciara & Mark's real wedding by Couple Photography
LED dancefloors can be hired from LED – World Wedding Lighting, Chic Events, Ger's Covers, Event Dimensions, Audrey's Lighted Dance Floor
9. Break Out the Glow Sticks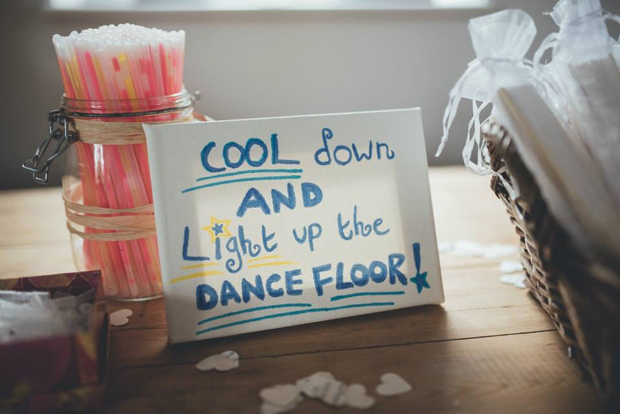 Photo via Pinterest
10. Get the Jigs & Reels Started with Some Professional Irish Dancers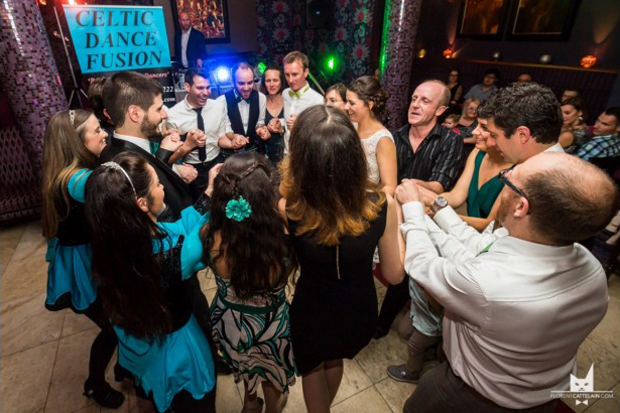 Photo courtesy of Celtic Dance Fusion
Browse Irish Dancers for Your Wedding Day in the weddingsonline Supplier Directory
11. Encourage a Few Moves with Some Fun Signage
Photo by Birds of a Feather via Rustic Wedding Chic
12. Go All Out with Little Extras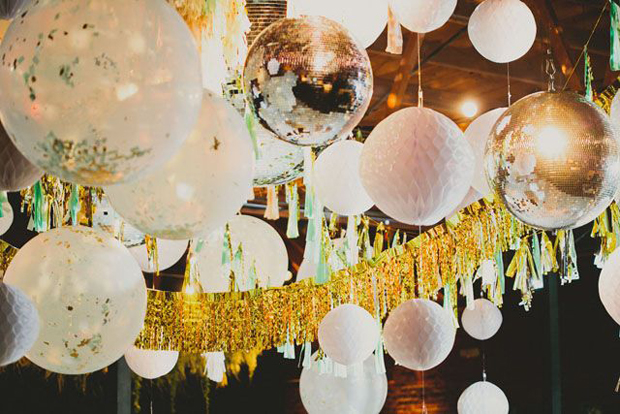 Photo via Bash Please
Psst! If you're looking to make sure the dance floor is as fun as can be, there are some awesome little extras you can hire – everything from disco lights and mirror balls to fog machines, monogram projections and light shows! Check out the below Irish suppliers who specialise in these services…
Chic Events | Discocops | Ger's Covers | LED – World Wedding Lighting | Event Dimensions | Finesse Weddings
13. Finish Off the Night with a Confetti Cannon
Photo by Joanna Brown via Green Wedding Shoes
Confetti Solutions are an Irish company that offer this fun service!
The following two tabs change content below.

Pamela Mahon
Pamela enjoys writing about all things decor (she loves buying it too) and has a not so secret addiction to stationery. Her favourite section on the site is the galleries section (too many pretty images to choose from), and she can often be found lurking in the fashion and beauty forums as well.

Latest posts by Pamela Mahon (see all)