There are lots of lovely ways to give your wedding that personal touch and DIY is one of them. While it won't be for everyone, if you do love a good project (or have a few of the girls you can rope in), it can be a gorgeous way to put your own stamp on your day and show off your amazing talents as well. Some projects won't take you more than an hour or two tops while others will require a couple of months of serious collecting and the odd battle or two with a glue gun but most of these projects are suitable for all DIYers – you don't have to be particularly crafty to pull them off. Some bits like old wine bottles and jam jars you can collect at home and won't cost you a thing and if you're after some pretty little extras, the likes of Hickeys is great for materials for your projects with everything from ribbons and sequins to fabrics and craft supplies.
Today we're taking some inspo from real weddings and are showcasing some fab DIY details couples have used for their own Big Day. We're particularly taken with Julie and Scott's recent bash, check out their wedding for a masterclass in cool, DIY style and some other brilliant ideas below. Of course you don't have to have a crafty bone in your body but can still have a bit of a DIY feel for your day – there are suppliers out there that will nail the look for you. After a creative table plan? Take a peek at Table Plan Designs who can come to the rescue and whip up a masterpiece for you whether you're after a footie, music or comic themed table plan. Check out some of their awesome designs here!
1. Put Together Some Survival Kits for Your Girls
Photo from Lisa & John's real wedding by Kathy Silke Photography
2. Jazz Up Some Wooden Hangers with Cute Transfers
Photo from Joanne & David's real wedding by Peter Rowen Photography
3. Use an Old Book to Carry the Rings to the Altar
Photo by Q Weddings via Grey Likes Weddings
4. Create Your Very Own Love Story Sign
Photo from Julie & Scott's real wedding by The Fennells
5. Have A Photo Wall Full of Your Fave Snaps
Photo from Julie & Scott's real wedding by The Fennells
6. Collect Old Frames and Create a Fun Table Plan
Photo from Laura & Craig's real wedding by Hu O'Reilly Photography
7. Use Old Wine Bottles to Display Table Numbers
Photo by Jill Tiongco Photography via Rustic Wedding Chic
8. Or Get Creative with Some Personalised Table Names
Photo from Julie & Scott's real wedding by The Fennells
9. Spray Paint Old Mason Jars and Fill Them with Flowers
Photo by Nick Murray Photography via Rock My Wedding
10. Make Up Some Cute Flags and Use Them as Place Cards
Photo by Marianne Wilson Photography
11. Display Your Favourite Love Quotes Around the Venue
Photo via Altar Ego Weddings
12. Use Some Light Bulbs as a Cool Cake Topper
Photo by Mirabel Photography via Ruffled
13. Get Crafty and Get Knitting 
Photo from Helen & Noel's real wedding by Photographic.ie
14. Collect Jars and Use Them for Drinks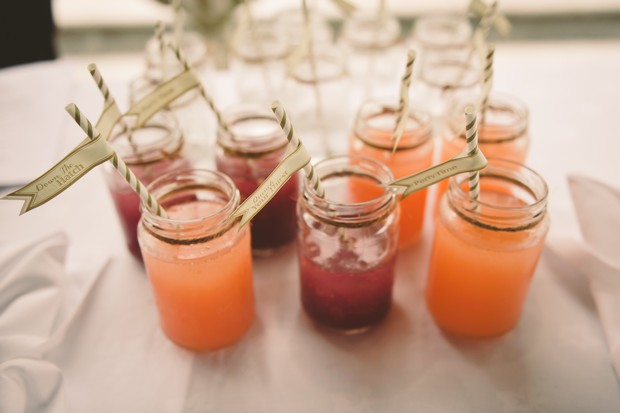 Photo from Chris & Anne's real wedding by Emma Russell Photography
Main photo from Julie & Scott's real wedding by The Fennells
The following two tabs change content below.

Pamela Mahon
Pamela enjoys writing about all things decor (she loves buying it too) and has a not so secret addiction to stationery. Her favourite section on the site is the galleries section (too many pretty images to choose from), and she can often be found lurking in the fashion and beauty forums as well.

Latest posts by Pamela Mahon (see all)