Marquees are the perfect wedding venue for couples after a beautiful blank canvas for their celebrations so that they can put their own stamp on their day and bring out their personalities. Contemporary couples that love the idea of throwing a laid back celebration on the grounds of a country manor or having the opulence and comforts of a castle setting combined with a lovely, laid back marquee feel have so many gorgeous options around Ireland with marquees popping up in a number of Irish venues. Check out 13 fabulous marquee venues around Ireland below…
{Quick links}
Exclusive Venues | Alternative Venues | Hotels | Castle Venues | Country Houses | City Venues
Use our Venue Finder to Find your Dream Wedding Venue!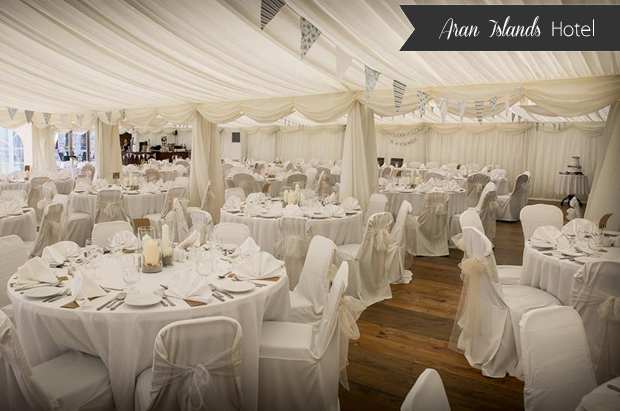 Aran Islands Hotel, Inis Mór, Aran Island, Galway
Guest capacity: 200 | View Profile
The Aran Islands Hotel (Óstán Oileain Arainn) is a charming hotel located on the picturesque and unspoilt Inis Mór, Aran Islands. The breathtaking location with its rugged, romantic scenery is a huge draw for couples but the hotel's hospitality, charm and excellent facilities also ensure it's a big hit with couples. They have a marquee onsite so couples looking to create their own unique day can easily do so. It also has impressive views over the bay and harbour – sure to blow guests away!
Dunmore East Golf Club Weddings, Waterford
Guest capacity: 200 |  View Profile
Dunmore East Golf Club in Co. Waterford is an idyllic waterside wedding venue, with stunning views over Dunmore East Harbour and Hook Head Lighthouse. It can cater for weddings both big and small from 20 to 200. Intimate weddings can take place in their beautiful Lighthouse Restaurant and they partner up with marquee companies for larger celebrations so couples looking for a fab, fun marquee wedding can host the day of their dreams, their way.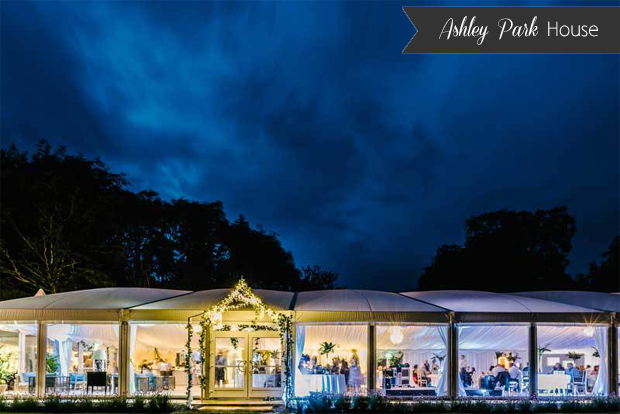 Ashley Park House, Nenagh Bridge, Tipperary
Guest capacity: 290 | View Profile
Located in Tipperary, the stylish Ashley Park House is a charming country house set on 76 acres of beech woodland and formal gardens with beautiful views of Lough Ourna. Couples can celebrate in the historic house itself which is brimming with character or if you're after a blank canvas for a larger group up to 290 guests, their onsite marquee is the perfect spot to party and boasts amazing lake views as well.
Castle Leslie Estate, Glaslough, Monaghan
Guest capacity: 260 | View Profile
This magical private estate in Monaghan is surrounded by ancient woodlands and glittering lakes. Couples looking to host a romantic marquee celebration in an estate steeped with history and charm will love all Castle Leslie has to offer. The castle itself is full of old world grandeur and can accommodate up to 70 guests. Larger parties take place in the delightful Pavilion at Castle Leslie Estate, which overlooks Glaslough Lake and can accommodate up to 260 guests.
Use our Venue Finder to Find your Dream Wedding Venue!
Clonabreany House, Crossakiel, Meath
Guest capacity: 220 | View Profile
This hidden gem in the heart of Co. Meath specialises in exclusive bespoke weddings. Clonabreany Estate consists of two restored Georgian Houses and has its very own marquee onsite so couples can have their day, their way, whether it's a small and intimate gathering or a large celebration for up to 220 guests. Weddings can be held in their Banqueting Hall or the adjoining marquee, which is full of character and style and boasts a fun, chequered dance floor.
Fernhill House Hotel is a luxurious Georgian Mansion set on 4 acres of picturesque gardens overlooking the stunning West Cork countryside. Renowned for its amazing service and excellent food, the beautiful grounds also offer plenty of romantic photo ops. This 4 star boutique hotel have a permanent marquee on the grounds for couples looking for something a little bit different. Elegantly decorated, it can host up to 150 guests. Or you can also avail of their impressive banqueting hall, which has idyllic views and is bathed in natural light.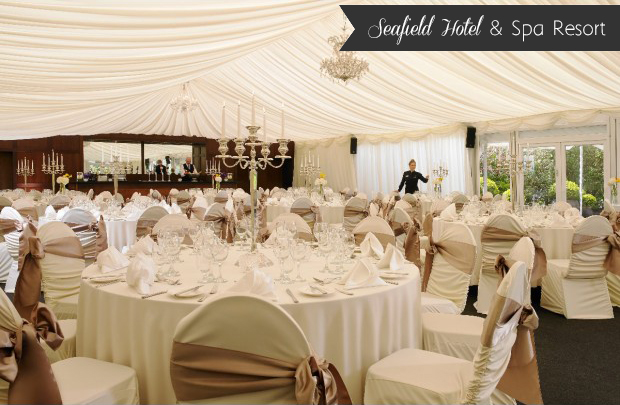 Seafield Golf & Spa Hotel, Gorey, Co. Wexford
View Profile
Set on 160 acres of tranquil parkland on the sands of Ballymoney Beach, the chic Seafield Golf & Spa is just an hour from Dublin. Designed by Italian architect Francesco Beia, it has a beautiful clean contemporary style which maximizes natural daylight and takes full advantage of its incredible sea views. Couples looking for a fab marquee setting will love their Pavilion Suite which is adjoined to the Clubhouse. It boasts lots of natural light, has gorgeous views of the grounds and can host up to 150 guests.
Virginia Park Lodge, Virginia, Co. Cavan
Guest capacity: 300 | View Profile
Virginia Park Lodge is a former 18th Century hunting estate set amongst 100 acres of beautiful Cavan countryside, overlooking the beautiful Lough Ramor. This exclusive venue can be yours in its entirety for the extent of your celebrations and can host weddings both big and small. Larger parties up to 300 can enjoy all their Exclusive Pavilion has to offer – the elegant glass walled marquee is bathed in natural light and has stunning lake views, sure to impress guests.
Use our Venue Finder to Find your Dream Wedding Venue!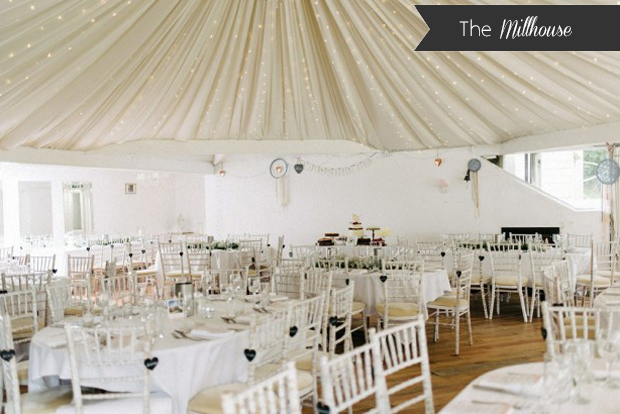 The Millhouse, The Old Mill, Slane, Co. Meath
Guest capacity: 300 | View Profile
 A combination of old world charm and contemporary design, The Millhouse is a stunning Georgian Manor House on the banks of the Boyne. Just 40 minutes from Dublin, this charming setting can be exclusively yours for your Big Day. Couples after a fab marquee style setting can look forward to partying the night away in the magnificent grand pavilion which overlooks the orchard and river. It can host up to 150 people and opens up for sunny summer days. An additional marquee can also be attached for weddings up to 240.
AnnaCarriga, Killaloe, Co. Clare
Guest capacity: 300 | View Profile
AnnaCarriga is a romantic, lakeside resort that overlooks the crystal clear waters of Lough Dergh. Their idyllic glass front Lakeshore Pavilion is a gorgeous blank canvas for couples looking to put their own stamp on their day. It has lovely lake views and can accommodate up to 300 guests. Wedding parties can make the most all this charming lakeside resort has to offer and can avail of AnnaCarriga's lake boats, marina and jetties on the day.
Ballybeg House, Ballinglen, Arklow, Wicklow
Guest capacity: 160 | View Profile
Nestled in the Wicklow hills, Ballybeg House is an eclectic wedding venue that can be exclusively yours for a three day period. Ballybeg specialises in bespoke weddings where couples create a truly personalised day in a relaxed, romantic setting. The estate boasts the beautiful country house itself as well as the Dairy, Grouse Lodge, a Shebeen and an impressive onsite Victorian style marquee that can accommodate 40 to 160 wedding guests.
Martinstown House, The Curragh, Co. Kildare
Guest capacity: 170 | View Profile
Built in the 1830s,  Martinstown House is an exclusive country house bursting with character, charming features and a wonderful, homely feel as well as its very own VW campervan and a sunken camp fire where guests can retreat for evening drinks by a roaring fire. Weddings can take place in the house itself or couples looking for a fun space they can make their own can avail of their onsite marquee. The vintage-style Indian marquee is nestled in the pretty Walled Garden and can seat 220+.
Liss Ard Estate, Skibbereen, Co. Cork
Guest capacity: 120 | View Profile
Liss Ard Estate is situated in the pretty town of Skibbereen, surrounded by beautiful coastline, forests and lakes. This picturesque country house has some beautiful drawing rooms and a restaurant that accommodate up to 100 guests but they're also well used to throwing fabulous marquee celebrations for couples looking to host a larger party. Their idyllic walled gardens are often used for amazing marquee weddings with couples able to decorate as they please.
Rosedale House, Shankill, Co. Dublin
Guest capacity: 250 | View Profile
Tucked away in south county Dublin, the romantic Rosedale House overlooks the Irish Sea. This charming country manor is an exclusive wedding venue but with a unique and contemporary twist – it is home to some seriously stylish themed rooms and boasts its own private nightclub. It's also ideal for couples looking for a beautiful, bright marquee space not far from the city centre – marquee weddings can take place in their picturesque walled garden.
Use our Venue Finder to Find your Dream Wedding Venue!
The following two tabs change content below.

Pamela Mahon
Pamela enjoys writing about all things decor (she loves buying it too) and has a not so secret addiction to stationery. Her favourite section on the site is the galleries section (too many pretty images to choose from), and she can often be found lurking in the fashion and beauty forums as well.

Latest posts by Pamela Mahon (see all)