Your wedding is a really special day for your mum and dad so today we're taking a look at a few little ideas for the other important man in your life – your pops! If you're looking to make sure dad gets a look in on the Big Day, there are some lovely little gestures and Father of the Bride gifts out there that he'll love. On the pressie front, make sure he remembers the day with gorgeous keepsake cuff links or a card filled with the loveliest sentiments. Or if you're looking to make sure he feels the love, capture the moment your dad gets a glimpse of you in your gúna with a first look, have a special place card for him and save a dance for him later on.
The wedding day can be tinged with sadness for those whose dads aren't still with us but that doesn't mean you can't involve them in some small way. We've included some beautiful ways to honour any dads that are there in spirit such as a beautiful candle lighting in his honour or an empty seat dedicated just to him. Check out some more lovely touches below…
The Sweetest Gifts…
A Hankie for his Happy Tears
Photo by Adam Barnes Fine Art Photography via Style Me Pretty
Shop Personalised Hankies on WowWee.ie
A Framed Pic He'll Cherish 
Photo by Jason Jarvis Photography via Hill City Bride
Shop Father of the Bride Frames on WowWee.ie
Engraved Cuff Links with the Sweetest Sentiments
Photo by Finn Mooney
A Surprise Heartfelt Message on His Tie
Photo via Sew Happy Girls on Etsy
Socks in Honour of His Special Role
Photo via Pinterest
Shop Father of the Bride/Groom Socks at Lantz Weddings
A Beautiful Card from the Heart
Photo via Wedding Cheer
On the Day…
Include Him in the Bridal Prep with a Personalised Robe
Photo from Gina & Edward's real wedding by Brenda McGuire
Make Time for a Special First Look
Photo by Tomasz Kornas
Save a Seat Just for Him
Photo by Shea Christine Photography via Style Me Pretty
Pop a Special Place Card by His Place Setting
Photo by Shaun Menary Photography via D Weddings
Photo by Christina Lilly Photography via The Knot
For the Dads that are there in spirit…
Hang a Photo from Your Bouquet So He's Close To You All Day
Photo via Pinterest
Light a Candle or Lantern in His Memory
Photo via Pinterest
Dedicate a Seat to Him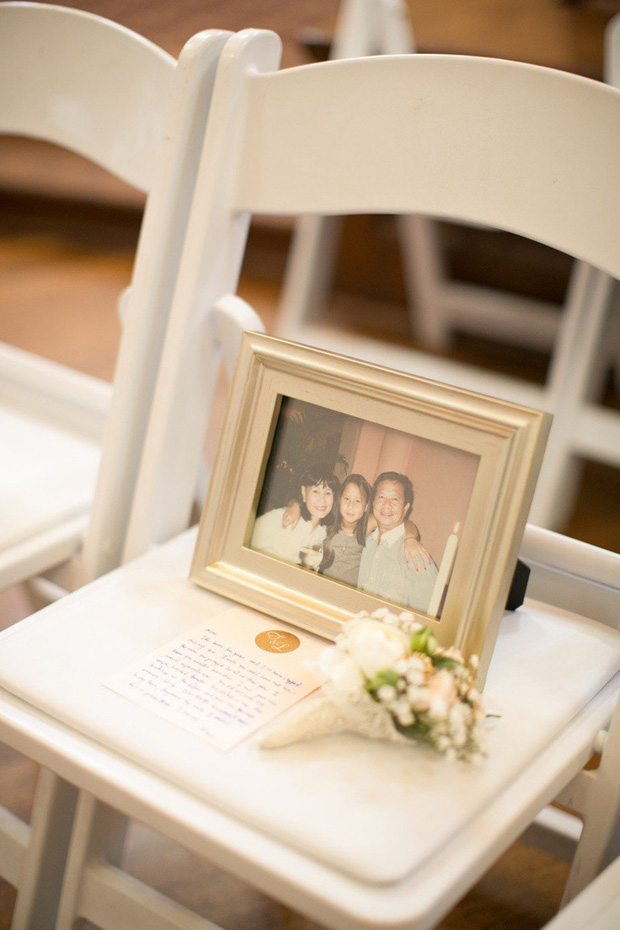 Photo by Caroline Joy Photography via Style Me Pretty
'Take one in Honour of…' – Let Guests Enjoy one of Your Dad's Favourite Things
Photo by Twin Lens via Style Me Pretty
Include Charity Favours Close to His Heart
Photo by Schillings Photography
The following two tabs change content below.

Pamela Mahon
Pamela enjoys writing about all things decor (she loves buying it too) and has a not so secret addiction to stationery. Her favourite section on the site is the galleries section (too many pretty images to choose from), and she can often be found lurking in the fashion and beauty forums as well.

Latest posts by Pamela Mahon (see all)