It's no secret, we're a tad fond of wedding signs here in weddingsonline HQ! Whether it's an adorable sign for your little flower girl or page boy to wave, a sign displaying your Insta hashtag or just something utterly romantic in honour of the day that's in it, we're all over it. When it comes to weddings, creative couples have gone all out and come up with some seriously sweet sign ideas you can steal for your Big Day that will having guests going 'aww'. From popping cute love quotes on each table to a sweet love story sign with all your relationship milestones, there are some really lovely ways to showcase how much your other half means to you and bring a little extra romance to the occasion. See some of our favourites below…
P.S. If you're after some adorable wedding ceremony signs, Irish company WeddingCandles.ie have lots of lovely variations on the 'Here Comes the Bride' sign or if you're looking for cute countdown signs or ideas for your ceremony and reception, Donegal based store Pearls & Lace Bridal Boutique have lots of adorable buys in their online store!
23 Brilliant Wedding Signs You Can Buy Now
Home is Wherever I'm With You
Photo by T& S Photography via Bridal Musings
With My Whole Heart For My Whole Life
Photo by Emily Heizer via Ruffled
Better Together
Photo by Nicole Berrett Photography
And So Our Adventure Begins
Photo by Christine Pienaar Photography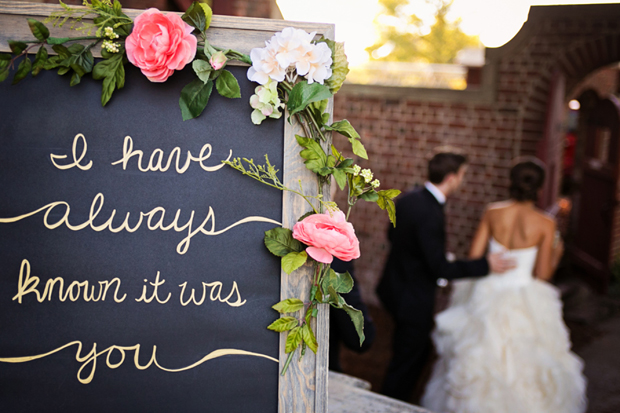 I Have Always Known it Was You
Photo by Alante Photography via Style Me Pretty
You & Me Sign
Photo by Love & Light Photographs via Style Me Pretty
Today I Marry My Best Friend…
Photo by Ten21
Our Love Story
Photo by Julie Paisley Photography via Style Me Pretty
Here Comes the Love of Your Life Sign
Photo by This Love of Yours via Style Me Pretty
Winnie the Pooh – How Do You Spell Love…
Photo via Altar Ego Weddings
I'm Hers
Photo by Chaz Cruz via Style Me Pretty
You Will Forever Be My Always
Photo by Stephanie Ponce Photography via Burnetts Board
Welcome to Our Love Story
Photo by Troy Grover via Mod Wedding
Hers
Photo by Lavender & Twine via Style Me Pretty
Coffee & Breakfast for the Rest of our Lives
Photo by Kallima Photography via Style Me Pretty
Every Love Story is Beautiful but Ours is My Favourite
Photo by Ryan Price via Wedding Chicks
When I Saw You I Fell in Love
Photo by Carrie Patterson Photography via Style Me Pretty
Like Wine, Love Gets Better with Age
Photo by OneLove Photography via Style Me Pretty
From this Day Forward…
Photo via Aisle of View
Help Us Capture the Love
Photo via Michelle Garibay Events
Our Wedding is Dedicated to Our Parents…
Photo by Bonavita Photography
The following two tabs change content below.

Pamela Mahon
Pamela enjoys writing about all things decor (she loves buying it too) and has a not so secret addiction to stationery. Her favourite section on the site is the galleries section (too many pretty images to choose from), and she can often be found lurking in the fashion and beauty forums as well.

Latest posts by Pamela Mahon (see all)