"We wanted our wedding to reflect some of our experiences together and our love for travel"
The couple: Ríona Flood & Thomas Collier
Length of engagement: 16 Months | Wedding date: 14th August 2014
Wedding ceremony: Church of St. Alphonsus Liguori, Kilskyre, County Meath
Wedding venue: Clonabreany House, Co. Meath
Photographer: Mark Fennell Photography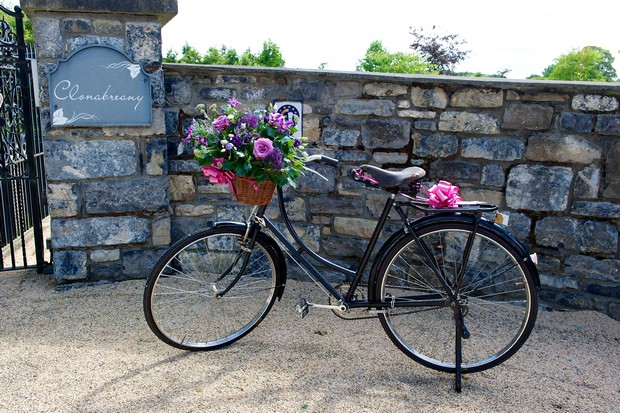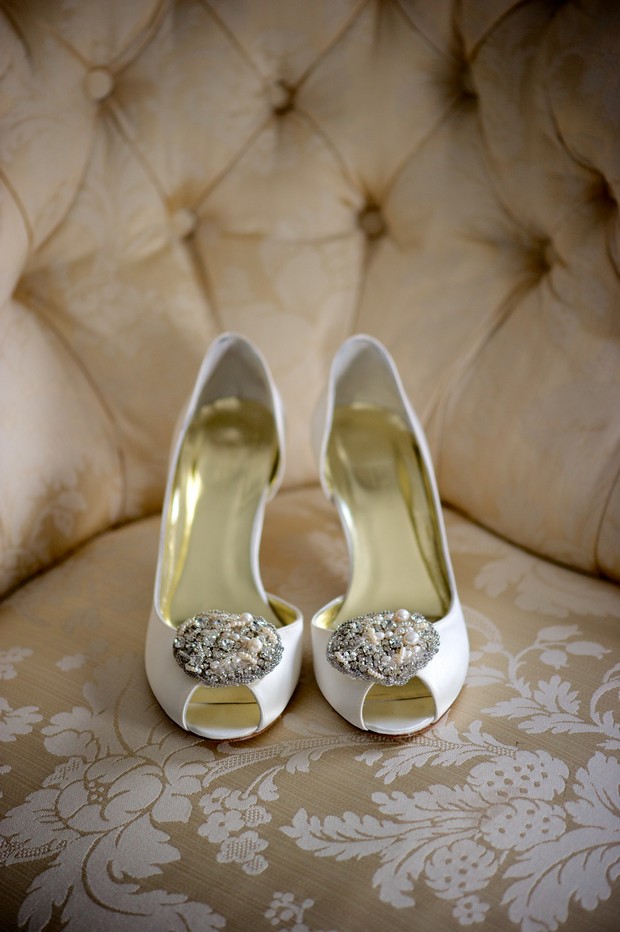 We met… while both living in Madrid, Spain working on graduate programmes for Irish companies. Thomas was working for Dawn Meats and I was the Jameson Brand Ambassador.
Our proposal… Thomas proposed to me while snowboarding in the middle of the Alps in Austria. He was so nervous he forgot to kneel but that didn't take away from the moment. The location was stunning and it made our whole snow holiday even more magical.
My hair and make-up… was done by the amazing ladies The Powder Room Girls – Susan and Janet. Absolutely could not recommend them enough, they were extremely professional yet fun and relaxed and really made the morning of my wedding very special. I just wish they could do my hair and make-up every day!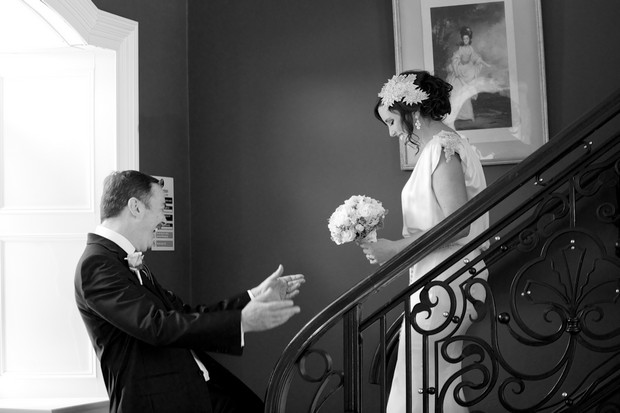 My dress… was Alan Hannah's Lottie dress and hairpiece. The dress was not what I had envisioned but as soon as I put it on I knew it was the one. I love wearing clothes with details around the neck and shoulders. It allowed me to show off my curves without showing skin and was extremely comfortable and perfect for dancing! I bought the dress at The White Room, a great shop with a wide selection and excellent staff.
Our ceremony… was a traditional Catholic ceremony in the Church of St. Alphonsus Liguori, a beautiful old church just 5 minutes drive from Clonabreany House. We added our own twist by having a string quartet play modern classics so I walked up the aisle to The Beatles, Love is All You Need and down the aisle to Coldplay's Viva La Vida – a special song for myself and Thomas.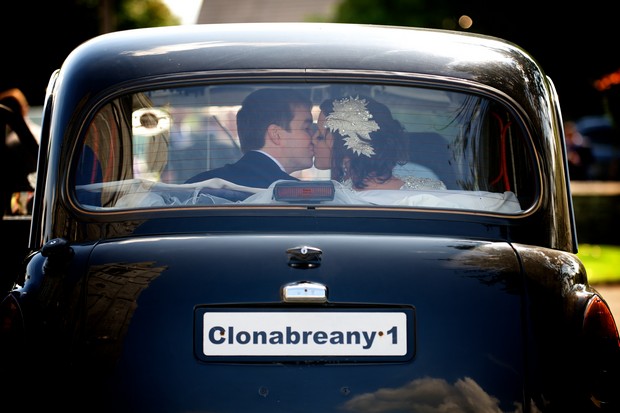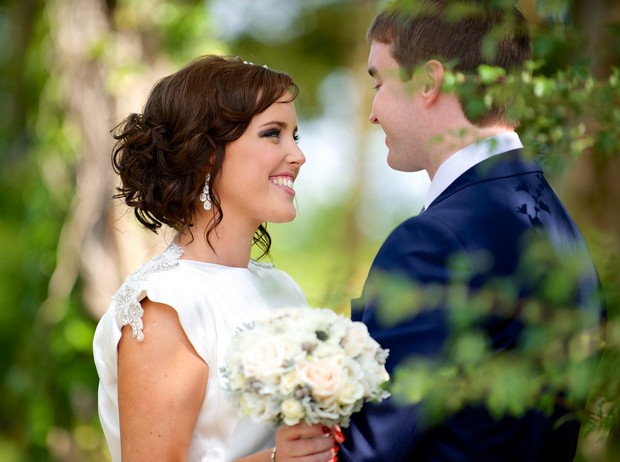 We chose our photographer because… we were looking for someone who had a more casual style than the traditional wedding photographer and also that was easy to get on with and put us at ease as neither of us are fond of getting our photos taken. Mark (Mark Fennell Photography) and his wife Fiona were absolutely perfect because while Mark is lining up some of the more traditional shots (family, church poses etc.), Fiona captures what is going on in the background and some of the in between shots, giving us lovely casual moments that really capture the day. As we didn't want a videographer this was really important to us too.
We chose our venue because… Clonabreany House offered everything we were looking for and more; absolutely fabulous food with a menu that you can adapt (important when you both come from families of foodies!), the potential to book the location exclusively for not only the day of the wedding but also the following day (as we wanted to organise a BBQ and more entertainment having not seen many friends and family in so long) and beautiful surrounds and venue. It also had great spaces that allow for a nice flow to the day – it was all very compact but had different spaces you could use from the drinks reception, to the meal to the sibín for some late night sing songs.
Our wedding theme/colours… As we met while living in Madrid, Spain and are now living in São Paulo, Brazil we wanted our wedding to reflect some of our experiences together and our love for travel. The Havana Club Trio played a mixture of Spanish and Latin American songs at the drinks reception, we had Sangria and Estrella Galicia beer to welcome guests and a Spanish inspired menu with delicious tapas to start. We had a vintage map styled menu plan and all of the tables for dinner were named after places we were from, had lived in or had holidayed just the two of us. We also had photos dotted around the venue of the two of us in different places and our 'logo' – a silhouette of the two of us on a tandem bike (painted by my cousin Caoimhe Ni Bhroin) was used on our invites, ceremony leaflets, table plan, thank you cards etc. Regarding colours, we went with a beautiful purple as the main recurring colour as worn by my bridesmaid and had a touch of vintage class with our hairstyles, my dress, and the use of the Clonabreany House car etc.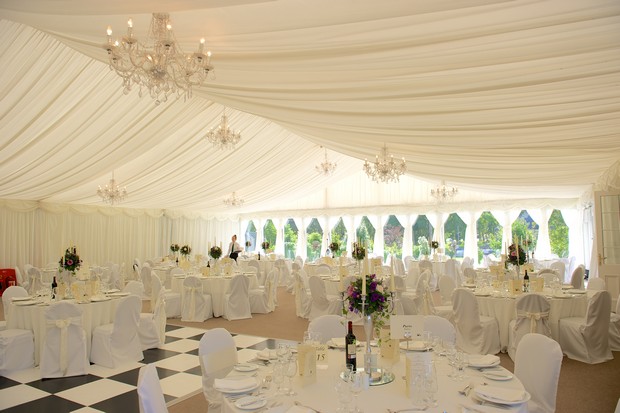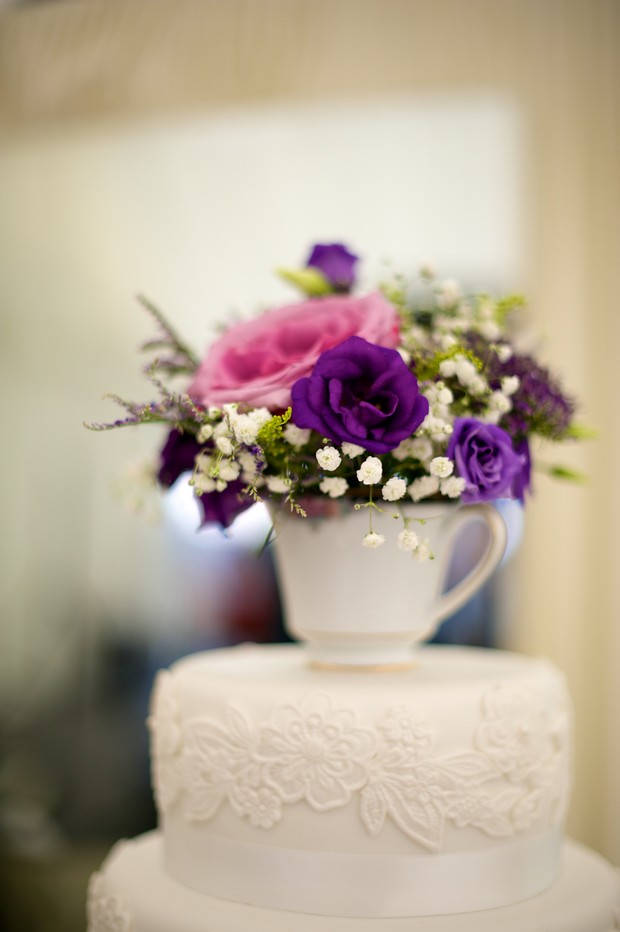 Our honeymoon… happened a couple of months later, we spent three amazing weeks in Panama. We spent a few days in the city, then sailing around the Caribbean islands then up the mountains for some hiking and water sports.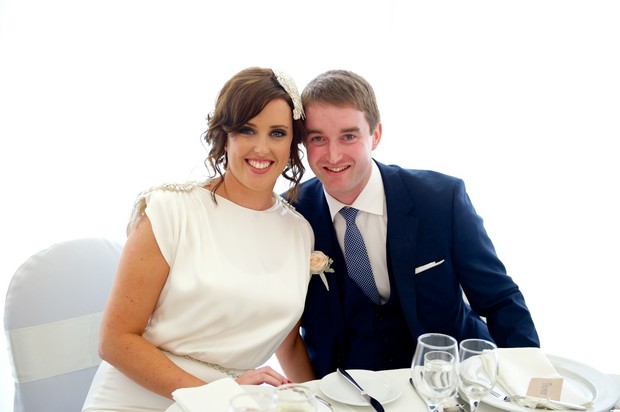 Our menu… was so delicious I would love to have the chance to eat it again! The starter, as mentioned above was tapas, followed by a roast red pepper and tomato soup, with an option of steak or hake for the main course with lemon tart to finish.
My piece of advice for other brides… is to decide what elements of the wedding are most important to you and to spend the budget in this area, for us it was the food and music. It helps to give you focus and keep control of the budget. Excel is your best friend – keep track of everything, guest lists, gifts, suppliers etc. Give someone on the day the responsibility of being the contact person for suppliers so that if there are any issues they can contact them directly and leave you to enjoy your day.
Suppliers
Wedding photographer: Mark Fennell Photography | Wedding venue: Clonabreany House | Wedding dress: Alan Hannah at The White Room, Mullingar | Hair & make-up: The Powder Room Girls | Ceremony music: Appassionata String Quartet | Drinks reception music: The Havana Club Trio | Vintage bikes for décor: High Nelly Bikes | Entertainment: Photobooth Occasions | Florist: VP Flowers (an absolute miracle worker, she created photos that I had brought to her but somehow made them better!) | After Dinner Music: The Goods (Have got a huge number of compliments, the floor was full from start to finish!)
The following two tabs change content below.
Former editor, current contributor, (she just can't let go!) Karen enjoys writing fashion but is known to dabble in decor from time to time. Her favourite section on the site is the Real Wedding section, followed closely by the Health & Fitness forums.