When it comes to your wedding look, your hair and makeup will play a big part! You want to look and feel amazing on your Big Day – the best possible version of yourself. One way to get an idea of how you're going to look on your special day is with a hair or makeup trial but is this a necessity? We put it to the experts, the makeup artists themselves, would they recommend a bridal makeup trial? Here's what they had to say…
MakeUp by Niamh | View Profile
If at all possible, yes. Sometimes with distance it is not always feasible. In which case, good communication with your chosen makeup artist, swapping images and thoughts is a great way to get your desired result on the day and to get to know each other. After all you'll be sharing those very precious moments that morning with your makeup artist, you should at least like him or her!
For me a trial is more a conversation, a time to listen and a time to advise. I love getting to know my brides and finding out what I can do for them, to make them feel amazing on their day. My bridal trials often last over 2 hours, I discuss everything from their skincare to their bridal tan and of course the makeup itself.
The Makeup Genie | View Profile
The makeup trial is a very important part of planning your look for your big day. It allows you some time to sit in a relaxed setting with your makeup artist and explore some ideas on what type of makeup look you have in mind. I always say to my clients to try and have 2 or 3 looks that they really like saved to their phone or laptop. A visual aid is very important for your makeup artist as it gives a very clear idea of what inspires you.
Your trial will usually take about 90 mins. Your makeup artist will try out the look you have chosen allowing you to see what it looks like on you and also giving you plenty of options to adjust anything you dislike. It is a good idea to try and have your trial done early in the day so you can test out the makeup product longevity and make sure you are very happy with how it all looks several hours later. Having the trial done prior to your wedding will mean that on your big day you won't have to worry about choosing your look, instead you can sit back and relax and know you are in safe hands.
Stylicious | View Profile
I would recommend that every bride have a trial 8-10 weeks before their big day. You obviously want a look that is unique and tailor made to you and this can only be created by working on it together. At a trial I will ask about your usual skincare regime, what products you use and what you feel is the best feature of your face. You want to look the best you can be on your wedding day but you also want to feel like yourself. If you don't usually wear much makeup, you will probably be nervous about looking too done up, in this case we will build your look slowly by applying a base and then adding to it to show you the difference, you can decide how much or how little you like. A trial is also great if you have any concerns or issues with your skin. I can "give you homework" to work on until the wedding. We also take photos so you don't have to make instant decisions and see how you photograph and also show how a little more coverage and detail is needed to look your best on camera.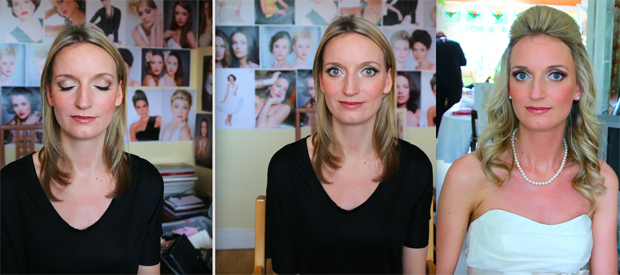 Marie Joseph Professional Makeup Artists | View Profile
Ladies, for you to get the makeup artist you want, it's important to book them and schedule in a trial approximately 9 months before your wedding. Why so early, well how you look will be revealed in your wedding photos forever!
As an artist, it is my job to listen and through mutual collaboration help you tease out your desired wedding look, whether it's natural, modern or one with a vintage twist.
Another part of my job is to accurately analyse your skin. This helps choose a foundation suitable for your skin type and is one that lasts throughout the entire day.
Time now to design the makeup look. Using the right colours on your eyes is important. You want them to pop in photographs. When your future hubby lifts your veil, you want those baby blues or browns or greens to sparkle. That's where I come in and why a trial is so important. All your wishes are discussed and created.
Finally, to ensure you are happy with the look you've chosen, I will help you capture the moment using my camera. I always forward trial pictures to brides. This ensures they have an accurate (non-airbrushed) idea of how their makeup will look on the wedding morning.
Mrs Makeup – Michelle Regazzoli Stone | View Profile
Being a makeup artist for almost fifteen years now, I've experienced every eventuality. I find most brides think of how they want their day to run but not their morning. During a trial with me we don't only discuss your desired makeup look, we discuss your bridal party. It's important a schedule is agreed and we've established which member of the party goes in which order to alleviate any stress. Time can be a massive issue if it's not carefully managed.
Regarding the makeup application, I think it's important to have a trial so both parties can connect and feel happy and comfortable with each other. It's important to discuss ideas, your likes and dislikes and a trial is the only way you can agree on a recommended 'touch up' product list.
Photo from Laura & Daniel's real wedding by The Fennells
Makeup with Megan | View Profile
I would always suggest that a bride have a makeup trial before her wedding. Firstly, on the morning of your wedding you don't want any hiccups. You want your morning to run smoothly and be confident that dress, hair and makeup are 110% perfect. A bridal look has to be specific to that particular bride – the personality, style and personal preferences of how the bride would like to look have to be taken into consideration so you look like the most beautiful version of you on your wedding day. During your trial period, try the different options which you have in your head, change lip colours, try lashes. Make sure you take loads of pictures of yourself and make sure to pay attention to see the way the makeup wears on the day of the trial. In terms of when you should have your makeup trial… in my opinion 6 weeks to 6 months beforehand and no more as styles and trends change and it's difficult to stick with your makeup.
Nicki Fanning Makeup Artist & Hair Stylist | View Profile
Yes, when possible it is really advisable to have a makeup trial. The complete image of how you will look in your dress on the big day is often a constant source of worry and can add a fair amount of pressure in the run up. Here's why having a trial is so important.
Right now there's so many trends/styles for bridal makeup, it can be overwhelming knowing which direction to go, having an in depth consultation during the trial is a great way to get genuine advice from an experienced professional in a relaxed atmosphere, with no pressure to buy products. It's also really important to find the perfect foundation that will suit your skin type and look flawless all day long… along with what eye makeup is going to work for you, finding the perfect lipstick and basically designing a look you will not only love but feel really comfortable in too.
Having a trial is also a great opportunity to get valuable tips and tricks for great skin, and product recommendations which can only be given when the makeup artist can see your skin type in person. On a personal level, it is also really important to meet your makeup artist in person before the wedding day and feel 100% confident in their ability as a makeup artist and also that that person is really going to fit in with you, your family and friends on the morning and help make it a calm, fun and fabulous start to your day.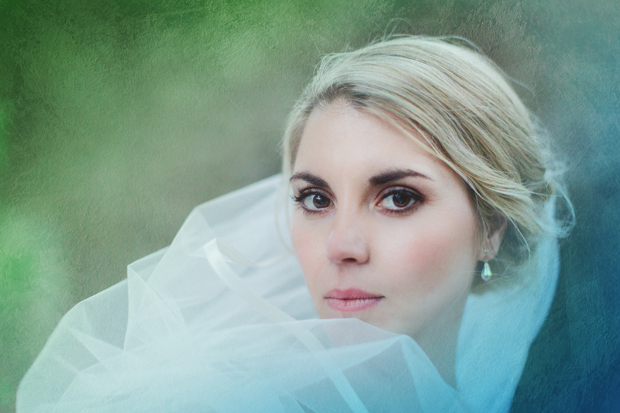 Upstyle Junkie | View Profile
A trial is important but sometimes not always possible if you are having a destination wedding let's say. What I do find of utmost importance is excellent communication between you and your supplier. Make sure you research and book the makeup artist that suits the look and style you are aiming to achieve for your wedding. Inspiration pictures will give an idea of what makeup you like. I always say to my brides to search for images of makeup with similar skin, eye colouring and even hair too as themselves. This may seem strange but it will give you a realistic view of what is possible. Every bride is individual so no two trials are the same, some brides will love a strong lip while others would like to concentrate on achieving a flawless dewy foundation. This is what I love about my job, each and every wedding has its own style.
Michelle T Makeup | View Profile
I recommend all my brides come for a makeup trial 6-8 weeks before the wedding date, it's a great opportunity for me to meet my bride, get to know her personality and what kind of styling she is going for on her special day. I ask my brides to bring pictures of their hair trial, dress, bridesmaid dresses, flowers, groom's suit, invitations, anything that will allow me to build a picture of the overall look.
Aileen Duffy Makeup Artist | View Profile
I would say yes, where possible, a wedding makeup trial is essential when planning your wedding day. You will of course have researched your bridal makeup artist and carefully selected the person that suits your style most. However, the makeup trial is just for you – working with your makeup artist to create your look for your wedding day.
I generally allow 1.5 to 2 hours for your wedding trial. The first fifteen or twenty minutes are spent chatting, getting to know your style, and your makeup likes and dislikes. We will discuss your makeup look and how it will work with your dress and hair on the day. We will talk about skincare. I always supply a comprehensive skincare sheet to my brides in advance of the trial and we can discuss any particular skincare concerns during the trial.
Together we will create the perfect makeup look for your day – working carefully to select the correct foundation (every bride wants to look flawless and radiant on her wedding day), creating your eye makeup look, choosing colours, deciding on density of shades and what individual lashes suit you best. We will go through lip colours to select the colour that works best for you. I always allow time for discussion on what products to use to touch up and what to do if there are any little tears (happy ones!) Mostly remember this is all preparation for your wedding morning. You need to know with absolute confidence that when you sit on your makeup artist's chair you can relax and enjoy the experience, knowing that when they are finished, your dreams and vision comes true and you look the most perfect version of you!
A few tips…
• Try to book your trial for early in the day so that you can see it in the light as you would on your wedding day and you can wear it all day!
• Bring your mum or a friend – the trial can be a great opportunity for your bridesmaids to meet your makeup artist and familiarise themselves with her style of makeup.
• Treat your skin kindly in the weeks before your trial.
• Be honest and open with your makeup artist – it's our job to create your makeup look!
• Enjoy the experience and all the little tips you'll pick up along the way!
However, it's important to remember that there are occasions when a makeup trial before the wedding is just not possible. I've had brides who were travelling from other countries and a trial is just not an option for them. This is where carefully selecting your artist is even more important and communication is key. In those cases, I always allow extra time on the morning so that we can select the correct products to design and create your makeup look for the day.
Charlotte O' Mahony Makeup | View Profile
Absolutely YES. I like to allocate a minimum of 2 hours but mostly up to 3 hours for my bridal trials. This may seem like a long time but it should be a very enjoyable experience and ultimately you would love your makeover. It's also a nice time to get to know your bride a bit better.
Make up is very personal and for me there are no rules except to really listen to my bride. Some brides like a very dramatic look where others prefer a more natural makeover. The correct makeup is the one which makes you feel really comfortable and of course fabulous. My approach for my bridal trials is to start conservatively and then build it up. I like to show my brides each step of the makeover rather than an end reveal. This way it can be adjusted accordingly to best suit you.
Anyone who has sensitive or problematic skin should not leave the trial too close to their wedding date just in case they have any reactions. Also at the trial, a lipstick is usually recommended for you to purchase for touch ups on your wedding day.
Timeless Beauty by Sarah Kirwan | View Profile
It is so important for you to have a trial so that you and your makeup artist can decide what works best for you. It will also put your mind at ease and allow you to relax on the morning of your big day.
The following two tabs change content below.

Pamela Mahon
Pamela enjoys writing about all things decor (she loves buying it too) and has a not so secret addiction to stationery. Her favourite section on the site is the galleries section (too many pretty images to choose from), and she can often be found lurking in the fashion and beauty forums as well.

Latest posts by Pamela Mahon (see all)