When it comes to wedding makeup trials, the pros defo recommend them for brides (read more about that here and check out what you should bring along with you here)! But what about your girls? Do your bridesmaids need a makeup trial too? We put it to the experts, the makeup artists – here's what they had to say…
Lotte Laure Colombine – LLC Makeup | View Profile
I believe it's not really necessary for bridesmaids to have a trial. Unless they never wear makeup, are apprehensive about the makeup or you are looking for something specific for them, there is no real need. You can show some images at your own trial to bring across what you would like for your bridesmaids. Same with the hairstyles, you can discuss with your bridesmaids what you are looking for and if they are happy for you to decide on the looks for hair and makeup (most are) a trial for them is not hugely important. Some have a very strong idea of their own and would like to have an input so it would be a good idea to bring it up to avoid confusion or disappointment. If you or they feel more comfortable having a trial, there is of course absolutely nothing against having a trial for your bridesmaid(s) but be aware you may end up paying for the trial.
Ailbhe Lynch – Makeup Artist | View Profile
It is usually just the bride who has a trial. If you wish to have a trial for your bridesmaids, then it shouldn't be a problem to arrange that with your makeup artist but it isn't really necessary and is an added expense that could be used elsewhere in your budget. Your makeup artist would usually ask if you have any preference as to how the girls wear their makeup on the big day. If you do have a preference, then your makeup artist will take that on board. If you are happy for your bridesmaids to have their makeup how they like it, your makeup artist will have a chat with them on the day about their preferences, keeping in mind the style of dress and overall theme of the wedding. It is a good idea for them to have one or two photos of makeup looks they love so they can show your makeup artist. Photos that meet your approval of course!
If you do wish to have a uniform look for all your girls, just bear in mind that everyone has a different face so even if you apply the same look to everyone, they will still look slightly different. And some people need a little more definition than others to make their eyes pop for example. So for a makeup look that ties in well with everyone, it is a good idea to keep to a particular colour palette but adjust the levels of definition to suit each individual and make everyone look and feel their best.
Photo by Claire Byrne Photography
Michelle T Makeup | View Profile
It can be quite expensive to get bridesmaid trials plus more time-consuming work for you trying to organise everyone. If there is a bridesmaid who is nervous, I suggest you get them to get in touch and make their own appointment with your makeup artist.
Nikki Kavanagh – Make Up | View Profile
Honestly no. This is something that I try and avoid, I like to spend my time focused on the bride, she is the most important person and the attention needs to be all on her. Having said that, I always discuss colour schemes and looks with the bride and suggest they all set up a whatsapp group to finalise the vibe they are going for.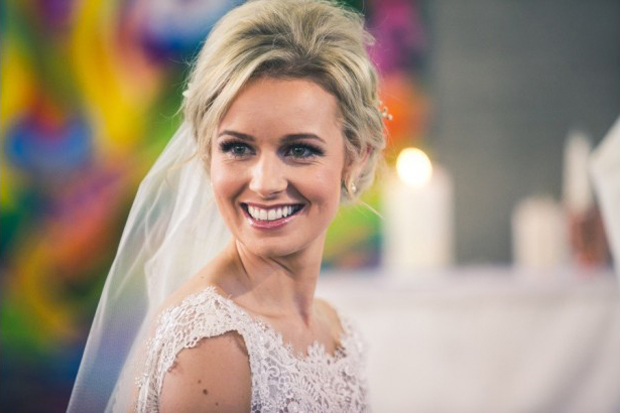 Laura Kay | View Profile
The bridal party do not necessarily need a makeup trial. If a member of your bridal party has concerns, perhaps problematic skin or is particularly nervous, then perhaps it's best to bring her with you for a trial.
Upstyle Junkie | View Profile
Bridesmaids don't always have trials done but if they have had a bad experience in the past or perhaps are conscious about their skin, it's nice to bring them along if possible to meet your supplier, this way they can either have a trial themselves or run through their concerns and be reassured.
Forever Fabulous Makeup Artist | View Profile
Bridesmaids generally do not have a makeup trial, this can add to your costs. However, if you have a bridesmaid that is nervous about her look or has any skin issues or allergies, I would recommend a trial in this case. The same would apply for mother of the bride or groom, you would expect to pay anything around €50 per person for this.
The following two tabs change content below.

Pamela Mahon
Pamela enjoys writing about all things decor (she loves buying it too) and has a not so secret addiction to stationery. Her favourite section on the site is the galleries section (too many pretty images to choose from), and she can often be found lurking in the fashion and beauty forums as well.

Latest posts by Pamela Mahon (see all)