Your wedding rings play an important part in the Big Day and like your engagement ring, it's a piece you'll wear day in day out so it does need a bit of thought! For some couples, simple bands are the way to go but for others, it's a chance to get creative plus get a fab new piece of jewellery symbolising this amazing commitment. As with everything, new designs and trends are always popping up and wedding rings are no exception. We asked out wedding band experts John from The Wedding Band Shop and Robert from Rocks Jewellers about what's trending at the mo in the world of wedding rings. Check out some of the latest wedding ring trends below…
John from The Wedding Band Shop – View Profile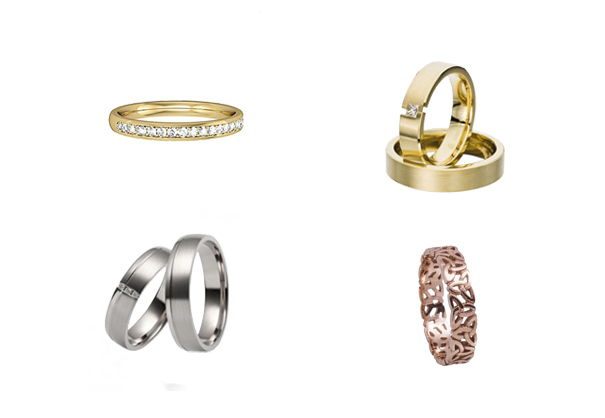 Up until the end of 2016, white metals ruled. The overwhelming choice of metal for brides' wedding rings was 18k white gold or platinum, either as a classic plain band or diamond-set half eternity to match your engagement ring. This year, both yellow gold and rose gold have really made a comeback. Even if your engagement ring is white, we would recommend looking at a yellow gold band. Not only is it very traditional, but yellow gold with diamonds is a luxurious combination.
The second major trend we have noticed is the selection of a wedding ring as a stand-alone piece of jewellery. A diamond engagement ring is not common in both Eastern European and South American cultures, so we see more couples familiar with this tradition opting to wear just wedding rings. Freed up from having to match an engagement band, brides mix metals, textures and add diamonds to create more elaborate wedding ring designs. Same-sex marriages have also had a big impact as couples choose to forego the engagement ring altogether in favour of matching bands.
Men's wedding rings are all about palladium. Durable and naturally white, platinum and palladium are very similar metals with very different price tags. Why pay three times more for something that performs in the same way?
Robert from Rocks Jewellers – View Profile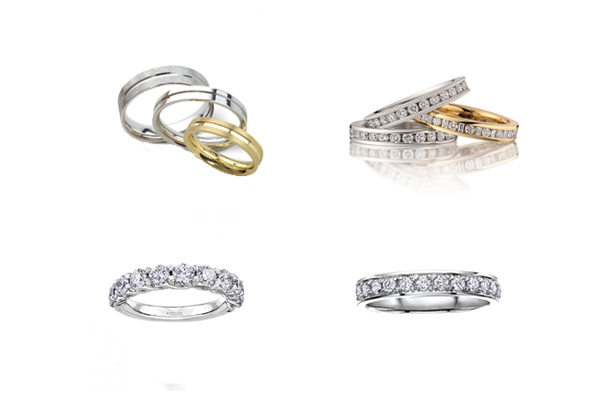 Picking out the perfect wedding band can be challenging. You already have the perfect engagement ring so you now want something that will perfectly complement your engagement ring without overpowering it.
The first trend that we've seen over the years and that's still as popular as ever is matching your engagement ring and wedding band. A matching wedding band will have the same setting as your engagement ring, the diamonds will be the same size and the diamonds will also line up perfectly with your engagement ring.
The second trend that we have seen is that brides-to-be are opting for a half eternity band as their wedding band. This trend is really here to stay.
Another trend that has become increasingly popular with brides is having two wedding bands. Brides are wearing diamond wedding bands on both sides of their engagement ring. This really gives your ring finger extra sparkle.
Wedding bands with unique designs have become increasingly popular this year. These are typically bands that might have intricate details, an uncommon design or have a different cut stone to your engagement ring. Some brides are opting for a wedding band with a baguette cut diamond or a ring with millgrain edge detailing. Unique wedding bands are meant to be completely different from your engagement ring. Having a unique wedding ring ensures that your wedding band will stand out from the engagement ring, creating a one of a kind look that is unique to your personality.
The fifth trend that we have recognised this year is that brides are mixing the metals of their engagement ring and wedding rings. Some brides that have a white gold engagement ring chose to have a yellow gold or rose gold wedding band.
Main photo by Milton Photography via Style Me Pretty
The following two tabs change content below.

Pamela Mahon
Pamela enjoys writing about all things decor (she loves buying it too) and has a not so secret addiction to stationery. Her favourite section on the site is the galleries section (too many pretty images to choose from), and she can often be found lurking in the fashion and beauty forums as well.

Latest posts by Pamela Mahon (see all)