Ah, hair. Who doesn't want a luscious, glorious mane, at least for that one special day? This is why many women choose to get hair extensions for their wedding. For many, it's the first time. You may be one of those women, and you probably have lots of questions. Maybe you're even feeling a little nervous! Well, fear not. The professionals at Platinum Luxury Hair Extensions are right here with all the info about bridal hair extensions you need!
I'm nervous about getting hair extensions. Will it hurt to apply or wear them?
Not at all. You'll get advice from a professional stylist who'll tell you all about what to expect. It's essential, though, that your hair is healthy and no shorter than 5cm. Some medical conditions make extensions unsuitable. If you're getting extensions done for just this occasion (your wedding), then all you need is to get them done early enough to get used to them.
How far in advance of the wedding should I get these done?
Don't leave it too late! One to two weeks is the absolute shortest time to allow your extensions to settle. Feel free to get them done much earlier, to give yourself plenty of time to get used to them completely. With the right aftercare, they'll last beautifully until the wedding day.
Will it look fake?
Never – if you choose hair extensions made from real human hair. With the right colour match, nobody will be able to tell the difference. There are much cheaper synthetic options available on the market, but because their texture doesn't match real hair, they end up looking fake. They also react to shampooing and conditioning completely differently than real human hair, and therefore the more you wash your hair, the more the synthetic extensions will stand out. With real human hair extensions, you won't have that problem.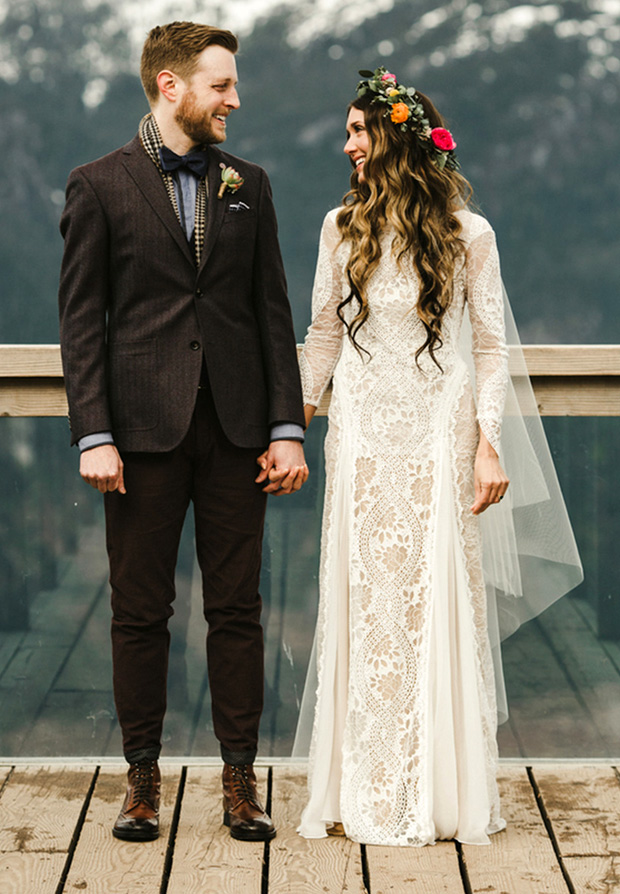 Above image from graceloveslace.com.au
Are hair extensions heavy?
Not at all, even if you get a full head. You choose the amount you want, and the stylist will suggest the best placement for optimal result. Often, fewer extensions placed just right look much better than a full application.
Is there anything I have to tell the stylist before the application?
You should tell the stylist if you're going to wear your hair up. In this case, placement on the sides is very important (it can't be too close to the face). The stylist may also suggest half-bonds of finer hair to make the bridal hair extensions even less visible. Bring a photo if you already have an idea of what style you'd like to go for.
Then, when you go to a hair trial with your wedding hair stylist, make sure to tell them you have hair extensions before you begin. They'll know how to work around them.
Can I use the hair extensions to lengthen or thicken my hair?
Yes, you can do both! If you like your current length, then the extensions get cut to fit. If you want length, then the extensions will stay as they are, they may just be trimmed to look like natural layers.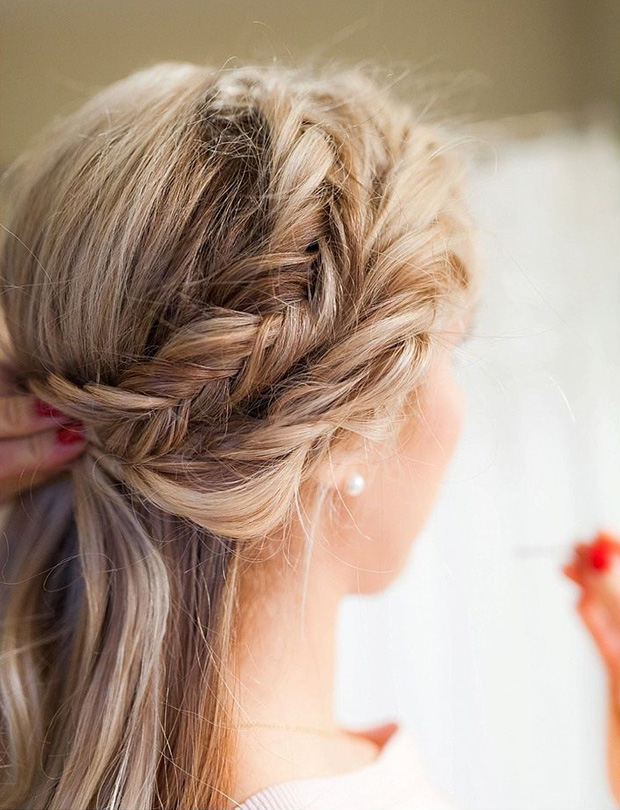 Above image from Pinterest
What if I don't like the extensions?
This is why not waiting until the last minute is so important. Also, it's best to choose a non-permanent application for your wedding, especially if it's your first time with extensions. You'll know pretty quickly whether it's right for you.
I had extensions before and they weren't comfortable. Should I try again?

There are many types of extensions and application methods. It could simply be the case that the previous ones weren't right for you. Some people have an itchy reaction to glue, or they find micro-rings heavy. It's definitely worth giving hair extensions another try, especially if it's just for this one occasion. Tell the stylist what method you used before and what you didn't like about it, and together you'll find a better alternative for your bridal hair extensions.
I have lots of other questions, who do I ask?
You'll probably be looking online first, but like with any other topic, you'll find different answers from different sources. Nothing beats talking to a real stylist about your bridal hair extensions. At Platinum Luxury Hair Extensions, your initial appointment is always free, and you can ask any questions you like. You don't even need to book in advance, just come to the Grafton Street studio anytime.
Above image from whimsicalwonderlandweddings.com
Main image from brides.com
The following two tabs change content below.
Rachel Green
If you think the bride should always have the last word, then Rachel is on your side! A devoted fan of everything quirky, unusual, colourful or crafty, she loves scouting WOL's real weddings for unique and fun touches. When not gazing at pictures, she's dispensing no-nonsense advice on everything from reception entrance songs to bridesmaid problems.
Latest posts by Rachel Green (see all)