Ireland boasts some incredible wedding venues with beautiful spaces for your civil or humanist ceremony, perfect for couples looking to have their wedding all in the one place! Here's our list of Irish civil ceremony venues for all four seasons and all types of tastes, from country rustic to urban chic. Scroll below and see how the registry office isn't the only place to say 'I do!'
St Peter's Cork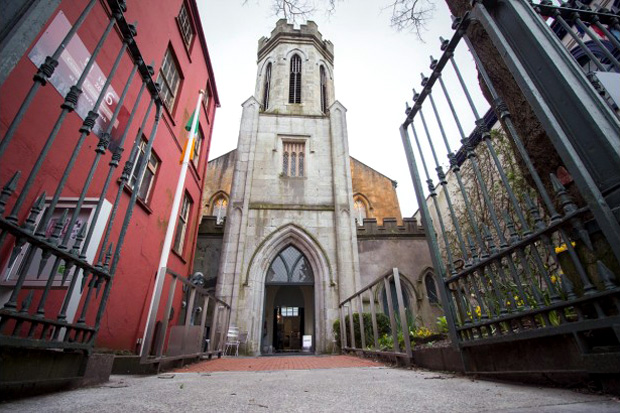 For a civil ceremony and reception in Cork, consider a venue that will impress and astound every guest in equal measure: the former medieval church of St Peter's Cork. The combination of contemporary design and ancient architecture is truly unique, and they accommodate weddings between 4 and 300 guests, thanks to a variety of spaces. Civil ceremonies, civil partnerships, humanist and spiritual ceremonies are all welcome.
Cork City Gaol
Just minutes from Cork city centre you'll find the Cork City Gaol. Built in the 1800s, it has a striking appearance of a castle, complemented by all the modern amenities for the perfect wedding ceremony for up to 150 guests. You won't be exchanging your vows in a nondescript room, but in a dramatic space with tall windows, a striking mezzanine and a stone floor fit for royalty to walk on. Fabulous photos guaranteed, indoors as well as on the lovely grounds.
The Stone House at Moyvalley Hotel
Style, opulence, exquisite elegance – the Moyvalley Hotel & Balyna House in Kildare is for couples who want a real show-stopper of a ceremony and reception. The civil ceremonies take place in the Stone House, a period building on the estate. Dramatic chandeliers, wood beam ceilings and stone walls are an unusual backdrop to vows and photos. There's room for up to 100 guests to share your special day. See more photos from Sharon & Jamie's real wedding by Konrad Kubic Photograpy.

The Old Mill at The Millhouse
The Millhouse in Slane has something very special for your vows: the Ceremony Room in the Old Mill. Originally an old Georgian industrial space, it's been transformed into a character-full interior that beautifully combines double-height ceilings, exposed brick walls and twinkling chandeliers. It's large enough for 200 guests, and believe us when we say, they will all rave about it.
The Old Turntable at The Station House Hotel
What if you want to say your vows outside? Just 20 miles from Dublin, you'll find The Station House Hotel, a site of a former railway station. It features a civil ceremony venue you won't find anywhere else – in the original old turntable, revealed among the trees after a short walk through the garden. Prepare to hear the gasps of delight from the guests – up to 70 in the circle, plus more seated or standing around the turntable. The couple step onto the elevated stone plate for their vows. Expect beautiful and unusual pictures!
The Chapel at BrookLodge & Macreddin Village
The secluded Wicklow Valley feels like you're no longer in Ireland, but in fact, it's just an hour away from South Dublin. There, you'll find BrookLodge & Macreddin Village. It looks like a film set, but has wonderful rustic intimacy ideal for your special day. The ceremonies take place in Macreddin Chapel, or just outside among the old trees. You'll walk across a bridge to see up to 150 guests seated in a truly enchanting space.
The Orangery or the Mill, Cliff at Lyons
There are two ceremony spaces to delight you at the Cliff at Lyons, in Celbridge, Kildare. The first is The Mill, where up to 160 guests will hear you exchange your vows while a cascading waterfall tinkles romantically in the background. The second is the beautiful Turner-designed Orangery, featuring glass walls and domed ceiling, letting in plenty of light. After your civil ceremony, enjoy drinks and canapes in the 17th century courtyard.
No. 25 Fitzwilliam Place and Suesey Street Restaurant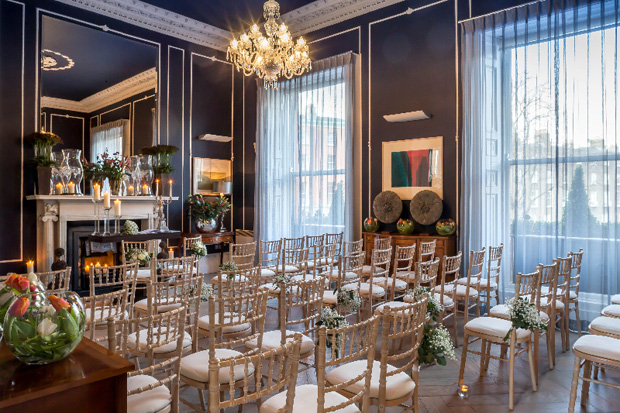 When in Dublin, you don't have to go to the registry office for your civil ceremony – choose the wonderful No 25 Fitzwilliam Place, or its sister venue, Suesey Street Restaurant. They're ideal for couples who want a chic city wedding with style, character and incredible photo opportunities. Tell up to 100 of your friends and family to come to Dublin's famous Georgian Mile, to see you exchange vows and then dine on wonderful cuisine.
The Tin Chapel at Mount Druid
Quaint and nestled among the trees, the Tin Chapel at Mount Druid in Castletown Geoghegan is perfect for couples who love simplicity. Although it's an unconsecrated space, its design echoes a church, with a slanted roof, high ceilings and peaked windows. Neutral interior colours of gray and brown lend themselves beautifully to personalising with colourful decorations. Best of all, the Tin Chapel accommodates up to 200 guests, so there's no need to exclude anyone between your ceremony and reception at Mount Druid. See more photos of the Tin Chapel in Roseanne & Emmett's real wedding by David Maury Photography.

The Victorian Chapel at Markree Castle Hotel
Freshly reopened in March 2017, Sligo's Markree Castle Hotel wows with 17th century charm in beautiful surroundings. Its Victorian chapel lends a true sense of occasion and grandeur, with blue walls, elegant wood panelling, gorgeous stained glass windows, and an original church organ. It's intimate yet impressive, with capacity for up to 190 guests. If you want the 'wow' factor, this splendid civil ceremony space has it.

The Rooftop Terrace at The Marker Hotel
Make the breathtaking Dublin skyline the backdrop for your 'I do's' by holding your civil ceremony at The Marker Hotel's rooftop bar and terrace. Whether it's middle of the day, or at twilight with the city lights twinkling as far as the eye can see, it will be a memorable day! You'll walk in over a gold carpet with up to 70 guests witnessing your vows. This is an excellent civil ceremony venue option if you want a warm yet contemporary celebration.
The Magical Woodland or the Orchard Room at Clonabreany House
At Clonabreany House in Kells, County Meath, you have a choice of two civil ceremony venues. The first is the Orchard Room, featuring stunning views over Sliabhna Caillighe and the mystical Loughcrew Cairns. Or if you envision a magical woodland event, then their Tunnel Wood will give you that outdoor perfection. Invite up to 220 guests to celebrate together; they'll love the beautiful grounds, interiors and menus.
The Gardens at Beaufield Mews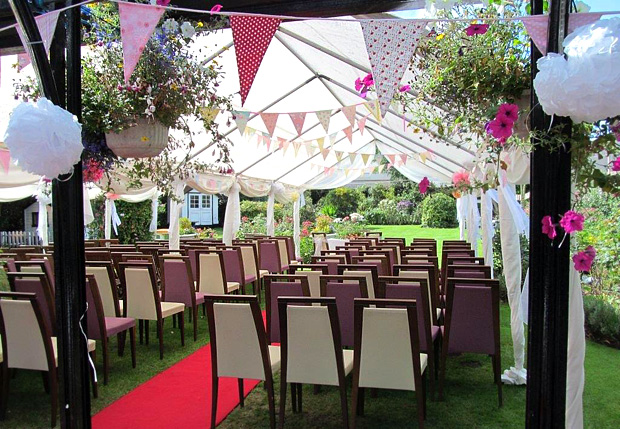 Just four miles from Dublin city centre you'll find your ideal location for outdoor ceremonies. The gardens at Beaufield Mews Restaurant & Gardens aren't your ordinary green spaces – they have to be seen! We're talking a secret garden with rose-covered walls, flowers wherever you look, reached by following a line of olive trees. A white canopy will add even more sense of the occasion, and of course the photos will be spectacular. This haven is as romantic as it gets.
Main photo via Cliff at Lyons
The following two tabs change content below.
Rachel Green
If you think the bride should always have the last word, then Rachel is on your side! A devoted fan of everything quirky, unusual, colourful or crafty, she loves scouting WOL's real weddings for unique and fun touches. When not gazing at pictures, she's dispensing no-nonsense advice on everything from reception entrance songs to bridesmaid problems.
Latest posts by Rachel Green (see all)