"I think the highlight was when the singing waiters sang 'Ireland's Call'. The entire top table was standing shoulder to shoulder belting it out and everyone in the Clonmacnoise Suite was swaying and singing with all their might."
The couple: Aimee Brennan & Thomas O'Grady
Length of engagement: 27 Months | Wedding date: July 22th 2016
Wedding venue: Hodson Bay Hotel, Athlone
Photographer: Kevin Morris Photography
We met… On holidays in Lanzarote back in August 2006. I was on holidays with my parents and my best friend Lisa. Tom was with his parents, best friend, his brother and his brother's girlfriend at the time. The very first night Lisa and I were unwillingly dragged into a bar by a street rep. While sitting at the bar chatting, this tall, bronzed hunk walks through the door with his friend. I only saw the tall guy (sorry John)! A little bit of friendly flirting happened across the bar. Eventually, he plucked up the courage to come over and the rest is history! Believe it or not the name of the bar was called 'Paradise'! Cheesy or what!
Our proposal… Very simple, meaningful and a complete shock!! Tom and his parents had been in Croke Park cheering on Mayo that day. It was April 2014- 4 months to the date after we moved in together. He was bringing his parents home to Mayo after the game and had casually arranged to drop in to my family home in Roscommon for some tea on the way. They arrived! The mums were nattering in the kitchen and the dads were busy engaging in post-match analysis. Tom asked me to meet him in the front sitting room. I thought that maybe he wanted some sneaky kisses and cuddles as we wouldn't see each other for a few days. He was going to Mayo on his week off to help out with the lambing. It was then that he declared his love and got down on one knee. I balled and could only manage to nod 'yes'! He shed a tear or two as well. He produced a beautiful token ring. After we gathered ourselves, we went out to the living room to tell our parents. The two Dads knew beforehand. The two mums were ecstatic when it sunk in! It was really lovely having them there. We all get on very well. My best friends flocked to the house as soon as I called and we drank some champers! For me, it was everything I would have hoped for; making an ordinary day special.
My hair and makeup… Hair by Ultan Keena (super hairdresser and friend). Make-up was by Kelly O'Dowd freelance MUA. Both were amazing! My bridesmaids were genuinely thrilled with how they looked and my Mum looked fantastic! Naturally enough, I was very pleased too. Again, the laughs were so memorable in the house on the morning of the wedding. Relaxed, friendly professionals and great friends are a recipe for a brilliant day ahead!
My dress… was designed by Margaret McMahon of Brummel & Co. Athlone. Like with Tom, it was love at first sight. Because we had quite a long engagement, I had plenty of time to shop and to enjoy the experience. I knew the style I wanted but wasn't sure which dress to choose. When I found Greta (the name of my dress) it was coming to decision time. It was Oct '15 and my mother was getting anxious that I decide on a dress so that there would be plenty of time to order it. I had it narrowed down to two dresses in different locations. We just happened to schedule an appointment in Athlone that Saturday to fill time between appointments in the other two destinations. I knew straight away! It felt like me and I got emotional. Even, my completely non-sensitive friend cried. I cannot praise Margaret enough! She is a total perfectionist and great fun to work with. Every time I pass Brummel & Co. I can't help but look in and smile at all the laughs we had during fittings. The whole team made it a truly enjoyable experience.
Our ceremony… was in St. John's Church, Lecarrow, Co. Roscommon; my local church.
His suit… was hired from Martin Feeney Menswear, Galway. Although, I was there at the time of choosing, I didn't need to influence him at all! He has good taste! I'm taking some credit though, after 10 years of styling him! He wore a white waistcoat and white tie underneath and he looked totally dapper! The lads wore navy waistcoats and silver ties. Again, huge credit to the staff of Martin Feeney Menswear- so nice and well up for the craic! They helped us to play a prank on one of the groomsmen and the biggest prankster we know! Aw, memories!
We chose our venue because… we wanted somewhere local that could cater for our large numbers. No better venue than the Hodson Bay overlooking the lake. The fabulous lake view is an ideal backdrop for photos and thankfully the weather was perfect on the day. The Hodson Bay is used to hosting weddings all of the time. The staff could do it in their sleep. That is what you want!
We chose our photographer because… We loved his work we saw online. We spent a long time looking at different photographers websites and Kevin (Kevin Morris Photography) came up trumps! He didn't fail to deliver on the day either. He put a lot of time into analysing and planning our schedule a week or so beforehand and this made for a really relaxed and productive day. Cannot recommend him enough! The photos are so natural and genuinely reflect peoples' personalities perfectly! Not to mention, he is a lovely guy. He is very relaxed but extremely efficient. We got to spend maximum time with our guests which was exactly what we wanted. Our bridal party were in super form as they were pulled for 7-10 mins tops for photos! Everyone was happy!
What our bridal party wore… Bridesmaid dresses were from Chi-Chi London! They were tea length and were totally my style. Everyone commented on how different they were. The girls themselves were all delighted with them and particularly loved twirling in them. My only niece and Goddaughter was our flower girl. She's a tall, 9-year-old who was happy to wear a dress but didn't want anything like her communion dress so we got her a mint green dress from Monsoon. Her glittery vans were Monsoon also. The page boys outfits were from Next and vans were JD Sports.
We chose our wedding coordinator because… Lisa Wykes from Hodson Bay Hotel was super! She went above and beyond. She has great knowledge of suppliers and was really good with ideas. Michael Dolan took over as manager of the wedding closer to the time and was a total pro and gentleman. Nothing was a problem!
Our wedding theme/colours… Our theme was 'Balloons, Bows and Bling!' Balloons just create a floating, light feeling and they really make me feel happy. We went with a hot-air balloon theme really. The theme ran through invitations and mass booklets, however, the main feature was outside the church door! We created 2 huge hot-air balloons whereby the baskets were filled with flowers. I also absolutely adore bows. They featured in the bridesmaids' dresses, the flower girl's dress, the mum's dresses and the page boys wore bow ties. I tried to get them on a few more boys but Tom preferred a tie. Bling became part of the theme because of my dress!
Our menu… Salmon Trio or Vol au Vent to start, Raspberry Sorbet or Butternut Squash Soup, Beef or Salmon followed by Trio of Dessert. The wine was flowing and everyone seemed happy. We were very happy with the food and everyone else seemed very satisfied too.
Our honeymoon… Vegas and Cancun! Ideal honeymoon! Vegas was very hot in July! We had to stay in the hotels a lot but so much to do! Shows were super- saw Michael Jackson and O, both by Cirque du Soleil. We did the helicopter tour over the Grand Canyon and it was an incredible experience! Moon Palace in Cancun is out of this world! The food, the drink, the amenities! We would love to go back to Cancun and Moon Palace if we could ever afford it!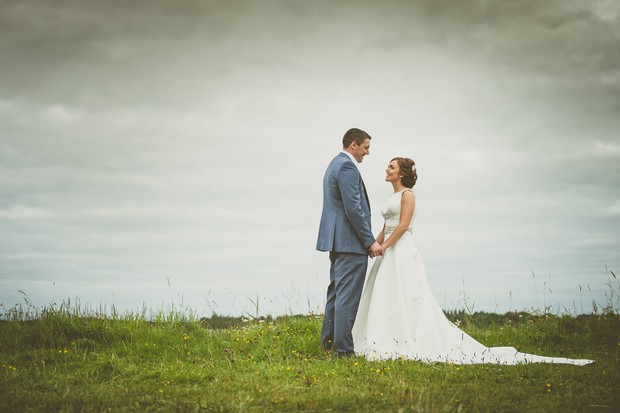 My favourite part of the wedding day… Very tough question! Loved walking down the aisle, loved the vows and the special moments with Tom but I think the highlight was when the singing waiters sang 'Ireland's Call'. The entire top table was standing shoulder to shoulder belting it out and everyone in the Clonmacnoise Suite was swaying and singing with all their might (even the few English relations). The atmosphere was electric and it felt as though everyone was connected in that moment and you just knew it was one of those memories we would never forget!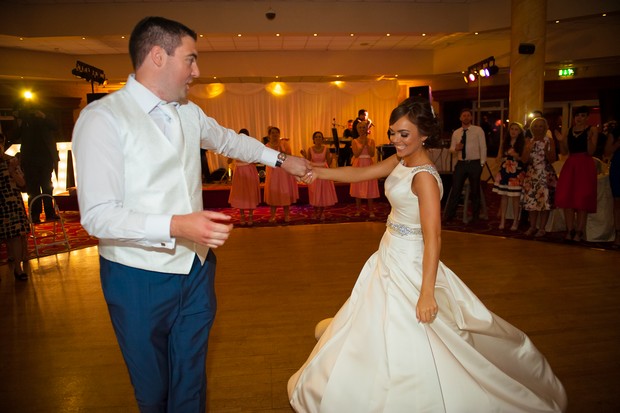 My piece of advice for other brides… Unless you're creative, don't make your invites! Weddingprint.ie are super and cheap! Focus on where you want to spend your money and stick to it! Enjoy every minute of the planning! Don't stress over the little things. If you have time to make them happen, then great and if not, nobody will know they were meant to be there anyway so let them go! Remember what it's about. Involve your husband-to-be and savour every moment of the prepping and most importantly cherish every moment of the day!
The following two tabs change content below.

Pamela Mahon
Pamela enjoys writing about all things decor (she loves buying it too) and has a not so secret addiction to stationery. Her favourite section on the site is the galleries section (too many pretty images to choose from), and she can often be found lurking in the fashion and beauty forums as well.

Latest posts by Pamela Mahon (see all)