"We loved how flexible the ceremony was, it really included our two boys Jack and Bobby and made it not only about us as a couple, but us as a family."
The couple: Michelle Carberry & Colin Moran
Length of engagement: 2 years | Wedding date: 9th September 2017
Wedding venue: The Station House Hotel, Kilmessan, Co. Meath
Photographer: Alan Dunne Photography
We met… Colin and I met back in 2008, we worked in the same department in Quinn Direct and we became really good friends at first. It wasn't until after we had both left Quinn that Colin mustered up the courage to ask me out. We met up along with a few old work colleagues on Arthur's Night 2011 and over a pint of Guinness, Colin asked me on a date. The big wheel was in Dublin IFSC at the time and the following week Colin decided to take me there. I fell in love from the moment I realised he was willing to conquer his fear of heights just to impress me, I can still clearly remember the pale slightly green look of fear on his face.
Our proposal… One sunny morning we brought Jack up to our favourite spot near the upper lake in Glendalough. Nothing was unusual about the day that gave it away, if anything, it was a busy day as we had arranged to meet Mam, Net (granny) and Katie (niece) at the zoo later in the afternoon. So as we always have, we sat down on a log in the grass and when I turned to look at Colin, there he was down on one knee, ring in hand asking me to marry him. I was in such shock, I can't repeat what my first words were but they were followed quickly by a 'yes'!
My hair and makeup… My sister Jenny is a makeup artist by trade so of course I'd trust no one else with my face on the big day. She also enlisted the help of a colleague Aisling Sneyd who did a fabulous job on the bridesmaids. Laura from Divine Styles in Clonee did an amazing job on my hair. I found a nice loose curly upstyle on Google images and she went to work making it her own. She really made me feel at ease on the run up to the big day, getting the colour just right and doing a trial run making sure I was happy with how it would turn out. Not only did it look beautiful, but it held as I danced the night away.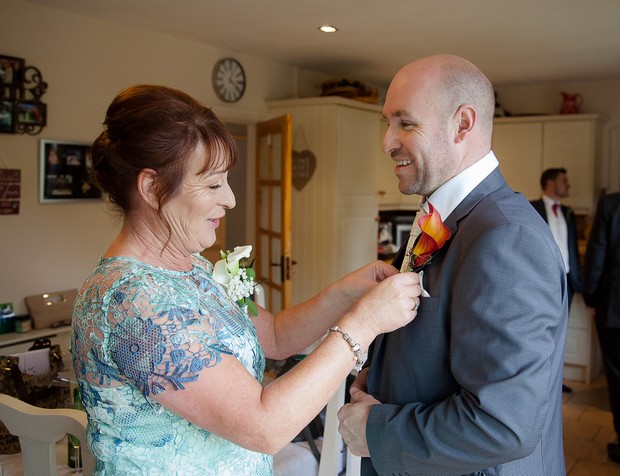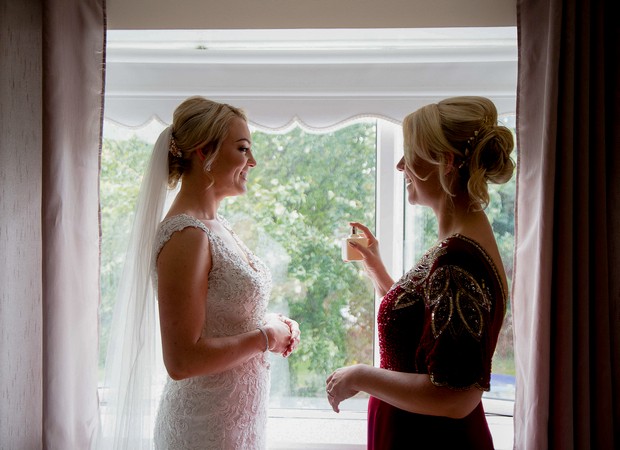 My dress… was by Ronald Joyce purchased in Ciara Bridal in Powerscourt Townhouse. It was by pure luck I found my dress, my sister Jenny (who is getting married February 2018) had picked her dress in Ciara Bridal and I was coming in to see how beautiful she looks in it. I had previously visited two bridal shops myself with no luck. Jenny suggested I book in to try on some dresses while I was there and I am very lucky that she did book me in. There it was waiting for me, the first dress I tried on. It was really lovely getting to share the experience with my sister, it made the dress that little bit more special.
His suit… was a Benetti Prestige 3 piece grey suit from Cannings Menswear in Trim. We can't thank Joey and Gerry enough for all the help they gave us. They dressed the groom and his father for both the day of the wedding and the BBQ on the second day of the wedding, the groomsmen and they did the alterations on the page boy suits.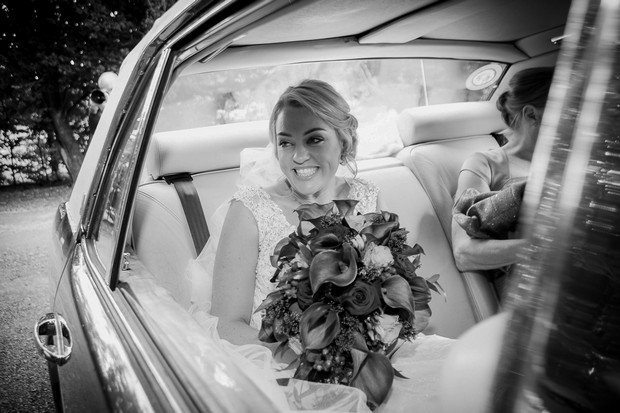 Our wedding theme/colours… Our theme was 'cars' but we also took inspiration from our venue being a beautiful rustic old train station. The colour scheme was based on Autumnal colours; burgundy and gold with hints of red, purple and orange throughout.
Myself, Colin, and our families are very hands on so it was a case that a lot of the wedding décor was homemade. I handmade our invitations on brown kraft card to look like old train tickets in keeping with the venue style. Colin has a passion for cars and restored a replica of his granddad's Opel Kadett C to use on the day as the wedding car. We chose a funny cake topper in keeping with this. Credit to Carmel and Bonnie from Cillin Cakes & Catering for doing such an amazing job!
We didn't need to add too much to the tables as the venue supplied lovely centrepieces of swirling vases with lilies and crystal candelabras for each table. I made some jam jar candle holders for each table using ribbons, kraft paper and gem stones in gold and burgundy. For the table names, we chose cars we had previously owned, I found a supplier who laser cut wooden table names and sprayed them gold to match the colour scheme. My Mam made some beautiful floral arrangements for the top table.
My beautiful bouquets were arranged by Ruta from Flowers Touch and really pulled the colour scheme together. They turned out even nicer that what I had imagined.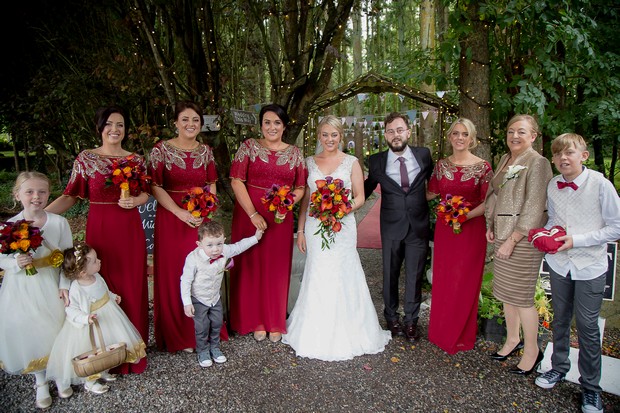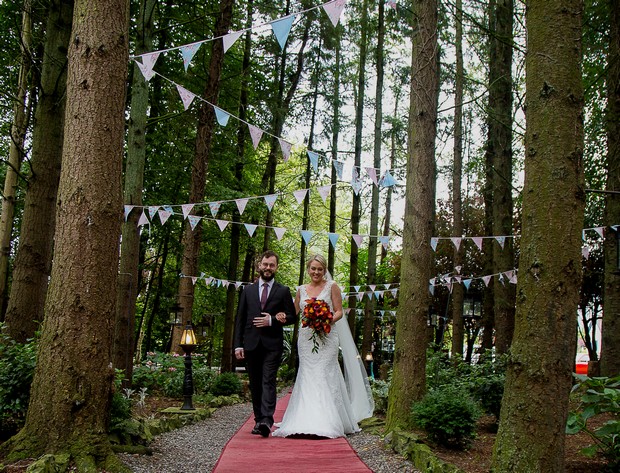 Our ceremony… took place outdoors in the old turntable in The Station House Hotel. The setting is breathtakingly romantic. My brother Robert walked me down the aisle as sadly my Dad passed away a few years ago. We walked through the archway in the woods down the red carpeted path surrounded by lanterns and vintage signs, then stepped down into the gap in the woods which is laid out so beautifully with white wooden deck chairs and pops of colour coming from the flower beds. We were so lucky to have the amazing wedding singer, Lucy Kavanagh sing and play music for the ceremony, her voice transports us into a little bubble of romance that made the day even more perfect than we thought possible.
It was a humanist ceremony officiated by Siobhan Walls. What we loved was how flexible the ceremony was, it really included our two boys Jack and Bobby and made it not only about us as a couple, but us as a family. Luckily the rain held off until the end of the ceremony and only started as we were being congratulated by our guests.
We chose our photographer because… Alan is a local photographer and Colin had gifted me a voucher for a family photo shoot before we were engaged. At the family photo shoot, I found he was great with Jack who was just under two at the time and didn't sit still at all. After seeing the quality of his photos, both at his studio and from our shoot, I was certain I'd have to have him capture our wedding. By happy coincidence he was also one of the recommended photographers from the planner at The Station House so Alan knew the venue very well, we can really see this in our photos, he really knows how to use the surroundings to make for wonderful photos.
We chose our venue because… We live close to The Station House Hotel and would pop in on occasion for lunch or dinner, we have always been big fans of the food. The week before Colin popped the question, we had stopped in for lunch and by pure chance there was a wedding open day, I think this planted the seed even before we were shopping for a venue. So when it came to shopping around, we only had two venues in mind. The Station House won our hearts for several reasons; the turntable area for the outdoor ceremony, I don't think I've seen anything as breathtakingly beautiful and romantic. It's a small venue so it's very private and intimate which was high on our list of priorities. It's not too far, with our families being based in Dunboyne and Dublin, the majority wouldn't have too far to travel. The food is so good and both our families like good food so we knew The Station House would be a big hit with everyone.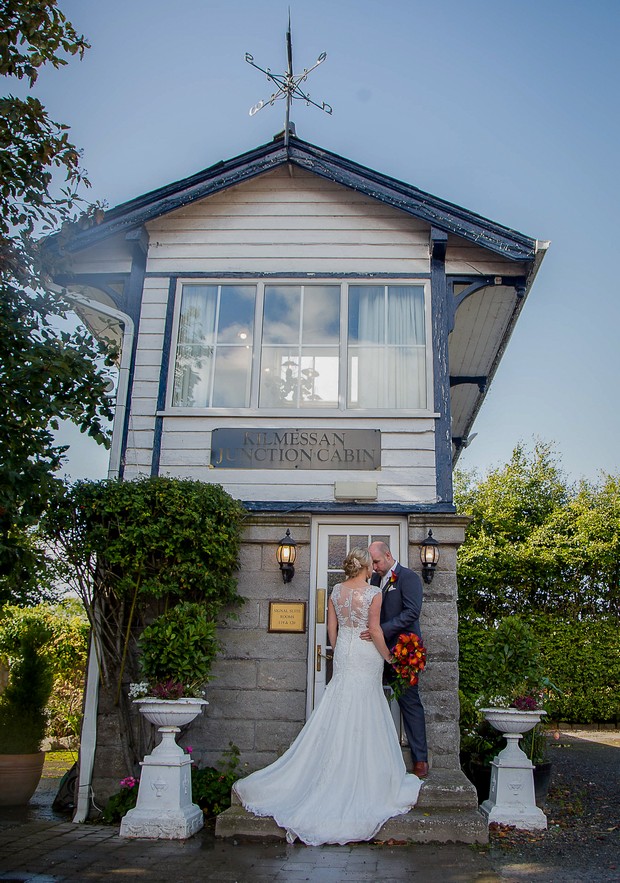 Our honeymoon… With two small boys just gone 1 and 3, we decided to put off our full honeymoon for a year or two. However we did escape away on a minimoon for two nights to BrookLodge & Macreddin Village in Wicklow to allow us some time to rest and take everything in. It is such a beautiful hotel in such a beautiful part of the country.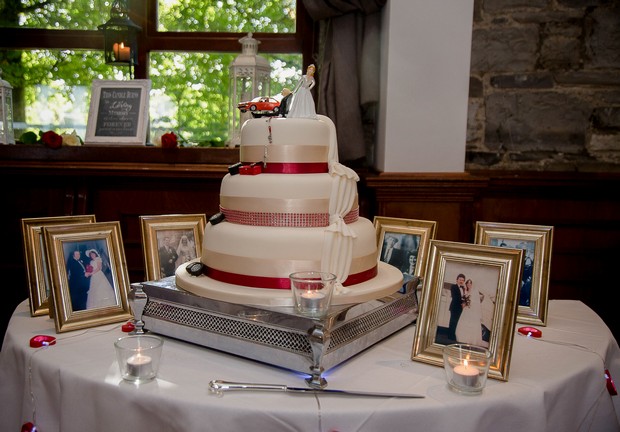 Our menu…
Starters
Butternut Squash and Chilli Soup Or Keylime and Champagne Sorbet
Mains
Trio of Atlantic Fish & Citrus Butter Cream Or Beef with Peppercorn Whiskey Sauce
Dessert
Chocolate Pecan Tart
Credit to the kitchen staff at The Station House Hotel as we thoroughly enjoyed every mouthful and have received several compliments on how tasty the food was on the night.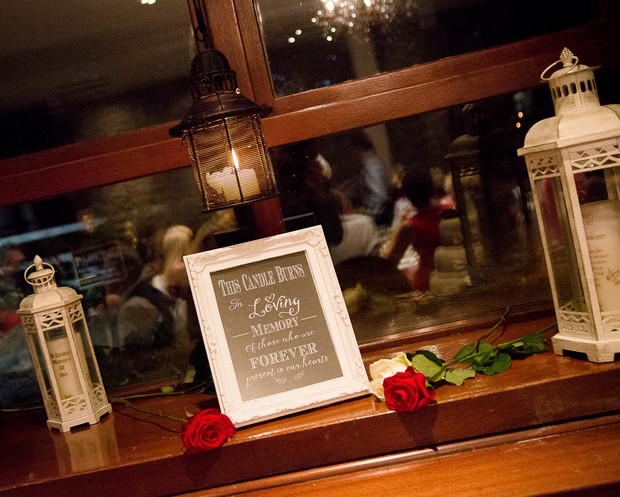 My favourite part of the wedding day… There are so many to choose from but I think the top moment would be our first dance. We were very lucky to have Lucy Kavanagh who has the most beautiful voice I've ever heard sing for our first dance. It was the moment that signalled the hard work of the day was over, that it had all gone so well and we could relax fully and get into the party mode.
My piece of advice for other couples… plan to take some time throughout the day to yourselves to step back and take it all in as it goes so so quickly. Enjoy the day and don't stress about the little things. Remember that only you will notice if something hasn't gone to plan, everyone else will think that's the way it was meant to be.
Entertainment is very important, we didn't go for a band but went with a fire show through Ember Agency and DJ Rob from Total Entertainment. The fire show went down a treat and our DJ was so good the dance floor was packed all night long. Happy guests make for a happy bride and groom.
We also had sparklers to light on the way out to the fire show and Alan the photographer arranged an arch of sparklers for us to walk through which was fantastic and made for some great photos.
Suppliers
Venue: The Station House Hotel, Meath | Photographer: Alan Dunne Photography | Dress: Ciara Bridal, Powerscourt Townhouse | Hair: Divine Styles, Clonee | Makeup: Jennifer Carberry and Aisling Sneyd | Suits: Peter Cannings Menswear, Trim | Music: Lucy Kavanagh – Singer & Pianist | Florist: Flowers Touch | Cake: Carmel & Bonnie, Cileen Cakes and Catering, Kileen Road | Fire Show: Ember Agency | DJ: Rob from Total Entertainment | Table Names: SG Laser, Cork
The following two tabs change content below.

Pamela Mahon
Pamela enjoys writing about all things decor (she loves buying it too) and has a not so secret addiction to stationery. Her favourite section on the site is the galleries section (too many pretty images to choose from), and she can often be found lurking in the fashion and beauty forums as well.

Latest posts by Pamela Mahon (see all)