"As I'm Scottish and Richie has a familial Scottish connection, we had a Scottish theme with thistles in my bouquet and the flowers and kilts for the boys."
The couple: Roisin Scally & Richard Murray
Length of engagement: 15 months | Wedding date: 28th October 2017
Wedding venue: Galway Bay Hotel
Photographer: Paul Duane Photography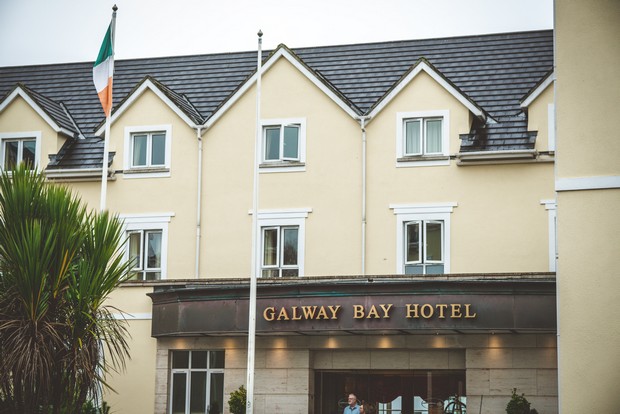 We met… Richie and I met 10 years ago. He was friends with my brother and I met him once or twice over the years but we didn't start dating until a few years later. We started properly going out in the summer of 2011 and the rest is history…
Our proposal… Richie played it cool. I thought it might happen when we went on holiday in September 2016. So it was a total surprise when I came home from work on a Friday in July to a house full of candles and flowers. It had been a long week at work and we had been so busy in the weeks leading up to it. I was looking forward to a shower and a takeaway and instead I got a ring! It was perfect for us, low key and no public proposal, which I would have hated. He had booked Shanahan's on the Green for dinner so I had half an hour to make myself presentable and we celebrated with fillet steaks and champagne! Richie proposed with a token ring so we went to Wehrlys Jewellers in Sligo for the engagement ring and wedding bands. They had an excellent selection and Richard who we dealt with was a pleasure to deal with; he is very knowledgeable, patient and was never pushy or tried to oversell.
My hair and make-up… I booked Natalie O'Brien for my hair and Sara Duffy for my make-up. They came to me the morning of the wedding and also did the hair and make-up for the bridesmaids and my mum. I was so happy with the end result for me and my bridal party. I was a picky customer as I'm used to doing my own hair and make-up but I'm glad I went with the professionals!
My dress… I loved my dress. I went with the Spanish designer Jesus Peiro and I bought a sample dress from The White Rooms in Mullingar. I had some alterations made to the dress, I removed the belt that came with the dress and had a new one sewn on. Sew Creative in Donnybrook was my saviour for alterations and all the little extras. The girls there are true professionals. They sourced my belt and headpiece which matched beautifully. My veil was handmade for me by the owner of Sew Creative and it was stunning. My stepmother made my shawl which is made of the same tartan that Richie wore. It was a perfect complement to my dress and suited our Scottish and autumn theme. I also loved my shoes! I wore Rachel Simpson T-bar shoes which were so comfortable on the day.
His suit… Richie and his groomsmen wore kilts. He really wanted to choose a family tartan so we knew we might have to go further afield to source the perfect kilts. While we were in Scotland visiting my family, we visited Houston Kiltmakers in Paisley. They have a huge selection of rental tartans, jackets, shirts and all the accessories for kilts and they had no problem couriering the kilts to Galway the week before our wedding and arranging for them to be picked up after the wedding. Richie chose the Grant tartan which is his mother's maiden name.
Our ceremony… took place in Spiddal church in Galway. It's a beautiful location and church. It didn't need much decoration inside as it's stunning enough already. It was only 30 minutes' drive from our venue which was ideal for making the day run smoothly. We chose the incredibly talented Galway piano player and singer Sean De Burca. He played our favourite piano music throughout the ceremony which sounded so beautiful on the day.
What our bridal party wore… The girls wore long navy dresses from ASOS. They were very comfortable and looked very elegant. I bought them grey woollen shawls from Dunes Savida range that they wore to keep warm when outside for photos.
We chose our photographer because… Paul Duane Photography was an easy choice for us. One look at his website and his style of photography and we knew we wanted him to capture our day. We wanted a mix of natural photographs as well as plenty of group family photos. Paul is from Galway and we wanted someone local who would know the best spots to go to for photographs for our time of year. I was blown away by the quality of the photos when Paul sent them to us. We are both quite camera shy and I usually hate photos of myself but Paul did such an excellent job making us feel relaxed and capturing the main events and all the little extras.
We chose our venue because… We wanted to get married in Galway as I grew up there and my mum lives there. Galway Bay Hotel was one of only a few venues we visited. We were impressed with the wedding coordinator in the Galway Bay and received a warm welcome even on our first visit. The location is idyllic as the hotel is situated on the prom in Salthill looking over the Atlantic Ocean. It had great reviews online and so we decided there and then to go with the Galway Bay and we weren't disappointed.
Our wedding theme/colours… It was a bit of a mixed bag full of our favourite things. As I'm Scottish and Richie has a familial Scottish connection, we had a Scottish theme with thistles in my bouquet and the flowers and kilts for the boys. We had a piper playing during the day- outside the church, at the venue when we arrived and he piped us into dinner. Patrick Cafferkey from Irish Piper Hire is an incredible musician with years of experience. He added such a sense of occasion to our day and our guests raved about the authentic music.
Halloween is my favourite time of year and it's the main reason we picked our date. We had pumpkins and gourds dotted around the reception and banquet hall. I had friends and family busy carving pumpkins the week leading up to our wedding.
We both love Star Wars and Game of Thrones so we wanted to incorporate those elements into our day. We searched everywhere for Star Wars cake toppers, we wanted R2D2 and BB8 but we couldn't find them anywhere. I contacted a company called The Printing Bear through Facebook who specialise in 3D printing. I told them what I wanted and a few weeks later I received 3D printed R2D2 and BB8 in the post! We decided to use Game of Thrones in our table plan by naming all the tables after the houses. The top table was House Targaryen!
Our menu… Our menu tasting was one of my favourite wedding planning memories. We chose a pork belly starter, beef and sea bass as our mains and a trio of desserts. We are both into our wines so we had fun trying out lots of options… we settled on a Spanish red and white to go with dinner. We decided to order our own champagne for our toast drink during the speeches.
My favourite part of the wedding day… The ceremony was beautiful and I really enjoyed the actual getting married part. But after that we had lots of fun with our bridal party taking photos. We went to NUIG quad for our photos and we just had a laugh. We had a great group in the bridal party and they were up for making the day as fun as possible. Paul, our photographer knew how to make us relax for the photos. He has us do a 'pose off'; bridesmaid vs. groomsmen which was hilarious. The boys were all fascinated by their kilts and so a Highland Fling pose was inevitable. The pose and Highland Fling dance off was brought out again in the wee hours on the dance floor!
My piece of advice for other couples…
-Relax! It'll all get done. It's nice to get some little bits out of the way early but engagements can last a very long time so try not to spend every free moment on Pinterest looking up extra details. Make sure to have some wedding free days in between all the planning.
-Everyone says this but the day flies! I made sure to take some time out for a few minutes before and after dinner which was well worth it to recharge.
-Wait a few days before going on your honeymoon – we waited 2 days and it gave us time to recover from the wedding day and get excited about the trip.
-Lastly, bring supplies in a bag and pop it into the boot of the wedding car. Give a bridesmaid the job of making sure if gets put into the boot. In mine I had snacks, water bottles, a compact, hair brush and lipstick. We also brought a few bottles of champagne and glasses for the bridal party photo shoot which went down a treat!
Suppliers
Venue: Galway Bay Hotel | Photographer: Paul Duane Photography | Videographer: Bianca Anderson | Dress: The White Room, Mullingar | Alterations, Veil, Headpiece and Belt: Sew Creative, Donnybrook | Bride's Shoes: Rachel Simpson | Bridesmaid Dresses: ASOS | Kilts: Houston Kiltmakers, Paisley, Scotland | Make-up: Sara Duffy | Hair: Natalie O'Brien | Stationery: Hello Lucky Penny | Flowers: Maddens Florists, Galway | Ceremony Music: Sean De Burca – Singer and Piano Player | Piper: Patrick Cafferkey from Irish Piper Hire | Band: The Beat Club | Cake Topper: The Printing Bear | Rings: Wehrlys Jewellers, Sligo
The following two tabs change content below.

Pamela Mahon
Pamela enjoys writing about all things decor (she loves buying it too) and has a not so secret addiction to stationery. Her favourite section on the site is the galleries section (too many pretty images to choose from), and she can often be found lurking in the fashion and beauty forums as well.

Latest posts by Pamela Mahon (see all)