"Our families were travelling from Ireland, Cape Verde and other cities in Portugal. We all stayed at Auberge for a week – it gave both families a great opportunity to bond and get to know each other."
The couple: Laura Power & Moises Ramos
Wedding date: 26th June 2014 | Length of engagement: 7 months
Wedding location: Auberge, Casa de Monte, Benfarras, Algarve
Photographer: Garrett Walsh, Algarve Wedding Photography
We met… in Sal on the Cape Verde Islands where we both work and live. I'm originally from Cork, Ireland and I lived in Sal since 2006 working in real estate, I also have my own resort management business. Moises is Cape Verdean and is a policeman.
Our proposal… was in New York!
My hair and make up… Jane of Unique & Chique Weddings created a hair style that was exactly what I wanted and she and her sister also did my make-up!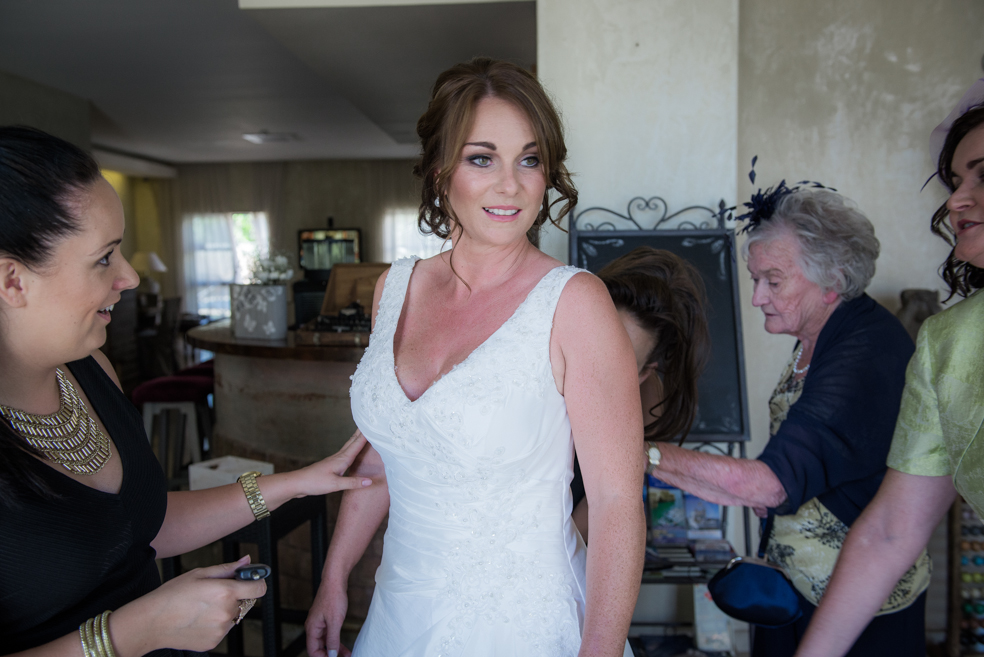 My dress… I had two! The first I wore for the ceremony and it was a graceful V-neck Taffeta bridal gown in ivory. The second dress was for the evening celebration and it was a V-Neck Chiffon dress with a pleated bodice.
What our bridal party wore… Our two groomsmen wore beige suits, white shirts and coral ties and our two bridesmaids wore long matching coral chiffon dresses with ruched bodices.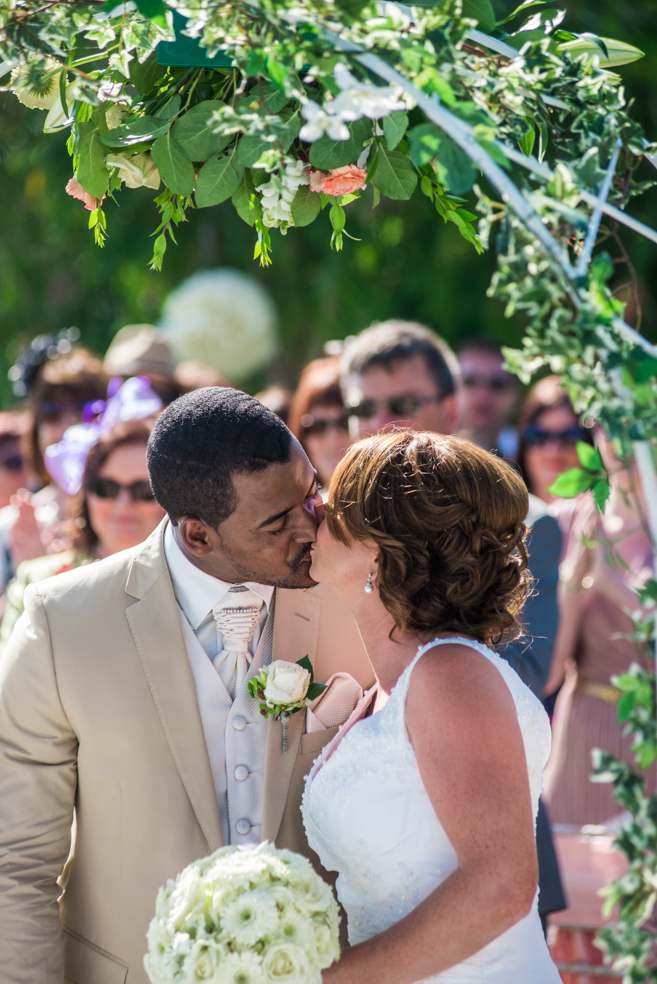 Our ceremony… was held in the beautiful grounds of Auberge Casa do Monte in Benfarras, Boliqiueme, Algarve, Portugal.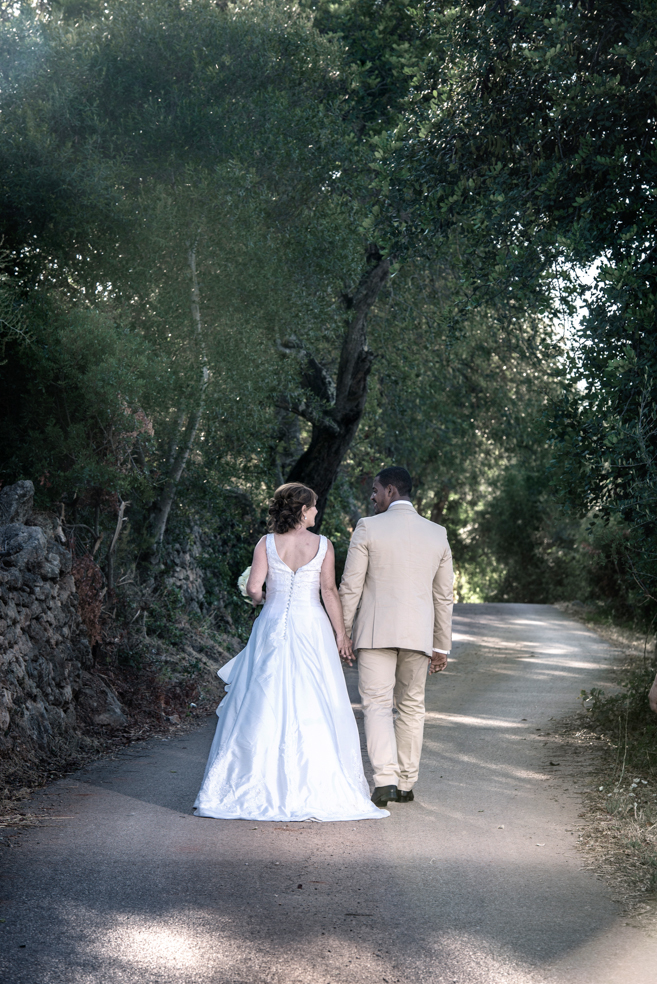 We chose our photographer because… when we saw Garrett's portfolio on his website www.algarveweddingphotography.com we immediately saw that he manages to capture the individuality of each single wedding. Garrett was great at suggesting ideas in preparation for the Big Day. On the day, he made us feel very much at ease in front of the camera and blended in well with our guests. Garrett is a true professional. He managed to create something that will forever remind us not only of how we looked on the day, but of how we felt. And that is what wedding photographs are all about. I cannot recommend Garrett Walsh highly enough and we thank him for giving us memories that we will treasure forever.
Our menu… canapes and cocktails were served poolside after the ceremony. The evening dinner was a fantastic chicken, lamb and hog spit roast for all our guests to see and was accompanied by an enormous buffet. The food was amazing and extremely well presented by Liza and her team.
We chose our wedding coordinator because… Initially we felt stressed having to organise a wedding in Portugal from over 3000 km away in Cape Verde (and we only had six months to do it!) but from the minute we got in touch with Diana Nunes of Portugal Lovers, we knew that our wedding day was in capable hands and that we had found a wedding planner that was passionate and knowledgeable.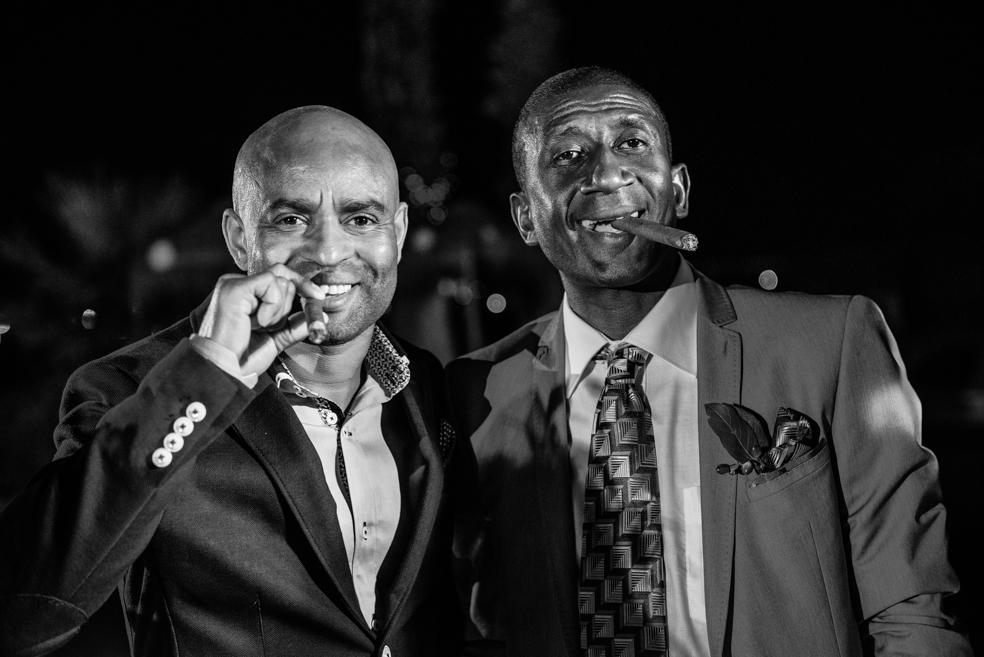 My favourite part of the wedding day… was the location shoot. Our photographer Garrett made the location shoot really relaxed. It was a great opportunity to take time out for ourselves as husband and wife and reflect on the beautiful ceremony and vows that we had exchanged.
We chose our venue because… from the minute we saw photos of Auberge Casa do Monte we knew it was exactly what we were looking for. Our wedding took place in the garden alongside the pool and overlooking the Algarve coastline. The setting was absolutely perfect and Auberge is a credit to owner Joelle and her family. It will forever hold wonderful memories for us, our family and all of our guests.
My piece of advice for other brides… 1. Remember to soak in the moment – Really look around at everyone in attendance and think about how much they mean to you. It will probably be the only time all those people are in the same room. Take in how much you love your significant other and how amazing you feel at that very moment. Married life has its challenges, and you'll need to draw on that feeling from time to time. Whether you're worried about buying a home or starting a family, that feeling can get you through everything! 2. Write bride's speech on paper – I'm not one for making speeches in front of many people but I wanted to for my wedding. I had my speech pretty much made out in my head. It was short and sweet. However, when it came to my turn, I was so overwhelmed that I was sitting with all of the people that meant most to us that I couldn't remember what I wanted to say! 3. Create a list of group photos you want – Before your Big Day, make a list of all of your group photo arrangements eg. bride & school friends, bride & work friends, groom & Godfather, etc…  Assign one person within each group to be responsible for gathering everyone for the photo instead of looking for them within the crowd or sending someone to find them.
Suppliers
Photographer: Garrett Walsh of Algarve Wedding Photography | Wedding Planner: Diana Nunes of Portugal Lovers | Cake: Loule Doce, Loule, Algarve | Bar: Artur, Progress Bar Events | Caterer:  The Fat Pig Hog Roasting Company | Equipment: Algarve Marquees | Flowers:  Suzannahs Flowers | Hair & Make-Up: Jane Hickey of Unique & Chique Weddings | Music: Joao Miranda (Cape Verdean & Portuguese Music) Gabrielle de Rose (party mix) | Decorations: Bride's own | Celebrant: Mamuel of Arte Floral
The following two tabs change content below.
Former editor, current contributor, (she just can't let go!) Karen enjoys writing fashion but is known to dabble in decor from time to time. Her favourite section on the site is the Real Wedding section, followed closely by the Health & Fitness forums.