Hi Everyone, I'm utterly THRILLED to be invited to share my anniversary trip with you all and invite you on a trip to two of my favourite places in the world, the Maldives and Italy! I know many of you will be feverishly planning your honeymoons and with both you'll have the best of both worlds. I'm kicking off with our own trip and first up was the Maldives! I'm sure you imagine the aching beauty of the beaches, coupled with tropical lush surroundings and a soft breeze in the warm sunshine shaded by a coconut tree… I hope Paradise springs to mind? This is exactly what awaits you! I love it so much, I've visited the Maldives three times, most recently in September so by all accounts here are my top three road tested resorts to make you feel like a movie-star! Buckle up, 'cause you're coming… To Paradise!
If you're travelling to the Maldives, there are a few ways you can go but I would highly recommend travelling with Turkish Airlines which has been chosen as the Best Airline in Southern Europe over 9 times so it was bound to be wonderful! This was my first time to travel with Turkish Airlines and it was superb! Richard and I went Business Class which was amazing and doubled as an anniversary present. Since I don't get time to go on too many holidays, it was class and I felt very special! First, we checked in at Dublin Airport and had a fabulous chef on board called Rami to cook our meals complete with a chef's hat, this made the Dublin to Istanbul leg a little sweeter! Rami served up homemade yogurt with dried figs and 'kaymak' with traditional style basked cheese pastries, plus we had some champagne on arrival. Since it takes over 15 hours to get to the Maldives, I would suggest if the budget allows or it's a special anniversary or Honeymoon to go Business Class. Prices start around 1,900 euro return which although pricey is worth every penny considering Economy is just over 700 euro. We chose to add that element of luxury, the food was delicious and so was the service, after our pit-stop in Istanbul, our long haul, long bed cabin awaited where we could slip into the lap of luxury and dine on fillet of Beef Cutlet or Grilled Seabass complete with champagne and a lemon tart to finish. It was heaven and since it was our 2 year wedding anniversary, the cabin crew had a little cake for Richard and I and the standard was second to none. I cosied up in my slippers and blanket and watched a few new release movies before snoozing in my reclining bed – bliss. After the 7 hour flight, we arrived in Male and said goodbye to the wonderful Turkish Airline staff who made the trip so memorable and then took a cute 12 seater seaplane to Lux* South Ari Atoll.
LUX* South Ari Atoll, Maldives
Lux to me is one of my favourite resorts, having been there in 2012, it's so different now in that it's all new with a coffee shop, brand new water villas and even a red phonebox to phone home! Richard and I soaked up the sun in our incredible Temptation Romantic Villa which overlooks the ocean. It's so cool and modern but it's adorned with all the mod-cons you could dream of. With a jacuzzi and a private pool I was in heaven. The minute we landed I felt relaxed and ready to celebrate as I had planned something very special for Richard and I which I'll tell you about shortly. The Maldives to me equals just simplicity and a lighter, brighter way of life. I find it gives me a chance to unwind… I usually started my day with an Organic coffee, roasted on the island and a sumptuous breakfast in the East Market which is bustling with every food imaginable from smoothies to homemade ice-cream to every bread you could think of. I've never seen a breakfast variety like it, it was so special! We spent several days sampling all the delicious food the island had to offer, everything from fresh sushi and sashimi at Umami restaurant (all Japanese cuisine) to Allegria, Italian cuisine which was everything from truffles in my pasta to the most incredible red wines I've ever tasted. Most days I would sip a cocktail at the Lagoon bar and do my daily swim in the sea and snorkelled with the baby sharks who are beautiful little creatures and completely harmless. I always like to unwind with a massage wherever I go and since we had everything from a sunset catamaran cruise and a jet-ski to do over the coming days, I took full advantage of the beautiful weather and the downtime to relax and do as little as possible! Maldives itself though, if you're thinking of going remains one of the most beautiful places with its stunning pristine white beaches and palm trees blowing in the breeze. With cold towels on arrival and a welcome cocktail to hand, you really should enjoy the beauty of Lux as it's quite adventurous too, you can treasure hunt with 'message in bottle'. Richard and I did this: you look for the bottle which is hidden around the island and when you find it you could have won a massage or a cruise or simply a chance to jet-ski, it's ingenious and one of the really fun concepts of holiday island life.
One of my favourite things to do on holiday is dine al fresco and I loved doing this in Market or Mixe restaurant, although nobody can beat a romantic dinner on the beach, listening to the waves lapping against the shore, it's utterly mind-blowing. One of my favourite moments in Lux was where a moment in my lifetime changed and really mattered and it was when the ordinary day turned extraordinary and Richard and I had a beautiful blessing on the beach. Jean Ho from Lux who is one of the loveliest people helped me organise it and it was mind-blowing, all the beauty of having a blessing in the sunshine barefoot with flowers in my hair. It was stunning, fresh and indulgent from the the cakes and champagne to the reeds that adorned the buggy taking us to the beach. We had our special blessing under a canopy of fresh Maldivian flowers and I wore a Delphine Manivet three quarter length dress from Kadee Bride in Athlone. Deirdre who owns the boutique helped me pick out something that was elegant and simple for an occasion. I got my official wedding dress from Kadee, a custom made Suzanne Neville dress so it made sense to go back to where all the fabulous luck happened and go for a dress that was relaxed yet a little funky! After the blessing, we had a private dinner on the beach and I changed into a little white crochet dress that I wore on my 21st! That dress is very special to me and I'm happy to say it still is holding up good so it's only the 4th or 5th time I've ever worn it, last time was on my actual Honeymoon! Over the next few days we explored all the island had to offer from Majestic Whale Shark viewing to Beach Yoga and Cycling. Aside from sinking my toes into the warm sand and enjoying floating breakfasts and dramatic settings plus Japanese delicacies… it was a truly memorable experience. One I think anyone would enjoy.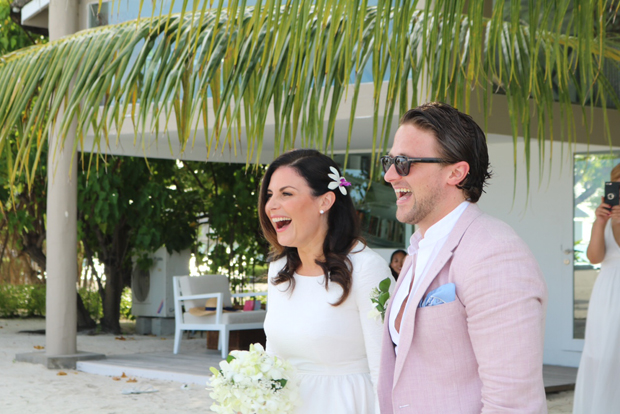 Kandolhu, Maldives
I think if like me you like to move around and explore then why not get a speedboat and spend some time of the exquisite island and resort of 'Kandolhu' which is possibly one of the most beautiful and rarest places in the world. With only 30 Villas and located just a few minutes from some of the best dive sites in North & South Ari Atoll, Kandolhu offers nature and coral reefs like you've never seen before. It takes only 10 minutes to walk around the island and it's so tiny and beautiful that you could take a million pictures and never get bored. Richard and I stayed 4 nights here and I had heard from Grazia magazine that it was one of the coolest spots in the Indian Ocean, they weren't lying! It was only a speedboat hour skip hop and a jump from Lux and I'm so glad I got to spend time on the untouched island. It was amazing to swim with turtles and whale sharks and both Richard and I snorkelled from outside our villa for hours enjoying snooping around with the stunning fish that I'd never encountered in the world.
If you're looking for something special in the resort, then there tons to chose from. Richard and I visited Noovilu Sports and did everything from stand up paddle boards to adventurous excursions, a sandbank experience which was magical and we even swan with some GIANT jellyfish too and even have scary footage of a White Tip Shark that came very very close!! It's so secure and romantic, you feel like you have the island to yourself, it was genuinely one of the most amazing experiences being there, so untouched romantic and beautiful. It's the simplicity of the island that I loved more than anything and even though it was a fleeting visit, we managed to squeeze in a Sunset Champagne Cruise which was one of the most beautiful I've ever seen. Food wise, Kandolhu has some of the best food in the Maldives, I ate fish all week and their restaurants are second to none, but if you're a sushi lover, then 'Banzi' their signature restaurant is THE one to watch. I'm a sushi nut so what was so different about this was the chefs created the fresh food in front of you, almost as if your food comes to life! Make sure your names are spelt in the grill and enjoy the live show of the chef flipping knives! After tons of delicious fish and fancy homemade cocktails, you'll maybe like to relax and part of the Honeymoon service is a nightly surprise, maybe you'll be surprised to find a bubble bath adorned with rose petals and balloons in your room … I mean really?…. too cool….
The next day why not revive the soul with a walk around the island or try a couples massage at Varu Spa, either way you can't lose with everything being 5 minutes from your Villa. The reason I love the Maldives so much is that you can be as active or inactive as you want but either way you can relax and enjoy the sun or grab a cocktail by the beach. One of my favourite things to do was to relax and read a book in my Ocean Pool Villa. It is one of the best experiences to simply stare into the Ocean and open my sliding door out onto the deck and have a sense of privacy that is second to none. The infinite view of the Indian Ocean and the white sandy beaches simply can't be beaten. On our final night of our four nights at Kandolhu, Richard and I had a private beach dinner to celebrate our anniversary and it was divine. Sitting under the Maldivian stars surrounded by candlelight was unbelievable, it's what makes it so special.
Soneva Fushi, Maldives
Our final stop in the Maldives was one I'd been waiting for all year, it's Soneva Fushi in the Baa Atoll. Having been to the Maldives three times, I was very aware of the brand and how they have the 'no news, no shoes policy' and it's all about the SlowLife as in the acronym: Sustainable, Local, Organic, Wellness Learning, Inspiration, Fun Experiences! Having originally thought of the Maldives for our Honeymoon, this time it was my mission to get to Soneva and experience one of the most influential eco-friendly luxury resorts in the world. You may not know that Richard and I are very keen to be involved in eco-friendly projects and with all the innovative experiences one can get from Soneva from the incredible organic food grown in the vegetable garden to the natural locations, inspirational ethos of sustainability and indeed one of my favourites the Robinson Crusoe experience, it was a memorable few days in paradise like I said. We started with our Villa which was No.67 and one of the coolest rockstar pads I've ever seen!
Soneva Fushi is very lush so it's fascinating to explore and understand the plant life, marine life and vegetation surrounding the hotel. For all the divers out there, Soneva Fushi is an adventurers paradise, venture outside into the reef into waters coloured with whales and other fish that will excite the thrill seekers! Nestled between rocks and lush tropical forest is their award-winning Six Senses Spa where we had a couples massage in their private treatment suites. You will be eased into a lull of cloud 9 with a treatment like this and they definitely nailed it! Between the sugar scrub, the relaxing music, you will finally start to relax on your Honeymoon. So, after you float out of the couples massage, you'll need some real Maldivian food and you can have flavours from all over the world; however first stop has to be 'Mihiree Mithaa' a bountiful buffet of fresh organic salads, freshly caught fish to order, sushi or bespoke pizzas straight from the wood-fired oven. The food is beyond de-licious! They even have their own Chocolate Room like Willy Wonka and the Chocolate Factory… you'll not return lighter that's for sure.. BUT.. return to the stunning Villa and Honeymooners will be surprised to find the Villa ablaze with candles and rose petals to make it a romantic first night!
One thing you should note aside from not wearing shoes for the duration of your stay is the luxury of the villas. They are equipped with everything imaginable and and are probably the most incredible Villas I have ever seen and stayed in. Not only had I heard of the all the who's who in the celebrity world that stayed there from Beyonce to the Beckhams, it's also the beauty and privacy that you have there that's most important. Soneva provides space where space is rare and focus on creating delicious 100% organic fresh food where most others only aim for culinary accolades, while at the same time creating enlightening experiences that tread lightly on earth. For me they have pioneered a back to nature holiday that challenges your traditional concept of luxury while paying attention to your eco conscience. This is a place easily not forgotten.
For me "Fresh in the Garden" was one of the more unique experiences while we were away in the Maldives as the food is all fresh from the ground. Chefs in the open kitchen use freshly picked produce from their organic garden to create delicious inspired dishes. To finish off why not do something different and gaze through their state of the art telescope and set your eyes on the ring of Saturn and its serene translucent curves. My favourite was to count the moons of Jupiter. One thing you must try is the Robinson Crusoe experience to Mendhoo which comprises of a private section of the beach dedicated to you and your partner for sheer romance. You'll be 'summoned' to the beach by speedboat where you will find a blanket, champagne on ice, sushi and tempura and a cake for the  'Happy Honeymooners'… Magic! Being so near the sea, albeit shaded by a palm tree, it is a picture postcard. This is the moment in the holiday where you will feel very special, even Brad and Angelina would have been blown away. So, after having your movie star moment, sadly it will be a very tearful goodbye to the Soneva Fushi before you embark on a final hop, skip and a jump to Italy!
Tuscany, Italy
Yes, we boarded our Turkish airlines plane one last time and got a flight to Bologna where we headed up for the hills to Tuscany. This is where Richard and I had the final leg of our anniversary and it's also where we spent our first two or three days as man and wife. We stayed at the luxury Borgo Santo Pietro, one of the most exquisite properties in Tuscany and to be honest one of my favourite places all round! I have wanted to go back here several times over the last two years so finally we had our chance to be there for a very special time. Set in the Tuscan countryside in a 13th-century villa, this sophisticated boutique hotel's refined rooms feature murals, and a mix of antiques and contemporary furnishings. Amenities include a welcome basket and a bottle of Prosecco, as well as free Wi-Fi and flat-screen HDTVs. Upgraded rooms and suites add fireplaces and private gardens. This boutique hotel in Tuscany captures all that is good and great about the Italian way of life: refined furnishings in a restored 13th-century period property; gorgeous grounds punctuated by cypress trees and stone fountains; fabulous food and wine at Meo Modo restaurant; warm family welcome; and a pleasing menu of gentle outdoor activities and sensual spa diversions.
For me it has some of the most spot-on, savvily opulent antique interior design I've seen anywhere in Tuscany. It blows the budget every time from Fortuny silks and Rubelli velvets and as a result the place feels more like the house of a collector with exquisite taste than a hotel and has been carefully thought through to create a sort of weekend house-party vibe while guaranteeing privacy. It simply is beyond stunning!
The thing that was so special for Richard and I was that we had the same incredible 10 course romantic dinner in the same spot and reminisced about the past 2 years. I have to say Italy is one of the most important places in my life as it holds such special memories for us and being there in all our favourite places brought it all back. I booked a surprise dinner for Richard at La Suvera, he had no idea we were going there, it was a 30 min taxi ride over the Tuscan mountains from Borgo Santo Pietro and was one of the original places we looked at for getting married. I had wanted it all along as it is something that is out of another world with the stunning white chapel and the grounds. I know the owner Elena who is an Italian aristocrat and we had become very friendly when we were venue shopping a few years ago and asked could she do up a special menu for us and boy was that unique. Richard was blown away- we were surrounded by Italian history and monuments, very special. It was one of my favourite nights in a long time, it meant so much.
We stopped for lunch at the JK Place where we had a party for all our wedding guests and we had dinner at the Borgo Santo Pietro in the City restaurant which was exquisite too… all 6 courses of it!!! One of the special things for me for returning to Florence was staying again at the 'Riva Lofts', we had a party on the third night of our wedding there which was incredible, all my pals in TV3 remember it well, it was a wild night full of sing-song, hilarity and merriment! I remember singing 'Let it Be' with my father and my dad's best friend Declan on guitar in the main room. We swam in the pool in the wee hours and the drink flowed. It is SUCH a cool spot and we stayed in the same funky loft; Penthouse Loft that we stayed in originally when we first came to Italy to plan our wedding almost 3 years ago! What is so special about Riva Lofts is that renowned local architect Claudio Nardi has transformed a small complex of 19th-century artisan workshops into a laid-back urban retreat. His signature minimalist style is warmed by lots of stone, wood and glass, and an eclectic mix of vintage pieces and modern classics plus the odd antique. My favourite part is its honesty bar and open fire. Alice who runs it is now one of our friends so to go back and take photos meant so much and it was lovely to see all the same staff there after such a long time! After much sightseeing and picture taking on the Ponte Vecchios, we finished off our last special night at 'Enoteca Pinchiorri' I had been waiting to try their food for years and they are the only 3 star Michelin restaurant in Florence, seemingly the best in Italy! It was incredible and I couldn't move for the 12 courses! I've never seen a wine cellar like it, wines from 1875! However, the anniversary holiday gave Richard and I a special trip down memory lane and enough photos to last us a lifetime. It was a poignant trip in more ways than one as I had plenty of time to reflect and be very grateful and appreciative that we have each other and of all that we've overcome and achieved in the last 2 years. No more holidays for a long long time… it was relaxing, refreshing, revealing and I relished the luck that I have to go on a trip so special as that. I hope you too with some guidance from the above can choose the honeymoon of your dreams whether it's the Maldives or Italy!
FACTBOX:
Turkish airlines fly several times a week to the Maldives with fares starting from 748.39 euro for Economy and 1,900 for Business Class to the Maldives from Dublin. Turkish Airlines is currently ranked 7th best globally and has been named best airline in Europe 6 years in a row. Check out the website for all details: www.turkishairlines.com
Kuoni (kuoni.co.uk) offers seven nights (B&B) with flights from London Heathrow and group transfers in resort from £2,514/€3,212pp (two sharing).
Topflight (topflight.ie) does packages featuring Kandolhu from Ireland.
Websites of Interest
www.luxresorts.com/en/hotel-maldives/luxsouthariatoll
The following two tabs change content below.
Lisa Cannon
Lisa Cannon is best known as a presenter on TV3's hugely popular movie show, Box Office. She blogged all about the lead up to her Big Day in Italy in September 2015.
Latest posts by Lisa Cannon (see all)