"…when Barry paid me a compliment… I felt so relieved to finally understand one thing he was saying!"
The couple: Barry and Marie-Michelle McCarthy
Length of engagement: 18 months | Wedding date: 22nd August 2015
Wedding venue: Luttrellstown Castle, Castleknock, Dublin
Photographer: Paul Kelly | Studio 3
We met… in London. I was finishing a Diploma in London and Barry had just moved to London for 2-3 months before moving to Singapore. On the night that we met, Barry didn't feel too well but his friends convinced him to go for one after work in the bar next to their office in the city. I went out that evening too with my flatmate. When Barry saw me across the bar, he made a beeline for her and started chatting to me. My English wasn't very good at the time (I'm a French-Canadian girl!) so I couldn't understand everything that Barry was saying. However, I did understand when Barry paid me a compliment and I felt so relieved to finally understand one thing he was saying! From that moment on, Barry's Irish charm made an impression on me and we went on a few dates in London before Barry moved to Singapore. We kept in touch and Barry made a point to call every day. After I visited Barry twice in Singapore and after a few months of daily phone calls, I left London to move to Singapore and the rest is history!
Our proposal… We were in Miami, Florida and Barry offered to do the food shopping to get what he needed to set the scene for his proposal. I was a bit suspicious as Barry rarely volunteers to do the shopping! That evening, on the balcony of our apartment on the 22nd floor, Barry had flowers, chocolates and Champagne ready topped off by a fabulous view and a sunset. When Barry proposed I immediately accepted!
My hair and makeup… my hair was by the lovely Erick Burtenshaw and my makeup was by Caroline Armstrong of BeautyNinety6.
My dress… was by Sassi Holford and it was fitted by Sharon Hoey.
Our wedding theme/colours… were pastel confetti. The theme was understated as we didn't want to take away from the beauty of the venue.
My favourite part of the wedding day… was leaving the church with my husband as it allowed for some private time before meeting all our guests during the Champagne and canapés reception where we had such fun listening to Tropical Storm.
We chose our photographer because… Paul (Paul Kelly, Studio 3) is such a warm friendly person. We knew from the start that we would get along very well and therefore that it would make for beautiful pictures. Of course, his talent and past work was a factor in choosing him as well!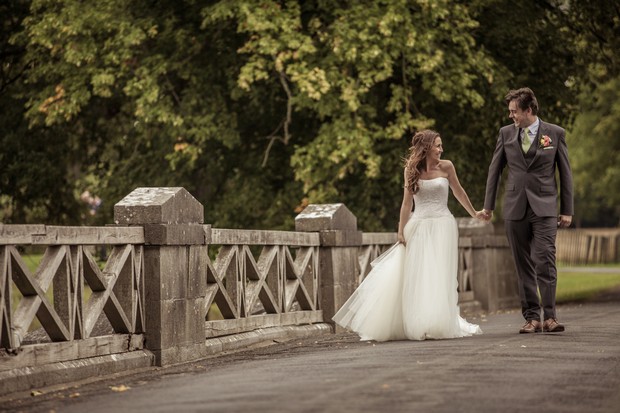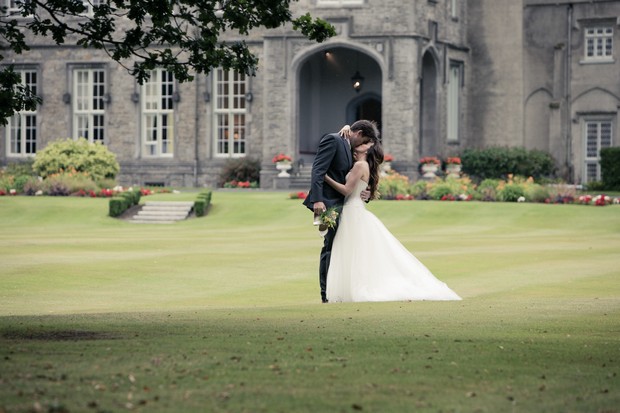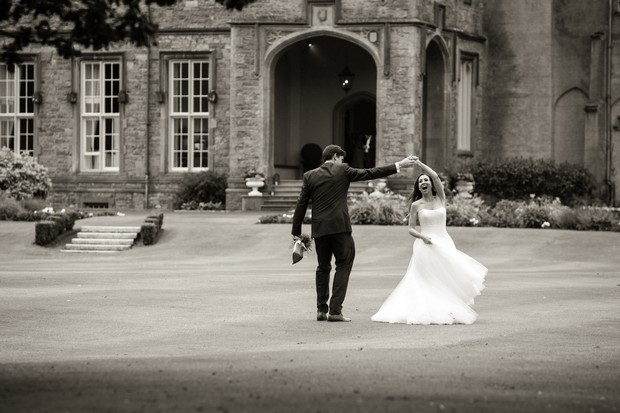 We chose our venue because… Luttrellstown Castle is such a beautiful venue! We thought that you can't go wrong with this kind of venue as it is so majestic and classical.
Our menu… was a five course menu with a choice of a roast rack of lamb or fillet of Irish beef. The meat was cooked to perfection! All the guests really appreciated the quality of the food that was served. The evening snacks consisted of fish and chips cones, mini beef sliders, bacon butties and vegetable spring rolls… A very meaty menu but we did have a lovely vegetarian option for dinner as well. We ended this lovely meal with a piece of the wedding cake baked by Claudia's Bakery.
My piece of advice for other brides… no matter what happens or doesn't happen on the day, just enjoy!
The following two tabs change content below.
Former editor, current contributor, (she just can't let go!) Karen enjoys writing fashion but is known to dabble in decor from time to time. Her favourite section on the site is the Real Wedding section, followed closely by the Health & Fitness forums.