"Despite all the "Princess Fiona" jokes that were made it was actually Alex who wanted to make the most of marrying an Irish girl by getting married in a traditional Irish castle! Luttrellstown Castle more than lived up to expectations."
The couple: Fiona Mulhall & Alex Rennie
Length of engagement: 8 months | Wedding date: 20th September 2014
Wedding venue: Luttrellstown Castle, Castleknock, Dublin
Photographer: David Duignan Photography
We met… in Budapest, Hungary. I was living and working over there and Alex had friends who he visited often. We were just friends at first but then Alex made the decision to leave his native Manchester and spend a Summer over there as well. Once we had the chance to spend more time with each other, it wasn't too long before we got together!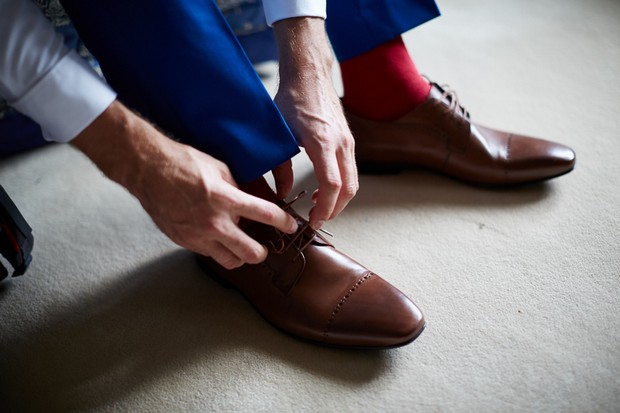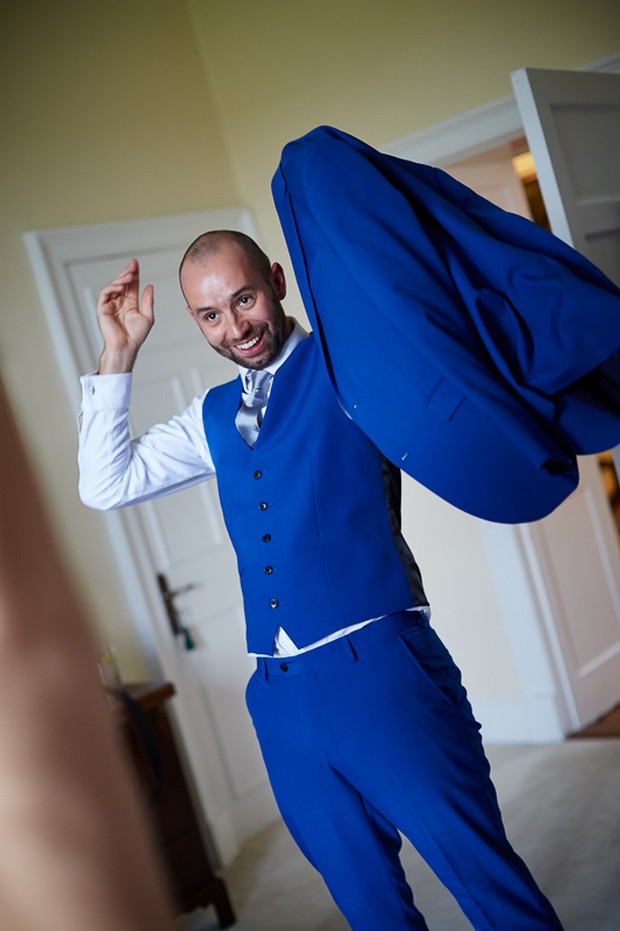 Our proposal… We had a holiday to Australia planned for January 2014 so Alex planned to propose then. This meant months of keeping the ring hidden and smuggling it into our luggage. So on day three of our holiday, I noticed he was acting a bit peculiar but put it down to jet lag! That evening we came back to our room at the Shangri La, Sydney and there was a bottle of Champagne in the window, our room had panoramic views of the harbour so it was all very romantic but I just thought he was making it a nice way to start our holiday! So when he dropped to one knee I was completely shocked and burst into tears (happy ones!) which is something I never thought I'd do.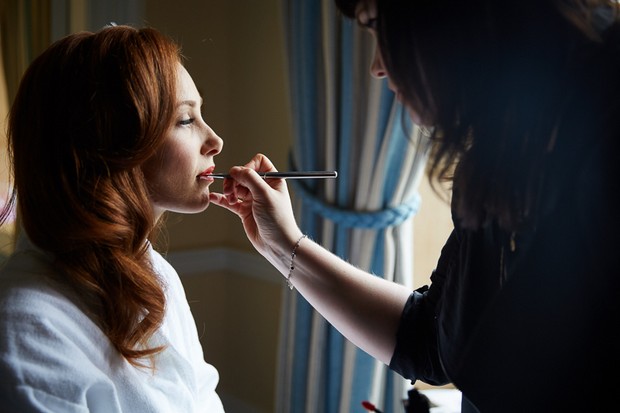 Our wedding theme/colours… This changed A LOT along the way but we settled on blue and orange with splashes of my favourite colour, red! We picked the bridesmaids dresses early on but then Alex found these funky electric blue suits for the men and set his heart on them. We're both pretty easy going anyway so were happy to let everyone wear what made them happy – that turned out to mean everyone was in blue! The orange Gerberas in the bridesmaid bouquets and groomsmen's buttonholes were a lovely contrast with the blue and matched the orange roses in my bouquet. But then the clashing red splashes were thrown in just as something a bit different for the bride and groom – in my shoes, the  red roses in my bouquet, Alex's buttonhole and his snazzy red socks!
My dress… was from the Sincerity range by Justin Alexander.
Our ceremony… was our favourite part of the day! The ceremony was in Luttrellstown Castle. We had Pastor Gerry Byrne (getmarried.ie) officiating and he made it so so personal for us. He made little jokes to relax everybody while still getting the formalities done. It felt so intimate and special. Music was by Blacktye, who were amazing! I walked in to Oh My Love by John Lennon, we sealed the deal to You Got It, Roy Orbison and we walked out together to For Once in My Life by Stevie Wonder.
We chose our venue because… despite all the "Princess Fiona" jokes that were made about our castle venue, it was actually Alex who wanted to make the most of marrying an Irish girl by getting married in a traditional Irish castle! We fell in love with Luttrellstown Castle before we even viewed it and it more than lived up to expectations. It's physically stunning while retaining a real sense of history. Even in the enquiry stages, we found the staff to be so helpful and friendly, that by the time it came to the wedding we really felt at home in our own castle!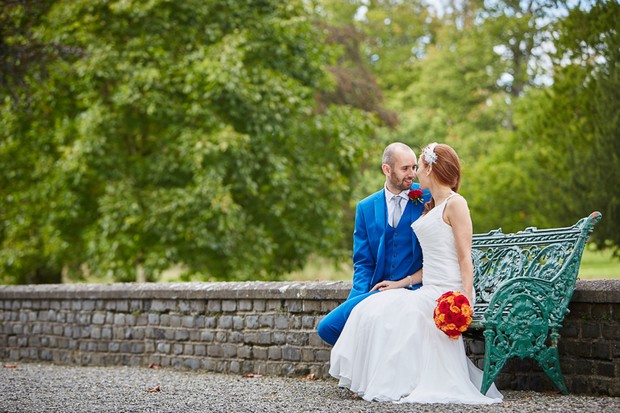 What our bridal party wore… The bridesmaids wore Eliza and Ethan multiwrap dresses in midnight blue and the groomsmen wore electric blue suits from Next.
We chose our photographer because… we had an idea of the style of photography we wanted but weren't quite sure how to explain it. When we came across David Duignan's website we knew immediately that his documentary style shooting was exactly what we were after. We arranged a skype call with him just to be sure and as soon as we got chatting we knew we had found our photographer. On the day, David was brilliant. He took charge of the whole group (an unenviable task!) and never bothered us with so much as a query. We hardly noticed him snapping away but obviously he was as we have his lovely pics as evidence.
Our honeymoon… was a month in India and Thailand.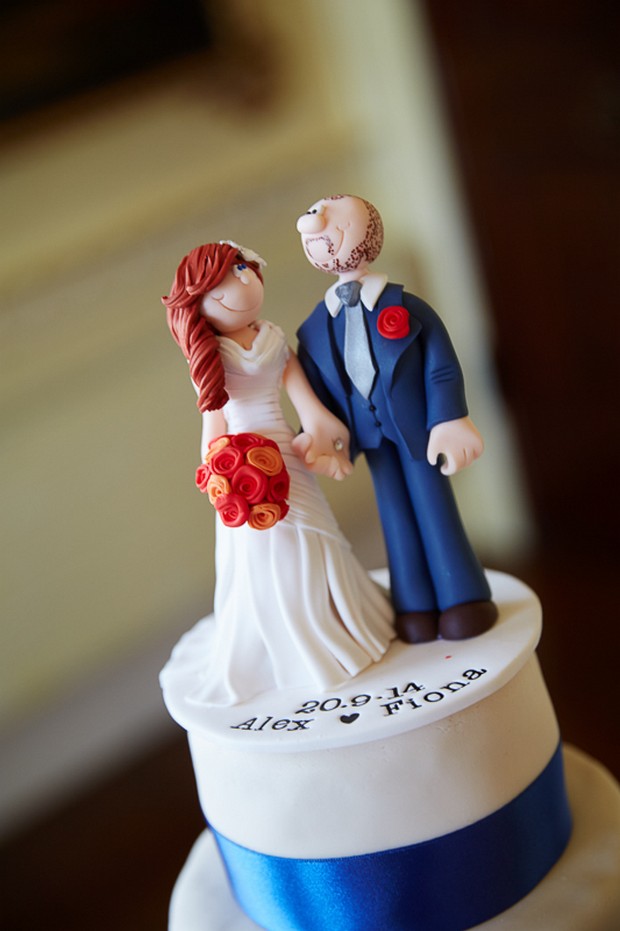 Our menu… was yummy! The guests were raving about the Fillet of Irish Beef for ages afterwards. We also had a Hake Fillet as an option. For midnight snacks, we had fish 'n' chip cones.
My favourite part of the wedding day… the ceremony! The entire day was like a dream but the ceremony was just so special for us both. To have all your closest friends and family in one room together is very overwhelming, I don't think anything prepares you for that.
My piece of advice for other brides… Try and get your 'Hellos' and 'Thank You's' out of the way early so you can draw a line under it and fully relax and have fun. Having said that, don't feel too bad if you don't get to everybody, they know what a wedding day entails and are just happy to be there. It's much more important that you enjoy yourself.
The following two tabs change content below.
Former editor, current contributor, (she just can't let go!) Karen enjoys writing fashion but is known to dabble in decor from time to time. Her favourite section on the site is the Real Wedding section, followed closely by the Health & Fitness forums.