So you have a big gorgeous marquee, attached to a venue or standing in a field swaying with summer flowers. What now? Now you need to fill it with your favourite things. You don't have to compromise on anything, because it's a blank canvas. Have any colour or style you want, nothing's impossible. Before you get lost in all your options, here are your marquee wedding essentials: 
The type and the season
Above image from The Outdoor Wedding Company
In case you didn't realise you can have a marquee wedding in the cold months! Modern marquees come with powerful heating no chill can touch. Of course, it's best to ask your marquee company for advice about this. You can trust whatever they say, because they will have pitched in all kinds of weather. You have a choice of soft or glass-side marquees, like those provided by Marquee Weddings in Ireland or the ever-popular stretch tents by The Outdoor Wedding Company (great for an extra large crowd – they accommodate up to 600 guests)!
Set the tables how you want them
Above image from Marquee Weddings in Ireland
With a big empty space, you can arrange the tables however you like. This is a fabulous bonus – just think of how easy it will be to do your seating plan (or even better, not do one at all). Perhaps you'd like to have the tables in long lines, banquet style. Or in a big horseshoe with some cool entertainment happening in the middle. Or for a small wedding, four people per table, like in a lovely, cosy restaurant. Picture your perfect arrangement and go for it!
Food is good
Above image by O'Brien Lynch Catering
A marquee doesn't only mean freedom with decorating, it's also freedom with menus. You can choose your own caterer, and in the warm months you may like to take full advantage of an outdoor BBQ option. All foodies will delight in having complete freedom to make their menus from scratch. O'Brien Lynch Catering is one such company that works with couples to create an innovative, bespoke wedding menu. Marquee weddings are one of their specialties and you won't have to think about any linens, tableware or even centrepieces as they can supply them too. That's quite a few ticks off your to-do list!
Add some wow above your head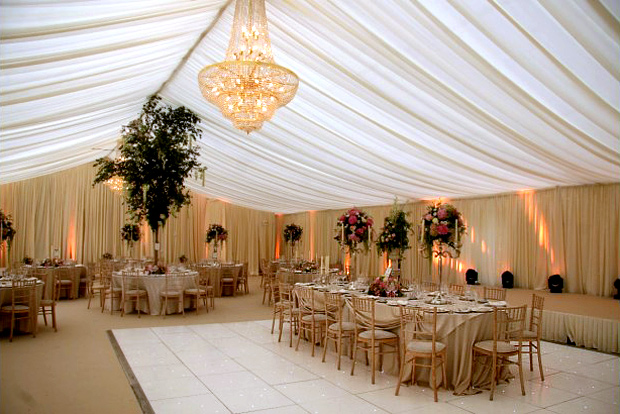 Above image from White Events
A tent just begs to dangle your favourite things from the ceiling. You don't always get that option with a regular venue, so you may as well take full advantage! In our opinion, you can't go too far, really. Streamers, paper lanterns or balloons with long strings? Go for it! Chandeliers, dozens of lightbulbs, miles and miles of fairy lights? Hey, why not? We'd go as far as to say they are marquee wedding essentials! It's all not just beautiful, but looks fantastic in photos too. The key is to cooperate with your marquee company. They'll tell you exactly what's safe to hang and what's best to avoid.
More inspo at 16 Ways to Light Up Your Autumn/Winter Wedding
Add some special entertainment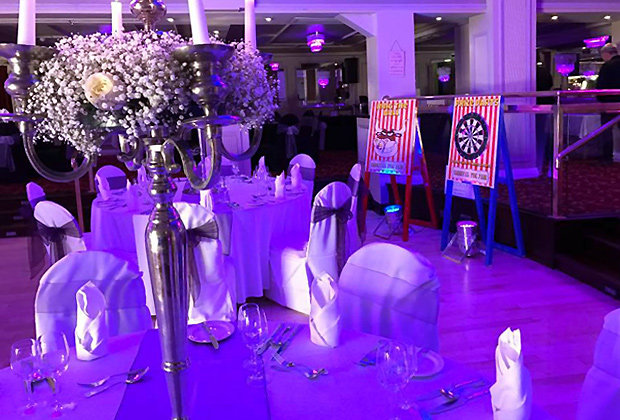 Above image from EventSource.ie
At most weddings, dancing is a given. How about adding some extra entertainment your guests don't expect at all? We're talking vintage arcade games (a huge hit with guests of all ages!), mini golf for the lawn, or a casino (one of marquee wedding essentials for adults). That's just the tip of the iceberg. We recommend keeping it hush-hush until the day itself, and then have someone make an announcement as soon as the guests arrive at the venue, so nobody misses out on the fun! If you want advice, EventSource.ie are your go-to guys.
Sitting and sipping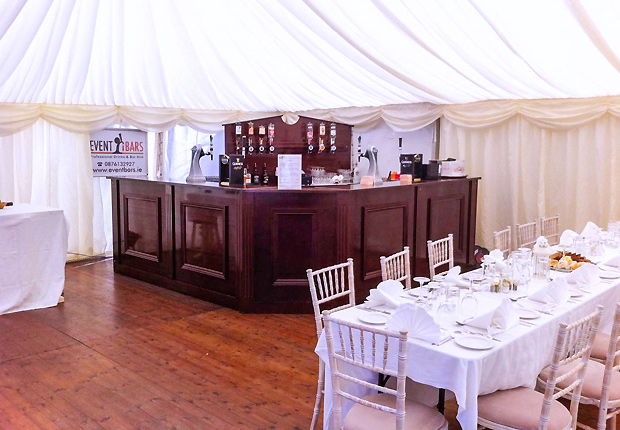 Above image from EventBars.ie
Those guests who aren't throwing shapes on the dance floor should be doing the other fun thing: chillin' on a cool sofa with a cocktail in their hand. So when you're hiring your marquee, make sure it's large enough to accommodate a dining area, a dance floor, and a chill-out spot too. That's where you'll put the bar and some comfy seats. Everyone will appreciate a chance to take a breather away from the music. Also, it's another corner of the marquee you get to decorate. You'll get all this from EventBars.ie, who work nationwide (they stock everything from bars and LED furniture to chairs, sofas, tables and glassware). A chill-out area is definitely one of marquee wedding essentials.

Add a touch of drama
Above image from Lovin Letters – Light Up Your Life
Light up letters are all the rage nowadays and we love them! They are crazy photogenic (Instagrammable as heck too!), perfect for filling up any empty space (put them on the edge of the dance floor!) and overall add a jazzy feeling to the party, especially when the lights get turned down. So many suppliers are doing it nowadays, you won't have trouble finding the letters wherever you're going in Ireland. This is one of marquee wedding essential well worth adding to your list.
Click here for our list of letter lights suppliers
Pick a fun theme and run with it
Above and main image from Frog Prince Weddings & Events
Picking a theme means more than picking a colour. A single theme will help you get organised as soon as you decide what it is. For example, take a look at your Pinterest board. Is it a mishmash of ideas and options? As soon as you see what one theme can be, all the rest will fall away. And to help you create this, there's professional help from decor and event stylists who are incredible at pulling looks together. Click here for our full listing of decor and event styling suppliers.
The following two tabs change content below.
Rachel Green
If you think the bride should always have the last word, then Rachel is on your side! A devoted fan of everything quirky, unusual, colourful or crafty, she loves scouting WOL's real weddings for unique and fun touches. When not gazing at pictures, she's dispensing no-nonsense advice on everything from reception entrance songs to bridesmaid problems.
Latest posts by Rachel Green (see all)