"Practice, chats, dreams, movies… Nothing can prepare you for this moment!"
The couple:  Tolani Olaoke and Patrick Enin
Length of engagement:  1 year 11 months | Wedding date:  27 July 2013
Wedding location: The K Club, Straffan
Photographer: Izabela Meguellati Wedding Photography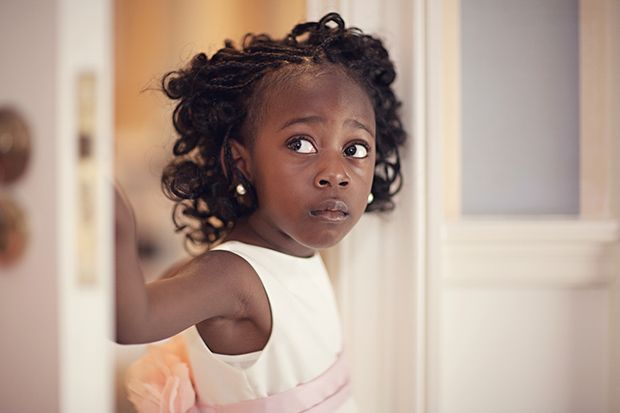 Our proposal… It was just another Friday night dinner at some small restaurant – he said… Only it wasn't! On this particular Friday night dinner, Patrick showed up at my house after a long day at work. I was anxious to get this dinner out of the way as soon as possible because the weather was horrible. In fact, I considered cancelling and just ordering food at home but he simply refused. We soon left and went straight to what should have been a restaurant along Victoria Embankment. Surprisingly, Patrick picked this moment to stare at some boat across the road with a restaurant aboard. I knew his love for boats but this was clearly not the time! I went over to drag him back only to find out our dinner was actually on the boat….
…After a Champagne reception the ship set off. But as soon as we were seated for starters, Patrick disappeared. Then right before the main course, he left yet again! My patience was stretched enough and I planned, on his return, to give him a good old lecture on what a romantic dinner was all about. However this time when he returned, he arrived with musicians, the waiters and a photographer trailing behind him. In a flash he was on one knee… (Practice, chats, dreams, movies.. Nothing can prepare you for this moment!)
Suddenly we were surrounded by the musicians playing romantic songs; the photographer's camera kept flashing away, the couples around us had mobile phones snapping away… The staff were clapping. I am sure I saw fireworks outside. Patrick said a few careful lines about us – the first time we met, how he loved me and wanted to marry me… It was all too romantic. I was soaking this all in when I heard a couple of people shout "give him an answer" – everyone appeared to have been waiting for ages… Oh Yes !Yes! Yes!
Our wedding theme/colours… My favourite colours are Pink and Ivory, which is what we chose for our wedding theme. We wanted a fairytale setting with soft colours of Roses. The bridesmaids wore beautiful baby pink dresses from Glamourwear Boutique in Clane Co.Kildare. My flowers were created by The French Touch and our cake, which was a four-tiered white cake with pink ribbons and pearl brooch detail, was by Bake my Cake.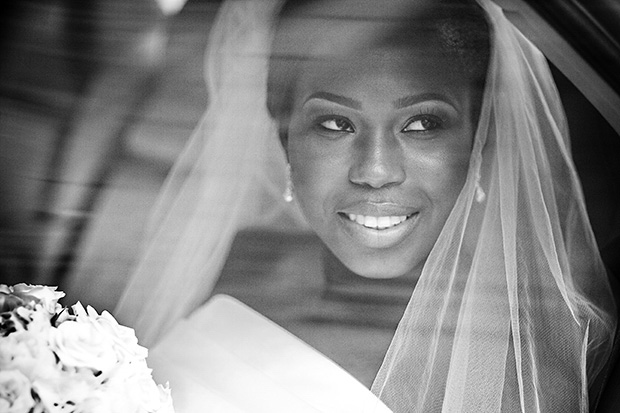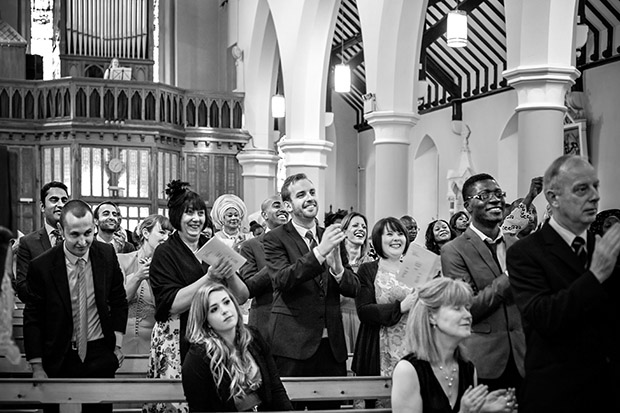 Our ceremony… We chose St Patrick Parish in Celbridge because it was Patrick's parish for a few years before we relocated. The Priest Fr. Paul Taylor, was so helpful leading up to the wedding. The ceremony was very relaxed and our church music was by Susan Scully and band. They sent us a sample CD and we picked the music we wanted on the day. It was very beautiful.
My dress… My wedding dress was from one of my favourite wedding dress designers Caroline Castigliano in Knightsbridge London. It was the first dress I tried on, my Mum was there with me, and we both knew straight away that was THE dress.
We chose our photographer because… Izabela's work was beautiful. We found her on weddingsonline.ie and went on to her website. We fell in love with her pictures instantly and flew over to Dublin to see her straight away.
We chose our venue because… The K Club is simply the best location in Ireland. The grounds are beautiful and the halls are amazing.  Our guests were truly wowed! Susie from The K Club was also amazing as a wedding planner. She had gotten married the previous year so she knew what to do and planned our event to the very dot. She answered all questions we had and ran around on the day to ensure everything was perfect. We could not have asked for a better wedding planner.
Our honeymoon…  Was in Crete. It is ideally located with less than 10 hours flight including stop overs and transfers. It is an amazing and peaceful location.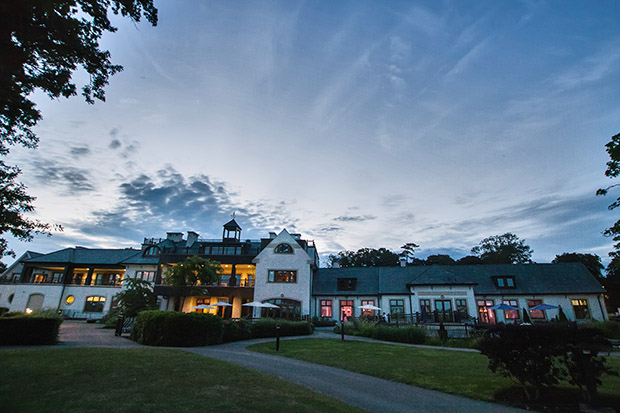 My favourite part of the wedding day… During the Dance Dance Dance! We were pleased the day was successfully over and had been splendid! We were able to let our hair down and dance!    
My piece of advice for other brides… Planning is everything. Get a personal wedding website up as well. It helps reduce all the questions from guests and helps with communication. Ours is www.tolaniandpatrick.com.
The following two tabs change content below.
Former editor, current contributor, (she just can't let go!) Karen enjoys writing fashion but is known to dabble in decor from time to time. Her favourite section on the site is the Real Wedding section, followed closely by the Health & Fitness forums.