"For the ceremony, we lined the aisles with 10 bay trees and had a Chuppah as our altar… It was quite emotional but was really beautiful…"
 The couple: Gillian & Wesley Smith
Length of engagement: 1year | Wedding date: 1st August 2013
Wedding venue: Tulfarris Hotel & Golf Resort, Blessington Lakes, Wicklow
Photographer: Wanderley Massafelli, Massafelli Photography
We met: Through mutual friends watching a rugby match in the pub. I think our friends were trying to do a bit of matchmaking behind our backs! It wasn't necessary though as we sat beside each other in the pub and get on like a house on fire all by ourselves! We met a couple of times after that and eventually Wes asked me out on a date. We went for dinner and cocktails a few weeks later, and the rest as they say is history!
Our proposal… We got engaged whilst on holiday in Dubai. We chose the ring together and even saw it being made! It was so special choosing each part of the ring separately and then watching it be made in front of our eyes! We went to the very snazzy The Address hotel by the Dubai Mall where the fountain is. We had seats by the floor to ceiling window's looking out over the fountain show and as the show finished, Wes got down on one knee and asked me to be his wife. It was a very emotional evening for us! I phoned my twin in California at 3am to tell him the good news first and he was thrilled for us!
My dress… My dress was from Frilly Frocks in Drogheda. Sheelagh and Dara were extremely helpful and made the whole experience so enjoyable!  It is a Pronovias Deimos dress and was so comfortable to wear! I felt amazing wearing it! Tanya from 7 stitches did all of the alterations.
Our wedding theme/colours… This was the hardest part for us as we didn't want a formal wedding. We really wanted a garden party style wedding and went to visit a number of venues trying to find the right place. Then we found Tulfarris Hotel! We loved it instantly and it was exactly what we were trying to find! From the beautiful courtyard and the fabulous green down by the lakes to the stunning manor house. It was perfect! We didn't really have a theme in the end however we chose colours and styles with country romance chic in mind! Our colour theme was mainly bright sage and ivory.
Our ceremony… We had a civil ceremony in Tulfarris Hotel and decorated the room ourselves. We lined the aisles with 10 bay trees which we rented from All About Weddings in Arklow. We had a Chuppah as our altar. I bought this from a previous Tulfarris bride! The roof of the Chuppah signifies that you will never be homeless; the four open sides mean that your home will always be open and the four people holding the Chuppah signify that you will always have support in your life. Melanie from Fussy Peacocks dressed the Chuppah with beautiful ivy, pearls and tulle. We also had a large candle display on the registrars table. The feeling in the room was amazing. Our ceremony was quite emotional but was really beautiful. Aisling Connolly was our ceremony singer. Aisling is a hugely talented person and her voice is beautiful! I walked down the aisle to Elbow's One Day Like This, other songs included Lotte Mullan's version of the Madness song, It Must Be Love and Stevie Wonder's Sir Duke as our recessional song.
His suit.. Wes's suit was from Dorian Black in Balbriggan and was royal blue with a silver paisley tie. Now, I realise I am slightly bias here, but I think he looked amazing! Kim in Dorian Black looked after Wes and the lads really well and gave really helpful tips to them regarding accessories!
What our bridal party wore.. Our bridesmaids wore sage green & ivory Jim Hjelm 5190 dresses.  The dresses also had a small train and were stunning on the girls. Our groomsmen wore grey suits with ivory ties from Dorian Black.
We chose our photographer because.. We loved the style of photos on Wanderley's Massafelli Photography website. He has a very natural photography style with a slightly quirky edge. When I initially contacted Wanderley to find out package prices etc, we spoke on the phone for about 30 minutes and he had me in stitches laughing. I knew that we had to book him for our day; he was so easy to deal with. We found him extremely professional and met up beforehand to discuss the style of photos we wanted and the running order of the day. Wanderley gave us lots of helpful advice and tips on how to handle things on the day! Wanderley really got into the spirit of our day and even our guests had great fun with him. We definitely chose the perfect photographer!
We chose our venue because… Tulfarris Hotel & Golf Resort is the perfect place to host a wedding! We chose here after visiting a number of hotels. Tulfarris is a truly unique venue as the function room area is separate to the main hotel and was built especially to host functions. It is perfect for couples who want luxurious style with a charming country feel. The courtyard was the perfect place for our drinks reception and had a really magical feel about it. There are no words to describe how fantastic the staff are!
Our menu.. The food on the day was even better than it was at our menu tasting! I actually didn't think I would be able to enjoy it on the day due to nerves etc; however I ate every last bite! It was delicious! We had a chicken salad to start, followed by a champagne & strawberry sorbet. Our main was a choice of either Tulfarris chicken supreme or fillet of beef; we also had stuffed aubergine as a vegetarian option. Our desert was the Tulfarris assiete.  We had a few foodies among our guests and were delighted to see their clean plates – a true sign of success!
Our band.. was The Great Escape.  These guys are amazing! Our dance floor was full all night and they really interacted with our guests! Such good fun! They were our band and also did the DJ part. I know this is a huge decision with couples, we are lucky enough to have seen them play in a number of events and we were 100% confident to book them. Fantastic guys!
My favourite part of the day was.. Definitely the ceremony! We had really put all of our energy into this part of the day and it was really special. Our drinks reception was good fun also as we had made our own photo booth! Our guests really enjoyed themselves with it! We had an ice cream trike from Maurice in Butlers in Wexford. The children at the wedding could not believe their luck that there was FREE ice-cream! Apparently the queue for ice cream was longer than the queue for the bar! We also booked 4 in a bar, a barbershop quartet who were amazing! We had such good fun with them and Wes was like the 5th member for the day! They don't need to be hooked up to microphones so they can walk freely among the guests and inside and outside of the building which was a major reason for us booking them. They really interacted with our guests and set a really cool vibe to the day! Our day was captured by our videographer Richard from Bride & Groom Films and we are really excited to see it all again when we receive our DVD! We are so lucky to have dealt with so many fantastic suppliers and have met some genuinely amazing people!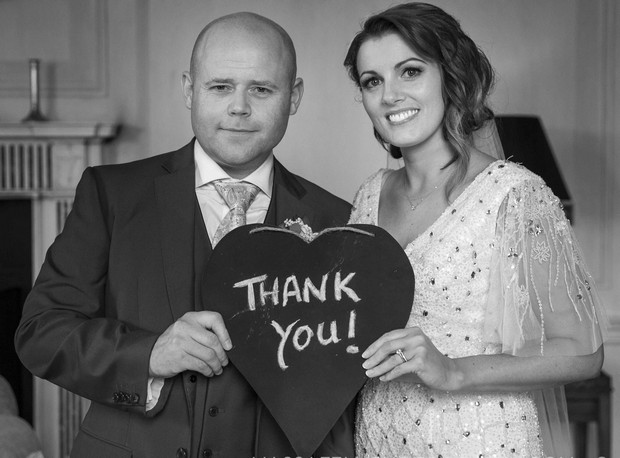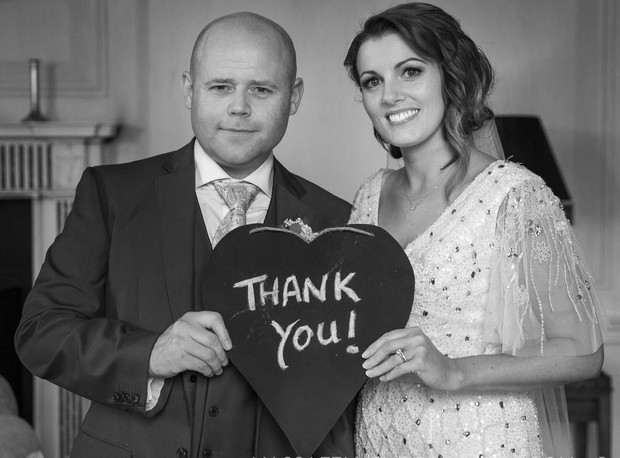 My piece of advice for other brides is… Relax and enjoy the day! It really does go by so quickly! Make sure to hold your new husband's hand throughout the day, this will stop you getting separated and you will remember lots of the same moments. Trust that you have booked professional suppliers and let them do their job. They will guide you through the day! We decided when planning our wedding that we wouldn't bother with any of the things that we didn't notice at other weddings, this saved us a fortune on the little things! Do what suits yourselves and more importantly your personality.
The following two tabs change content below.
Former editor, current contributor, (she just can't let go!) Karen enjoys writing fashion but is known to dabble in decor from time to time. Her favourite section on the site is the Real Wedding section, followed closely by the Health & Fitness forums.