Weddings are romantic as they are but if you're looking to really weave in your relationship or honour your love story, there are some sweet little ideas you can include. From loved up favours and cute signs to the sweetest gifts, check out these 10 gorgeous ways to make your special day even more romantic…
1. Leave a gift for your partner
Surprise your partner with a sentimental gift to mark the Big Day and let them know you're thinking of them as you both get ready. There are lots of sweet gift ideas from getting the lyrics of your first dance song made in to a framed print to a piece of jewellery (or a watch for the lads with a 'don't be late' note!) or a case of your favourite white wine complete with 'Marriage Milestone' labels so you can celebrate your year of firsts (birthdays, anniversary and all the other gorgeous occasions you have to look forward to).
Photo from Cormac & Linda's real wedding by Julie Cummins Photography
2. Have some 'Tears of Joy' tissues handy
Tears and weddings go hand in hand, and a really cute and romantic way to embrace them is by having a basket full of tissues (or hankies) at the ready for guests for all their 'happy tears'. You can pick up wedding tissues in the weddingsonline shop here.
Photo from Maeve & Dylan's real wedding by Tomasz Kornas Photography
3. Share your 'Love Story'
The 'Love Story' sign is a great way to give guests a bit of a history lesson about your relationship and share some fun details with people who might not know where you met or how you got engaged.
Photo by Ray & Kelly Photography via Wedding Chicks
4. Include wedding signs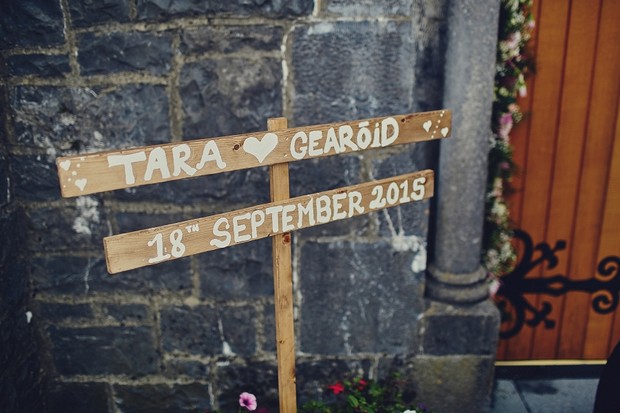 We WOL girls love our signs and when they're personalised – even better! The days is all about you so celebrate with some romantic signage from a sign welcoming guests to your ceremony to framed signs of your favourite love quotes. Check out more sweet wedding sign ideas here.
Photo from Tara & Gearoid's real wedding by DKPHOTO
5. Include relationship milestones on your table names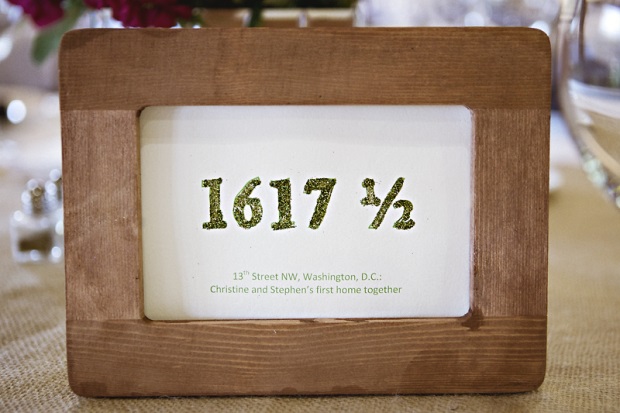 Table names are one of the best ways to inject a bit of personality in to your wedding and they're also a great way to work in some fun trivia! Weave in some relationship milestones and stories from the number of the first apartment you shared together and how many pets you own to the number of days since you first met and the place you had your first date.
Photo via Pinterest
6. Personalise your cake topper
Cake toppers are another awesome way to make the day that little bit more personal and you can use it to show how loved up you are as well! There are lots of fun topper ideas from spelling out your initials or names to a happily ever after bunting, or you can even get a mini version of you and your other half made up by one of these talented cake topper designers.
Photo by Krista A. Jones via Style Me Pretty
7. Get guests advice or date night suggestions
There are lots of lovely alternatives to the traditional guest book and if you want yours to have a romantic twist, get guests to share some fun date night ideas or their advice for a happy marriage. You'll get some gems like this one above!
Photo from Laura & Stuart's real wedding by Insight Photography
8. Include your initials in your wedding decor
Celebrate your love story through your decor and to really make the day about you as a couple. Pop some cute initials by the guest book, opt for personalised napkins with a custom monogram or your names and for those that want an extra special toast, you can pick up personalised wine labels in the wedingsonline shop or over on WowWee.ie.
Photo from Amy & Shane's real wedding by Insight Photography
9. Opt for meaningful favours
If you're going the favour route, there are lots of lovely options that will add to the romance of the day. We love the idea of creating a CD with your favourite love songs for your guests to enjoy or if you're looking for other cute tokens they can use, think little boxes of mints (or peppermint tea) with 'Mint to Be labels, a plant with a 'Let Love Grow' tag or some match boxes with a cute 'The Perfect Match' sleeve.
Photo by Andy Barnhart via Style Me Pretty
10. Have a time capsule
The ceremony for a lot of couples is the highlight of the day and if you want to make it even more memorable and have something to look forward to on your anniversary, work a time capsule or love letter ceremony in to your day. Write a letter about how you're feeling on this amazing occasion, place it in a box with a bottle of your favourite wine and look forward to opening it with your new hubby or wife on an anniversary down the line!
Photo by Jeanie Andrews Photography
Main photo from Tara & Fionan's Real Wedding by DKPHOTO
The following two tabs change content below.

Pamela Mahon
Pamela enjoys writing about all things decor (she loves buying it too) and has a not so secret addiction to stationery. Her favourite section on the site is the galleries section (too many pretty images to choose from), and she can often be found lurking in the fashion and beauty forums as well.

Latest posts by Pamela Mahon (see all)