When bridal dress trends go towards the chic and minimal, it only means one thing: Statement. Accessories. Veils have come back big time for 2017, but we're still all about the crystal haircombs, gold vines and TDF tiaras that have been the go-to wedding accessories for designers over the last few years. There are plenty of designers specialising in bridal accessories out there to choose from if you have the budget, and indeed a stunning piece will make a true heirloom for years to come, but if it's just about the va-voom on the day, you can find lots of lovely stuff on the high street that'll do the trick in a pinch!
For today's edit we've taken a look at some of the bridal e-tailers who have set the tone for accessories for stylish weddings this year. Now whatever you do make sure you've tried these pieces on before you invest however – they're definitely not going to suit everyone's style, but when they do, they make for a spectacular statement.
Want something really special for your 'do? See our special guide and pick of GORGEOUS wedding hair accessories by Irish bridal boutiques and jewellery designers here!
Ivory & Co Farah Hairband, €159 from The Lovely Little Label
Boho Bronze Headpiece from Bride la Boheme
Statement Haircomb from Etsy
Climbing Rose Hair Vine from Twigs & Honey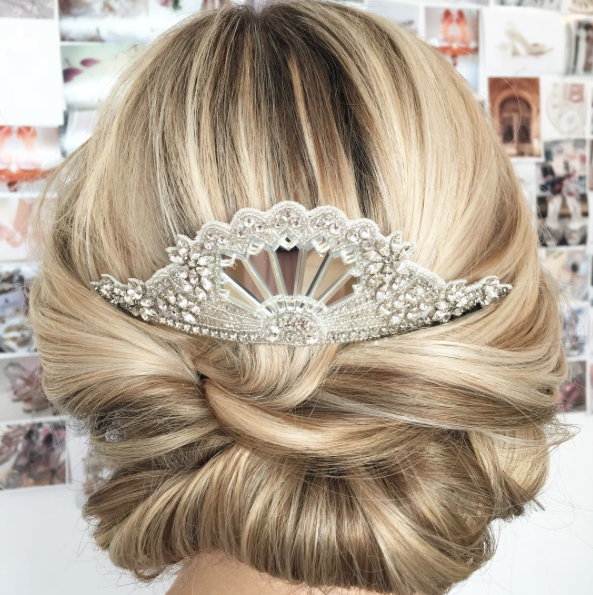 Art Deco Cinderella Headpiece by Emmy London
Fiori Vine Hairpiecce from Hermoine Harbutt
Gold Tiara by Jannie Baltzer
Violet Headpiece by Jennifer Behr
Hair Comb by Jon Richard at Debenhams
Pearl & Crystal Headband by Hermione Harbutt
Scoop Veil & Comb by Jannie Baltzer
Secret Garden Headpiece by Emmy London
Gold Hair Comb by Twigs & Honey
Bianca Headpiece from Olivia the Wolf
Statement Silver Candle Comb by Olivia the Wolf
Low Veil & Headpiece by Tania Maras
Gold Willows Headpiece by Tania Maras
Gold Tiara by What Katy did Next
Main photo: Lady Mary Tiara by Eden Luxe Bridal on Etsy
The following two tabs change content below.
Former editor, current contributor, (she just can't let go!) Karen enjoys writing fashion but is known to dabble in decor from time to time. Her favourite section on the site is the Real Wedding section, followed closely by the Health & Fitness forums.