"Walking down the aisle and looking at Frank in the distance was another amazing moment. I couldn't believe the day had finally come and we were about to get married. I was so excited to become his wife."
The couple: Jane Dwyer & Frank Sheedy
Length of engagement: 11 Months | Wedding date: 8th July 2016
Wedding venue: Seafield Hotel & Spa Resort, Wexford
Photographer: Memories Photography by Magda
We met… We both know each other since quite a young age and our family homes are only a stones throw away from each other in Malahide. As we got older, Tamangoes night club in Portmarnock soon became a regular meeting point most Saturdays and at the start of 2009, we started dating.
Our proposal… Our proposal came as a total surprise as we had only bought a house a few months prior. We had arranged an annual leave day from work on the Friday and had planned on going away the weekend on a last minute deal (little did I know Frank had our weekend all planned out).
It was a Thursday night and we were driving home from town after work. We were both so excited to have the next day off. I had just gotten in the door and went straight up the stairs to get showered and ready to go out for dinner. We had planned on going to Siam Thai Restaurant in Malahide for dinner to start off our weekend.
While putting on my makeup, Frank shouted up the stairs that the taxi was on the way, which meant 'hurry up'. With my shoes in my hand, I came running down the stairs to find candles lighting all around the sitting room and music playing in the background. There was champagne laid out with glasses and a little Appleby's bag beside it. I was so confused as to what was going on and then it hit me… I knew what was about to happen next. It was so perfect and romantic. Frank had been warned not to ever propose in public 😉 I couldn't believe it, I was engaged, it was time to plan a wedding. I was already thinking of my dress, my hair, makeup, shoes… the lot!! I was so excited and so happy and I wanted everyone to know.
Frank had arranged we fly to Antwerp the very next morning to pick my ring. The Appleby's ring was a token ring until we got to Antwerp. It was the most amazing experience and I would recommend anyone go there to get theirs.
His suit… Frank's suit was bought in Collar & Cuff, Glasnevin. He went with a navy blue suit and brown shoes.
My hair and makeup… My hair was done by Elayne from Brown Sugar, she was amazing and so personal. My makeup was done by Ailbhe Lynch.
My dress… I always had it in my head that I wanted a fit and flare lace dress and that is exactly what I got. I had tried on several dress styles as I did not want to limit myself to just the one but I went with my gut and went back to the style I always dreamed of. It took a fair few bridal shops to find the one.
I was in a little bridal shop in Swords and after trying on lots of styles I was getting dressed back into my clothes when my mam stopped me to try on one more that she found hiding in the corner of the shop. It felt so amazing when I tried it on and it wasn't far off fitting me perfectly too. Once I stepped out of the fitting room to have a proper look in the mirror, I looked at my mam and we both burst into tears, we knew it was the one, I loved it so much and that bit more cause my mam picked it for me. A deposit was put on it that day.
Our ceremony… We got married in St Peter and Kevin's Church, approximately a 10 minute drive from Seafield Hotel. The mass was said by Deacon Tom Larkin.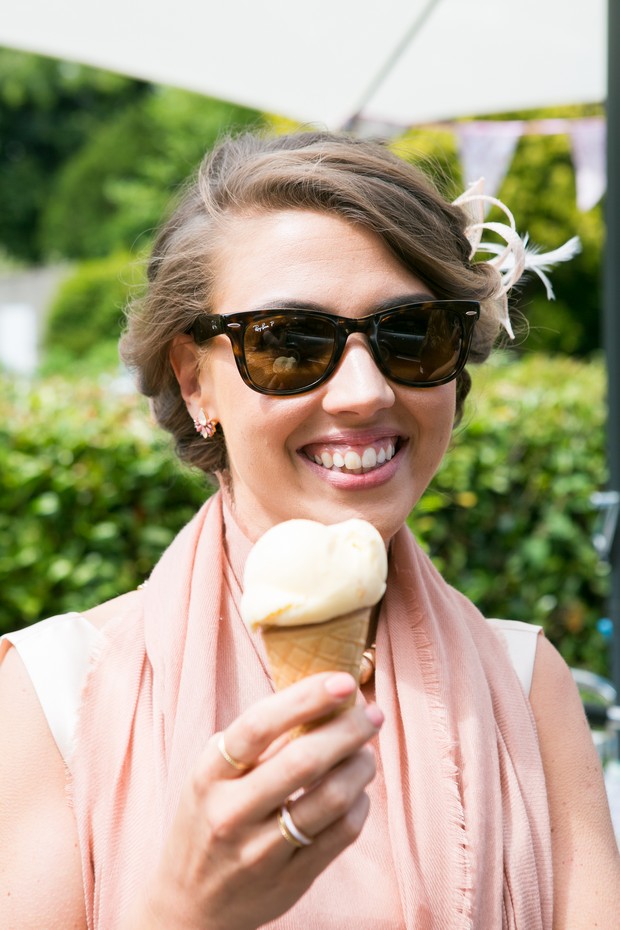 What our bridal party wore… The groomsmen and father of the bride and groom all wore suits from Collar & Cuff and ties that matched the girls' dresses.
We bought the page boy's suit and the flower girl's dress both in Marks & Spencers. I had a tie made for the page boy to match the groomsmen and a sash for the flower girl's dress to link them all together.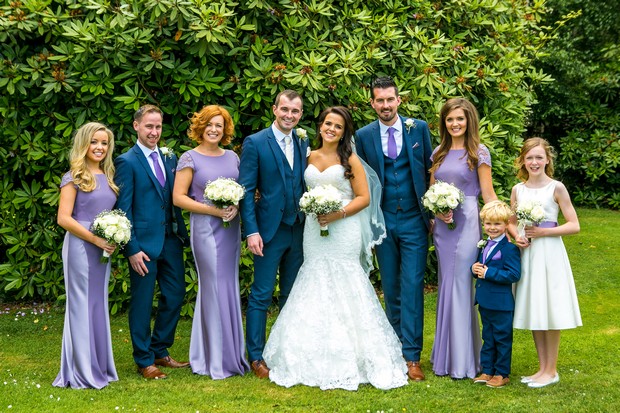 Our wedding theme/colours… I had always planned on having a very traditional/classic style wedding and that is exactly what it was.  I wasn't hung up on a particular colour for my bridal party as I was having three bridesmaids all with three different hair colours so I knew it had to be a colour that suited all three. I was lucky enough to find the girls' dresses in Coast. There was only one size available in one of the Coast stores so it did involve driving to three different stores to get all the sizes we needed, but it was worth it.
We chose our venue because… Seafield Hotel & Spa Resort in Wexford has always been a favourite of ours. Our first time staying in the hotel was in 2011 for a friend's wedding and we were blown away by the venue. It was a little hidden gem. For any occasion since that date, we always stayed at Seafield. Before we were engaged, we always joked that Seafield was the place we wanted to have our wedding and sure enough ,without hesitation, we picked it.
Our honeymoon… We got married on the Friday and we flew to Sorrento, Italy on the Monday for 14 days. It was heaven and we were so glad we went on our honeymoon straight after our wedding as it gave us both time to sit and chill alone without anyone dropping by to see us. We were exhausted but kept ourselves topped up with bubbles to keep us going.
We chose our photographer because… we had met Magda (Memories Photography by Magda) at the RDS wedding fair and after looking at her albums of work, I instantly knew I wanted her to shoot our day, she was amazing. Her photos where so natural and untouched which was a huge selling point for me. On our wedding day, there was times I wasn't even aware that Magda was taking photos. I wanted natural photos of the whole day that were not forced and that is exactly what Magda got.
Magda had asked us to meet her at Botanic Gardens the April before our wedding so that we could have a little chat about our wedding and it allowed us to get to know one another. She had offered to take a few photos of us as an engagement shoot so that she could show us what styles she could do and it also gave Magda an idea of how much she could push us to do different shots. The photos were beautiful. I can not recommend Magda enough, she was such a lovely person to work with.
My favourite part of the wedding day… I had many moments throughout the day that I enjoyed so much. I really enjoyed the morning time getting ready with my girls and the excitement of the day ahead. The weather was gorgeous outside, everyone was so excited and I felt so calm. Being a 'daddy's girl' the moment my dad walked into the room to see me, I burst out crying. We both just stared at each other, I could tell he was full of emotion too.
Walking down the aisle and looking at Frank in the distance was another amazing moment. I couldn't believe the day had finally come and we were about to get married. I was so excited to become his wife.
My dad's and Frank's speech also was another favourite of mine.
And then the party and dancing was so much fun. The night went all too quick for me.
We chose our wedding coordinator because… we worked with Sonia at Seafield Hotel. We met approximately five times before the wedding to go through everything. She was always contactable via email too. She was very accommodating and nothing was any hassle for her to do.
Our menu… We went to Seafield the April before our wedding for our food tasting. Everything we tasted was amazing and it was so hard for us to choose what we wanted for our guests. The catering staff were very flexible when it came to switching some of the dishes from different packages so that really helped us choose a perfect menu.
My piece of advice for other couples… I would cherish every moment on the morning of  your wedding with your mother and bridal party. You chose them for a reason because you wanted them to share this experience with you. Also squeeze your dad's hand tight as he walks you down the aisle and remember that special moment. Enjoy every moment of the day with your husband and make sure you take some time for just the two of you at some point of the day and have a drink together and take it all in because it will be the quickest day of your life.
Credits
Venue: Seafield Hotel & Spa Resort, Wexford | Photographer: Memories Photography by Magda | Videographer: Limelight Wedding Films | Make up: Ailbhe Lynch | Hair: Elayne from Brown Sugar | Suits: Collar & Cuff | Band: Springbreak | Church Singer: Nikki Kavanagh | Wedding Car: AAA Limousines
The following two tabs change content below.

Pamela Mahon
Pamela enjoys writing about all things decor (she loves buying it too) and has a not so secret addiction to stationery. Her favourite section on the site is the galleries section (too many pretty images to choose from), and she can often be found lurking in the fashion and beauty forums as well.

Latest posts by Pamela Mahon (see all)