You may be fretting about whether your table runner matches your invites but the fact of the matter is that the way to every wedding guest's heart is through their stomach! Wedding food bars are a relatively new concept in Ireland and chances are that even if you've been lucky enough to attend a Big Day with a big sweetie bar, you haven't see the likes of the wedding food station ideas we've featured today!
From delectable American inspired dessert bars to make your own grilled cheese, it's all about filling your guests up and giving them something to talk about at the same time. These ideas are particularly great for evening food, however if you're in the mood to really spoil your guests they all work equally well for a delicious drinks reception! Think moreish make-your-own mini tacos or contemporary comfort food like mini cheese toasties and a shot of soup. Of course old school fish and chips and nostalgic 99s are still on the menu, but for those well-travelled couples Asian-inspired aperitif bars like sushi, soy soaked dumplings or fresh Vietnamese spring rolls should peak an interest. So chic up your cocktail hour with some make-your-own Crostini canapés and make your wedding day one your guests will think back on and say 'mmm'!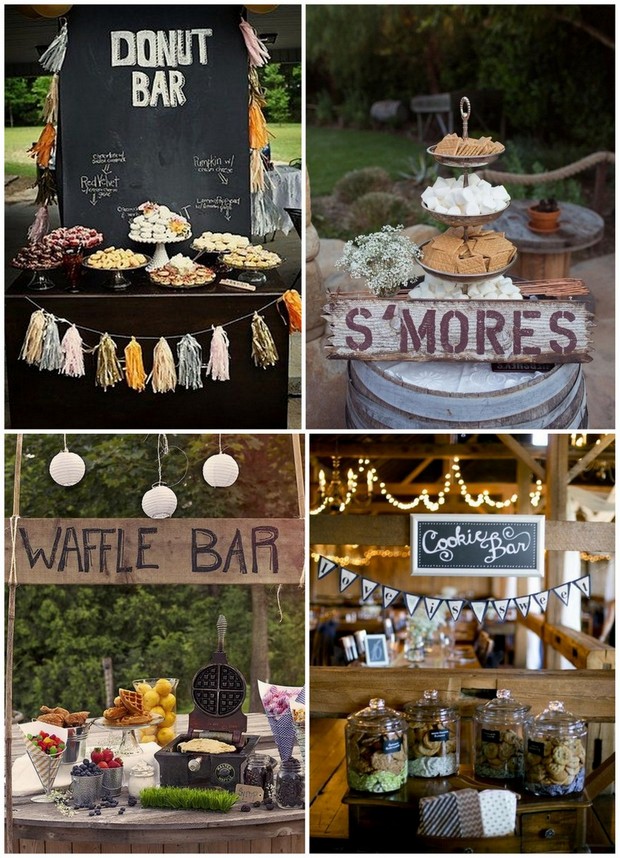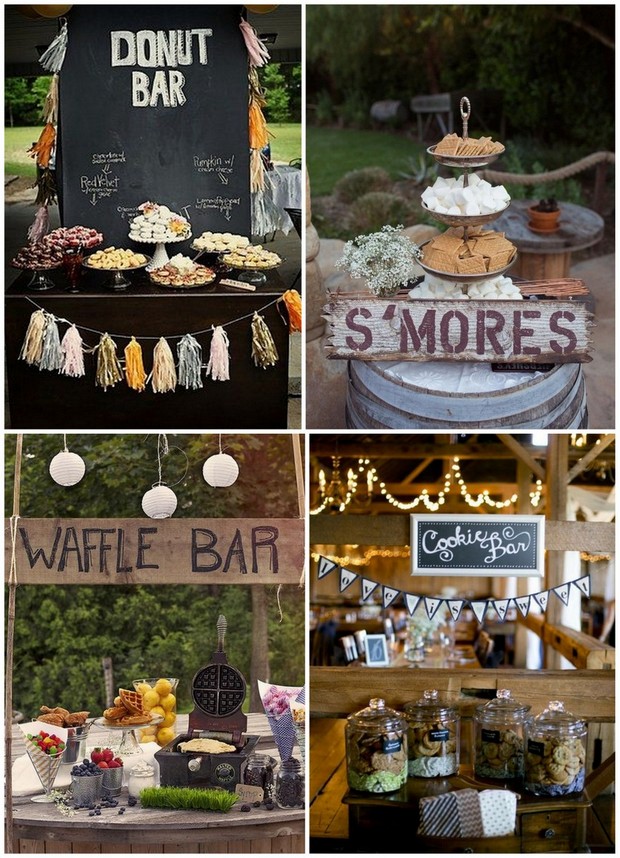 American-Style Snack Stations
When it comes to big impact wedding food, look over the Atlantic for amazing inspiration. The Americans do sweet snacks so well for celebrations, serving up DIY wedding bars of waffles, cookies, s'mores and donuts with aplomb. While waffles and s'mores might be a little trickier to get our Irish taste buds around, we've more than familiarised ourselves with delicious homemade cookies and donuts of all varieties. Guests with a big appetite are sure to be kept dancing all night with these calorie bombs!
Photo Credits: 1. Love Ramsey | 2. Jessica Fairchild Photography | 3. Kyla Zanardi | 4. Something Turquoise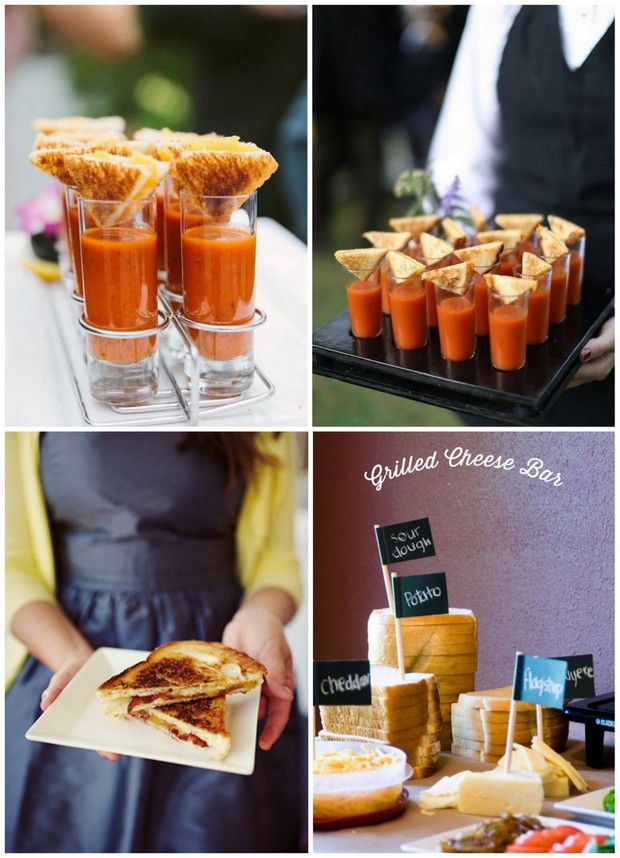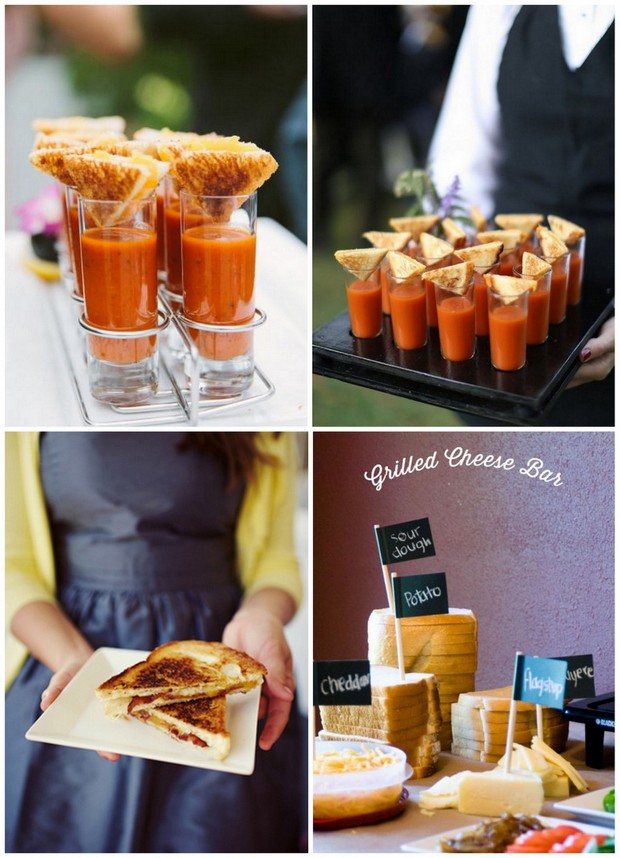 Cheese Toasties & Soup Shooters
If we had our way ALL weddings would have a mandatory cheese toastie station set up at some stage of the day – who can resist the gooey goodness?! The zero carb diet is sure to go out the window when guests clap eyes on this comfort food station, which you can do as a 'choose your own ingredients' (we're thinking tomatoes, chutney, some Gruyere cheese for those with the budget) or serve up the basic melted cheddar on white with as much success. To snazz it up (not that it needs it), serve mini grilled cheese toasties with a delicious soup shooter as a canapé.
Photo credits: 1. SMP | 2. United with Love | 3. Southern Weddings | 4. Pinterest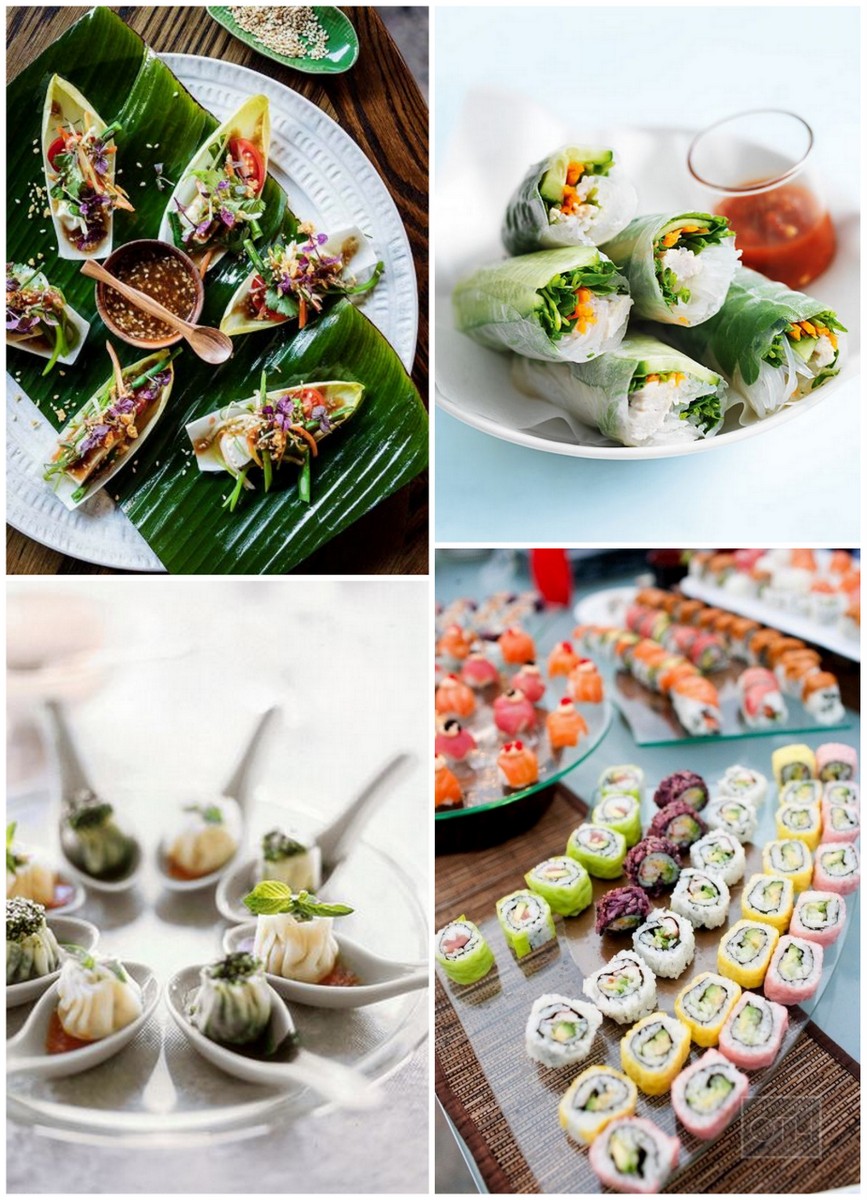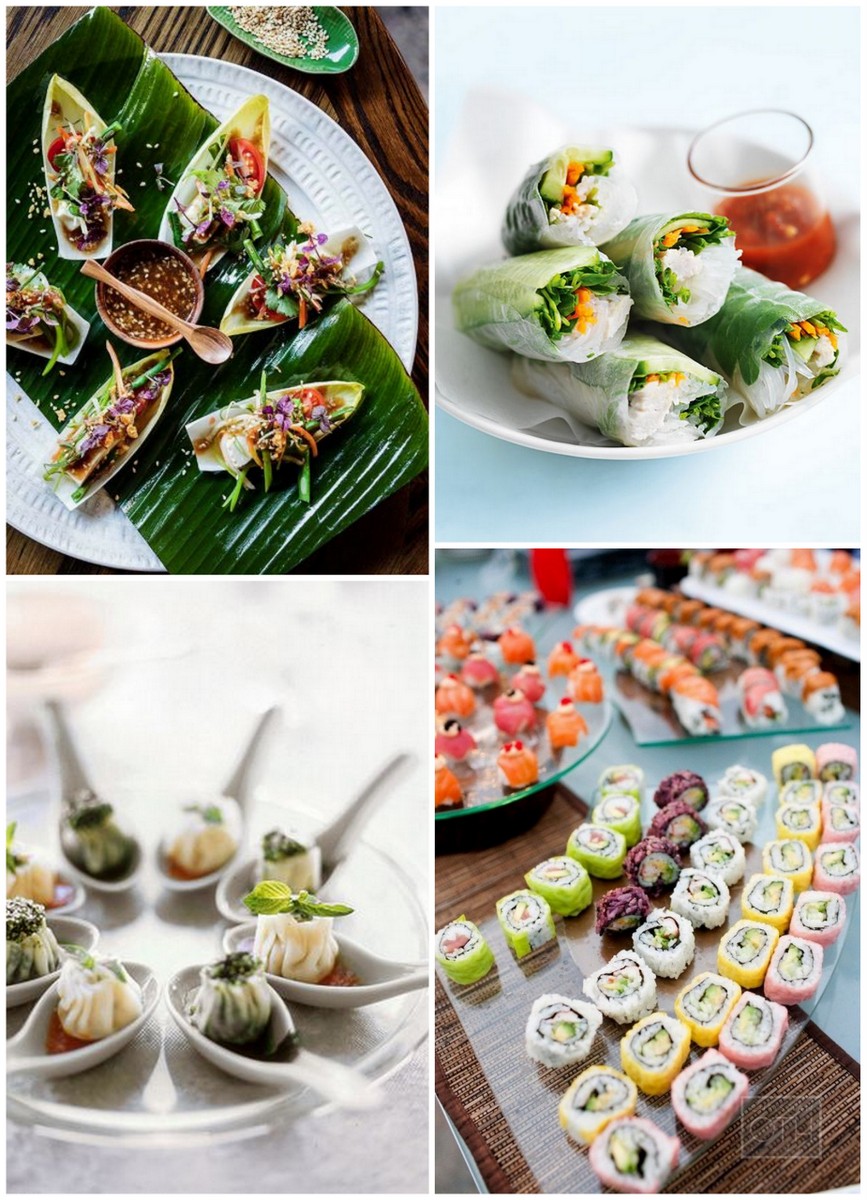 Asian-Inspired Canapes & Sushi Bar
If you've spent any time at all in South East Asia you'll probably have fallen in love with the food, and driven your family and friends mad talking about it whenever you get the chance. So if you've a cuisine that's close to your heart (and stomach) why not integrate a couple of the dishes into your drinks reception? Fresh spring rolls (or summer rolls), soy soaked dumplings or a mini Vietnamese salad are the perfect accompaniment to post ceremony summer drinks, and are light enough to keep guests satiated* but not stuffed!
Photo credits: 1. Pinterest | 2. Pinterest | 3. Martha Stewart | 4. SMP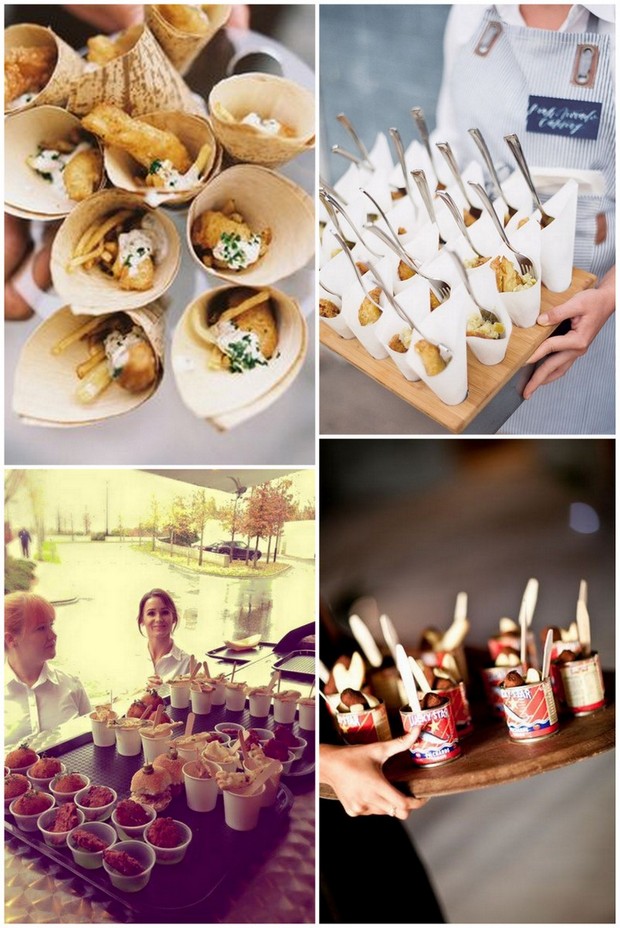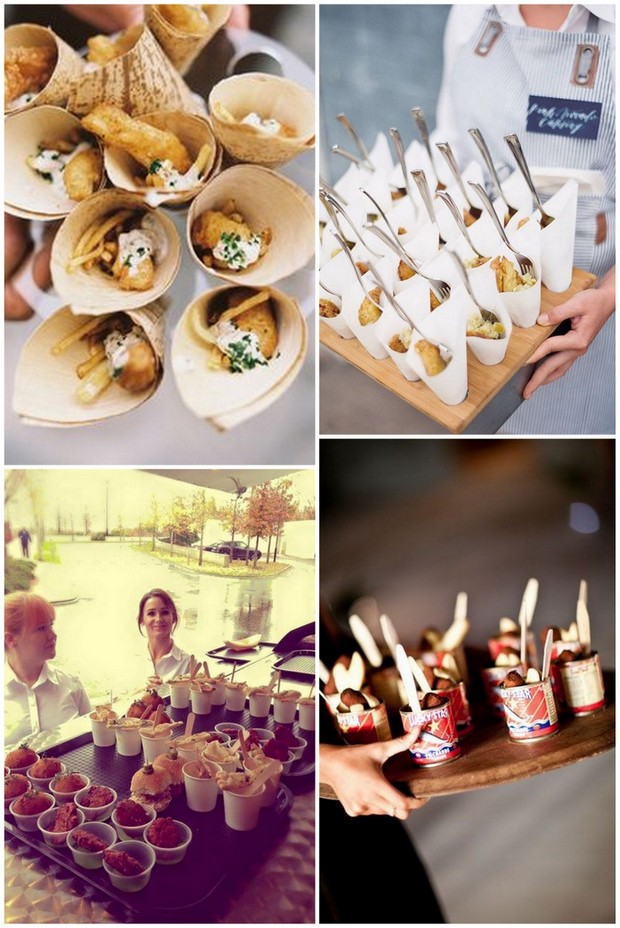 Old Fashioned Fish n' Chips
Who says no to a fish and chip dinner after a night on the tiles? Not us anyway, and most likely none of your guests either. Fish and chips have been a really popular evening food for Irish weddings over the last few years, and for obvious reason continues to be a massive success! If you're thinking of having fish and chips at your wedding check out The Chip Van, who serve amazing battered cod and mushy peas, juicy burgers, hot dogs and saucy curry or garlic cheese chips (I knew I shouldn't have written this post before dinner!) Or if you fancy a retro twist, check out The Airstream – a vintage American Airstream trailer that can serve up gourmet slider burgers and fries to delighted guests.
Photo credits: 1. SMP | 2. Magnolia Rouge | 3. The Chip Van | 4. Cari Eksteen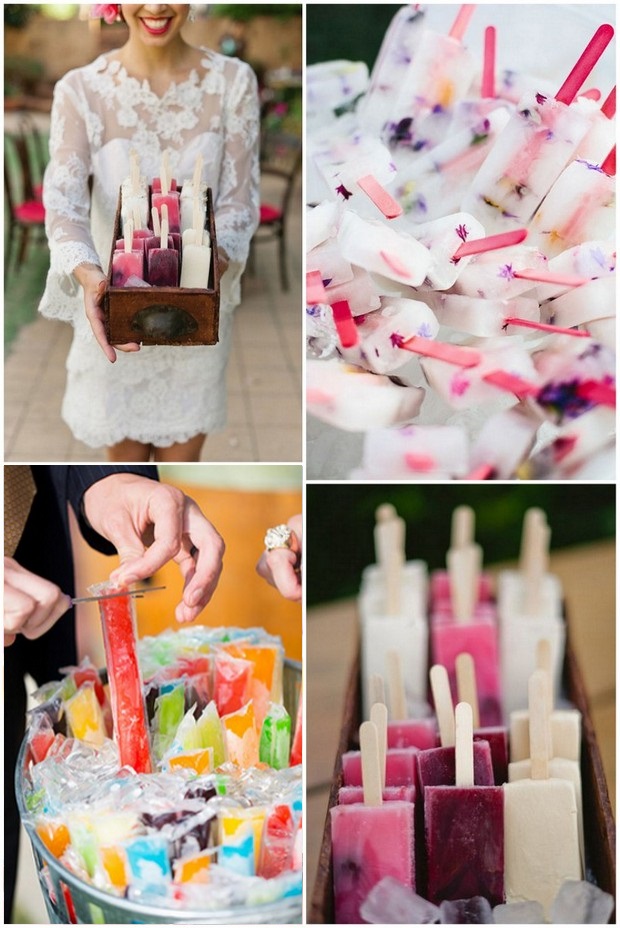 Colourful Ice Pops
On an obligatory food browse through Pinterest the other day, we spotted a photo of a Mr Freeze style ice pop bucket at a wedding and just couldn't get it out of our minds! If you love the idea of serving up some nostalgia after your ceremony, this is a great option and possibly a little easier to carry off than the specially made popsicles from the other photos on this post! For some ramped up nostalgia, why not hire an old school ice cream van to arrive outside the church and serve ecstatic guests a 99?! Check out Smith's Ice Cream Vans who can pull up kerbside or if you're after a classic cart, pop over to Adare Farm Ice Cream Cart.
Photo credits: 1. SMP | 2. Ruffled | 3. Aaron Watson | 4. SMP
Mediterranean Buffet
We've featured some incredible destination weddings on the weddingsonline blog to date, and while the beautiful weather and stunning settings always pull at our heartstrings, it's the food at these continental celebrations that really make us swoon! Setting up a mini buffet station of delicious olives, cheeses, chutneys, nuts, breads and oils isn't an easy job, but it's something that will really make your drinks reception stand out. The Cheese Market based in Westmeath do a delicious evening buffet of amazing Irish cheeses, chutneys and breads and are a fab option if you're looking to create this Tuscan-inspired food bar. Or if you're looking for some sweet options, Party Food 4 U specialise in both candy and fruit buffets, sure to be a big hit with anyone with a sweet tooth.
Photo credits: 1. Brides.com | 2. weddingsonline | 3. weddingsonline | 4. Brides.com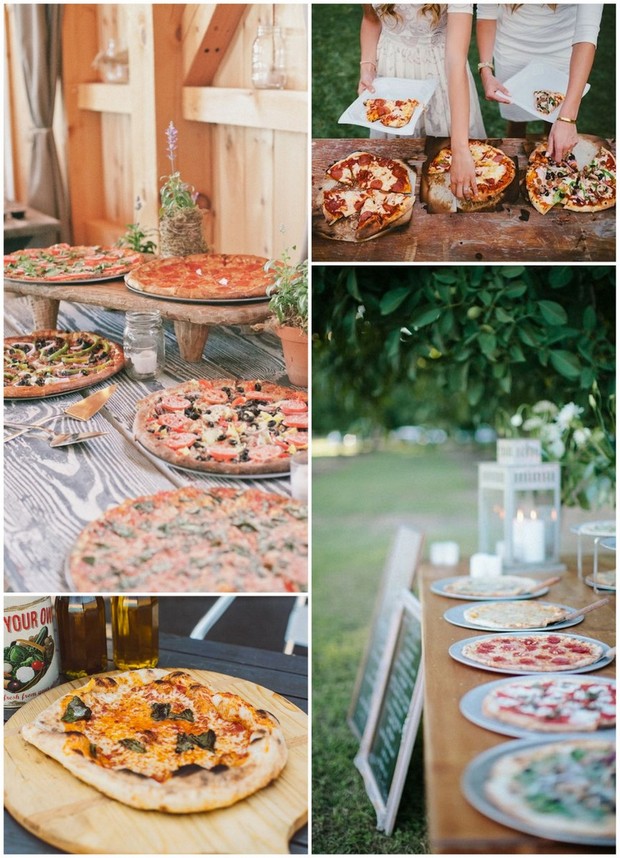 Pizza Station
Pizza sometimes gets a bad rap as a heavy junk food that you eat on a lazy day in your PJs. But real pizza, when done well, is a delicious light and crisp snack that's easy to serve and even easier to eat with a glass of vino in hand! We are obsessed with the idea of pizza stations at a wedding drinks reception, or of serving up simple pizza slices to hungry guests just after midnight. If this sounds right up your alley make sure to check out Wedding Wood-fired Pizza who provide gourmet style wood-fired pizza to wedding guests from their cute mobile catering unit.
Photo credits: 1. SMP | 2. SMP | 3. Wedding Wood-fired Pizza | 4. Brooke Taylor

Popcorn Bar
Another delectable conception from our friends across the water is to promote a real party atmosphere with a popcorn bar. We loved this idea for children at weddings, where a room was provided for all the kids who could munch on popcorn while watching Frozen for the 42nd time (under adult supervision of course!), but since gourmet popcorn appeared on the shelves of our local newsagents it's now very much a snack for adults at weddings too! Serve in a variety of flavours, salty and sweet and provide a cute bag or box for guests to munch from. Or if you want to make things uber professional, you can hire a retro popcorn cart – Carolyn's Sweets and Candy Couture Sweet Boutique offer this service.
Photo credits: 1. Whimsical Wonderland Wedding | 2. SMP | 3. Catch my Party | 4. The Knot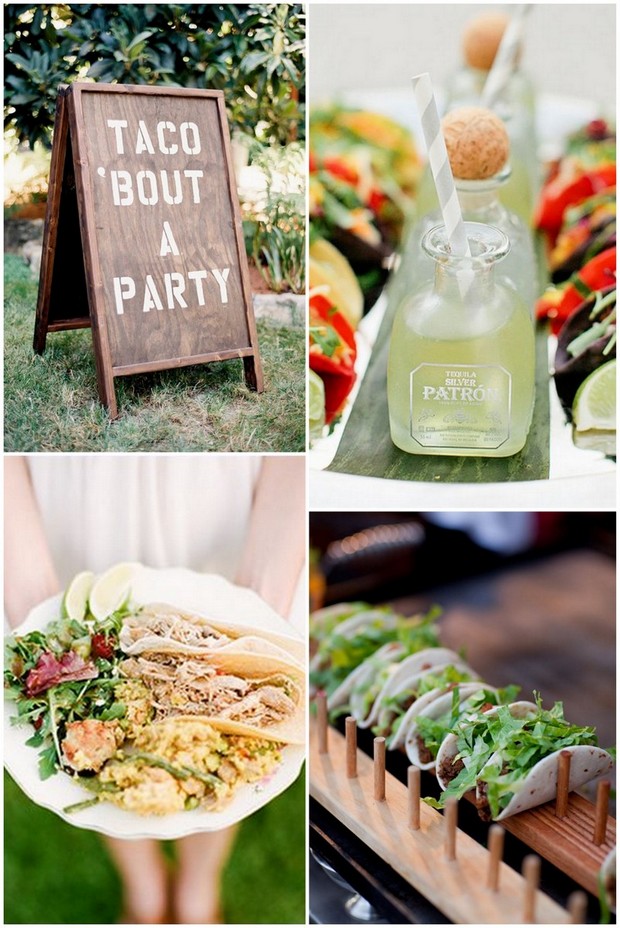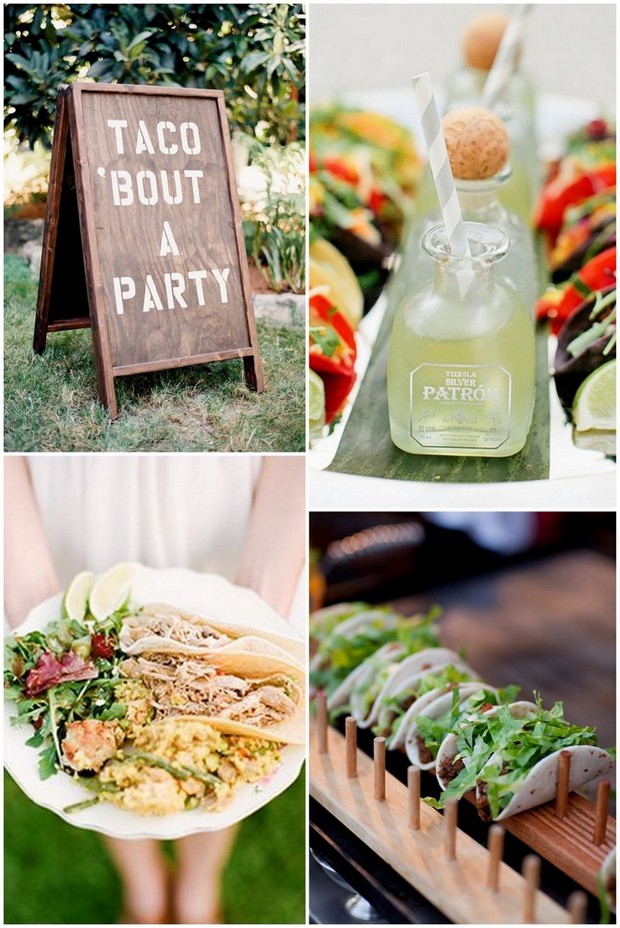 Mexican Feast
Mexican food is an awesome option for a foodie bar – not only is it delicious and universally loved, but the colours of the ingredients look amazing when they're all laid out together! Moreish make-your-own mini tacos make delicious snacks either at the drinks reception (served with a crisp beer or sparkling lemonade) or as evening food (maybe provide some bibs with these ones!), and if you're feeling extra feisty, serve them up with a shot of tequila and enjoy responsibly.
Photo credits: 1. Ruffled | 2. SMP | 3. Wedding Chicks | 4. DeerPearlFlowers
Leave it to the Experts
Looking for some fabulous caters? O'Brien Lynch Catering work with couples to create an innovative, bespoke wedding menu – marquee weddings are one of their specialities and with 30 years in the business behind them, you can be sure you're in excellent hands.
The following two tabs change content below.
Former editor, current contributor, (she just can't let go!) Karen enjoys writing fashion but is known to dabble in decor from time to time. Her favourite section on the site is the Real Wedding section, followed closely by the Health & Fitness forums.