"I think we were possibly the only people in Cancun airport with snowboards. Not surprisingly, we did get some very funny looks!"
The couple: Lisa Creighton and Gareth Mongey
Length of engagement:  11 months  | Wedding Date: 13 March 2014
Wedding ceremony:  St Colmcille's Church, Ballinahown, Co Westmeath
Wedding venue: Wineport Lodge
Photographer: Ebony & Pearl Photography
We met… when we were kids. We grew up around the corner from each other so we always knew who the other was. In fact, turns out that we always fancied each other but it wasn't until we were older that we really got to know one another. After some serious flirting, we started going out following a night out in 'The Palace' back in 2004.
Our proposal… happened eight years later. It was the day after my birthday. Of course, everyone thought he would pop the big question ON my birthday, but no, that would be too obvious for Gareth. He wanted to try maintain an element of surprise after so long together. We both had the day off work and not wanting to let it go to waste, I suggested we go to Glendalough for the day. Yes, I suggested it! We spent a couple of hours hiking around the hills and then settled by the lake for a picnic. Just as we were about to leave, Gareth said he had something he wanted to ask me first. He got down on one knee and produced the most beautiful engagement ring and asked that all important question, "Will you marry me?".
Our ceremony… was beautiful. We had three churches to choose from that were near our reception venue. But when we arrived to the first in Ballinahown, the search was over. We instantly loved it. When we wandered over to the priest's house, we saw the name 'St Colmcille's' on the door. We both looked at one another and smiled. Our primary school as children was called St Colmcille's. It was meant to be. Our celebrant, Fr Joe Kennedy (a family friend) was amazing. He performed such a lovely ceremony for us. It was all everyone was talking about afterwards. It was laid back and just really enjoyable. I think we laughed more than anything else! Stella Bass played the piano and sang some of our favourite songs throughout the ceremony. She was brilliant.
My dress… and veil were made to order through Sharon Hoey's shop Anabel Rose in Dublin. It was great to find somewhere to try on different styles and then get a unique dress made just for me. I was able to take bits of my favourite dresses and add my own touches (as well as my mum and sisters of course). I couldn't have imagined it would turn out so well. I just loved it!
My hair and make-up… worked out just as I hoped. Sandy of Powder Room Girls was great. She took on board everything that I wanted for my hair on the day and it stayed intact for the entire day and night (don't ask me how). And not to mention my close friend Donna Morris. She is an amazingly talented make-up artist with Make Up For Ever. Absolutely loved my make-up on the day!
Our favourite part of the wedding day… was getting into the camper van together after the church and having 15 minutes to ourselves to catch up not having seen each other since the evening before. It's lovely to grab a few minutes just the two of you to just be together.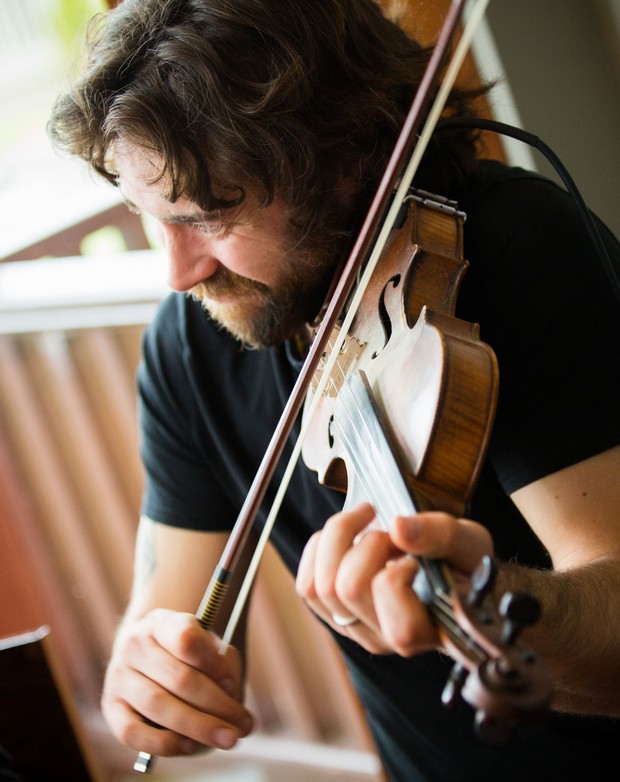 We chose our venue because… Wineport Lodge is such a special place. Situated right on the shore of Lough Ree, we couldn't have asked for a more beautiful setting. When we arrived there the first time, we knew it was where we had to have our big day. The hotel offered us an intimate setting exclusively for us and our guests which we loved. All of the staff were fabulous, from Celine, the wedding coordinator, to Wanda, who looked after the wine service on the day. They were all so lovely to deal with and great fun too.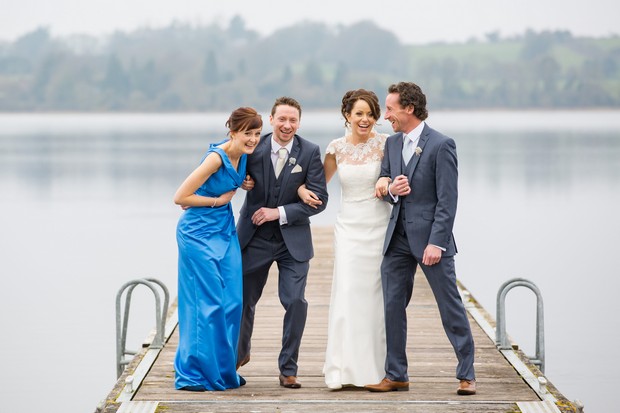 We chose our photographer because… Ebony & Pearl's style was exactly what we wanted. We only met with one photographer and our minds were made up. When we met Stuart, he said to us that he likes to fade into the background and capture the moment. This was exactly what we wanted to hear, so we were sold. On the day itself, Stuart and Emma were wonderful to work with. They captured some amazing shots that we will have to look back on.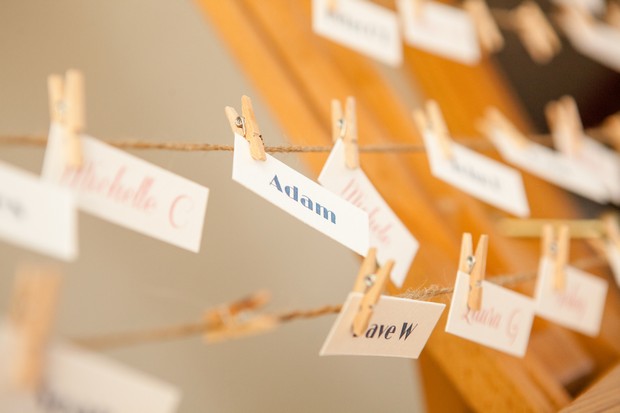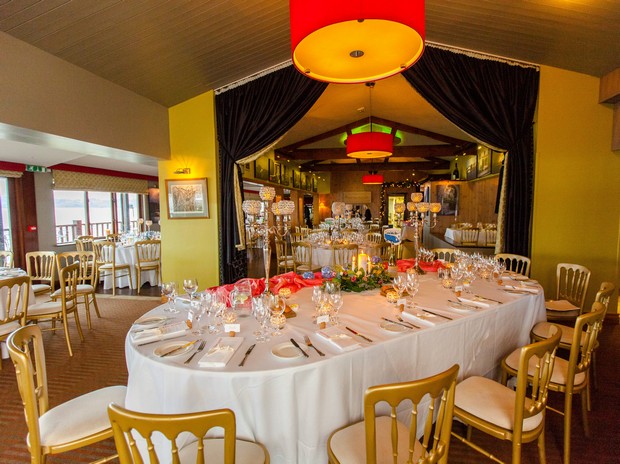 Our wedding theme/colours… sort of evolved with all of the planning. Certain themes began to emerge early on. My sister is a designer, so we worked with her to design the invitations, order of service, menus, table plan etc. So these were all co-ordinated and matching. Most of our friends know that we love VW Camper Vans, so it goes without saying that we had to have one for our wedding car. Splitty from Lazy Days was so beautiful that she became a common thread featuring in our table plan and table names. I suppose it ended up being a bit of a rustic vintage theme really. Gareth is a joiner and is brilliant at what he does, so I had plenty of jobs for him to do. I love burlap so this also featured along with fabulous wood slices that Gareth made for our centrepieces.
Our menu… was amazing! We had heard great things about the food in the Wineport Lodge. Being the hotel that hosts the television show 'The Restaurant', we knew it must be good. But wow, we couldn't have asked for better. Our guests still talk about how wonderful the meal was. It really did live up to it's reputation.
Our honeymoon… was unbelievable. We always said we would love to visit Canada. I think it was only a few days after we got engaged that I said to Gareth, "If we do get married early next year, we could maybe go to the States or Canada snowboarding cause it would still be snow season". I think he was more excited about that then he was about anything else! So a couple of days after the wedding, we flew out of Dublin airport, spent St Patrick's day on a pub crawl around Vancouver, followed by seven fantastic days snowboarding in Whistler. It was unreal. But it didn't end there. I think we were possibly the only people in Cancun airport with snowboards. Not surprisingly, we did get some very funny looks! City, snow, sun…. we couldn't have asked for anything more.
My piece of advice for other brides… don't sweat the small stuff. Everyone thought (including me) that I would be really picky about where things went and how things should go on the day. But when I got to the Wineport Lodge with all of the bits and pieces (well, a van full), I spent only about 20 minutes showing Celine (the wedding coordinator),what I had and then just left it to her. At that stage it really doesn't matter what lanterns go where or whether everything is used. It's time to sit back and enjoy it!
The following two tabs change content below.
Former editor, current contributor, (she just can't let go!) Karen enjoys writing fashion but is known to dabble in decor from time to time. Her favourite section on the site is the Real Wedding section, followed closely by the Health & Fitness forums.