Wedding table names are one of the easiest ways to give your wedding that personal touch and it doesn't cost a thing! All it will take is a little bit of imagination (or a couple of hours on Google). Whether you're looking to pay homage to your relationship with cute and fun facts or you're looking to share some of your favourite things with your guests, there are lots of inspiring and creative ways to go about it. Here are 40 awesome wedding table name ideas so guests can learn a little bit more about the happy couple...
Make it Personal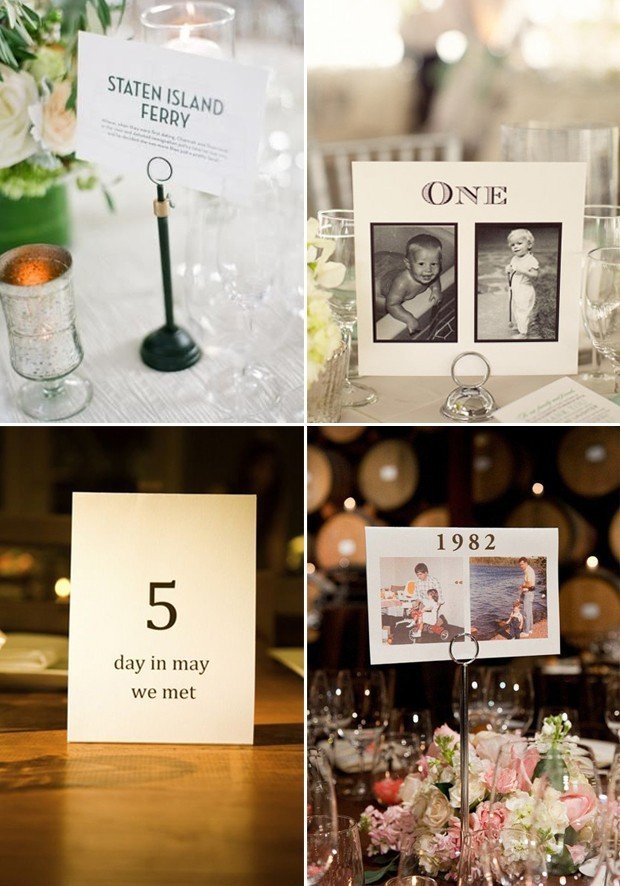 1. Numbers & Years - Use photos of you and your other half at a certain age or during a certain year such as the year you were born and the year you started school.
2. Relationship milestones - give each table number a story for example ' 32 - the number of our first home together' or 685 - the number of days since we first met'. You could include anything from lucky numbers to the number of albums you own together.
3. Firsts – share your firsts with your guests such as fist date, first apartment, first holiday, first movie, first gig together.
4.Favourite songs or Lyrics – use songs that mean something to you as your table names - you could name your first dance song as the top table and reveal it once you've had your dance.
5. Special Dates - Share specific dates that have meaning for example the date you got engaged, the date you moved in to your first home or your first holiday.
6. Fave Places - Use your favourite things or special places that mean something to you as your table names from the cafe you had your first date to the pub you used to meet in. You can even add a line or two about the significance of the place.
7. Cities & Countries - Put the names of places you've travelled or visited together to good use whether it's cities, cool museums or countries. You can include a pic of you together at that place!
8. Family History - Include places where your parents and grandparents are from/were born.
Credits (clockwise from left): Photo by Elisa B Photography via Martha Stewart Weddings | Photo via Colin Cowie Weddings | Photo by Michael Beckwith Photography | Tulips & Flight Suits
Your Favourite Things...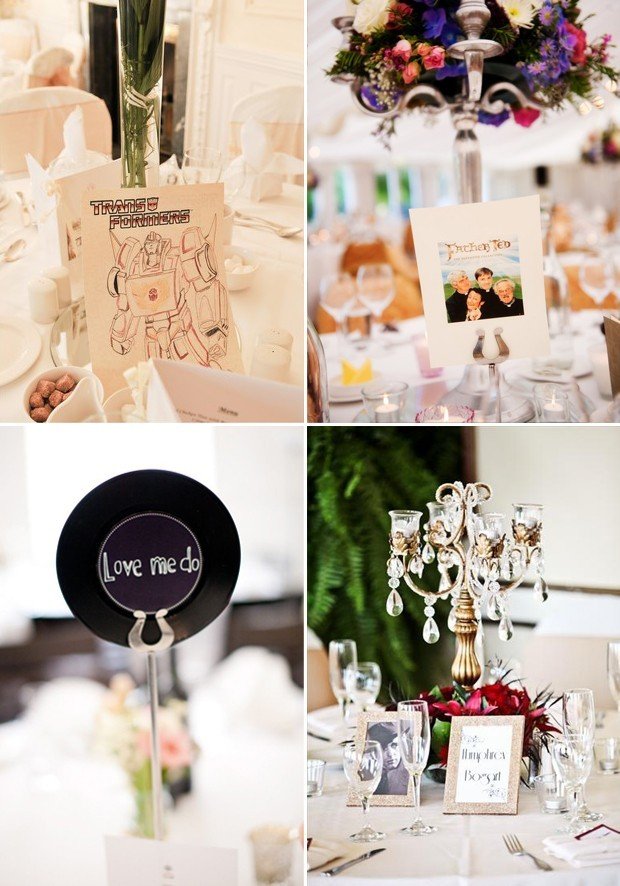 1. Pubs – Include some spots you like to visit and a little story from or about each one.
2. Drinks- Whether it's particular wines you like, cocktails, craft beers or a mix of them all, share this interesting trivia with your mates and family.
3. Fave Restaurants, foods or recipes- Cheese fan? Share your all time faves! Or let your guests know some of your foodie haunts or family recipes – write up some recommendations/tips to go with them too.
4. Ice creams– name each table after an ice cream, you could even include a few nostalgic flavours from your childhood like Freaky Foot and Fat Frog.
5. Sweets– name each table after your sweeties of choice and make it extra fun for your guests by having a bowl of them in the middle.
6. Fave sport, teams or players- whether it's football, rugby or GAA, involve a sport you love.
7. Fave films, tv shows or actors- Put your Netflix binge sessions to good use! Or if you're fond of particular characters like Jesse and Walter from Breaking Bad, you could name your tables after characters.
8. Bands, songs, albums, album covers, lyrics, singers, musicians - your musical options are endless. Share you faves with your guests and you could include an album sleeve or picture as well.
9. Tickets stubs from gigs - if you're a bit of a sentimental and have kept your ticket stubs from gigs or musicals you went to, put them to good use by making them in to table names.
10. Computer Games - Mario, Sonic the Hedgehog, Tetris – round up games you loved when you were a kid (or games you love now too like Candy Crush) as table name inspiration.
11. Childhood Books - Name you tables after books you adored when you were little whether it was Malory Towers, Famous Five, Babysitters Club, Huckleberry Finn or of course authors or books you're fond of now.
12. Childhood Programmes – give guests a trip down memory lane by naming your tables after some of your favourite childhood programmes like Care Bears, Mrs Pepperpot, Rainbow Brite and Transformers.
13. Christmas Songs – if you're getting married at Christmas, include some Christmas hits you adore such as 'Walking in the Air' and 'Winter Wonderland'.
14. Other faves - There are so many other favourites you can include depending on your hobbies from cars and designers to cartoon characters, musicals or your favourite artists or paintings.
Other Fun Ideas...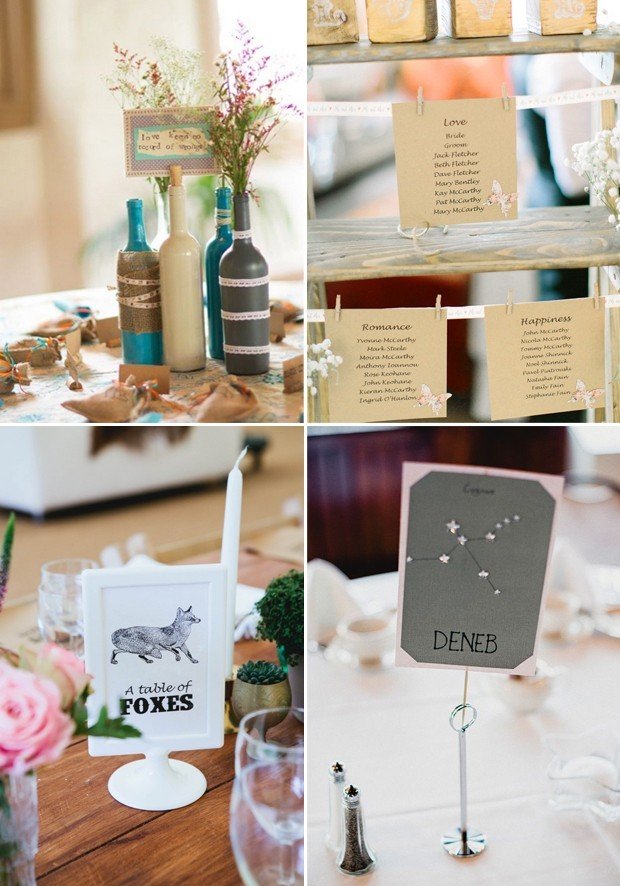 1. Saying - Name each table after a saying whether it's something you always say or an old Irish phrase.
2. The Ingredients of a Happy Marriage - List what you think are the ingredients for a happy marriage whether it's love, happiness or friendship.
3. Definitions - Define words linked to marriage for example love, marriage, partner etc.
4. Translate Love - Translate the word 'Love' in to different languages.
5. Love Quotes - Share some inspirational love quotes (or quotes you just love).
6. Couples - use iconic couples you love as your table names from Carrie & Big and Romeo & Juliet to Lois Lane & Clark Kent and Barbie & Ken (you could include your parents and grandparents here too).
7. Colours - Give each table name a colour and you could add a fun fact with it like 'it's your wife's fave colour'.
8. Months - Name your tables after the months in the year with a fun fact about each one or something you guys did together during that month for example January is the hubby's Birthday or June is the month we got engaged.
9. Heroes - Share some of your all time heroes with your guests whether it's your mam or sister or an actor or musician.
10. Great Partnerships - Have some fun with some cute partners like Fish & Chips, Milk & Cookies or Pooh & Piglet.
11. Board Games - Go nostalgic and use board games you played as a kid (or ones you still like) as your table names from Snakes & Ladders and Monopoly to Cluedo, Jenga and Trivial Pursuit.
12. Animals – assign each table an animal and have a little figurine of each animal on the table for the fun of it as well.
13. Constellations - Name each table after a constellation such as Orion, Pegasus or Cassiopeia.
14. Counties - An oldie, but counties always get a bit of banter going. Add some fun facts or trivia to fuel the conversation.
15. Landmarks - Use landmarks as your inspiration with cool places you've been to or want to visit.
16. Birth Stones or Star Signs - Put your birth stones or star signs to good use (yours and your partner's could be the top table names).
17. Green Fingers - If you love nature or have green fingers, name your tables after flowers (with a bunch at the centre of the table), plants or trees.
18. Cards - If you're fond of your Poker or Black Jack, use playing cards as your table names such the Queen of Hearts and the Jack of Spades.
Credits (clockwise from left): Photo via Your Perfect Day LLC | Photo by Into the Light Photography | Photo by Britt Spring via Style Me Pretty