Picking the music for your wedding can be fun but it's only when you get down to the nitty gritty, you realise how many songs you have to choose and how time consuming it can be! While it can be hard work, your song choices will really add some personality to your day and are a great way to make the ceremony more meaningful to you as a couple. If you're having a humanist or civil ceremony, you'll have free reign when it comes to your wedding ceremony music but those getting married in a church will have some restrictions. Generally, there's more flexibility for the bridal entrance (processional) song, bridal exit (recessional) song and the songs you pick for signing the register as they're outside the mass part of a church ceremony but always check as certain churches, priests or parishes may not aw some songs or types of music. If you do have creative freedom, it can be a gorgeous way to make the ceremony extra meaningful and emotional and there are some beautiful song choices out there. Check out our song suggestions for the processional, recessional and signing the register below…
Browse Wedding Ceremony Musicians in the weddingsonline Supplier Directory!
Bridal Entrance – Processional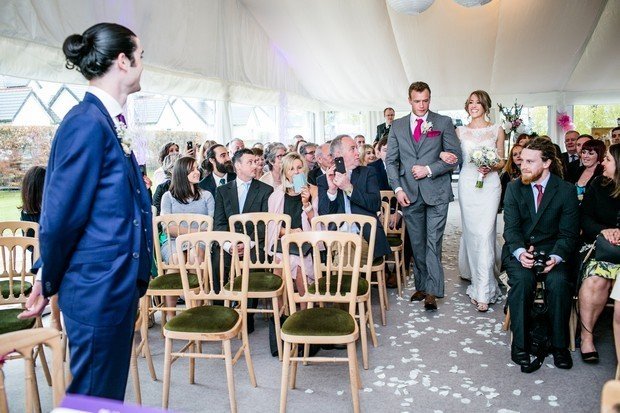 The bridal entrance is such a poignant and special moment and the song you choose to walk up the aisle to will stay with you forever! Many brides love the idea of walking up the aisle to the familiar and beautifully traditional 'Bridal March' as it's a song that instantly makes you think 'bride', but there are lots of other contenders that are either romantic, emotional or that have a haunting quality that will give you and your guests goosebumps as you make your big entrance. Here are 30 gorgeous options…
1. Canon in D – Pachelbel
2. Bridal Chorus – Wagner
3. Nella Fantasia
4. Gabriel's Oboe (Instrumental)
5. Somewhere Over the Rainbow – Israel Kamakawiwo'ole
6. A Thousand Years – Christina Perri
7. Make You Feel My Love – Adele
8. The First Time Ever I Saw Your Face – Roberta Flack
9. The One – Kodaline
10. Higher Love – James Vincent McMorrow
11. Songbird – Eva Cassidy
12. Can't Help Falling in Love with You – Elvis Presley
13. She – Elvis Costello
14. First Day of My Life – Bright Eyes
15. La Vie en Rose – Louis Armstrong
16. Falling Slowly – Glen Hansard & Marketa Irglova
17. Skinny Love – Bon Iver
18. Ho Hey – The Lumineers
19. You Raise Me Up – Josh Groban
20. Feels Like Home – Chantal Kreviazuk
21. Bittersweet Symphony – The Verve
22. Thinking Out Loud – Ed Sheeran
23. All of Me – John Legend
24. Hoppípolla – Sigur Rós
25. Kissing You – Des'ree
26. How Long Will I Love You – Ellie Goulding
27. The Luckiest – Ben Folds
28. The Secret Wedding from Braveheart
29. Glasgow Love Theme from Love Actually
30. She Moved Through the Fair
Bridal Exit – Recessional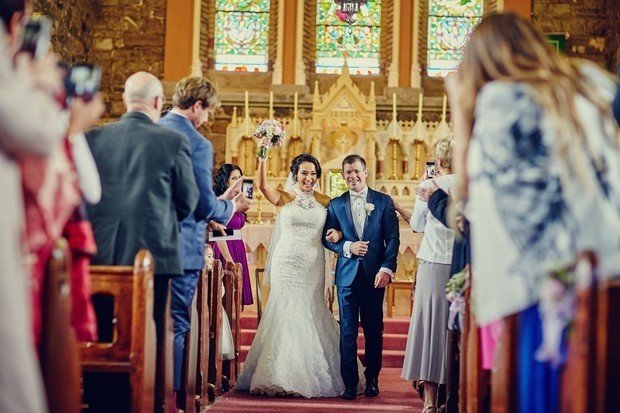 Like your bridal entrance, the recessional or bridal exit song (which is played as you walk back down the aisle as newlyweds) will leave you with happy memories for years to come. As it's a happy and joyous part of the ceremony, experts say an upbeat or fun song works best. Lots of couples love the idea of making their exit to the classic, Wedding March by Mendelssohn, while others have a particular song that they love that would be perfect for a fun and special moment. Check out some great options below…
1. Wedding March – Mendelssohn
2. Tabhair Dom Do Lámh
3. Happy – Pharrell Williams
4. You Make My Dreams Come True – Hall & Oates
5. Everything – Michale Bublé
6. One Day Like This – Elbow
7. Signed, Sealed, Delivered (I'm Yours) – Stevie Wonder
8. You are the Best Thing – Ray Lamontagne
9. Home – Edward Sharpe & The Magnetic Zeros
10. You've Got the Love – Florence and The Machine
11. All you Need is Love – The Beatles
12. On Top of the World – Imagine Dragons
13. Ho Hey – The Lumineers
14. Higher and Higher – Jackie Wilson
15. At Last – Etta James
16. Greatest Day – Take That
17. Lovely Day – Bill Withers
18. Wouldn't It Be Nice – The Beach Boys
19. For Once in My Life – Stevie Wonder
20. Mr Blue Sky – E. L. O
21. Everlasting Love – Love Affair
22. Best Day of My Life – American Authors
23. Walking on Sunshine – Kathrina & The Waves
24. You & Me – The Wannadies
25. Marry You – Bruno Mars
26. You're My Best Friend – Queen
27. Arrival of the Queen of Sheba
28. Nothing Else Matters – Metallica
29. Songbird – Oasis
30. Happy Together – Turtles
Signing the Register
At the end of the ceremony, you and your now husband or wife will sign the register. If you're having a humanist or civil ceremony, you can choose any songs you like! For those getting married in a church, as the mass part is over, generally there is more flexibility regarding song choice but as always check with the priest/parish as restrictions may apply. You will need to pick two (or sometimes three) songs which will be played as you're signing the register but depending on how long it takes, there may only be time to play one or two. There's some overlap with recessional (bridal exit) songs as both can be upbeat, romantic or fun. Check out some great song choices below…
1. God Only Knows – The Beach Boys
2. The Rose – Bette Midler
3. The Voyage – Christy Moore
4. Better Together – Jack Johnson
5. Songbird – Eva Cassidy
6. The Book of Love – Peter Gabriel
7. Viva la Vida – Coldplay
8. Oh Happy Day
9. Here Comes the Sun – The Beatles
10. Heyday – Mic Christopher
11. I Can See Clearly Now – Jimmy Cliff
12. Your Song – Elton John
13. We've Only Just Begun – The Carpenters
14. Fields of Gold – Eva Cassidy
15. Isn't She Lovely – Stevie Wonder
16. When You Say You Love Me – Josh Groban
17. Caledonia – Dolores Keane
18. What a Wonderful World – Louis Armstrong
19. I Won't Let Go – Rascal Flatts
20. You Do Something to Me – Paul Weller
21. Let There Be Love – Nat King Cole
22. Can't Help Falling in Love – Ingrid Michaelson
23. On Top of the World – Carpenters
24. Perfect Day – Lou Reed
25. I'm Yours – Jason Mraz
26. Paradise – Coldplay
27. I'm a Believer – The Monkees
28. The Blower's Daughter – Damien Rice
29. Beautiful Day – U2
30. Footprints in the Sand – Leona Lewis
*Remember – If you're getting married in a church, make sure to run your song choices by your priest/parish as some churches may not allow certain songs or types of music!
Credits:
Main photo: from Real Wedding by Art Wedding Photography | 2. Photo from Sarah & Vinnie's real wedding by Mrs Redhead Photography | 3. Photo from Tara & Fionan's real wedding by DKPHOTO | 4. Photo from Sabrina & Ian's real wedding by Aidan Beatty Photography