Your wedding ceremony will be up there as one of the most memorable parts of the day but when it comes to getting to the altar, it doesn't come without its own share of heartache/stress/tears. Depending on the type of ceremony you're opting for, there can be heaps of paperwork to get your head around so the sooner you tackle this more practical stuff, the better. We cannot stress how important these documents and steps are – it can be crazy confusing but they're essential steps and in some cases are legal requirements. Without them there will be no wedding! To help you get started, firstly we've got a list of what you'll need for the state (or legal side of things) followed by a breakdown of what you'll need for each type of wedding ceremony in Ireland whether you're planning a church, civil or humanist ceremony.
The Legal Stuff: Your Civil Requirements
Anyone getting married in Ireland whether it's Church, Civil or Humanist ceremony must give a minimum of three months notice to the state of their intention to marry. To do this, you must book an appointment with your local registrar office (you can do it online here), at least three months before your wedding date. You can find a list of Registrar Offices here.
You will need to bring the following documents along with you to your appointment:
Photo ID (it must be in date). This can be a Passport, Refugee/Asylum card issued by the Department of Justice & Law Reform, or National ID card (from EU countries where they are an accepted form of travel). You will also need a colour photocopy for both parties
Original Long Birth Certificate plus a colour photocopy for both parties
The name and date of birth of both witnesses (they must be over 18 on the date of the ceremony)
Proof of address in the form of a utility bill (for both parties)
PPS Number (for both parties)
You will also need to know the following:
Whether it is a religious, civil or secular ceremony
The intended date and location of the ceremony
Name of registered Solemniser/Priest (check the national list here)
Original final divorce decree if either of you is divorced
Death certificate and previous marriage certificate if either of you is widowed
Fee:
There is a fee of €200 for all couples (cash or card is accepted). Additional charges also apply for civil ceremonies.
Marriage Registration Form (MRF)
At the appointment you will be asked a series of questions to establish if you're free to marry. Once you have completed the questions and provide all the required documents, the Registrar will issue you with a Marriage Registration Form (MRF) which gives you permission to get married in Ireland. It must be signed by both of you, your witnesses and the Priest/Celebrant/Registrar at the wedding ceremony and returned to the registrar office you attended, no later than one month after the wedding so the wedding can be registered. If the marriage doesn't take place within six months, you'll have to apply for a new MRF if you still intend to get married.
For further information, the follow links are useful:
General Registration office: www.groireland.ie | www.citizensinformation.ie | www.gettingmarried.ie
Church, Civil & Humanist Ceremonies
In addition to the above legal requirements, each type of wedding ceremony whether it's Catholic, Civil or Humanist will have their own set of tasks and requirements you'll need to tackle. We've got everything you need to know about each type of ceremony here...
Arranging Your Catholic Church Ceremony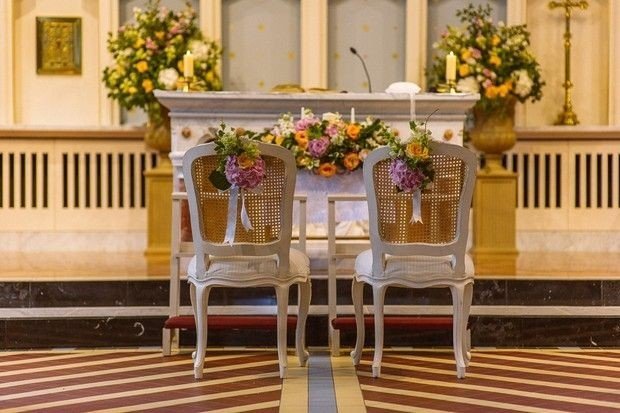 Between pre-nup forms and Letters of Freedoms, the paperwork for a Catholic wedding ceremony can confuse even the most organised bride/groom. So, we've put together a little guide to help keep you on track...
1. Contact the Church. All Catholic ceremonies must be performed in a church. If you've decided on a church wedding, you must give the church at least three months notice as well as three months notice to the state (see beginning of article).
2. Check your date. Contact your church to see if your date is available – you can get married in a local parish or in another parish of your choice; for a full list of Catholic churches in Ireland click here. Some churches won't allow weddings on a Sunday (or Holy Days such as Good Friday) so always check with the church regarding regulations.
3. Arrange Priest. Ensure that you have a priest that is willing to officiate. If you're getting married outside your parish, you may have to arrange your own priest.
4. Enquire about fee. There is no set rule about fees but most churches will require some form of payment. Typically, if you get married outside your parish, it will be a bigger fee. Enquire directly with your church about fees.
The Documents Required:
There are several documents you'll need before you can get married in a Catholic church:
1. A New Long Form of Baptismal Cert: You'll need a copy of your baptismal cert from the church where you were baptised. It must be issued with six months of your wedding – older certificates won't be accepted.
2. Indication of Confirmation: You will also need a copy of your confirmation certificate (if it's not listed on your baptismal cert). You can get this from the church you were confirmed and again it must be issued within six months of your wedding date.
3. Proof of Freedom to Marry: The general rule is that you should have a Letter of Freedom from every parish you lived in for more than six months once you turned 18 but if you've changed apartments and houses regularly this can be difficult. The purpose of the Letter of Freedom is to prove that you are in fact free to get married so if you're having trouble finding your local parish, have a chat with the priest that is marrying you who will be able to advise you on potential ways around it. For example, in certain circumstances it may be acceptable to get a parent or long-standing relation to write a letter stating their relationship to you and that to the best of their knowledge that you've never been married. Another option is to swear an affidavit before a Commissioner of Oaths stating you've never been married.
4. Pre-Nuptial Enquiry Form: Every person (that's both of you) getting married in a Catholic Church must have a pre-nuptial Enquiry form (see a sample here) completed by the priest from their local parish. The priest will provide you with this document. It states that you're free to marry and that you understand the sacrament of marriage. If you're finding it difficult to reach your parish priest, chat to the priest who is marrying you who will be able to advise you on your options and may even be happy to fill it out himself. All of your other documentation (baptism/confirmation cert, letters of freedom and pre-marriage certificate) will need to be shown to the priest at this point also.
5. Dispensation: If your partner isn't Catholic, you will need to apply for a 'Dispensation' from the local Bishop. Contact your local parish priest for more information.
6. Pre-Marriage Course: Most Catholic churches will request that you attend a pre-marriage course (for example through Accord) and obtain a certificate of completion. Check with your priest for exact requirements.
* If you have any issues or questions regarding any of these steps, it is always best to contact your local priest or parish who will be able to advise you on regulations and practices within the parish.
Arranging Your Civil Ceremony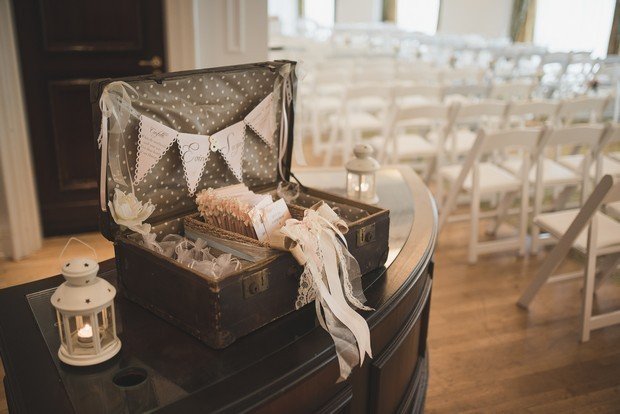 Trying to get your head around the civil ceremony requirements? Check out the steps involved below...
1. Decide when and where. The first thing to do is decide which county you want to get married in and when. Bear in mind, you can only get married Monday to Friday during office hours and there are some restrictions on the type of venues you can get married in (more about that below).
2. Give yourself plenty of time. Lengthy queues are often the norm when it comes to booking a civil ceremony and days such as Friday are popular and fill up fast. Give yourself plenty of time to secure a date/registrar to avoid disappointment!
3. Contact Registrar. Once you have decided the when and where, you must apply to get married by civil ceremony in a Registry Office or other approved place. Contact the Registrar of Marriages for the district in which you intend to get married for information on what is involved. See a list of Registrar Offices here.
4. Give notification. In addition to arranging your civil marriage ceremony, you must also give three months notification to the state of your intention to marry for the legal side of things. This doesn't have to be with the same registrar.
You can find a list of Registrar Offices here and can book an appointment at http://www.crsappointments.ie/.
The Day: Civil ceremonies can only take place from Monday to Friday (bank holidays and weekends aren't allowed). There are certain times for off-site venues so make sure to enquire about this too.
The Venue: Not every venue will be suitable for a civil ceremony. They have to inspect the venue so give them plenty of notice so that it is approved in time for your wedding. There are long waits and big queues for civil ceremonies so while you have to apply at least three months in advance, it is best to get started even earlier to secure the date you want and to ensure your venue is approved on time.
You can get married in a Registry Office or venue of your choice, providing it meets certain criteria:
It must be a licensed venue and be approved by a Registrar (contact the registrar in that particular county/district to have it approved).
The venue must be seemly and dignified.
The ceremony room must have adequate capacity.
It must be a place that is open to the public (with unrestricted public access and no charge) and it must meet health and safety requirements. This means that the building must be open to the public or "is a courtyard, field or piece of ground that is open to the public and lying near to and enjoyed with the building".
It must have adequate public liability cover.
It must be accessible to all including those with disabilities.
The venue mustn't have any connection with any religion or religious practice.
The location must be clearly identifiable by description and location.
As of 2014, you can now have a civil marriage ceremony outdoors, providing it meets the above requirements (but your family home unfortunately is still not an option as it is a private dwelling). And good news if you're after something a little bit different for your ceremony, The Office of the Public Works (OPW) and the HSE have opened up 7 heritage sites that have that wow factor:
Barryscourt Castle, Carrigtwohill, Co. Cork
Desmond Hall, Newcastlewest, Co. Limerick
Blasket Island Visitor Centre, Dunquin, Co.Kerry
The Ceide Fields Visitor Centre, Co. Mayo
These sites are available for ceremonies only - if you're interested in getting married in a particular location, contact OPW at [email protected]. Read more here.
The Marriage Ceremony
The ceremony must be conducted by a Registrar (in this case a Civil Servant). You can find a list of all registered solemnisers here.
Two witnesses must be present and they must be aged 18 or over.
The following two declarations must be made by you and your partner: That you do not know of any impediment to the marriage AND that you accept each other as husband and wife.
If you, your partner or either of the two witnesses is not familiar with the language in which the ceremony is being conducted, the couple must arrange for an interpreter to be present.
Fee: There may be additional fees for civil ceremonies held in venues other than Registry Offices. The Registrar will advise you on fees and when they are due when you are giving your notification.
Queries
If you're unsure about any part of the civil ceremony process, talk to your Registrar who will be able to help you with any queries.
For further information, please see the following useful links:
http://www.civilregistrationservice.ie/ | www.citizensinformation.ie
Arranging Your Humanist Ceremony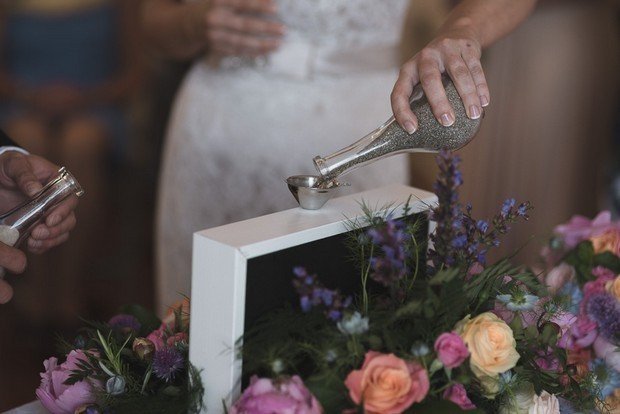 Looking to have a non-religious ceremony but want to tie the knot at the weekend? Find out what's involved in a humanist ceremony here...
What is a Humanist Ceremony?
A Humanist wedding ceremony is a secular, non-religious ceremony that is legally recognised. According to the Humanist Association of Ireland (HAI), "one of the tents of humanism is a tolerance for others who hold different belief systems" which means everyone feels included in a Humanist ceremony. Humanists do not believe in God or the supernatural, instead relying on scientific evidence and human achievements. Humanist ceremonies are open to any couple who have similar philosophical beliefs (you don't have to call yourself a humanist to opt for this type of ceremony) and are often an option for couples that have different beliefs. You can make them as personal and as unique as you wish but they shouldn't include any religious references.
1. State Notice. Humanist ceremonies are legally binding so as with every other type of ceremony; you must give the state at least three months notice of your intention to marry (see beginning of article).
2. The Celebrant. Decide where you want to get married and when and contact a Humanist celebrant close to that area to check their availability. Humanist ceremonies are really popular at the moment so you may find there's a bit of a waiting list – celebrants can be booked up to a year in advance for weekend and holiday seasons. The HAI advise holding off booking a venue until you have arranged a celebrant's service. Some celebrants may be happy to travel across the country but will charge travel expenses. Find a list of celebrants here.
3. The Venue. The ceremony must take place in a venue that is open to the public and is clearly identifiable by an address which means the likes of your family home isn't an option. However, you can get married outdoors providing it meets the above criteria. Once you've booked a celebrant, they will arrange a meeting to go through procedures and options for your ceremony.
4.The Ceremony. Obviously the length of the ceremony will depend on the number of readings and songs you've included but will typically last between 25-35 minutes. According to the Humanist Association of Ireland, "a humanist wedding ceremony is typically made up of an introduction (with traditional entrance if you wish), words on love and marriage, music, readings, a symbolic ritual or two, vows, marriage declaration, exchange of rings, signing of the register and closing words" but it can be personalised to suit you and your partner. You've a lot of control over how you want it to feel and proceed.
5. Time & Day. There are no restrictions regarding the time of day or the day of the week you can get married.
6. Fee. Typically the fee will be in and around €450 but as celebrants all work independently, this may vary. Travel expenses may also be added on if the venue is further away. This is in addition to the €200 that must be paid to the state registrar for notification of your intention to marry.
More Information
For more information on Humanist ceremonies, see the Humanist Association of Ireland's website here.
To find a Humanist celebrant, click here.
Photo credits: 1. Photo by Moat Hill Photography | 2. Photo by Shane O'Neill – Aspect Photography | 3. Photo by Tomasz Kornas Photography | 4. Photo by Tomasz Kornas Photography