While some couples choose to have an adults only event for their Big Day, others feel the day wouldn't be complete without their adorable kids or nieces and nephews making themselves known. The kids at weddings debate is one that divides our forums constantly and whatever side you're on will be the right one for you. If you do opt to have the littlies around for the celebrations, there's a few things you can do to make sure everything goes smoothly and ensure they have lots of fun too. If you're looking to make a bit of a fuss of them, pop a kids only sign on their table or cordon off a little play area just for them (the 'no adults' allowed sign is genius!). Other adorable ideas we've come across include cute place cards and kid-friendly snacks like milk and cookies and their very own party packs to keep them amused. We're also loving the idea of having some lawn games that both the big kids (ahem adults) and little folk alike can have some fun with. Irish company Giant Party Solutions rent out Giant Jenga, Connect 4 and Buzzwire Challenge which would be a big hit with guests regardless of age and you can also hire out your very own mini crazy golf course courtesy of Irish company Crazy Golf Hire.
If you're looking to go all out and really treat the guests with kids, one of the best things you can do is hire some entertainment or a professional childminder who can keep the kids busy for a couple of hours. There are several companies that specialise in childcare at weddings – the popular Fun 'n Frills provide Supervised Portable Activity Areas for children at weddings. They set up in the ballroom so the kids can see you and vice versa and have lots of crafts and games to keep them entertained. FUNtastic Childcare Events also gets rave reviews, have tons of childcare experience and come armed with goody bags to keep the kids happy. Or if you're after a fun activity to keep them busy during the speeches, magician Magic Carl and his little companion, Mr Fluffy the magic rabbit will amaze them and have them giggling away with his awesome tricks and fun balloon models. Check out more brill ideas below!
1. Give the Parents a Night Off with The Pros
Photo via Fun 'n Frills
2. Have a Kids Only Table Complete with Adorable Sign
Photo by Natalie Watson via Style Me Pretty
3. Use Sweets as a Centrepiece
Photo from Helen & Noel's real wedding by Photographic.ie
4. Keep them Busy with I Spy (and Some Biccies they can Munch On!)
Photo by Kelly Brown via Style Me Pretty
5. Baskets of Lego Will Provide Hours of Entertainment
Photo by Gemma Clarke Photography
6. Leave Out Party Bags for them to Play with
Photo by Sabrina Schindzielorz via Frida Theres
7. Or Set Up a Little Station with Toys & Games
Photo by  Troy Grover Photographers via Wedding Chicks | Photo by Jillian Mitchell
8. And Get them to Make a Card for the Happy Couple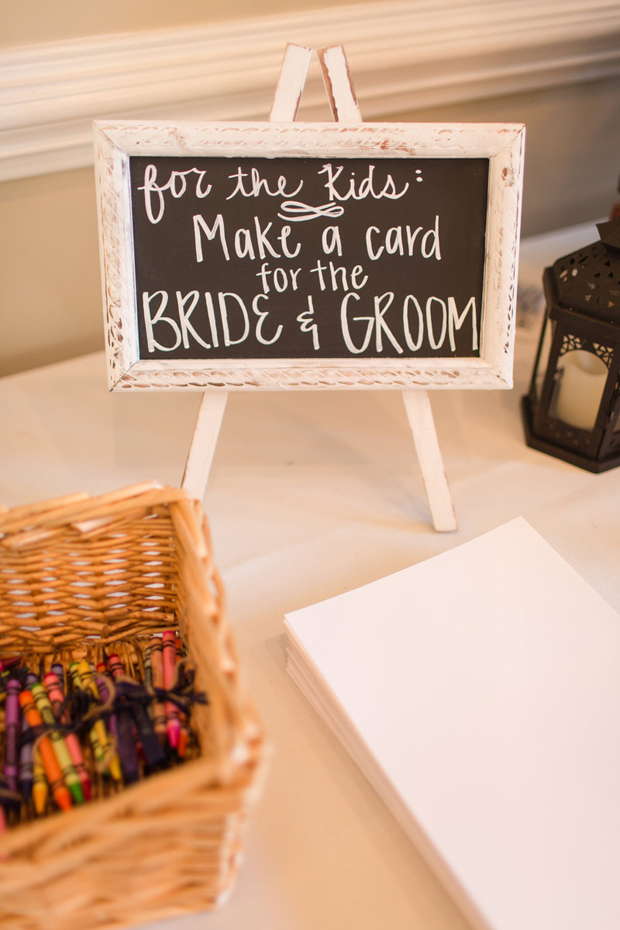 Photo by Amber Rhodes Photography via Wedding Wire
9. Some Lawn Games are Great for the Little & Big Kids
Photo from Nikola & Gary's real wedding by Zi Fernandes 
10. Treat them to Milk and Cookies Later On
Photo by Kelly Brown via Style Me Pretty
11. And Finish Off the Fun with a Movie Night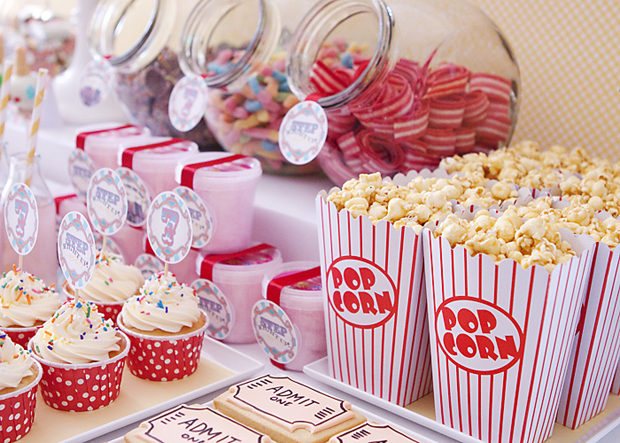 Photo via Ruby J Events
The following two tabs change content below.

Pamela Mahon
Pamela enjoys writing about all things decor (she loves buying it too) and has a not so secret addiction to stationery. Her favourite section on the site is the galleries section (too many pretty images to choose from), and she can often be found lurking in the fashion and beauty forums as well.

Latest posts by Pamela Mahon (see all)