There's lots of lovely ways to make the hen party extra special and memorable for all the girls and the bride-to-be herself! From cute temporary tattoos and stylish bridal PJs to precious photos and some tasty snacks, create a super fun hen night with these 6 awesome ideas…
1. Let There Be Cake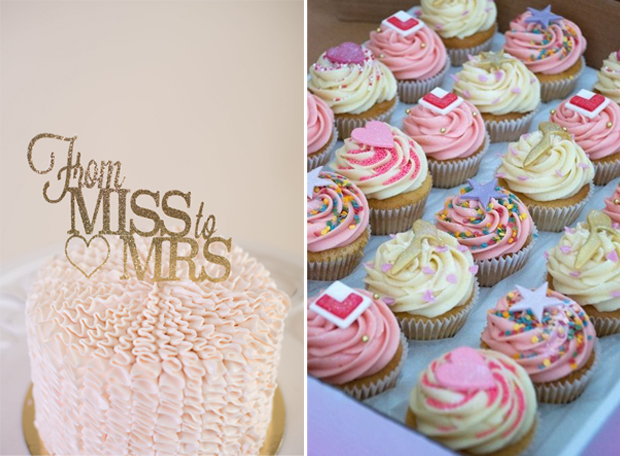 There's a saying 'a party without cake is just a meeting' and we couldn't agree more – we're all for any opportunity to tuck in to something lovely and sweet and lots of hen parties feel the same! Hen party cakes are a thing and you can get them with cute iced details like shoes or L plates or just go for a simple iced cake with a cute 'Miss to Mrs' or 'Bride-to-Be' cake topper. The other option is to have mini treats like cupcakes or donuts so everybody gets their own sweetie – whatever you go for, we're betting a special hen party cake/cakes would be a delicious pick me up for the girls with a cuppa the morning after!
Credits: Bride-to-Be Cake Topper, €10.95+ from Glittered Bride on Etsy | Miss to Mrs Cake Topper via Confetti Crown Design on Etsy | Cupcake Photo via Oh Crumbs Cupcakes
2. Don Some Fun Party PJs
If you're after a gorgeous gift idea that the bride will love, look no further than some bridal party PJs! We love the idea of presenting the bride-to-be with some bridalesque PJs that she can throw on at night for the weekend fun! ASOS have some brilliant options for hen parties including tees and jammies with Hens on Tour, Bring on the Bubbles and Here Comes the Bride on them! Shop them below…
Where to Buy: Bring On The Bubbles Sleep Tee, €18.67 from ASOS | Bachelorette Tee & Short Pyjama Set, €26.67 from ASOS | Hens on Tour Oversized Tee, €18.67 from ASOS | Here Comes The Bride Vest & Short Pyjama Set, €24 from ASOS
3. Cover Yourself with Cute Temporary Tatts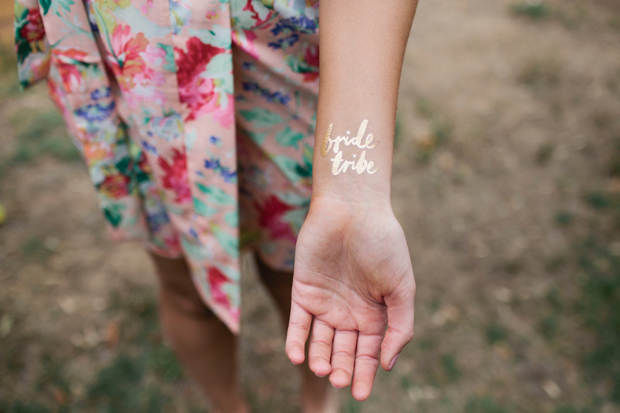 One hen party accessory nobody will mind wearing has to be the temporary hen party tattoo! This fun little detail is a great way to make everyone feel part of the festivities as well as get the celebrations off to a flying start. There are lots of pretty styles out there but the ladies over at Day Dream Prints on Etsy have a gorge selection – check out their lovely bunch above which include 'Bride Tribe' and 'Team Bride'. Not on the Highstreet have also jumped on the temporary tattoo trend and have some super cute temporary tatts for hens from 'X's Hen Do' and 'Best Weekend Ever' to 'Time to Drink Prosecco' – check them out here. You can also pick up personalised temporary tattoos with 'I'm with X's hen party, if lost please buy me a drink' over on Etsy which we think is pretty genius!
Credits: Get Inked Photo by Rachel Havel | Temporary Tattoos by Daydream Prints
4. Present the Bride-to-Be with an Awesome 'Memories' Magazine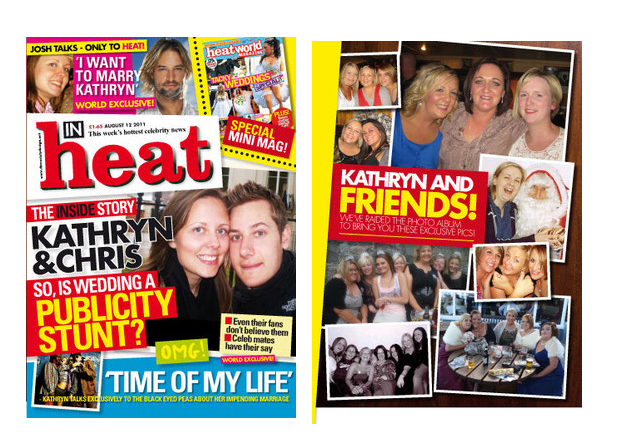 If you're looking to get a gift from all the girls, a Personalised Hen Party Magazine is a really thoughtful idea that will be poured over long after the hen party is over. Irish company Glossy.ie specialise in this fun Heat magazine version which comes in an 8 or 12 page format and can include everything from childhood photos or pics from nights out to entertaining stories from the girls, the hen party itinerary and some fun celeb based features she'll get a great laugh out of! Check out some of their samples and find out more here.
5. Make More Memories – and Capture Them
From props to photo style guest books to fill in, there's some great ways to ensure you make and capture the loveliest memories. The hen is a great op to get some photos of you and the girls all dressed up and of course document the fun antics as well! Leave out some disposable cameras or a Polaroid camera as well as some props to pose with and let the girls snap away.
Credits: Top Photo by Evelyn Eslava | Memmory Book Photo via Kara's Party Ideas | Props Photo by Catherine O' Hara via Style Me Pretty
6. Get One Over on the Hangover with Mini Survival Kits
This fun little trend is a great favour idea for the ladies and of course will ensure they're prepared for all eventualities the morning after! Fill your Hen Party Survival Kits with everything from bobbins and painkillers to sunnies and little life savers like water, crisps or sweets/chocolate. There are some great packs you can pick up online – BeCollective is one of our fave suppliers, check out their kits over on Etsy. Or if you're after some inspo for your own little kits, be sure to check out some more brilliant hen party survival kit ideas here.
Credits: Survival Kit from BeCollective on Etsy | The Struggle is Real Survival Kits from Finch & Fox on Etsy |  I Regret Nothing Bags via BeCollective on Etsy
The following two tabs change content below.

Pamela Mahon
Pamela enjoys writing about all things decor (she loves buying it too) and has a not so secret addiction to stationery. Her favourite section on the site is the galleries section (too many pretty images to choose from), and she can often be found lurking in the fashion and beauty forums as well.

Latest posts by Pamela Mahon (see all)