You'll have planned the day to perfection but if you want a few surprises in there to make the day even more special for your soon-to-be hubby, we've got some gorgeous ideas for you today! Lots of couples opt for a little wedding morning gift, but if you'd rather a gesture or want to surprise them with something secret and special, there are some really lovely ways you can go about it. From personalised cuff links and shoe decals to a secret message embroidered on his shirt or tie, check out 11 sweet ways to surprise your hubby-to-be on the wedding morning so he feels all the love!
1. Have some Special Cuff Links Made with a Personalised Engraving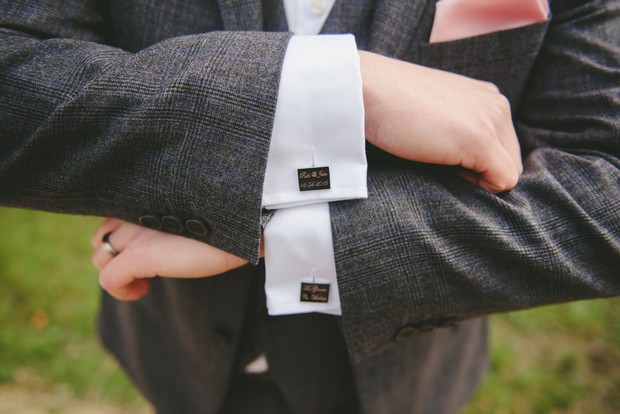 Photo from Ruth & John's real wedding by Emma Russell Photography
2. Have a Secret Message Embroidered Inside His Jacket Pocket
Photo via Whimsical Wonderland Weddings | Photo by Marianne Taylor via Love My Dress
3. Or Inside His Collar
Photo by Bamber Photography via Southern Weddings
4. Hide Some Sweet Sentiments on His Tie
Photo by Jen Fariello Photography via Martha Stewart
5. Pop A Cute Message in His Jacket Pocket
Photo via Disney Weddings
6. Or on His Pocket Square
Photo by Carlino's Photography via Houston Lifestyle & Homes | Photo by Moat Hill Photography
7. Add Some Cute Decals to His Shoes
Photo by Soul Echo Studios via Bridal Guide
8. Give Him a Gorgeous Surprise When He Takes His Suit from His Hanger
Photo by Instante Fotographia via Wedding Chicks
9. Leave Out a Little Gift For Him
Photo by Morgan Leigh Photography
20 Seriously Sweet Wedding Morning Gift Ideas for Grooms
10. Surprise Him with His Dream Car to Take Him to the Ceremony
Photo from Louise & Joe's real wedding by The Fennells
11. Engrave Your Rings with a Sweet Message
Photo by Sarah Kate, Photographer via Style Me Pretty
The following two tabs change content below.

Pamela Mahon
Pamela enjoys writing about all things decor (she loves buying it too) and has a not so secret addiction to stationery. Her favourite section on the site is the galleries section (too many pretty images to choose from), and she can often be found lurking in the fashion and beauty forums as well.

Latest posts by Pamela Mahon (see all)