If your mate is getting married this summer, throwing an awesome hen party may well be on your radar! If you're a bridesmaid or MOH and have been tasked with party planning and aren't sure where to begin, worry not, we've got everything you need to know about pulling off the most amazing hen party below…
1. Choose a Location that Suits Everyone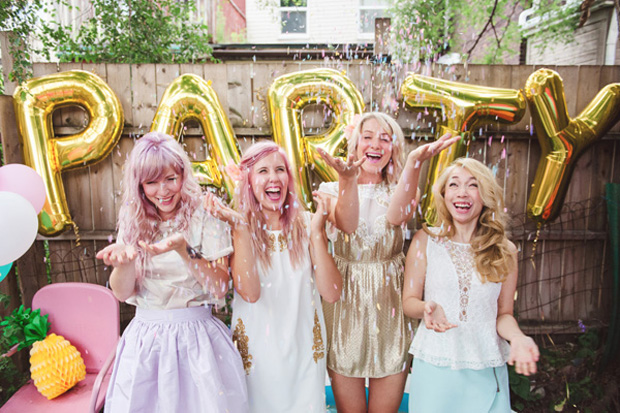 Photo via The Glitter Guide
One of the first tasks when planning a hen is finding the perfect location! There's lots to consider when choosing the best spot for your partying – how to get there, accommodation, activities in the area and whether it's accessible for all the girls. There can be people travelling from all over Ireland so choosing somewhere central can be important or somewhere that's easy to get to by car, bus or train. Dublin, Galway, Carrick on Shannon, Kilkenny and Dingle are popular choices and of course if you're after an adventure and fancy jetting off, make sure to give people plenty of notice so that they can save, book time off and plan.
2. Be Organised
 Photo via Etsy
If you're in charge of the planning, get the invites/info email out early and let people know what's involved – the date, location, activities (day and night), accommodation options, travel deets, gift info if you want everyone to pool together to buy a gift for the bride-to-be, and what's involved cost wise (plus when it needs to be paid). This way they know what's what from the get-go and can decide if they're able to make it. Keep them in the loop along the way so that it's plain sailing once hen week arrives!
3. Choose a Fun Activity
Photo by Fruetcake via Style Me Pretty
With most hen parties, you'll have different groups of the bride's friends coming together and they may not have met each before. One way to break the ice and get everyone chatting is with an activity where people can bond. There are so many brilliant activities to choose from whether you get the energy going with a dance class or a roller disco sesh, indulge in some pampering at a spa, enjoy chats over afternoon tea, get everyone working together as a team with an outdoor challenge, or toast the bride-to-be at some wine tasting or cocktail making. Check out 13 of the best hen party activities here.
4. Deck the Space Out with Hen Goodies
If you're looking to create a fun party feel, some hen decor is a must! From cute signs and balloons to bride squad napkins and straws, there's lots of lovely little pieces you can pick up to spruce up the hotel room or house and make a fuss of the bride-to-be. Check out some great buys here.
5. Don Some Stylish Accessories
Same goes for accessories! Some hen party tatts, badges, tiaras or sashes are a must! Check out some seriously stylish hen party accessories you and the girls can deck yourselves out with here. You can pick up some great pieces over on HenWorld.ie, Jokeshop.ie, The Lovely Little Label, Favour Lane and Pearls & Lace Bridal Boutique.
6. Plan Some Games
Photo by Kennedy Grace Photography via My True Blu
Another fun way to get people mingling and chatting is with a few games. There's all sorts of games just for hen parties from the 'Mr & Mrs Quiz' to 'He Said, She Said' to 'How Well Do You Know the Bride' and 'The Wedding Dress Challenge'. Check out more great hen party games and all the rules here! Also a fun playlist should defo be on your to-do list – check out some of the best songs to add to your iTunes account here.
7. Have a Sweet Gift for the Bride
If you're looking to get a gift from all the girls, a photo book is a really thoughtful idea that will be poured over long after the hen party is over. Get all the girls to write a message or share some memories throughout their friendship alongside some pics and present it to the bride-to-be on the night. There may be tears… ! You can pick up this gorgeous 'Goodbye Miss, Hello Mrs' book on HenWorld.ie, The Lovely Little Label, Favour Lane and Pearls & Lace Bridal Boutique.
8. Capture the Memories
Photo by Evelyn Eslava
The hen is a great chance to get some lovely photos of you and the girls all dressed up and of course document the fun antics too! Make sure the phone is charged so you can snap away all night or if you're looking to go all out, have some disposable cameras or a Polaroid camera at the ready as well as some fun props so you can capture some gorgeous memories.
9. Pack Some Survival Kits for the Morning After
Survival Kit from BeCollective on Etsy
After a fun night out, these little kits may well be needed! Hen Party Survival Kits are a hilarious way for the party planners to say thanks to all the girls for coming along and ensure they're prepared for all eventualities the morning after. Fill them with everything from painkillers and sunnies to bobbins, and essentials like water (and crisps – defo an essential!). Check out how to make your own here.
The following two tabs change content below.

Pamela Mahon
Pamela enjoys writing about all things decor (she loves buying it too) and has a not so secret addiction to stationery. Her favourite section on the site is the galleries section (too many pretty images to choose from), and she can often be found lurking in the fashion and beauty forums as well.

Latest posts by Pamela Mahon (see all)