Looking for some unique ideas for the hen party? We've 18 fun-filled ideas for you here…
1. A Day at the Races
If you're looking for an excuse to get glammed up in your finest gúna, head to the Limerick Races for a fabulous, glamorous day out. You and the ladies can enjoy a flutter on the horses and a few drinks from the comfort of your VIP section (there are dinner packages available too). And the bride-to-be will feel extra special as they've some cute little extras for the hen such as popping the hen's profile on the race card (a lovely keepsake from your day at the races).
2. Wine Tasting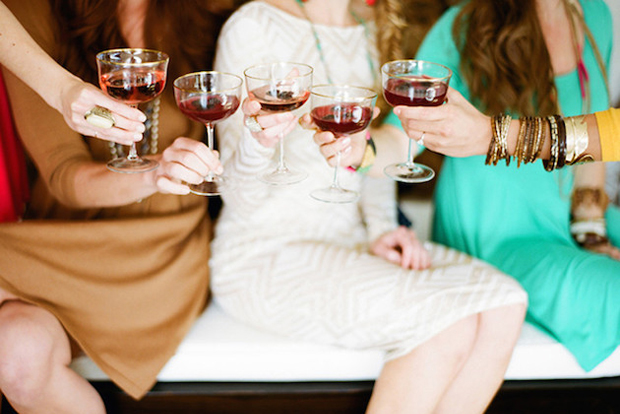 If you're looking to enjoy a few drinks and possibly learns a few bits along the way, a spot of wine tasting might just be the perfect combination. Create Your Night can sort you and your girls out with a fab, fun night of swilling vino in the Temple Bar or South William area of Dublin. There'll be 6-8 different wines to work your way through and some delicious Meat & Cheese Platters as nibbles/soakage as well. But the evening doesn't end here, they'll then whisk you off to a bar/club afterwards so you and your girls can enjoy a night on the tiles!
3. Party Bus & Club Package 
If you're looking to get the party started early on, a party bus is a brill idea! Create Your Night can arrange for the bus to pick you up at 6pm and you'll spend an hour toasting your ladies with a few glasses of champers and music before heading off to a cocktail making class (you can have it after dinner either). After trying your hand at a few cocktails of your own, it's on to dinner (they've lots of fab options close to Grafton Street including Alfies, Red Torch, Saba and Bar Pinxto) and then finish off the night with some dancing in one of several clubs. And no need to worry about seats, they're reserved for you!
4. Clubbercise 
If you fancy donning some glow sticks and neon gear and dancing to some awesome tunes, a Clubbercise session with your ladies could be a lotta fun. Hen Party Central can arrange for a dance workout session for you and your girls in a private, city centre location in either Cork or Dublin – all you need to do is wear something comfy and dance and sing your heart out to some brilliant classics!
5. Father Ted Experience 
If like us you're quite the Father Ted fan, a chance to visit one of the most iconic houses in Ireland for a cuppa is very exciting prospect indeed! HenParty.ie have a hilarious Father Ted Tour where you can visit all the hotspots from the show and most importantly, enjoy tea and cake or scones in the house itself. There's some hilarious encounters along the way from a bread-buttering competition in the pub in honour of Mrs Doyle to a trip to the Lovely Horse Waterfall, where the video for Ted's Eurovision entry was filmed and they even supply priest and nun outfits for you and the girls, plus a Mrs Doyle outfit for the bride-to-be. Have the cameras ready!
6. Spa Package
If you and your ladies are looking for total relaxation, book in a night or afternoon at a gorgeous spa for some serious pampering. If you're after a luxurious spot in the heart of Dublin city, pop by the amazing Marker Hotel. This stylish 5* hotel boasts a 23 metre infinity pool, sauna, steam room and impressive Jacuzzi that can seat 8-10 people (perfect for relaxing chats) as well as a wealth of gorgeous treatments whether you're looking for a relaxing massage, revitalising facial or want to give your nails a little bit of TLC. Their rooftop terrace is also a massive talking point and has gorgeous views of the city – you could easily stop by for drinks (and dinner!) after a luxurious spa session to sample the menu and toast the lady of the moment.
If you're in the south of the country or are looking for a road trip, the stunning Fota Island Resort in Cork is another gorgeous spa option. This 5 star hotel has everything you and your ladies need to relax and unwind with a fab range of treatments. We're particularly taken with their Chocolate Treat Hen Party package, a heavenly chocolate themed spa package which includes a chocolate bath, chocolate wrap and chocolate full body massage. Or for those looking to unwind and enjoy a spot of pampering, choose from two mini treatments and enjoy afternoon tea and a glass of Champers (plus goodie bag for the bride-to-be) with their Pampering Package, or get your hair and makeup done before enjoying Cork's lively nightlife.
7. Roller Disco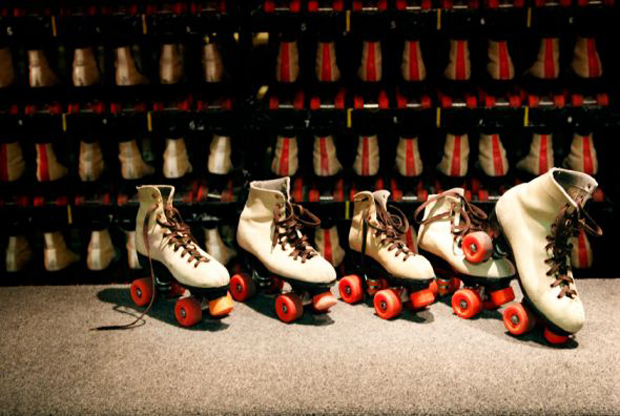 If you're looking to bring a bit of 80s fun to your Hen, this epic idea will go down a treat! Don some spandex, pull on the leg warmers and fly about on a pair of roller skaters with your favourite girls to some awesome 80s tunes. It will be great craic and no doubt, there'll be some hilarious moves – pop over to HenParty.ie for more info who offer this fun package, available in Cork, Limerick and Dublin.
8. Karaoke & Cocktails
If you love a good sing-song and fancy a few cocktails while you're at it, Coyote's Karaoke package is a winner. Located on the infamous Shop Street in Galway, this is a go-to spot for anyone looking to have a fun night out. They have some great packages for hens including cocktail making classes, dance classes and of course karaoke sessions so you and the girls can sing your hearts out with a cocktail in hand in your own private room! They've also live music every night and have free shots or a complimentary glass of champers for the whole group – no charge!
9. Dance Classes
If you're looking to get the celebrations off to a fab, energetic start, sign yourself and the girls up for a dance class! Love Dance and HenPartyDance.ie both have brilliant dance packages for hens where you can learn some new moves. Try your hand at all sorts of dance styles from Burlesque and Line Dancing to Charleston or if you've always fancied perfecting the moves to a particular hit like Single Ladies, Dirty Dancing, Thriller or Grease, you can master it at the hen. It's a great way to have some craic with your ladies, learn a few new moves or even a dance you can break out on the Big Day!
10. Outdoor Adventure
If you love a good challenge and want to have a fun outdoorsy day with your ladies, Wicklow based Kippure Estate's Wild Wicklow Woman adventure package will have you and the hen party in stitches from Welly Wanging (hurling your wellies as far as you can for those that are wondering) to getting to grips with croquet using spuds and a pair of tights! Or if you're keen to try out some activities, sweeten things up with their chocolate themed hen. It sounds like absolute heaven but you'll have to work for your sugar fix with everything from a chocolate treasure hunt and Aero archery to their chocolate factory challenge – toasting chocolatey marshmallows with a twist! Nom. If you're not an activity enthusiast but love the idea of a cosy countryside setting, rent one of their charming lodges and curl up with a bottle of vino and a chocolate fondue.
11. Garter Making
If you're looking to get the creative juices flowing and try your hand at a fun activity to boot, The Fancy Hen can arrange a Garter Making class for your party. It's a great way to start the celebrations and can be a fun ice-breaker for the girls during the day – have the chats and get to know the others while making a keepsake you can wear on the Big Day – or if you fancy having a fun uniform for the evening, you can all done your creation later that night!
12. Chick Flick Night
If you're a movie nut, this could be the perfect way to kickstart the celebrations. It's the ultimate girly night in – get cosy with your ladies and have the chats and enjoy one of your all time fave movies over nibbles and drinks! Hen Party Central can arrange a private screening of your movie of choice at a city centre bar (this package is available nationwide) with drinks (a glass of wine, beer or a soft drink for all your girls) and popcorn and peanuts included.
13. Party at Home
If you don't fancy going for your hen but still want to make a bit of a fuss, invite Mae the vintage caravan along to get the party started! This adorable 70s vintage caravan from Vintage Vanp is available for hire and is ideal for hen parties – use it as your own little tea party station, serve up bubbles or have the fanciest cocktail boothe ever. She comes with her own waiting staff so you don't have to lift a finger and it goes without saying, the camera would be out non-stop!
14. Beauty Bootcamp
If you're looking to get dolled up before the big night out and wouldn't mind learning a few bits along the way, a couple of hours with the lovely Powder Room Girls at their Hair & Makeup Studio in City West would be the perfect way to spend a lazy afternoon. Learn lots of great beauty tricks and techniques from the pros at one of their master classes and enjoy a glass of bubbly while you're at it. Or if you're looking to totally indulge, they can come to your house and get you and the gang glammed up for your night out!
15. Themed Vintage Hen Party
Vintage brides will love this nostalgic way to celebrate with the gang! The Fancy Hen are behind this sweet idea – they can arrange a fab vintage tea party complete with your very own vintage tea lady who'll serve up lots of lovely treats including gorgeous gourmet sandwiches, lashings of tea and coffee and cake. Or if you fancy donning some fun costumes instead, their vintage inspired photoshoot is a super fun idea and a great way to get a gorgeous memento from the day – you and the girls have the choice of dressing up in 50s gear, burlesque style or channelling some Hollywood Glamour and a professional photographer will be there to capture some fab snaps.
16. Dinner & Treats
If you're a total foodie and want the chance to toast your ladies and have the chats, a slap up meal is an easy but brilliant option. If you're Dublin based, Empire Bar & Grill is an award-winning spot in Swords with live music and DJs on every night. The bistro has a range of gorgeous menu options (with a fab three course meal and glass of bubbly for €25 per person), an extensive wine list and of course cocktails. Or if you're looking for something a little more casual, they have luxury finger food platter packages available for hen parties as well. Or if you're on the Southwest or fancy a bit of an adventure and stunning scenery in to the bargain, head to the picturesque town of Killorglin in Co. Kerry and the charming Sol Y Sombra. A converted church with a beautiful backdrop, it specialises in tapas but can also organise wine tastings, tarot readings or even a spot of pole dancing if you're looking to tick the entertainment box as well!
17. Glamping
If you're looking for a night away with a different, think a spot of glamping! If you're okay with the idea of cosying up in some luxury yurts, Shepherd huts, or cottages for the night (not a sleeping bag in sight – these guys all have proper beds!) and love the idea of gathering round a campfire with some drinks and smores, a getaway to Mount Druid in Westmeath is defo worth considering. Think gorgeous surroundings, your favourite people and lots of fun activities on your doorstep. You can rent mountain bikes and go exploring, while away the afternoon with a lovely stroll around the area (and pop into some quaint pubs along the way if you like), check out the meditation hut, unwind in their sauna or even pitch in with the hay making if you fancy it. Or for those that want to add some cocktails in to the equation, they even do classes!
18. Cottage Fun Close to Carrick on Shannon
If you're after a cosy cottage experience for you and your girls, close to the lively town of Carrick on Shannon, take a peek at the quaint Leitrim Lodge. Just 20 minutes from what's dubbed the 'Hen & Stag Capital of Ireland' Leitrim Lodge is an idyllic cottage that can sleep 7. They can arrange tons of fun activities for you and the gang from cookery classes and photo shoots (choose from the likes of Gatsby and Burlesque!) to cocktail making, wine tasting and biking riding amongst others, or you can have a beautician pop by and pamper you all before heading out on the town for a fun night in Carrick on Shannon. They can even arrange transportation there and back for you!
Little Extras
Online store Henworld.ie have an awesome range of accessories and party supplies to make the night extra special with everything from sashes, L Plates and badges to balloons, confetti, games, photo booth props and cossies.
Main photo by Fruetcake via Style Me Pretty
The following two tabs change content below.

Pamela Mahon
Pamela enjoys writing about all things decor (she loves buying it too) and has a not so secret addiction to stationery. Her favourite section on the site is the galleries section (too many pretty images to choose from), and she can often be found lurking in the fashion and beauty forums as well.

Latest posts by Pamela Mahon (see all)