There are so many ways to inject an Irish element into your wedding day, whether you hail from here or just feel like you should. From simple aspects like serving delicious, locally sourced Irish fare to kicking the night off with a traditional Ceili, you're spoiled for choice when it comes to creating an unforgettable, fun, Irish-themed wedding day. So, with that said, let's take a look at 15 of our favourite ways to 'Irish up' your big day and celebrate the feast of St. Patrick. Slainte!
Irish wolfhound main image by KTMerry, styled by Style Serendipity
Traditional Irish Fare
Your wedding day is all about celebrating the love between two people, and for many (including us) there's no better way to celebrate than with a massive feast of amazing food. If you ask around what constitutes a good wedding, most people will go with two things: the food and the band and the great thing about weddings lately is the calibre of food that's now on offer. Many hotels and alternative venues have wised up to the importance of good food at a wedding and are concentrating on providing exciting menus using locally sourced ingredients. Ireland's culinary industry has come on so much in the last few years and fabulous dishes using delicious items such as Irish black pudding, cheeses and locally farmed meat have taken centre stage at the wedding meal. Find a directory of brilliant Irish caterers right here.
Photo courtesy of Andrew Holmes Catering
Irish Jewellery Designers
There are a number of amazingly talented jewellery designers and goldsmiths in Ireland who can create something truly unique and a personal piece of jewellery that will become part of you forever. What better way to honour your fellow countrymen than by wearing a piece of hand crafted jewellery that will stay in your family for generations?
Photo: Wedding band by Aoife O'Mahony
Shamrock Boutonnieres
A simple shamrock boutonniere will give the groomsmen's outfits a dose of green and will be a welcome breather in your budget! Add some to your bouquet or just pop a shamrock pin on like this beautiful vintage four leaf clover brooch from Etsy which should bring you loads of luck in love! Alternatively you could try a horseshoe brooch as a boutonniere or bouquet pin for good luck!
An Irish Toast | Irish Craft Beer Wedding
Baby Guinness shots, brandy, Irish whiskey… there are a number of great alternatives to Champagne to toast the happy couple that will be in-keeping with an Irish theme. Another great idea for those who enjoy a tipple is to stock the bar with various Irish craft beers for guests to try, or to do a tasting at each table as a little ice breaker (please provide an alternative for your non-drinking guests!) Another option is to pop a bottle of Irish craft beer at each place setting as a wedding favour. An Irish craft beer wedding is quickly becoming a popular theme for many couples with many offering craft beers as an alternative to wine at the table, producing special labels to celebrate the Big Day or naming tables after their favourite artisan beer.
Child of Prague Statue & other Irish Traditions
The Child of Prague statue was a ubiquitous figure in Irish weddings for years and has made a bit of a comeback. We spot a Child of Prague in every couple of real weddings we publish and not only was Saturday's star Una Healy spotted picking one up the day before her wedding in 2012, James Bond himself Pierce Brosnan buried the statue in a Guinness soaked haze the night before his Big Day in Ashford Castle in 2001. If  you're not familiar with the Child of Prague, the tradition goes that you bury the statue at the west corner of your building the night before the Big Day to ensure it doesn't rain. There are of course other superstitions and traditions for Irish weddings such as wearing braids in your hair and a blue dress, carrying a magic hanky (which symbolises fertility) and a handfasting ceremony (which we've more about below!)
Photo by Aileen Kennedy Photography
Individual Baileys Cheesecakes
Baileys Irish cream is a tipple synonomous with special occasions (it's not Christmas in my house until I've a Baileys Hot Chocolate in my hand, anyway) so why not introduce it into your Irish themed wedding in a fun and delicious way? Many couples are opting for dessert tables instead of a traditional three tier cake, which makes enough space for a couple of one-tier cakes such as a cheesecake. Alternatively you could go the route of the individual dessert and hand out mason jars filled with the decadent, boozy dessert and take in their delight.
Photo and recipe from lemontreedwelling.com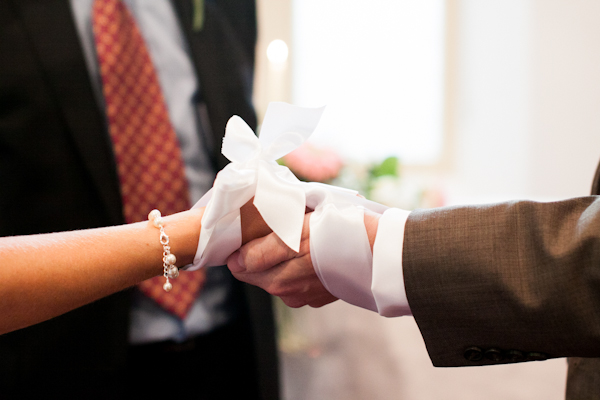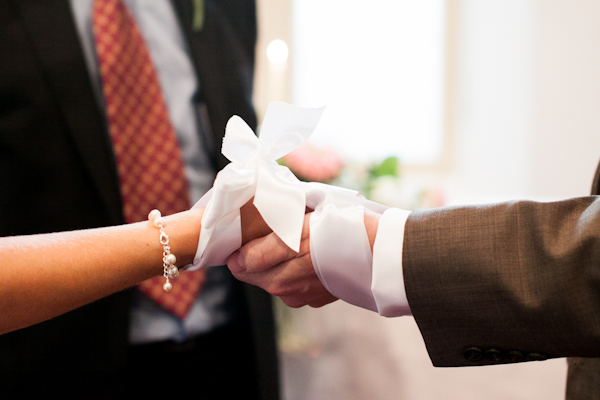 Handfasting Ceremony
Handfasting ceremonies have popped up more and more lately as an addition to civil ceremonies, similar to a sand or wine ceremony. The handfasting ceremony dates back to the pre-Christian era and is considered a Celtic tradition. It is thought that the term 'tying the knot' comes from the act of handfasting from Neopagan ceremonies. Wherever it stems from, many couples are embracing it today as a Celtic element in their celebration.
10 Ways to Irishify your Wedding
Pop to the Pub
Many Irish weddings involve a quick trip to the local either before or after the ceremony whether it's the boys nipping in to 'settle the nerves' or the entire wedding party raising a glass to the happy couple after they've tied the knot. Pretty Irish pubs photograph beautifully and can be a great backdrop for a full wedding guest group photo, not to mention how nice it can be to pop into familiar surroundings with all your favourite people in the world.
Photo by DKPHOTO
As Gaeilge
If you're an Irish speaking family you could of course have your wedding ceremony completely As Gaeilge by an Irish speaking priest, or if not, you could instead have elements of Irish throughout. Some sean-nós singing or a reading in Irish would be a lovely way to celebrate your heritage. Some couples choose to say their vows in Irish also, which is a beautiful way to introduce some of the language into your day and the start of your life together.
Photo by DKPHOTO
Traditional Irish Music
A fab way to set the tone for the day is having a harpist or sean-nós singer at the ceremony. For a comprehensive list of top wedding singers and musicians for your ceremony, check out the ceremony music section of the weddingsonline directory.
Table Names
Name your tables after your favourite Irish shows or films, Irish bands or poets to inject a bit of Irish culture into your day and put your theme into the minds of your guests from the get-go. We loved this Fr Ted table name from Anne-Sophie and Conor's magical day in Castle Leslie, which put a smile on our faces and we're sure on the guests who were at the table. Actually the idea of quotes from Fr Ted as table names was also discussed on the weddingsonline forums a few years back – we hope they went with it in the end!
Photo by Weddings by Kara
A Ceili
There's nothing we like more than a right knees up at an Irish wedding and what better than by kicking off with a bit of a Ceili. A trad ceili for your reception entertainment is a great way to introduce some Irish elements to your Big Day and will be a real treat for guests, especially those travelling from abroad. To ensure there's a little bit of professionalism to proceedings (and it's not just your shoeless uncle that's dancing up a storm), check out our directory of Irish dancers.
Photo by Heather Waraksa via snippetandink.com
Irish Bridal Designers
Irish brides can count themselves very lucky to have so many talented, established and experienced bridal designers right on their doorstep. Marie McElheron, Patrick Casey, Kathy DeStafford, Edel Tuite, Anne Gregory, Sharon Gregory and Fiona Todhunter are just a few of the amazing couturiers who call Ireland their home and who produce some of the most incredible bespoke bridal designs for the country's most fashionable brides. We are also currently experiencing a wealth of new young bridal designers coming up who, we believe, will undoubtedly become world renowned in years to come – why not get your hands on one of their creations before word gets out?!
Photo: Dress by Patrick Casey via confetti.ie
Celtic Wedding Stationery
Your invites are always the first way to establish your wedding theme, so why not make them beautiful. Celtic Wedding Stationery (above) uses watercolour sketches, monograms and old parchments to create bespoke wedding invites for those looking to give their wedding a traditional Celtic twist. For more incredibly talented Irish wedding invitation designers, check out the stationery section of the weddingsonline directory here.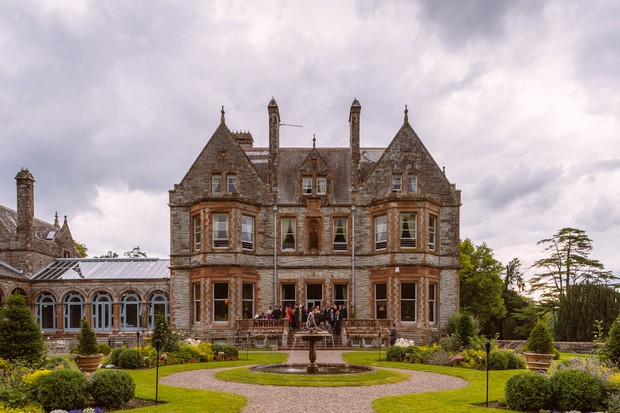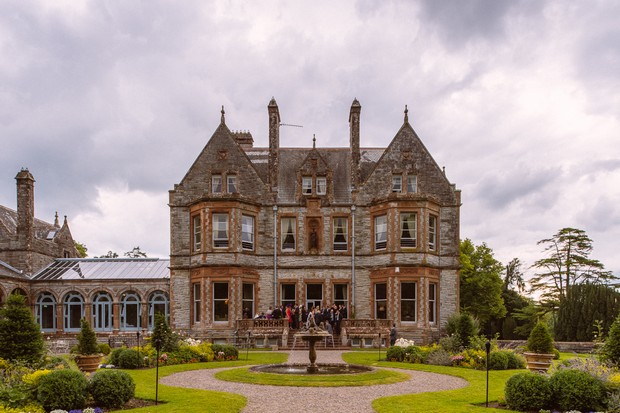 Castle Backdrop
Ireland is host to some of the most impressive castles in the world which can provide a frankly awesome setting for any wedding. The great thing is that there is also so many styles of castles in the country, from the authentically appointed interiors to warm and cosy decor all the way to the more modernly appointed which have all the most up-to-date fixtures and fittings one would expect at a 5* hotel. A chic castle wedding makes a lasting impression on everybody, and provides the backdrop for some incredible photos. Not only that but many castles also come with a vast amount of outdoor space, meaning you'll be spoiled for choice when it comes to creating your atmospheric wedding album. Check out the impossibly large directory of beautiful Irish castles who have opened their doors for wedding celebrations in the weddingsonline directory.
Photo: Castle Leslie Estate by Aspect Photography
The following two tabs change content below.
Former editor, current contributor, (she just can't let go!) Karen enjoys writing fashion but is known to dabble in decor from time to time. Her favourite section on the site is the Real Wedding section, followed closely by the Health & Fitness forums.