"There is no wedding like a Bridge House wedding! Really and truly, I couldn't have imagined getting married anywhere else."
The couple: Antonia Darcy & Ross Smyth
Length of engagement: 13 months | Wedding date: June  30th 2017
Wedding venue: Bridge House Hotel, Offaly
Photographer: Finn Mooney Photography
We met… In a pub in Tullamore three years ago… Ross asked if he could buy me a drink but I was just leaving with friends… so I said no! He thought I just didn't want to have a drink with him but I did! A few weeks later he added me on Facebook and we got chatting before our first date in my favourite restaurant which he booked as a surprise.
Our proposal… We had gone to Kilkenny for the May bank holiday weekend just to get away. When we checked in, we had been upgraded to the Presidential Suite and there were flowers and chocolates waiting for me… I just thought Ross was being really romantic but nothing more. We sat out on the balcony and I got a bit cold so I grabbed Ross' jacket from the bed and put it around me. He looked a bit shocked which I found strange! We went for dinner that night in a lovely restaurant and he couldn't eat and was drinking water… stranger again! After our main course, all the lights went dim and Ross said some lovely words (none of which I can remember now!) and got down on one knee in the middle of the restaurant – with a table of 15 women next to us! – and asked me to marry him. It was so romantic and special and I said yes straight away. He told me later he'd had the ring in his jacket pocket that I'd put around me earlier on and that's why he'd been looking at me funny. He had been onto the hotel all week planning everything – I was so proud of him and how he pulled it off.
My dress… My dress took a while to find! I visited so many shops and just couldn't get what I was looking for. I went into every shop and said I didn't want lace and I didn't want sleeves… and look what I ended up in! The dress had a delicate lace jacket that I took off before we entered the ballroom and it was then strapless. I got it in The Bridal Outlet. My good friend, Louise, from My Fair Lady Bridal in Tullamore gifted me my belt and veil and they finished off the dress perfectly.
My hair and make-up… Alan from AJ's Hair & Beauty is my hairdresser and knows exactly what I want when I see him. He knew a stiff upstyle wouldn't suit my personality but I knew I wanted my hair up, so he created a stunning, intricate style that I loved. My cousin, Niamh Darcy, is a beautician at Urba in Athlone and is just brilliant at what she does. She made everyone feel so relaxed and we all adored our make-up. She knew I didn't want to go overboard and I was over the moon with my make-up.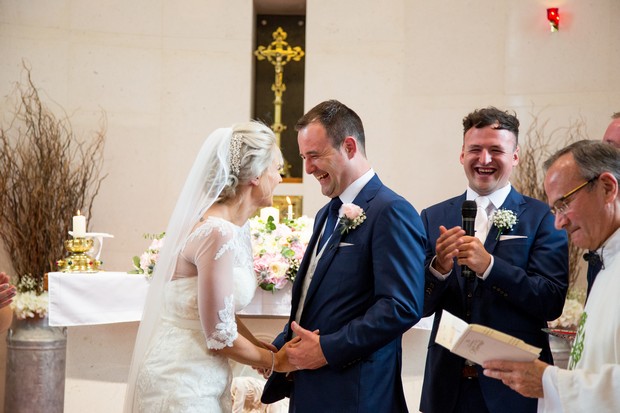 Our ceremony… We got married in Ballinagar Church which is in my parish and is where my parents got married. It's a modern, bright church and our Priest was Fr. Stapleton who I had always liked listening to over the years. We wanted the ceremony to be fun and lighthearted which I think it was. We chose music to suit our personalities which was sung by Joe Wynne who is so talented and such a professional. Ross's best friend and groomsman, Paul Skelton, is also a singer, and he wanted to sing my entrance song, Tenerife Sea – this was really special for Ross and a lovely moment on the day. Almost the entire congregation shed a tear when our son Charlie ran to us both crying with happiness and wrapped his arms around us after we said our vows – it was so unexpected and lovely!
What our bridal party wore… With such a large bridal party, I wanted the dresses and suits to be colour co-ordinated somewhat so there wasn't too much going on, so we went with navy and blush pink bridesmaid dresses, and navy suits with blush pink ties. With five bridesmaids, I knew it wasn't going to be easy getting dresses… I got lucky one day however on ASOS and spotted five dresses in a lovely blush pink colour. They arrived and looked lovely, but I decided to break up the colour by getting the same dress in navy for two of the girls and I'm delighted now that I did. The groomsmen's suits were all from Galvin's in Tullamore too who were excellent to deal with – we needed 11 suits in total and it was no bother to them.
We chose our photographer because… I had seen Finn Mooney's work online and arranged an appointment with him. The minute we met him, we knew we were going to book. His calm, relaxed manner was exactly what we were looking for. I couldn't bear someone being too in our faces on the day and Finn seemed the opposite. His photos were stunning, and I knew during our conversation that Ross was happy too so we booked there and then. Everyone commented on the day how fantastic he was – he was a joy to work with.
My favourite part of the wedding day… I have a few! Walking down the aisle – I had dreaded this in the lead up to the wedding and yet I enjoyed it so much on the day. Arriving to the hotel and the guard of honour, the bagpipes playing and all our guests cheering was pretty special and entering the Ballroom to Nina Simone's 'Feeling Good' and seeing all our family and friends there for us was amazing.
His suit… Was a lengthy process too! Ross was more of a diva than I was when it came to what we were wearing. After several trips to Galvin for Men in Tullamore, and a near-disaster with a grey checkered number he came close to buying (phew!) he settled on a classic navy suit with grey check waistcoat and navy tie – with Tommy Bowe tan shoes of course.
Our honeymoon… We wanted somewhere not too far away and neither of us had ever been to Italy so we researched some places and booked it. We went to Rome for 3 nights, followed by 6 nights in a village beside Sorrento called Sant Agnello and a night in Naples. We did a boat trip to Capri where Ross snorkelled in the sea and we climbed Mount Vesuvius and visited Pompeii. It was an amazing time and we'd recommend it to everyone though we did come home several pounds heavier from all the amazing food!
We chose our venue because… there is no wedding like a Bridge House wedding! Really and truly, I couldn't have imagined getting married anywhere else. We looked at one other venue when we got engaged really just for the sake of it and it didn't come close to what the Bridge House do! It was such a fantastic feeling walking into the hotel to a guard of honour and everyone I work with there to welcome us. The atmosphere in the Bridge House for a wedding is like no other – honestly you can't describe it, and you just can't buy atmosphere. We knew everyone was going to have an amazing day, and of course the food is amazing. Ross was more than happy to go with the Bridge House too and we are so delighted we did.
We chose our wedding coordinator because… Well I couldn't do it myself! People were laughing for months at me co-ordinating my own wedding being the Wedding Co-Ordinator in the Bridge House Hotel and getting married there but I didn't do a thing! Barry, our Deputy General Manager, took care of all the details from start to finish and he and Danny, our GM, ensured I had nothing to worry about. I had such trust in them, the chefs and everyone in the hotel that made the lead up to the wedding absolutely stress free and easy.
Our menu… Tony, our head chef, and his team, pulled out all the stops for us with the food. We wanted a simple menu but for the flavours and quality to really shine. To start, we had a choice of Tomato & Red Onion Tartlet or Black Pudding Parcel (everyone LOVED this!) followed by Courgette, Pea & Parmesan Soup, then succulent Roast Beef or Fillet of Hake and our desserts were Apple Crumble or the Bridge House's famous Pavlova. Handmade petit fours even came out after dinner! Our guests just couldn't get over the food and are still talking about it.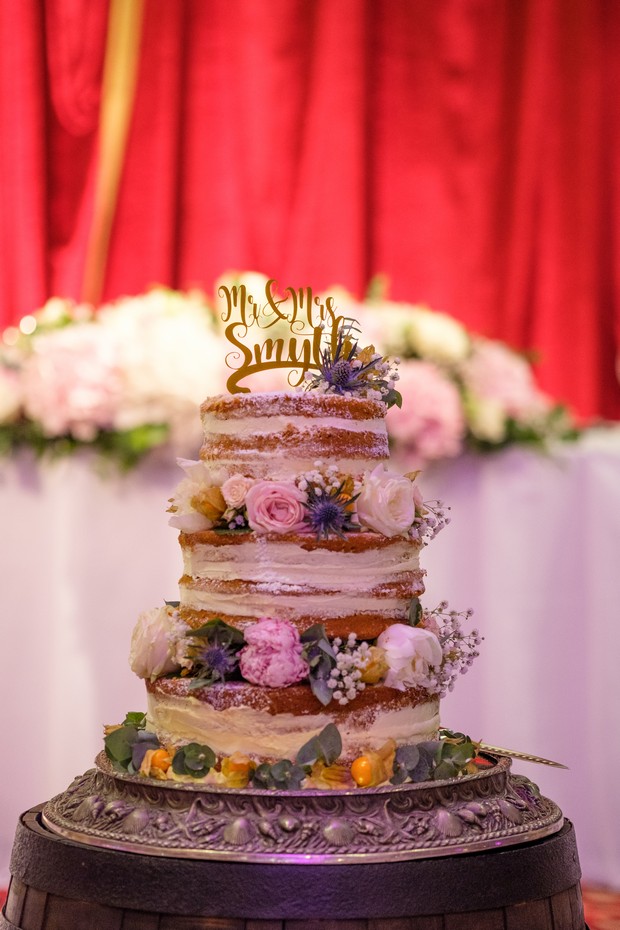 My piece of advice for other brides… Trust your suppliers! It really is that simple. If you invest in professionals who know what they are doing and have a wealth of experience, you won't worry one bit. We had no stress in the lead up to the big day and I really feel it was because laid-back as we are, we chose suppliers we trusted to give us quality products and services and made our day so perfect and the lead up to it so easy.
Suppliers
Venue: Bridge House Hotel, Offaly | Photographer: Finn Mooney Photography | Wedding Dress: The Bridal Outlet, Athlone | Veil & Belt: My Fair Lady, Tullamore | Suits: Galvin for Men, Tullamore | Bridesmaid Dresses: ASOS | Wedding Shoes: ASOS | Flowers & Church Decoration: Wedding Flowers by Josephine | Cake: Claire Pidgeon at Bridge House Hotel | Photobooth: Paddy's Photobooth | Invites: My Design, Optimal Print for Printing | Videographer: Lawlor Video Memories
The following two tabs change content below.

Pamela Mahon
Pamela enjoys writing about all things decor (she loves buying it too) and has a not so secret addiction to stationery. Her favourite section on the site is the galleries section (too many pretty images to choose from), and she can often be found lurking in the fashion and beauty forums as well.

Latest posts by Pamela Mahon (see all)