"We took a little rest at a picnic bench and to my surprise out came a ring wrapped in tissue paper as the box was too big to fit in his pocket, total surprise."
The Couple: Richelle Ormsby & Jonathan Mulholland
Length of engagement: 20 months | Wedding Date: June 2016
Wedding venue: The Hamlet Court Hotel, Meath
Photographer: Finn Mooney Photography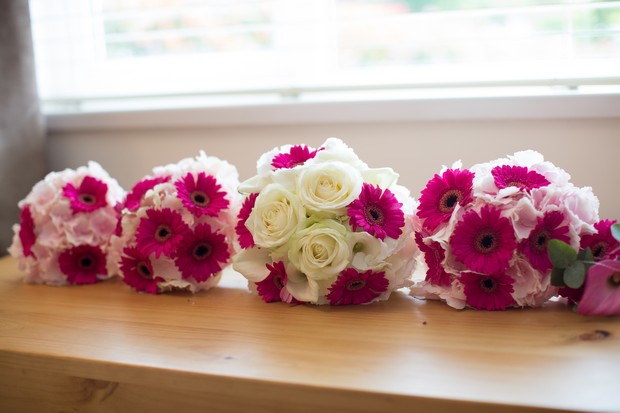 We met… August 2001 in Naas. After a number of text messages we decided to meet, Richelle was 15, Johnny was 19 so it didn't go down too well with the parents. 15 years and two beautiful daughters later, we finally tied the knot.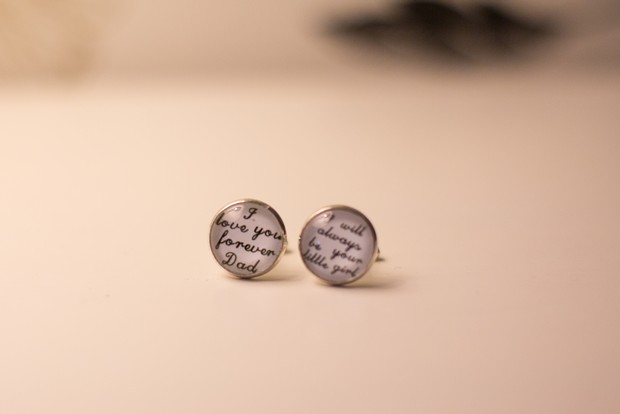 Our proposal… We got engaged in September 2014 in Birmingham. After a hangover from the night before, we went for a walk down the canal in Birmingham. We took a little rest at a picnic bench and to my surprise out came a ring wrapped in tissue paper as the box was too big to fit in his pocket, total surprise. He had planned on it taking place in villa park but the hangover got in the way.
His suit… Johnny purchased his suit and shoes along with best man, groomsman and fathers suits from Dermot Hall Menswear in Edenderry. He knew straight away what he wanted – a navy suit and brown shoes. After a couple of fittings, it was perfect. We decided to go with dickie bows for the men and Johnny wore a cravat.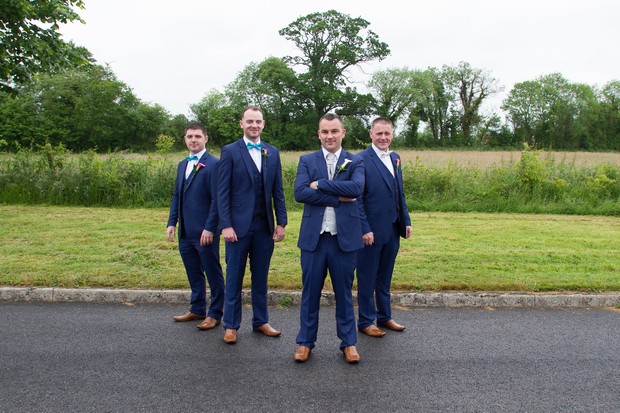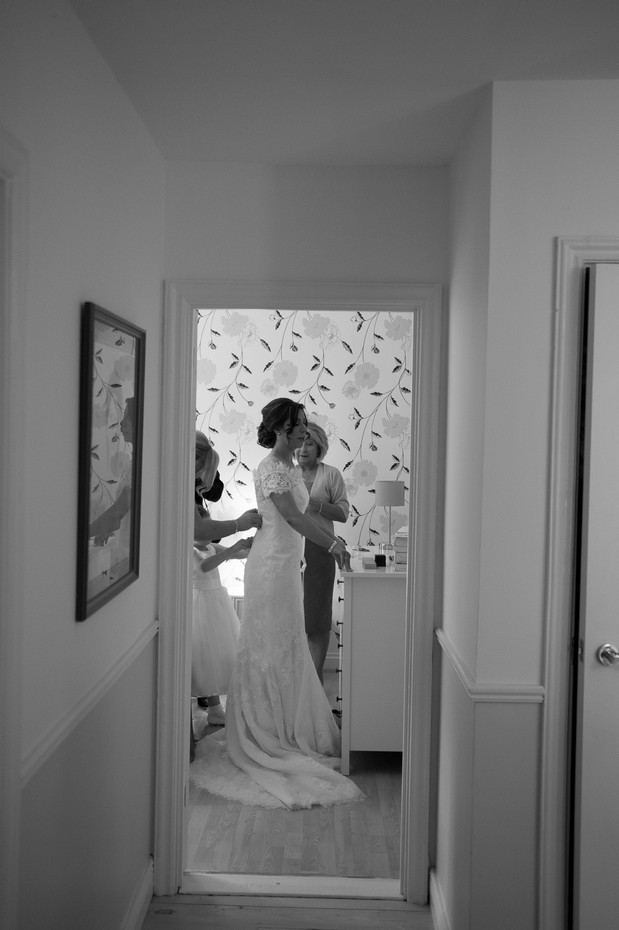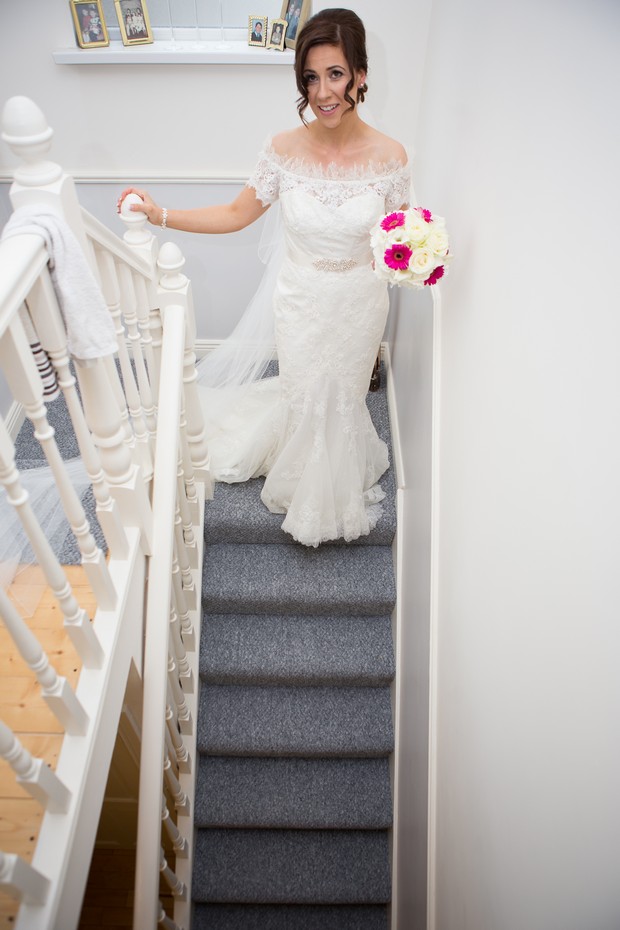 My look… My dress was the Elwing dress by La Sposa which was purchased from the fabulous ladies in Aibheil in Adare. Mum, dad and myself drove down hoping to find the right one. After trying on about 50 dresses I finally found the one – I loved it but it needed some bling so the week before the wedding, my mum and sisters sewed on over 200 sequins. I purchased the bridal belt from a boutique in Naas to finish it off. The wonderful Irene from Head to Toe in Edenderry arrived at 7 in the morning to do our hair and our make-up was applied by Niamh Whyte from Niamh's Make Up & Beauty.
Our ceremony… We decided to get married in a small church in Clonbullogue, Co. Offaly. We involved our two daughters in the ceremony as much as we could with them both lighting their own candles at the start of the mass and reading the prayers of the faithful.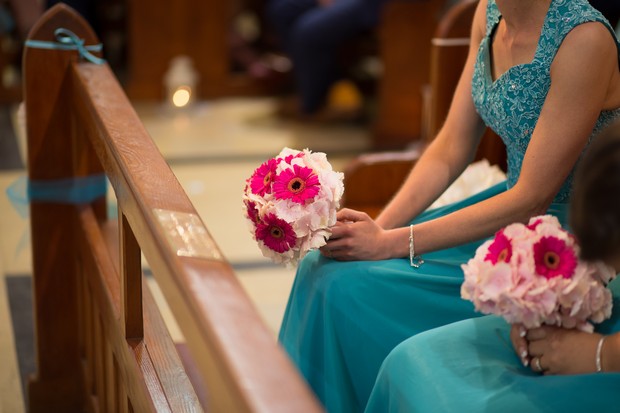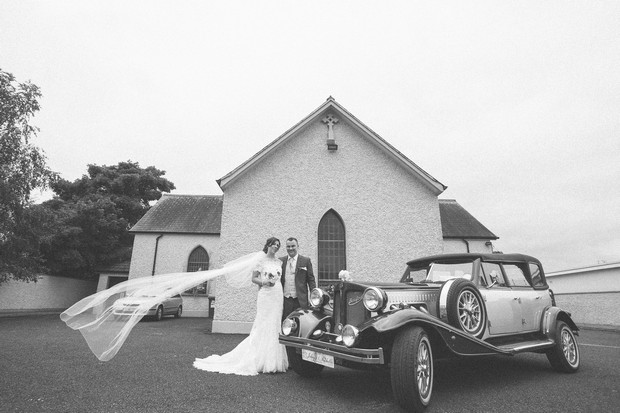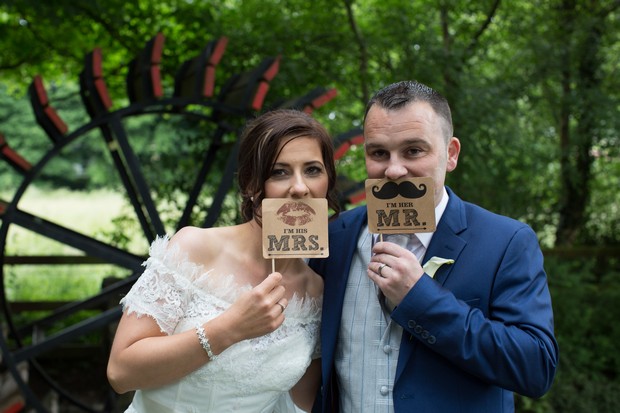 We chose our photographer because… We first met Finn (Finn Mooney Photography) a number of years before when our two daughters went to his studio for a photo shoot. We knew from the start that we wanted the very talented Finn Mooney from Edenderry, after seeing his work at friends weddings and his creative ideas. We didn't just want your average wedding photos, we wanted something completely different. After meeting with Finn on a number of occasions on the run up to our wedding, we knew that's what we would get. As soon as the hotel was booked, we checked with Finn to make sure he had the date free. Delighted he had, we booked there and then.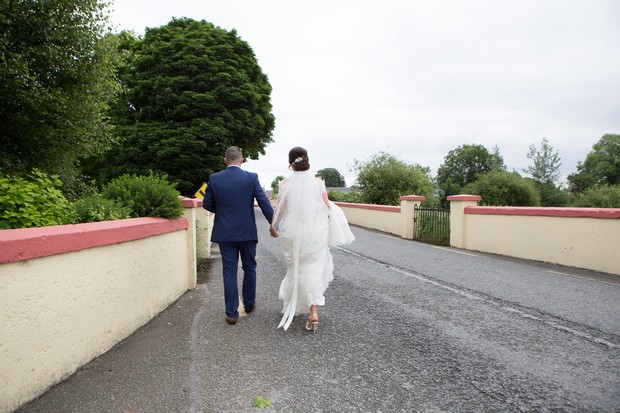 We chose our venue because… The first time we stepped into The Hamlet Court Hotel was after a long day of viewing a number of manor house and country hotels. After having no luck at all, we decided to stop off for some dinner at the Hamlet as it was on our way home. We got speaking to Trish (owner) from The Hamlet Court Hotel, Trish made us feel so at ease and explained everything we needed to know for a wedding at the Hamlet. Trish invited us back a few days later to view the ballroom, all set up for a wedding later that day where we met Sharon. Seeing the ballroom all decorated with its fairy light backdrop, tablecloths, all kitted out for the wedding that day, we began to imagine our wedding at the Hamlet. After checking that our date was available, we called back two days later to put down our deposit. After speaking with a number of friends that had attended weddings at the Hamlet, they advised us we had made the right choice. We both loved the fact that we could book out the whole hotel for our wedding guests, making it that bit more personal.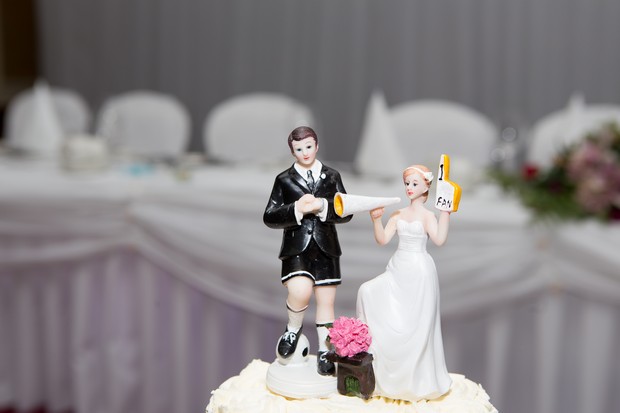 We chose our wedding coordinator because… What can we say, anything we asked for, Sharon was more than accommodating. Nothing was too much. Sharon was only a phone call or email away, even though most of my queries were sent in the middle of the night, within a few hours I had a reply. Sharon worked with us and all our crazy ideas, made us feel completely at ease and gave us some unique ideas (Sunday Game theme tune). Sharon helped us book and arrange everything that needed to be done, she was happy to recommend suppliers which made planning our day very easy.
Our wedding theme/colours… We are both massive GAA fans (Richelle – Dublin, Johnny – Kildare) so we decided to go with a GAA theme from our invites and our table names to our wedding cake in county colours and walking into our reception to the Sunday Game theme.
Our honeymoon…We booked our honeymoon with Becci from GoHop.ie. She recommended Vegas and Cancun. It was our first time away without our two daughters, 10 days was plenty. We flew to Las Vegas for three days staying in the MGM Grand. After much gambling and partying, we then flew onto Cancun and stayed in Valentin Imperial Maya.It was out of this world – total relaxation for seven days, waited on hand and foot. We could not recommend the place enough.
My favourite part of the wedding day… Our first dance was my favourite part – to be able to dance as husband and wife for the first time with our family friends and loved ones around us was lovely. Johnny's favourite part was turning around to see me walk up the aisle, it made him even more nervous.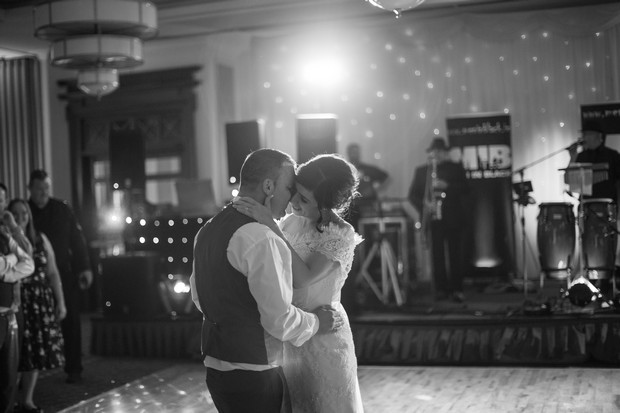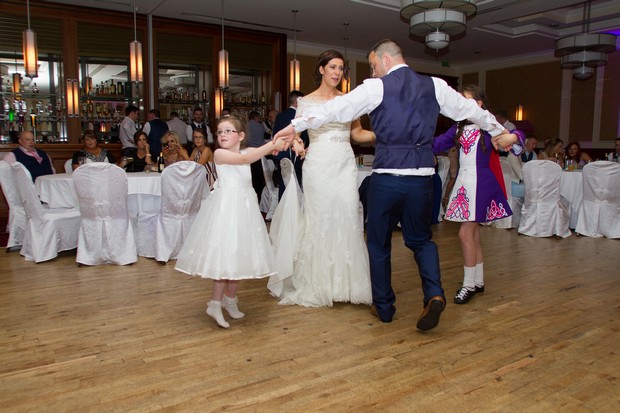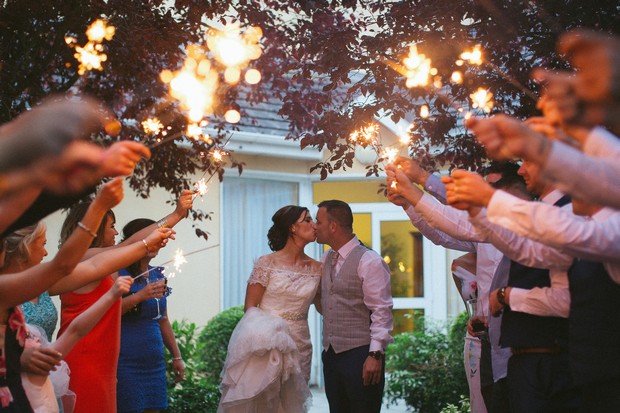 My piece of advice for other brides… Don't stress, it will all come together. On the day of your wedding, take a few minutes out with your husband, sit back and just watch everything going on around you, the day will be the quickest day of your life, enjoy every minute of it. Get a videographer – we were delighted to be able to watch our video. There were so many little things we didn't see happen and little things we forgot that we were able to see on the video.
The following two tabs change content below.

Pamela Mahon
Pamela enjoys writing about all things decor (she loves buying it too) and has a not so secret addiction to stationery. Her favourite section on the site is the galleries section (too many pretty images to choose from), and she can often be found lurking in the fashion and beauty forums as well.

Latest posts by Pamela Mahon (see all)