Yes, the guys are spoiled for choice with the many, many, many stag do options in Ireland. So how do the best men (and their sidekicks) make sure everyone has hours of fun, not just the groom? We combed all the options to pick the widest variety for your consideration, covering everything from classy whiskey tasting to crazy army-style assault course. The perfect stag do is one of these.
Mondello Park
What could be better for an unforgettable stag do than Ireland's only International Race Circuit? Almost every groom we've ever met (and all their mates too) has confessed a desire to get behind a wheel of a supercar and live out the racer fantasy. This is exactly what Mondello Park offers, and many more other stag do options in Ireland. If it's pure adrenalin you're after, this is the place.
Pallas Karting and Paintball
Pallas Karting and Paintball are Finalists in the weddingsonline Awards 2018 as a top hen and stag supplier of the year. They wouldn't have earned the accolade if they didn't throw absolutely amazing stag parties. This isn't a kids' game – their karting centre is the largest in Europe, and that means miles of exhilarating fun, speeding along, squealing around sharp bends, and showing off your speeding skills. Book an afternoon of healthy competition, and someone will stand on the podium.
The other famous Pallas activity is paintballing. There's a minimum eight people per team requirement, so it's perfect for groups. Four unique battle zones will have everyone running and sweating like in real combat, and if your group is feeling particularly competitive, the staff will give tactical training on how to win a paintball battle. For a group craving action-packed adventure, this is the right place to be.
Photo via
Lasersport Ireland
Everyone gets in touch with their wilder side at Lasersport Ireland. This professional laser clay pigeon shooting service is equally great as a competition or in the spirit of fun. If it's a tournament, then a digital scoreboard will keep score, just like at a real event. What really distinguishes Lasersport from all others is their mobility. They will come to any location in County Clare and the surrounding area. View a video of the fun on their supplier profile.
Kippure Estate Adventure
At Kippure Estate Adventure, you'll remember exactly what it was like to climb trees, jump from things, and swing on ropes pretending to be Superman. They've been in business for 14 years so expect everything to be organised to perfection. Have an afternoon or just a weekend, unforgettable fun is guaranteed. For those eager to try their skills, there are all kinds of challenges, like kayaking, obstacle courses and clay shooting. For a calmer day in beautiful surroundings, try hillwalking and hiking.
Or if you're looking for something a little unusual, something with a lot of running around and skill testing… well, you just found it! Kippure Estate Adventure is also the home of the wonderfully mixed up world of football and golf, known as Footee! All you need is energy, comfortable shoes to run around in and a willingness to use your feet and guide the football around the 16-hole golf course. Big laughs guaranteed.
The Courtyard Apartments, Carrick on Shannon
In the heart of Carrick on Shannon you'll find The Courtyard Apartments – Hen and Stag Do Supplier of the Year Finalists at weddingsonline Awards 2018. They are an ideal base for a ton of activities – with an added bonus of being a superb accommodation for stag do options in Ireland. In addition to their self-catering apartments, they also have a house that sleeps up to 34. Now you can really invite anyone you like!
Who says you can't start the stag do at night and continue until the last man standing? Let The Courtyard Apartments send you on a moonlight cruise down the River Shannon, with everything you need to make it a true 'last night of freedom' to remember. At two-night package includes a boat cruise with drinks and a DJ, preceded by dinner and cocktails, and followed by more cocktails, and an overnight stay.
If the stag party just can't get enough of fun on the water, then adding some watersports to the moonlight cruise above is just the ticket. The Courtyard Apartments will connect you to the Lough Allen Adventure Centre, where your biggest problem will be that you'll want to try everything. There's kayaking, raftering, banana boat sailing and river expeditions, all packed with excitement.
Stagparty.ie
From their base in Dublin, Stagparty.ie is at the service of any stag do across Ireland. These are the guys you call when you don't want to bear the big responsibility (and headache) of making sure everyone in the group is entertained and amused to the max. You want it, those guys have it: individual activities, packages, ideas, pranks… they'll even send you abroad. It's their 10th anniversary this year, so expect total organisation perfection for your stag do.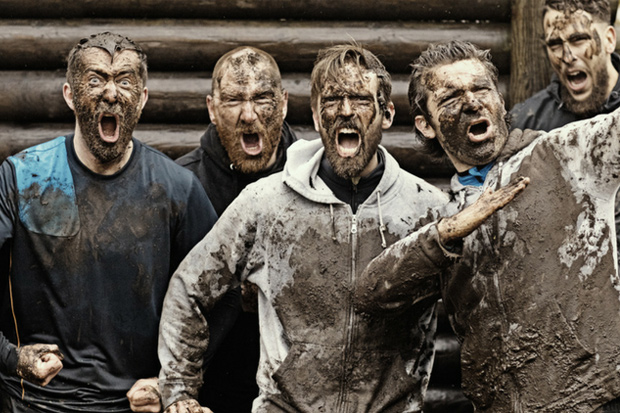 Some stag groups want that once-in-a-lifetime experience. How about really letting loose and getting covered in mud to prove it? We're not talking Glastonbury, it's even better – an assault course designed for the army and definitely not for wimps. The course will test anyone's strength, courage and stamina, working up serious thirst for the night still ahead. If the groom falters here, it will be great material for the best man's speech. Chat to Stagparty.ie about this one.
On the other hand, there's nothing wrong with trying the finer things in life. After all, you can't imagine James Bond, for instance, doing the assault course? He would rather be leaning on some classy bartop in an impeccable tuxedo. Well, get a bit of that charm too, by booking a whiskey tasting with Stagparty.ie. Hands down, it's one of the classiest stag do options in Ireland. You'll learn a lot about this exquisite nectar, and dare we say it's particularly good if you're bringing dad and grandpa along. Keepin' it classy here, lads.
The following two tabs change content below.
Rachel Green
If you think the bride should always have the last word, then Rachel is on your side! A devoted fan of everything quirky, unusual, colourful or crafty, she loves scouting WOL's real weddings for unique and fun touches. When not gazing at pictures, she's dispensing no-nonsense advice on everything from reception entrance songs to bridesmaid problems.
Latest posts by Rachel Green (see all)