"Leaving the Church to the quartet's rendition of Edward Sharpe and The Magnetic Zeros song Home surrounded by all our family and friends was such a fun and special moment."
The couple: Pamela Mahon and Paul Shaughnessy
Length of engagement: 18 months | Wedding date: 31st May 2014
Wedding Location: Trudder Lodge
Photographer: Moat Hill Photography
We met… outside Sin É on the Quays in Dublin. I was heading off travelling in a few months so it was bitter-sweet but we got through it and Paul even got a little holiday out of it!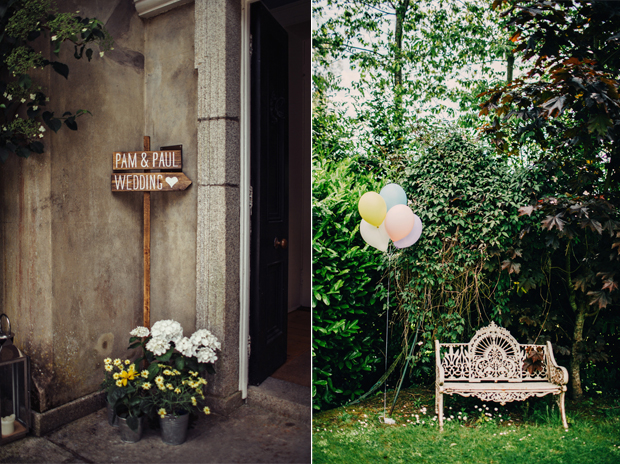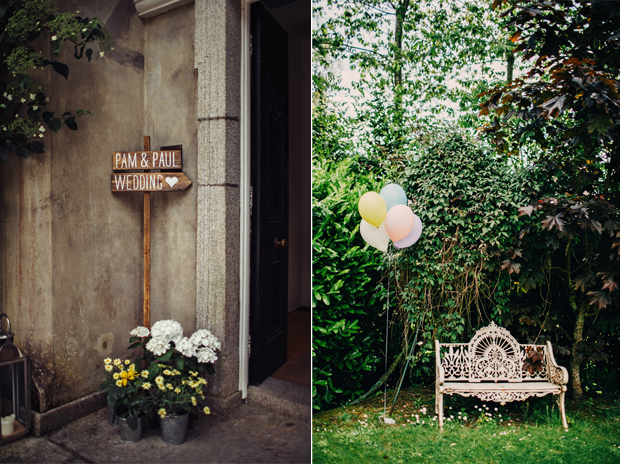 Our proposal… Paul brought me right back to the place we first met, Sin É – we live across the bridge from it in town so he had me up at the crack of dawn watching a gorgeous video he had made of our story while he waited for me outside Sin É. I have never ran as fast across the bridge (or ever) to where he was waiting for me.
My hair and make-up… I went for a very natural look – I had loose waves courtesy of Gillian Edgeworth and Julie Caulfield from Ken Boylan Studio did a gorgeous job on my make-up.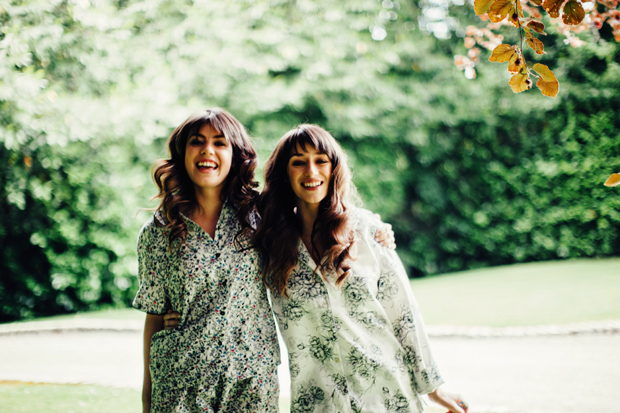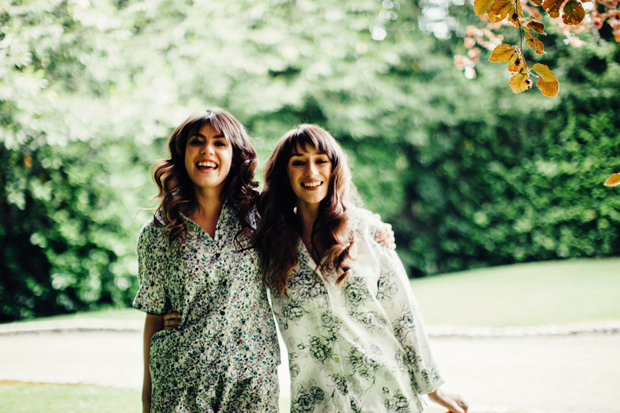 My dress… was a lace and tulle dress by Raimon Bundo. I got it in De Stafford Bridal and I wore a floral hairpiece from Dirty Fabulous.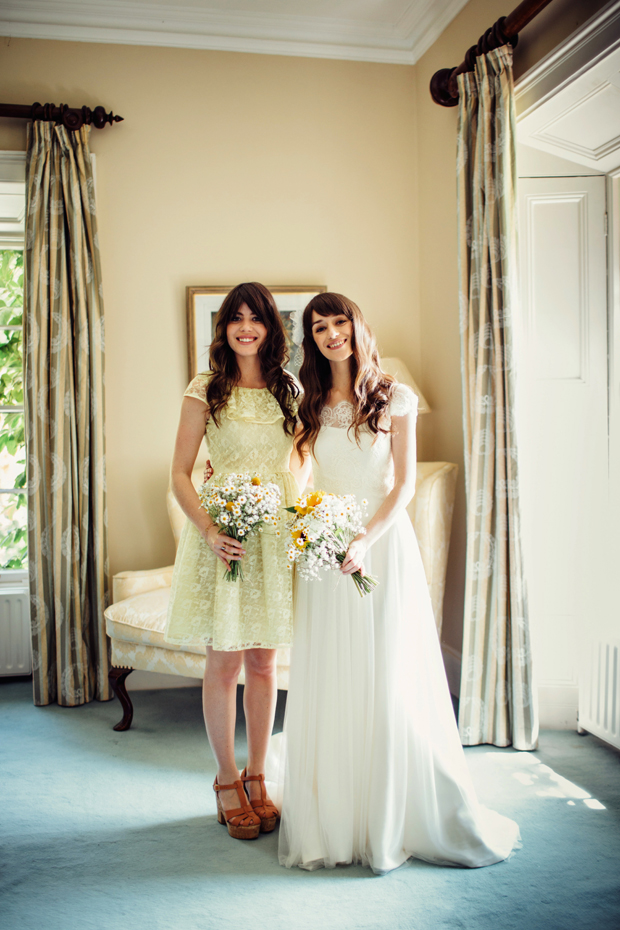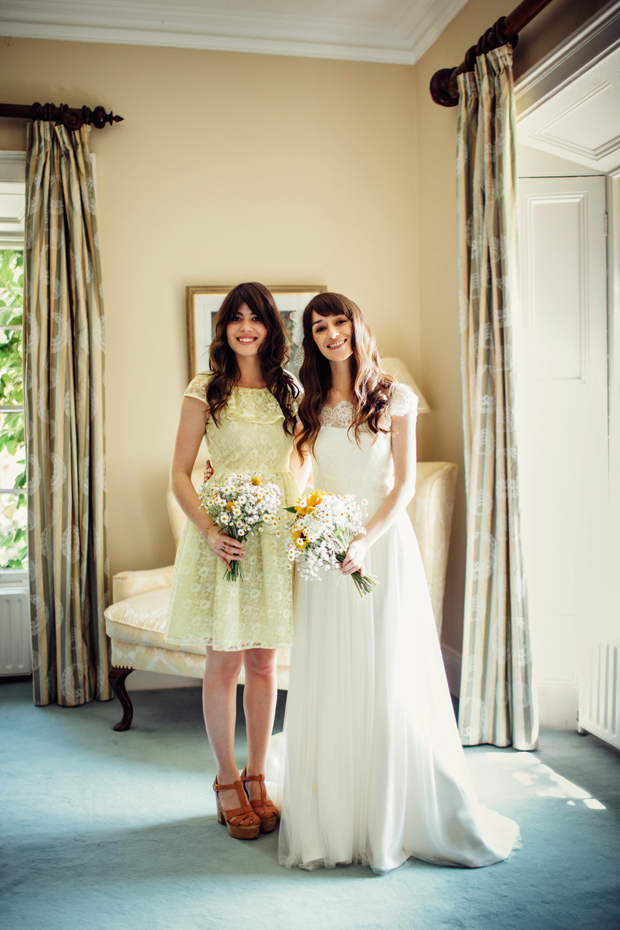 His suit… Paul looked very dapper in a navy Ted Baker suit with grey waistcoat.
What our bridal party wore… The guys wore grey suits from Marks & Spencer with navy ties to match Paul. My sister Carol and I both knew what we were looking for when it came to her bridesmaid dress but we couldn't find it anywhere so our amazing mam came to the rescue and made a dress modelled on one of Carol's old dresses we loved, using fabric she had found in a vintage shop. Sophia, our adorable flower girl wore a lemon dress from Marks & Spencer.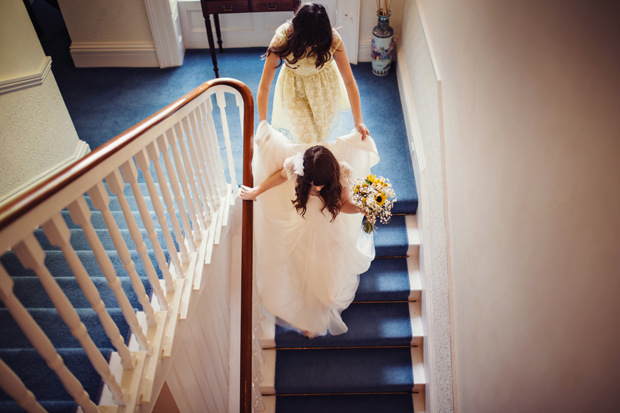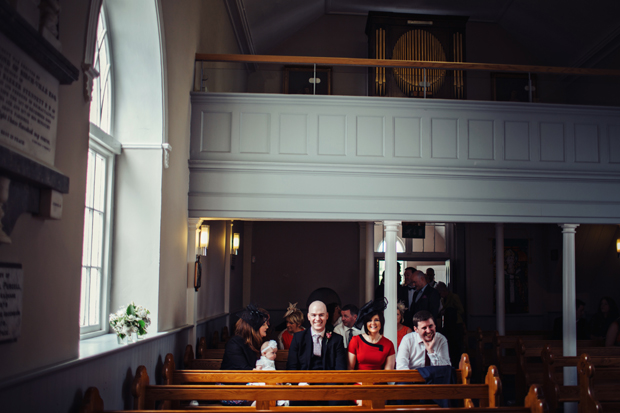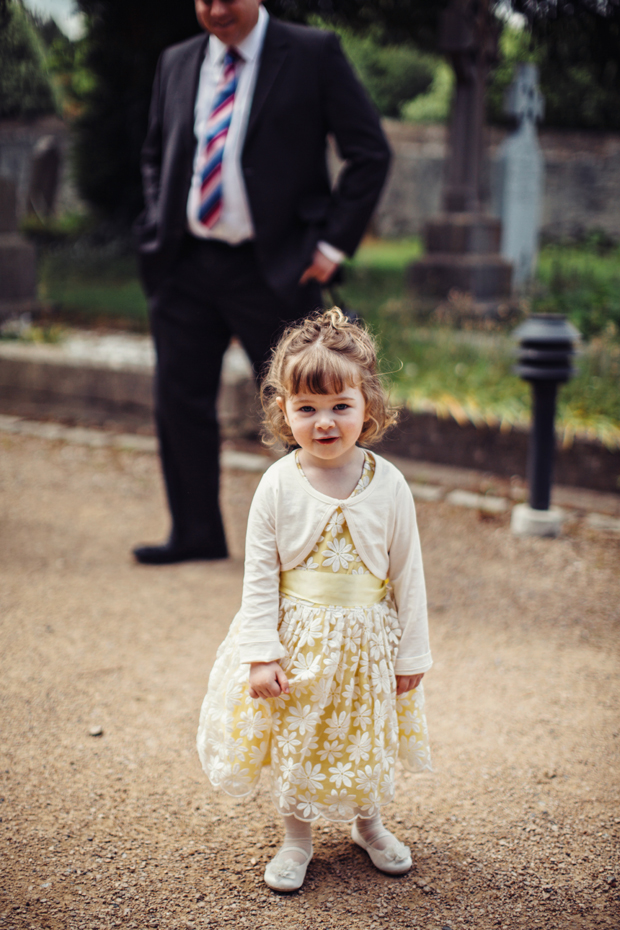 Our ceremony… was in St. Patrick's Church, Kilquade and a family friend Fr Murtagh did the ceremony. He made it so personal and put everyone at ease.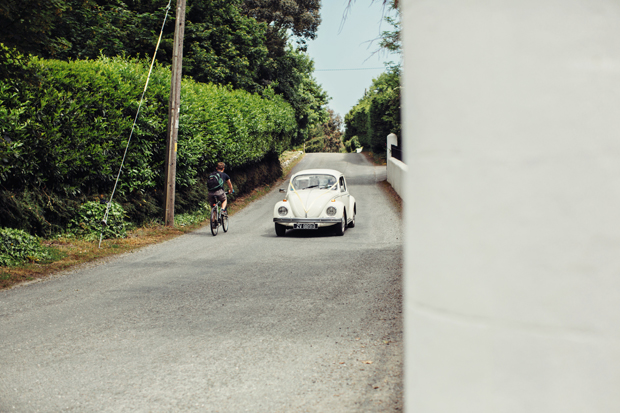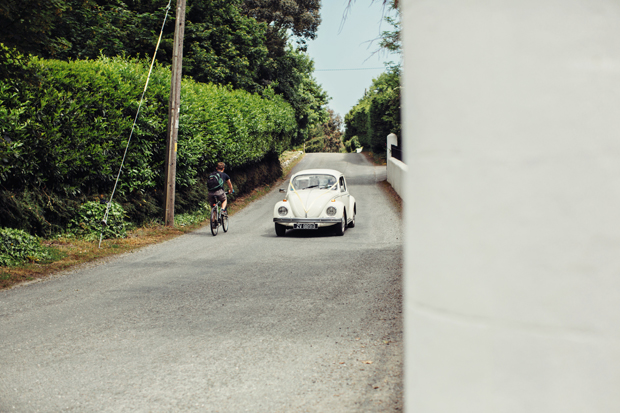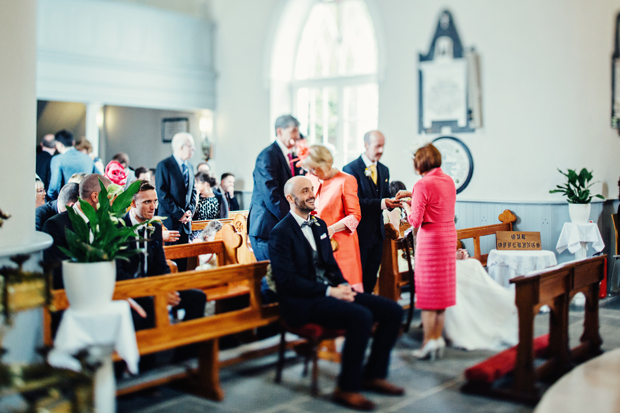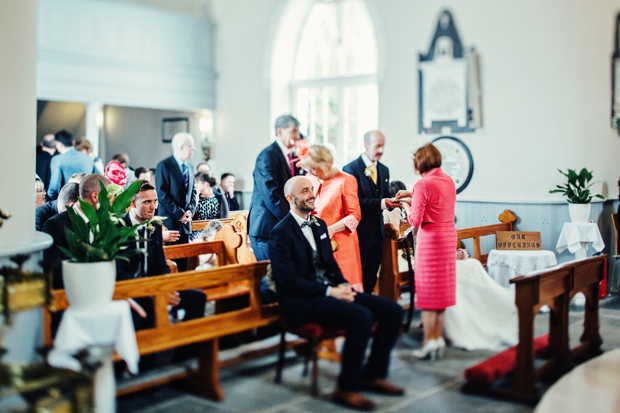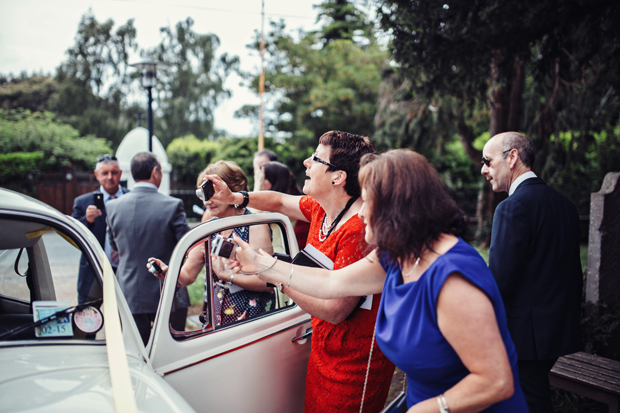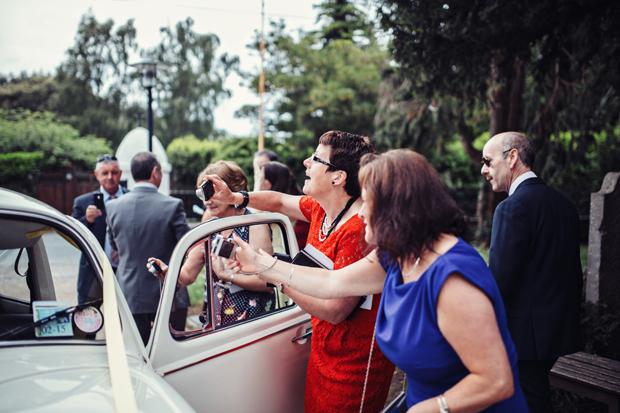 We chose our photographer because… we loved Moat Hill Photography's documentary style of photography and we were blown away by the images when we got them back.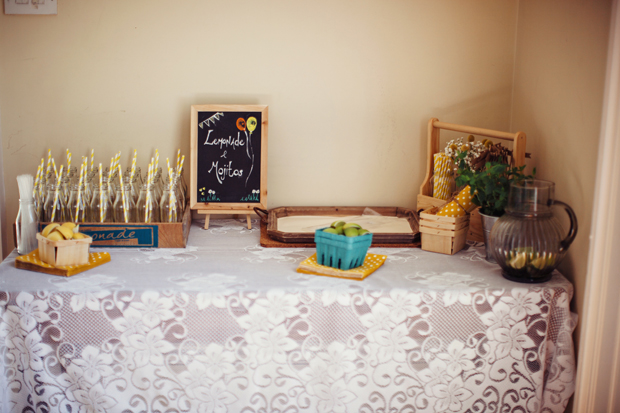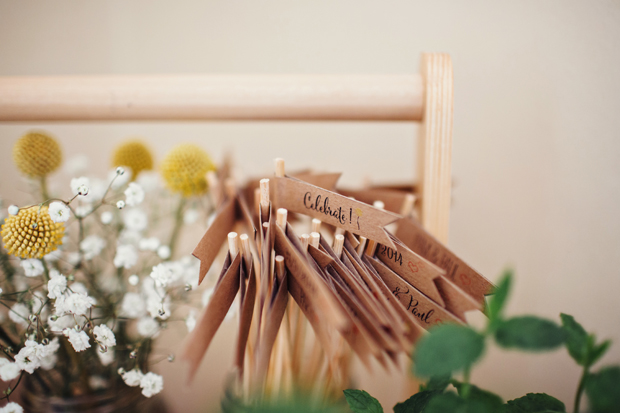 We chose our venue because… we absolutely adored Trudder Lodge the minute we saw it. The ground, house and marquee are all absolutely beautiful. We pictured everyone hanging out on the lawn having a few drinks and loved the idea of our first dance under the tree at the back of the marquee surrounded by sparklers – luckily the sun came out for the day so we got both!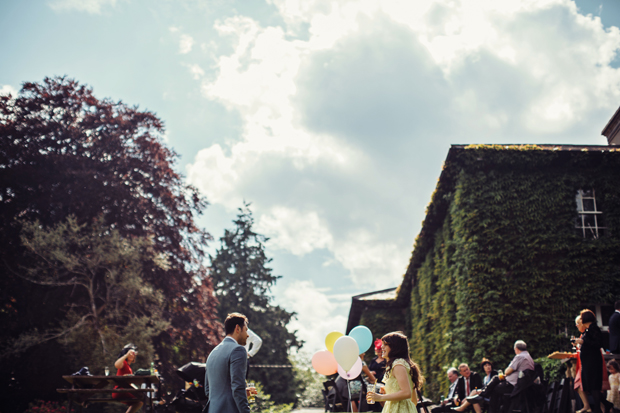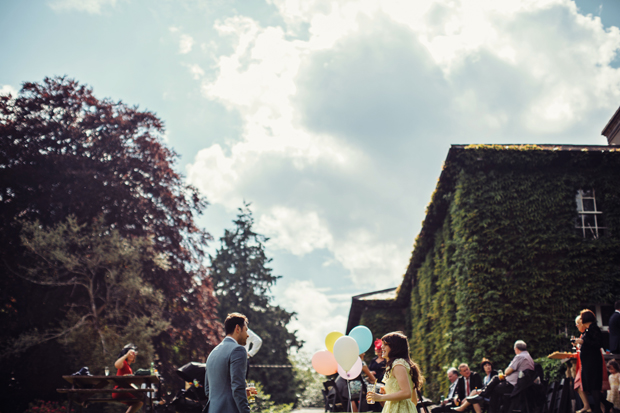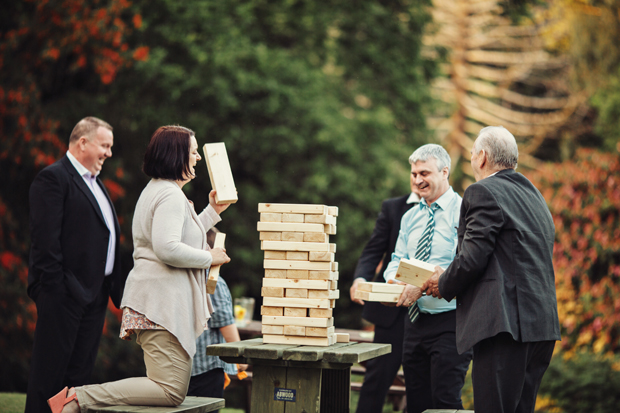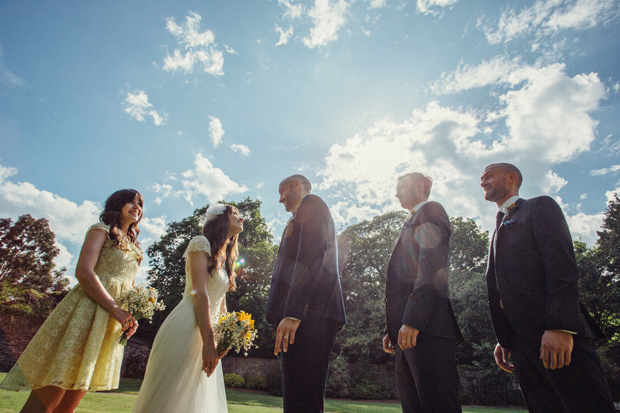 We chose our wedding coordinator because… Niamh who runs Trudder Lodge is brilliant and was always on hand to answer any random questions we had and offer advice!
Our wedding theme/colours… we had a mix of vintage china, splashes of ochre yellow, and fun illustrations courtesy of my extremely talented sister Carol who is an illustrator. It was a bit of a DIY affair with our families pitching in to make everything from signs, mini flags and drink stirrers to tying twine around tins – my brother even made the photo wall a few days before!
Our menu… We wanted a very informal day all round so we had a BBQ! Andrew Holmes Catering (The Hogfather) did an incredible job on the food and was beyond helpful throughout – he even stuck around until midnight cooking up a mini bbq outside around a little fire!­­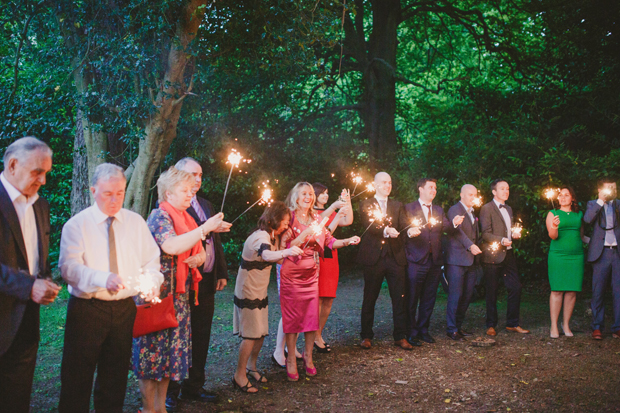 My favourite part of the wedding day… leaving the Church to the quartet's rendition of Edward Sharpe and The Magnetic Zeros song Home surrounded by all our family and friends was such a fun and special moment. But we loved every minute of the day – we said all along we wanted it to feel relaxed and like a party and it really was.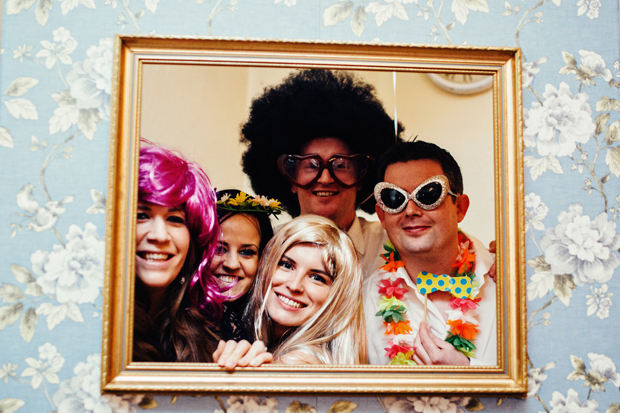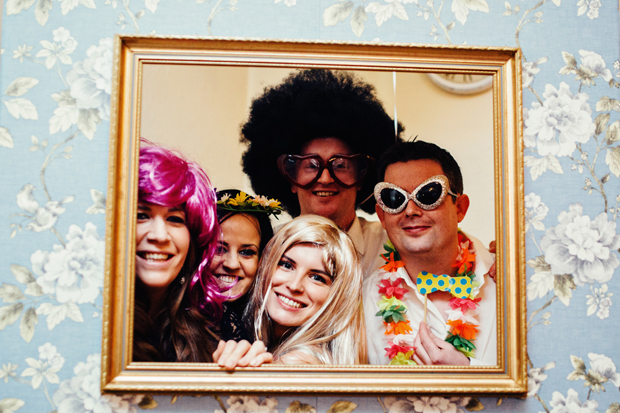 Our honeymoon… We headed off to Sri Lanka first for a week of sightseeing and then on to the Maldives for total relaxation.
My piece of advice for other brides… The week before the wedding can be really busy so try and have as much done as you can in advance so you can really enjoy the run up to the wedding. Like many other couples have said, the day absolutely flies by it really is a day like no other – drink in every brilliant minute!
Suppliers:
Church Flowers & Bouquets: Austen Flowers
VW Beetle: Lazy Days
Band – BeatClub
The following two tabs change content below.

Pamela Mahon
Pamela enjoys writing about all things decor (she loves buying it too) and has a not so secret addiction to stationery. Her favourite section on the site is the galleries section (too many pretty images to choose from), and she can often be found lurking in the fashion and beauty forums as well.

Latest posts by Pamela Mahon (see all)