While we're prone to gushing about all things ruffles and frills and sleek and chic here in weddingsonline HQ, we honestly don't think we've ever been as excited about bridal as we are this year. The all-new 2017 collections have truly something for everyone and designers are again pushing the boat out and challenging what we consider 'bridal' with their unique and contemporary take on the traditional. Those at the forefront hail from all corners of the world – a wonderful confirmation of how women's fashion can be unique and diverse yet universally appealing. Today we're taking a look at some of the designers we think you'll be coveting most for 2017. Get ready to fall in love ten times over!
1. Suzanne Harward
We gushed about her earlier this year in our guide to the top Australian bridal designers to watch for 2017, and Suzanne Harward is most certainly one of our overall cream of the crop internationally. Long sleeves, high necklines and spectacular overlays are the standout features of Suzanne Harward's stunning 2017 collection, where conservative glamour is the order of the day. A hint of folklore is present throughout, with pretty puffed sleeves and ruffle collars making a real statement and adding something truly unique to modern bridal wear. For a list of stockists click here.
2. Liz Martinez
Absolutely knocking it out of the park in our feature on incredible Israeli bridal designers to watch out for earlier this year, Liz Martinez is also way up there with our pick of the top bridal for this 2017 with her impossibly beautiful, on-trend 2017 collection. Liz has been referred to as the 'Cinderella' of Israeli bridal designers, and is admired for her passion and politics (as a vocal supporter of young girls and women) as well as her superior craftsmanship and innovative designs. For stockists click here.
3. Justin Alexander
Justin Alexander is a name synonymous with vintage, Old Hollywood style designs, luxurious fabrics and intricate details and their 2017 collection exudes modern romance. Ballgowns with clean lines and subtle embellishments (akin to Rosa Clara's signature styles) bring a real contemporary edge, while mermaids are veering more towards fit and flare or trumpet styles, offering a softer, more delicate silhouette that will flatter any figure. Justin Alexander stockists in Ireland include McElhinneys Bridal Rooms in Donegal and Amarra Bridal in Kildare.
4. Grace Loves Lace
Grace Loves Lace has been popping up in our edits of romantic, modern or destination dresses for a couple of seasons now but this year the entire collection merits massive attention unto itself. Modern silhouettes decorated with crisp white accents, geometric printed lace, long raglan sleeves and daringly low keyhole backs are the focal point of Blanc and indeed this contemporary feel flows through to sharply tailored separates (including a pair of stunning silk palazzo pants that we very much adore) and simple accessories. Grace Loves Lace is not currently stocked in Ireland but dresses and accessories are available for purchase through graceloveslace.co.au. Contact the team directly with any enquiries.
5. Halfpenny London
The 2017 collection from the incredible Kate Halfpenny of Halfpenny London is nothing short of a triumph, and we're so excited to include the designer in our pick of the most coveted for 2017. Halfpenny London designs for women, understanding women's bodies and their individuality and making pieces that work for them ("not dresses women have to work out for"). This year's avant garde cover-ups and fanciful features make a brilliantly playful statement with styles that are not only fashion-forward and expertly tailored but are a lot of fun to wear. We're obsessed with the modern, romantic, Brit-cool vibe to this collection, and can't wait to see some brides rocking the gowns this year.
6. Daughters of Simone
Daughters of Simone duo Brittany and Ashley began their label with revamped vintage gowns and after garnering a cultish following, developed into a design house for non-traditional brides. We love the mantra of the DoS brand, and the dresses are simply out of this world. Soft tulle and lace, striking, feminine features and just the right balance between elegance and whimsy make each a joy to behold and wear. This is one collection that demands all the attention and all the respect. For stockists click here.
7. Laure de Sagazan
The Queen of all that is cool in bridal, Parisian Laure de Sagazan is having what they often call in fashion a 'moment'. We've featured her 2016 collection in our guides to the top French bridal designers last year and she also pops up regularly in our edits of stunning separates, perfect pantsuits and the most beautiful backs in bridal, but the huge variety of unique, contemporary, effortlessly chic pieces in her 2017 collection make her a dead certain for one of the top ten bridal designers this year. Utter perfection.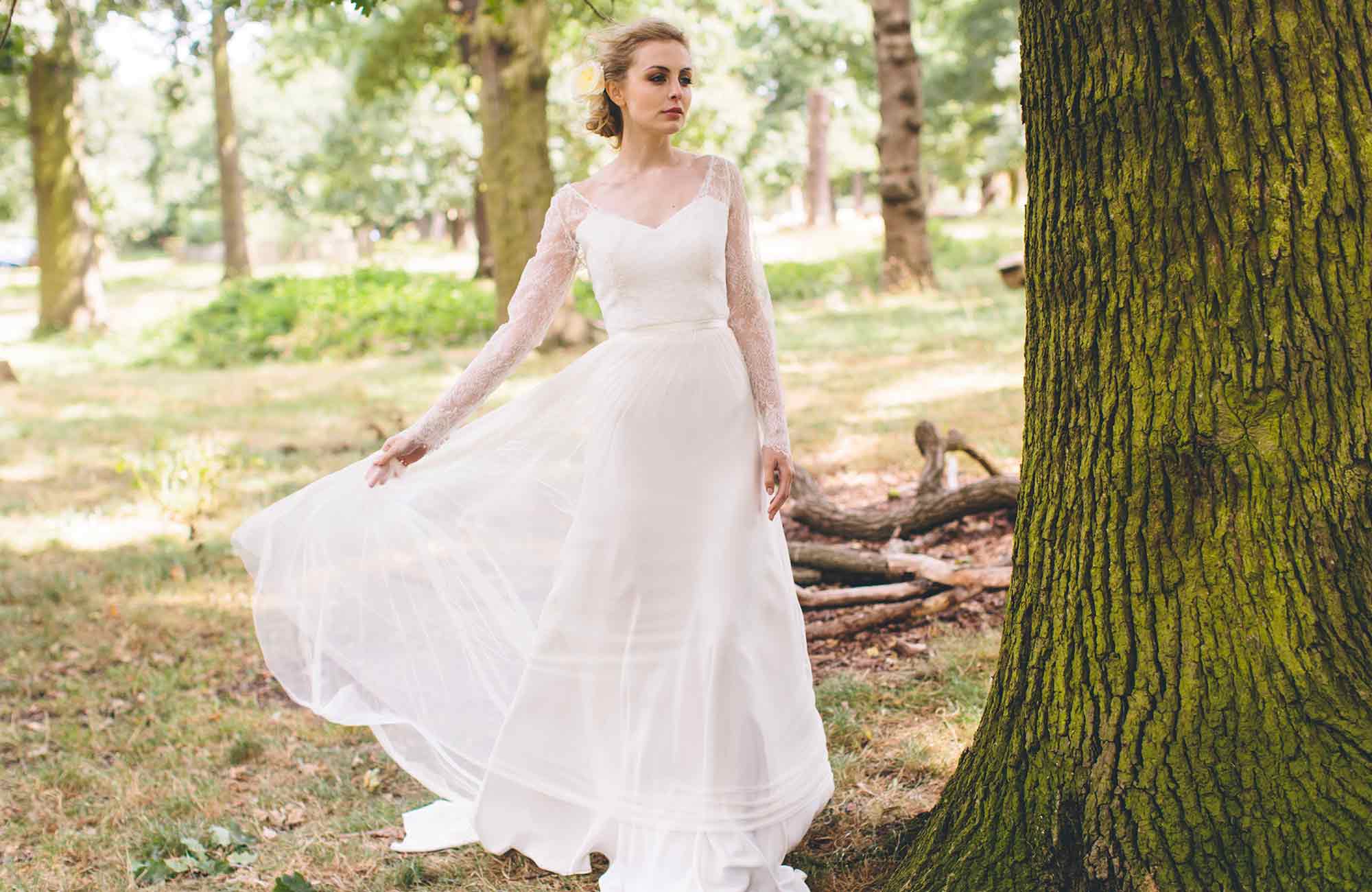 8. Emma Victoria Payne
So this one is actually quite new to us, but when we came across Emma Victoria Payne's dreamy 2017 collection we knew immediately brides this year would be swooning over her designs. The collection is cool, ethereal and very very wearable (quite an important aspect, no?!) and is as at home in a beautiful rustic barn as it is in a formal manor house and gardens or on the beaches in Bali. Stunning lace designs are used throughout, and the softest skirts help to create a real feminine feel. Emma Victoria Payne's designs are available from her flagship boutique in the heart of Knightsbridge in London.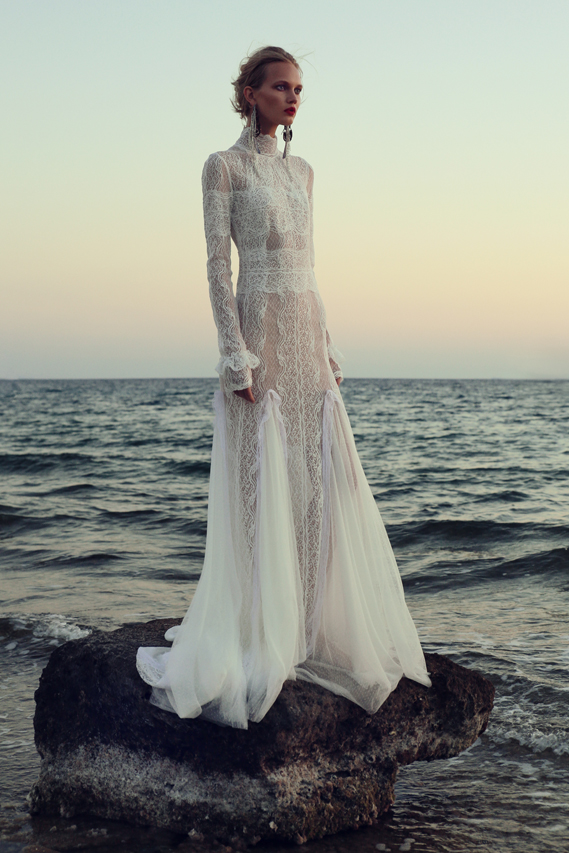 9. Christos Costarellos
Christos Costarellos is simply all sorts of swoon-worthy and we are coveting Every. Single. One of their gowns from their Fall 2017 collection. It's the Victorian style high necklines that caught our attention in this one, and the long sleeves and ultra unique laces that got us hooked. These conservative gowns allow for a super chic and stylish look that enhances the wearer's natural beauty while creating a powerful yet romantic overall vibe. For stockists of Christos Costarellos click here.
10. Berta
Undoubtedly one of the designers of recent years, Berta it seems just gets better and better. The Israeli designer's 2017 collection is yet another hum-dinger; thigh high slits, flowing skirts, plunging necklines and daring backless numbers abound, with full-on-glamour being the order of the day. Always a hit on sites like Pinterest and Instagram, these gowns are an intriguing alternative to the traditional, but as you can imagine aren't the easiest to wear! We'll be quietly admiring them from afar, envious of the brides who just went for it. Find your nearest Berta stockist here.
The following two tabs change content below.
Former editor, current contributor, (she just can't let go!) Karen enjoys writing fashion but is known to dabble in decor from time to time. Her favourite section on the site is the Real Wedding section, followed closely by the Health & Fitness forums.