"Virginia Park Lodge ticked all the boxes! The venue is owned by chef Richard Corrigan who personally cooks for all the weddings – so I knew the food was going to be good!"
The couple: Fiona Crawley & Seán Fox
Length of engagement: 19 months | Wedding date: 17th September 2016
Wedding location: Virginia Park Lodge, Co. Cavan
Photographer: Emma Russell Photography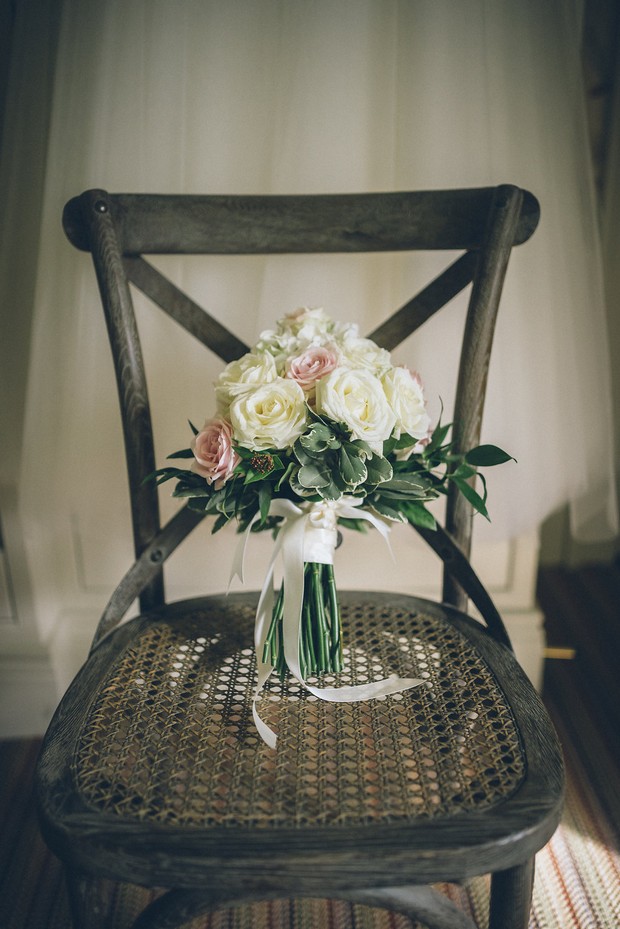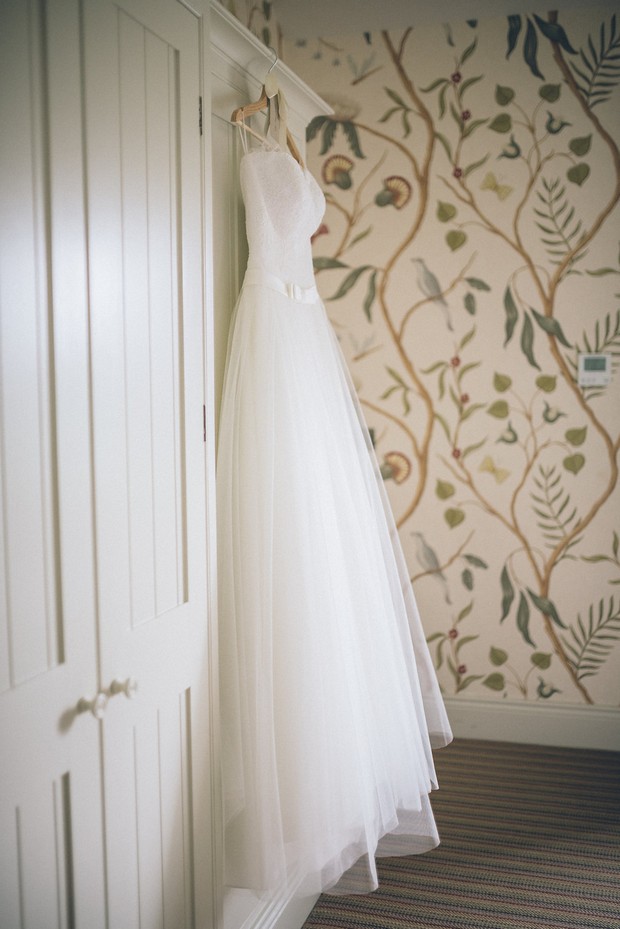 We met… in college. We were both studying in NCI doing a degree in Accounting and Human Resource Management when our eyes met in the middle of a lecture theatre. We started going out that November and were together 10 years by the time we were getting married.
Our proposal… was in the beautiful Mount Juliet Estate. Seán had brought me for a weekend away to Mount Juliet to celebrate our eight year anniversary in November 2014. When we were out for a walk in the grounds Seán decided that it was the perfect place to ask me to marry him. So three months later under the pretense of a Christmas present he did just that! The proposal was perfect, we were walking back towards the house and when we were walking over the bridge Seán got on one knee and asked me to be his wife. We did not tell anyone until we went back to Dublin on the Sunday which was lovely as we had the time to take it in and enjoy it just the two of us.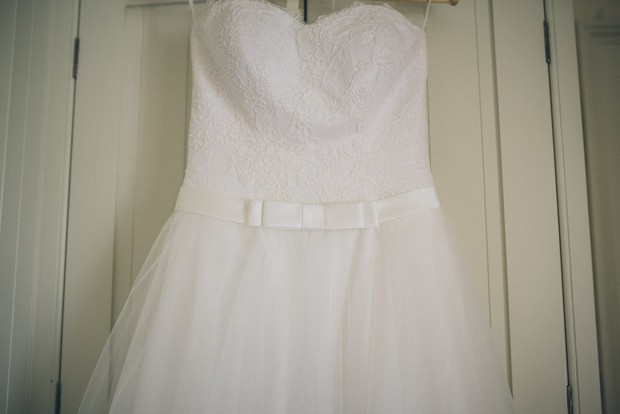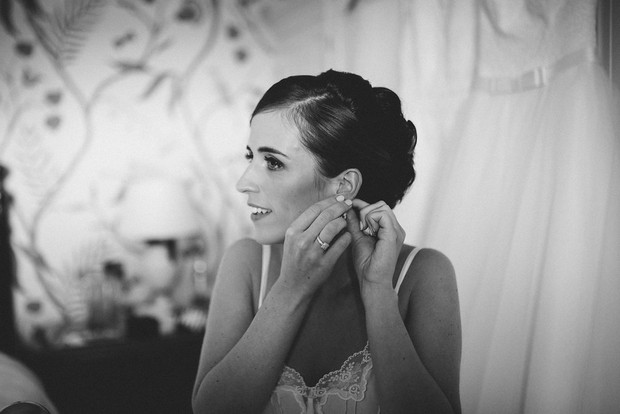 My hair and make up… was done by Allison McCabe (Hair) and Marie Joseph (Makeup). Both ladies were a joy to be around and were unbelievable on the morning of the wedding. They made sure that we kept to the timetable and that we had a lot of fun! I loved both my hair and my makeup which lasted the full day.
My dress… was the first dress that I tried on! It was a beautiful dress by Herms Bridal at Kathy De Stafford. I tried on the dress and absolutely loved it but I was not willing to give up the experience of trying on every dress in Dublin so I continued to shop, tried on about 100 dresses and went back to the very first dress. I loved the experience of dress shopping. I always knew that I would go for a big romantic dress and what I loved about my dress was the lace overlay on top that I could take off later in the day. I also loved the little bow on the front, the buttons at the back and the romantic tulle. I also wanted a big veil, which Kathy kindly made for me. Angela in Kathy de Stafford was amazing and Kathy herself did my alterations. I would highly recommend them to any bride as they made the experience so special.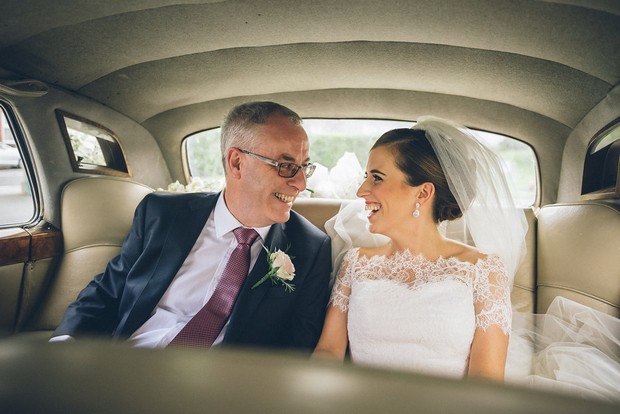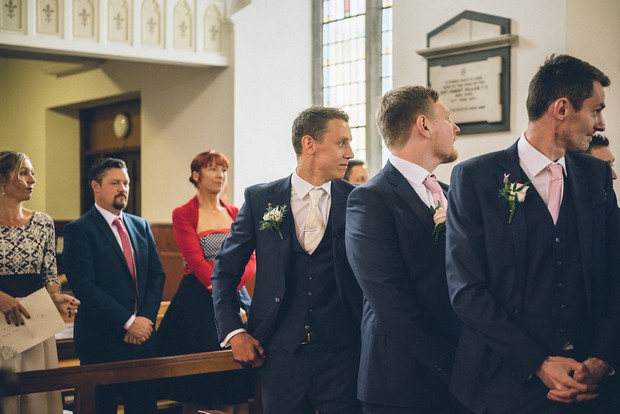 His suit… was from Abrahams. Seán and his groomsmen bought their suits from Declan and Tony in Abrahams. They were such gentlemen and were so generous with their time and advice for Seán and the boys.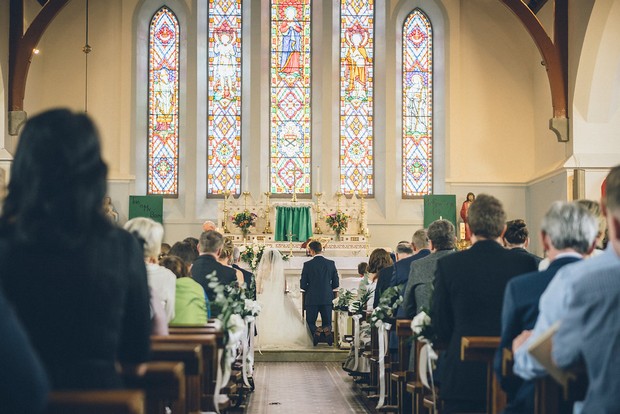 Our ceremony… ended up being my favourite part of the day. We got married in the beautiful St. Michael's church in Castlepollard, Co. Westmeath. Fr. Moore the Parish Priest performed our ceremony and was really good to the both of us in the lead up to the wedding. We spent a lot of time choosing our readings and church music and it was such a lovely feeling hearing it all on the day. Seán's Aunt, Nickola Hendy, was our singer and she is just amazing. We also had Astral String as a string trio. They were a pleasure to deal with and they sounded unbelievable.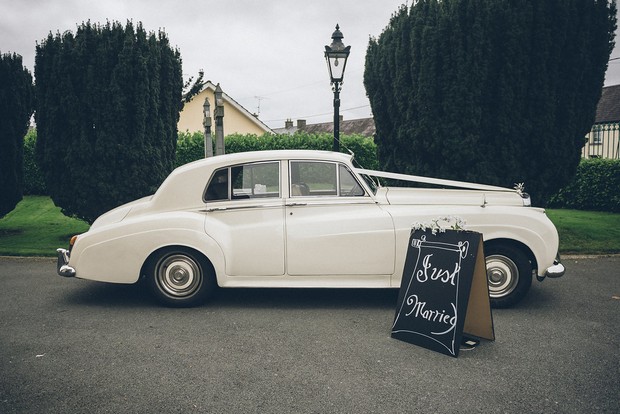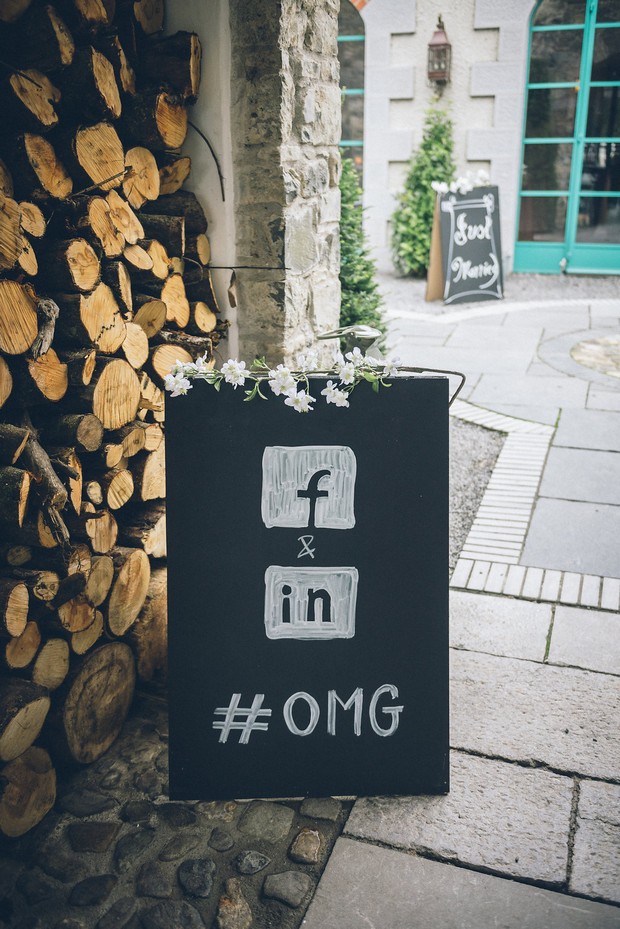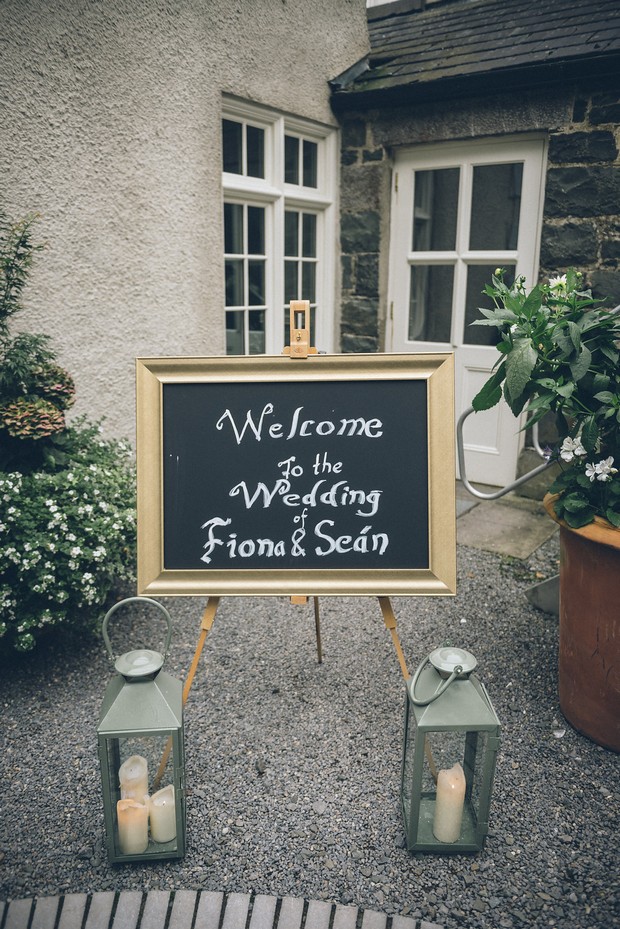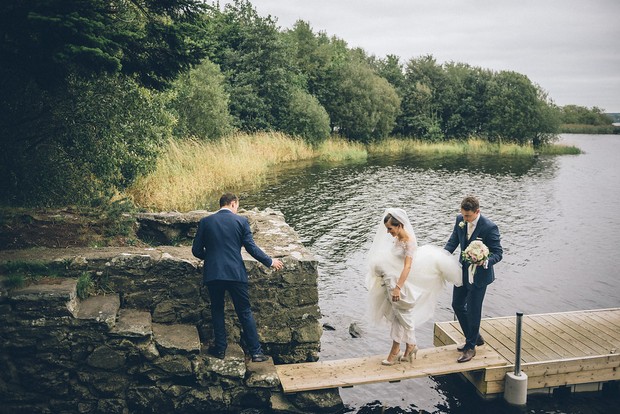 We chose our photographer because… we loved her work! One of my friends who had gotten married a few years ago had Emma (Emma Russell Photography) as her photographer when she was just starting out. I loved the photos and remembered Emma from the day and how easily she interacted with the guests. Choosing our photographer was the easiest decision as I knew I wanted to have Emma and was delighted that she was available on our date. Emma had not photographed our venue before so offered to come down to visit it a few weeks before the day so that she was familiar with the grounds. I was hugely impressed with this and we had great fun one day in the golf buggy going around the amazing grounds at the Virginia Park.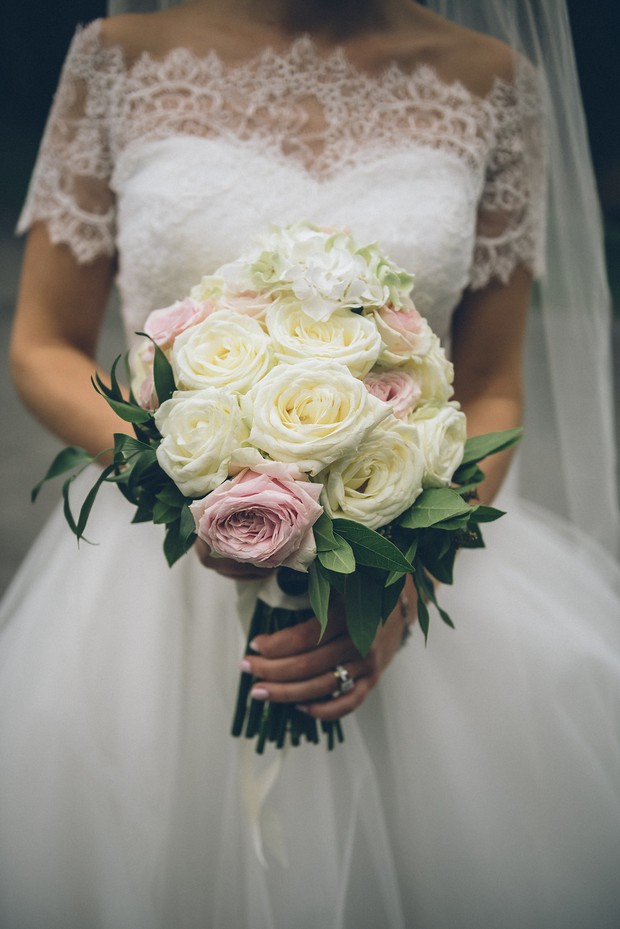 What our bridal party wore… my bridesmaid dresses were from Pamela Scott. The bridesmaid dresses took the longest to find but then I saw the pink dresses in Pamela Scott one day and just knew that they were the ones.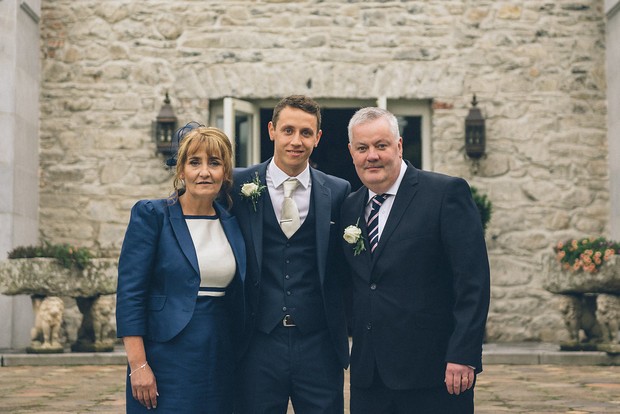 Our menu…
First Course
Aged Serrano Ham, Black Fig, Ricotta & Almond
Second Course
Butternut Squash Soup, Parmesan & Spinach Tortellini
Main Course
Beef Wellington, Creamed Spinach, Grelots Onion & Heritage Carrot
Rosemary Roasted Potatoes & Gooseberry Garden Vegetables
Dessert
Strawberries with White Chocolate, & Lemon Curd, Soft Meringue & Vanilla Ice-Cream
We chose our venue because… of so many different reasons! We wanted a venue that we could have exclusively for our guests for the full weekend. We are also real foodies so it was important to us that the food was good and we also wanted somewhere outside of Dublin but not too far! Virginia Park Lodge ticked all the boxes! The venue is owned by chef Richard Corrigan who personally cooks for all the weddings – so I knew the food was going to be good! Seán and I flew over to Richard's restaurant in London for our menu tasting with my mum and dad in June – it was the best meal that any of us had ever had so we knew that all of our guests were in for a treat.
Our honeymoon… is booked for January. We will spend three weeks in Bali and Malaysia. We went to Gran Canaria for a few nights after the wedding as a 'mini moon' which was lovely as it was great to have a few days to relax and get some sun.
My favourite part of the wedding day… was walking down the aisle. There is nothing quite like it! I was so happy and to see all the smiling faces looking back at you is just amazing. Seán and I had chosen Cannon in D as the entrance song and Astral String Quartet played it so beautifully. Walking towards Seán and seeing how happy he was, was so special.
Our band… were some craic! We had the Wise Guys as our band and they were so easy to deal with. Nothing was a problem! Oisin, the lead singer also did a DJ set for us. We loved the music and our dancefloor was full all night.
My piece of advice for other brides… Enjoy every second! I loved the whole planning process and did a lot of things early so that we could enjoy it rather than feeling under time pressure. On the wedding day I soaked it all in. I just made sure to enjoy every moment as I knew that the day would go by too quickly – which it did!
Venue: Virginia Park Lodge | Photographer: Emma Russell Photography | Videographer: MG Best Movies | Band: The Wise Guys | String Trio: Astral String Quartet | Church Singer: Nickola Hendy | Wedding Dress: Kathy De Stafford | Head Piece, Earrings & Bracelet: Knightsbridge Bridal | Cake: Amazing Cakes | Gluten Free Cake: Antoinette's Bakery | Flowers: Hillary @ The Virginia Park Lodge | Wedding Car: Connolly Chauffeurs | Invitations: Vista Print | Ceremony Booklets: The Print Fairy @ Print Save | Engagement Ring & Bride's Wedding Band: John Brereton Jewellers | Groom's Wedding Band: The Wedding Band Shop | Bride's Shoes: Shoes of Pray | Groom & Groomsmen suits: Abrahams | Bridesmaid Dresses: Pamela Scott
The following two tabs change content below.
Former editor, current contributor, (she just can't let go!) Karen enjoys writing fashion but is known to dabble in decor from time to time. Her favourite section on the site is the Real Wedding section, followed closely by the Health & Fitness forums.