The idea of wedding dress shopping either fills you with excitement or dread. Whichever way you're feeling we've got all the tips on how to deal with it, and to make sure your shopping experience is a super successful one (that means tears of joy only, people).
1. Prepare
Before you start making appointments, do a little research on designers and prices and find out what style of wedding dress appeals to you most. Research gowns on Irish websites (like weddingsonline!) and make sure to check out real weddings - these are a brilliant way of seeing how great the gowns look on real brides. When you know what you're looking for, find a stockist, call them up and make your appointment!
2. Dress for comfort (and ditch the tan wipes!)
A lick of make-up and freshly washed hair can go a long way to making some brides-to-be a little more confident when it comes to wedding dress shopping, but really, the beauty products should stop there. Don't go wild with eye make-up or foundation and know that fake tan is a real no-no for most boutiques. Wear something you can slip in and out of easily and pop a strapless bra in your bag. If you feel more comfortable in shapewear, bring that with you too.
3. Use your Imagination – within reason
You and I know we ladies don't come in a standard size but unfortunately it's just not possible for boutiques to stock their dresses for everyone in the audience. Sample sizes often come in at about a 12-14 and most of the time dresses will have to be pinched and pinned, or won't close at the back at all. Be prepared for this, but within reason. If a sales assistant puts you in a size 20 and you're a size 10 or the opposite way around, no amount of imagination could match his or her ridiculousness. Just dust it off and move on to the next appointment.
4. Research your shape (and find out what silhouettes work best for you)
Many stylists use a frame for dressing their client which is based on shapes such as petite, tall, athletic, plus size etc. Certain dress silhouettes tend to work better on certain shapes so it can be good to have an idea of the basic silhouettes out there before you shop. Below is a quick guide to what type of dress works well with certain body types (of course this is only a guide, you'll know what works best for you).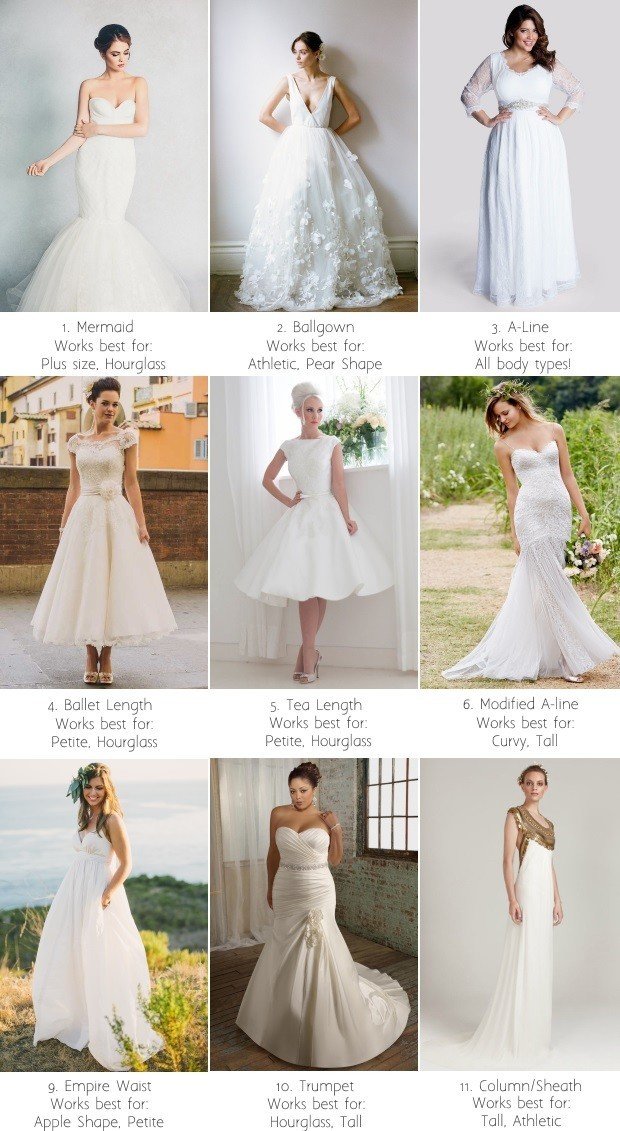 5. Trust the Sales Assistant
Most wedding dress sales assistants have seen and heard it all. They understand body shapes and have dressed women at all ends of the spectrum. They also have a somewhat magical power in that they know what will or won't suit someone as soon as they see them. The good ones are also patient and professional, and will listen when women say what they want from their dress but you should also be open to listening to the sales assistant and trying on something you're not mad about on the hanger. You'll be surprised - a lot of brides end up in something completely different to what they expected when they give themselves over to it.
5. …But trust your own instincts too
Even if you don't think a dress will suit you, try it on and find out what you like and don't like about it. Be open, but know yourself, and remember that no matter if the sales assistant thinks it makes your figure look great, you have to happy in it because it's only you who'll be wearing it on the day!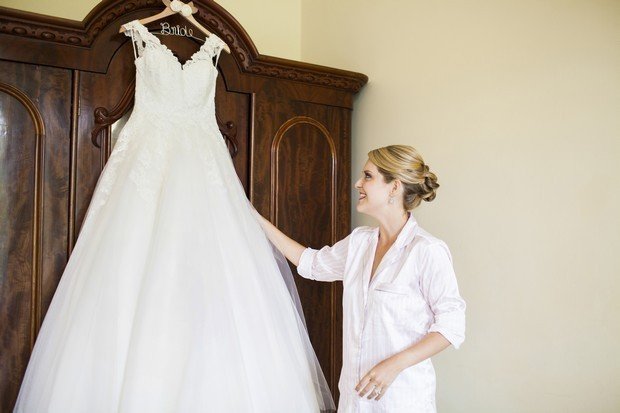 Dress by Alvina Valenta | Photo by Michelle Prunty Photography
6. Don't feel pressured to buy
Wedding dress trunk shows and flash sales can be a great thing if you know exactly what you want, but for some of us ladies they can cause more stress than they're worth! Many designers or boutiques will offer discounted gowns or throw in accessories if you put a deposit down or pay upfront on the day. But for most people a wedding dress is an investment, and it takes a little mulling over. If you're spending upwards of a few hundred or a thousand Euro on your dress, don't let a €40 veil or a 10% discount push you into buying something you're not certain about. It may end up costing you more in the end.
7. Be ultra cautious shopping online
We've all read the unfortunate stories about brides looking to cut costs by commissioning a dress maker online to whip them up an Inbal Dror for about 500 quid. The photos of the results might give Buzzfeed readers a little giggle, but parting with your hard earned cash for something you wouldn't even use to dry your dishes with isn't so funny. You and I know you get what you pay for, and if it seems too good to be true, it probably is (they're clichés for a reason people!). Of course there are plenty of legitimate and fabulous designers with online stores who charge 'wedding dress prices' so you just have to trust your judgment and be prepared for a longer process when it comes to the perfect end product.
8. Know, and stick to, your dress budget
For some reason, many brides are completely mature when it comes to keeping to their wedding budget, except when it comes to the dress! Know your wedding dress budget and make it clear to the sales assistant, and don't let them put you in anything that costs more than you can afford! Keep in mind the cost of alterations and accessories such as hair accessories, shoes, jewellery etc. which all come out of that illusive 'wedding dress budget'. Of course, if you're that passionate about a pricey gown (again, within reason) and can sacrifice something to suit your overall budget, it's really up to you.
9. Pare back your entourage
Most boutiques advise having just one or two people with you on your first day of wedding dress shopping. Preferably this should be a supportive but straight talking mate. If on the first day you find something you love but are unsure about it, try your best not to share it with too many people. Wait until you've put the deposit down so that you don't open yourself up to other people's comments and opinions. Or of course just keep it a secret till the Big Day!
Dress by Justin Alexander | Photo by Tomasz Kornas Photography
10. Don't visit too many boutiques in a day
Don't make appointments for any more than three boutiques in one day, and if you can, stick with one or two. Don't overload your day and don't try on too many dresses at a time or you'll just end up more confused than when you went in. This is why both having a style in mind and trusting the sales assistant is important – it leaves you with way more time and energy to drink Champagne with the girls once you're done!
11. Start shopping 12 months before the Big Day
Look for your dress at least 6 months before your Big Day but know that 12 months before is the ideal time. Give yourself enough time for fittings, alterations etc. and know that it often takes a couple of months for boutiques to receive your dress from the designer even before the fittings and accessorising begin!
12. Remember your venue & wedding style
You might have your heart set on a short tutu but if you're having a church wedding and a reception in a posh 5 star in the countryside, it might look a bit out of place. Go for something that not only suits your own personal style, but that also suits the style of the day you're planning and keep the alternative dresses for rehearsal dinner or the day after (or first day of honeymoon)!
13. Don't expect to be overwhelmed by 'The One'
You've probably seen movies where the bride finally appears to her eclectic entourage in the dress, the music builds to a crescendo, there's silly screaming and jumping up and down and everyone bursts into tears and they're friends forever. Truth is, there's not always gasps of joy and violins and swooning and hugs all round when brides find their perfect dress. Often it's a mini 'oooh I think this might be it' squeek from the bride with friends following suit. This is normal, go with it.
14. Have fun!
Remember to have fun shopping, try not to put too much pressure on things and try not to get too wound up. Try on the big princess gown, laugh with your friends, enjoy keeping a secret and think the next time you wear the dress for real, it will be one of the most amazing days of your life!
Main image: Dress by Monique Lhuillier, photo by Martina California